PJ Old Town
, as its name suggests, is the oldest area in Petaling Jaya. This area consists of Section 1 to 4, and it is located side by side with PJ New Town. One of the landmarks here is the wet market located at Jalan Othman. Many locals like to come to this wet market to buy some fresh products or get their breakfast fix. Adjacent to the wet market you will find a food court that has been around for more than 60 years. There are as many as 54 hawker stalls in this food court, offering all kinds of dishes, ranging from Malay dishes to Indian and Chinese dishes.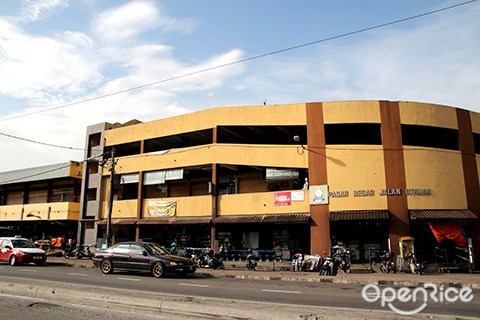 Good foods in Klang Valley are normally hidden at old areas like Petaling Street, Pudu or PJ Old Town. Let OpenRice walks you through some of the best foods you must eat in this small town!
(The restaurants below are arranged in no particular order. Some of the establishments are not halal.)
Operated since 1961,
Weng Kee
is undoubtedly one of the most famous stalls at PJ Old Town Food Court. It is a drink stall that is well-known for their ABC and cendol. The ABC here is served in a pink bowl with a mountain of shaved ice drizzled with palm sugar and evaporated milk. The cendol is more special. It is served in a glass with lots of cendol and red beans at the bottom and shaved ice with sweet gula melaka on top. What's more, the sweetness of the dessert can be adjusted upon request to suit your taste-buds.
Nestled in PJ Old Town Food Court,
Kie Kee
is another old and famous chicken rice stall in the food court. Operated since 1963, the 50-year-old chicken stall is now operated by both the first and second generation. Apart from the normal roasted chicken, Kie Kee also offers stewed chicken that is cooked with soy sauce and herbal soup to make the chicken smooth and richly infused with soy sauce flavors. If you are a pork lover, remember to try their popular curry pork, which is cooked with thick and fragrant curry sauce.
One of the most famous restaurants in PJ Old Town. The place is always fully occupied at night. On the walls, you can see the photos of many Hong Kong and local celebrities who have visited the restaurant before. Unlike the Claypot BKT that we normally have in KL and PJ, the Bah Kut Teh here is served in traditional style with a small plastic bowl. Different parts of meat and innards, such as pork spareribs, pork belly, and pork stomach, are served separately. The soup of the BKT is fragrant with a strong and aromatic herbal flavors.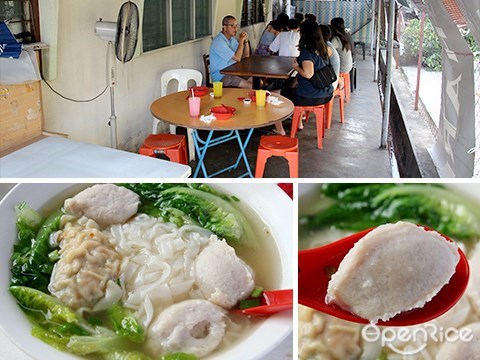 Quietly hidden at the back of a house beside 99 Speedmart, this stall is a hidden gem that only the locals know. Although its location is rather secluded, the place with only 5 to 6 tables is often running full house, because their famous fish paste noodles are not only delicious, but also value for money. Priced at RM5.30 a bowl, the soup noodles are served with three big pieces of fish paste that are freshly handmade daily to ensure the fish paste is fresh and bouncy. Also delicious is their homemade dumpling, which is big in size and stuffed with lots of ingredients, including fresh meat and prawn.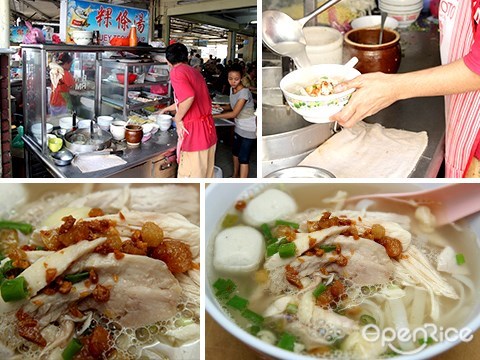 Originally from Penang, this Kuey Teow Soup stall at
Soon Lee
kopitiam has operated for more than 40 years. Their Kuey Teow Soup is very different from the fish ball noodles that we normally have in KL or PJ, because the noodles are served with not only fish balls, but also chicken slices and fried pork lards. The business here is so good that they can sell more than 10 poached chickens a day. The chickens are freshly boiled on the spot to make sure the chicken is fresh, sweet, and tender.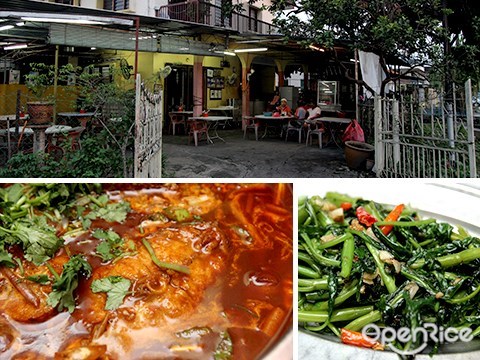 Located at the intersection between Jalan Dispensary 38 and Jalan 2/23,
Bangkok Tom Yam
is an old corner house that offers a wide range of spicy Thai food. The stall has been around for 21 years, and it is managed by a Thai woman who can speak fluent Cantonese, as the majority of the customers here are Chinese. Most patrons come here for their signature Tom Yam Fish Head, which is cooked with fresh garoupa fish that is chopped into smaller pieces, so that the tender fish meat can fully absorb the essence of the Tom Yam soup prepared using lots of spices and chili padi. If you're looking for original Thai food with a hot and spicy kick, here is the place to be!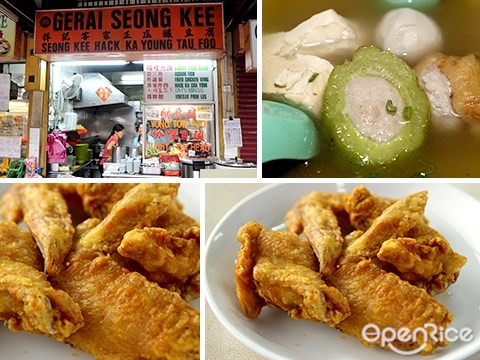 This is the no. 35 stall at PJ Old Town Food Court that offers a wide variety of dishes, including Yong Tau Foo, Curry Fish Head, and Fried Chicken Wings. A major crowd puller here is their famous fried chicken wings, which is served with a pair of chicken wings that are chopped into halves. The wings are well marinated with a secret flour mixture that makes the chicken wings not only fragrant and delicious, but also very crispy. Aside from the fried chicken wings, they also have mouth-watering Yong Tau Foo that is freshly made daily.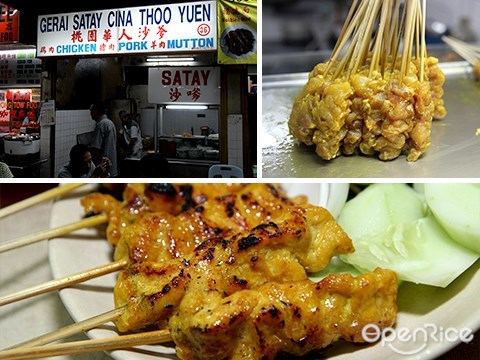 Looking for pork satay in PJ? Visit PJ Old Town Food Court where you can find a few stalls that offer pork satay. One of the most famous stalls here is Thoo Yuen, which is operated by an old couple who wakes up at 4am every day to prepare the satay. The pork satay doesn't have a gamey smell, because it is made of high grade pork meat. Freshly barbecued on the spot, the pork satay is served hot and fragrant. Don't forget to dip the satay into their homemade peanut chili sauce to enhance the taste.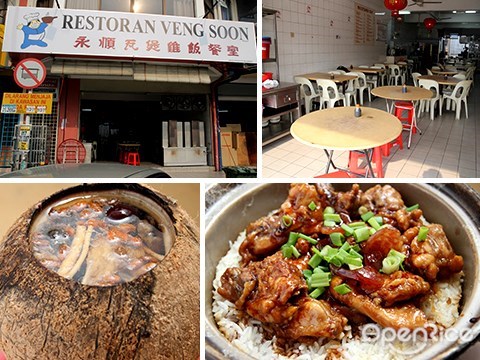 Moved to its current location in 1993,
Veng Soon
is one of the oldest Claypot Chicken Rice restaurants in PJ. Now the restaurant is run by the second generation. All Claypot Chicken Rice here is freshly prepared after an order is placed to ensure the dish reaches your table piping hot and fragrant. The chicken is well marinated and cooked with a soft and smooth texture. The chicken matches very well with the soy sauce that is not too sweet or salty. Don't forget to try their popular steamed Coconut Chicken Soup that is both delicious and nourishing.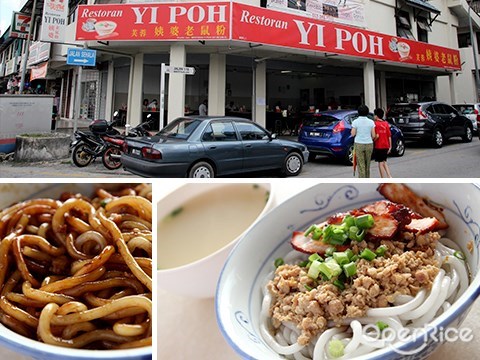 Hailed from Seremban,
Yi Poh
is one of few restaurants in Klang Valley that specializes in Lo Shu Fun. The Lo Shu Fun here is served dry with a bowl of springy lo shu fun noodles topped with minced meat and char siew and a bowl of milk-like soup that is flavorful. The lo shu fun here are different from normal lo shu fun, because the noodles are longer, yet the texture is exactly the same. A few side dishes, such as soup wantan, fried wantan, and pork ball, are also available. Remember to try these awesome restaurants and stalls next time when you visit PJ Old Town!
Find the Hottest Tom Yam in KL & PJ
Discover the Best Yong Tau Fu in PJ
Other Related Topics