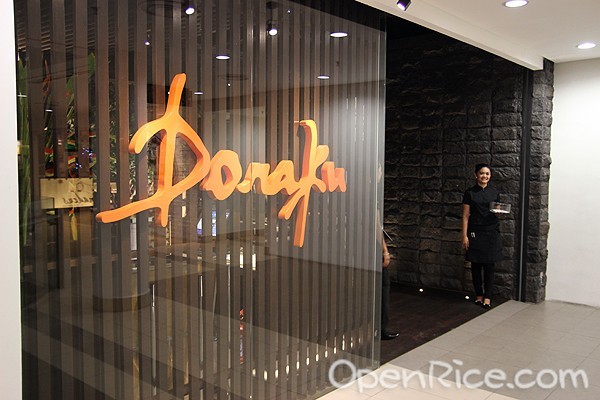 Doraku has finally landed in Malaysia. It's set to be one of K.L.'s hottest spots for dining and chilling out, for corporate functions and private parties. "Doraku offers an exciting cuisine that uniquely blends different flavors," said Hafez Hashim, founder of HMH Group. He recently introduced Malaysians to Doraku, a trendy name for contemporary Japanese cuisine originated in the U.S., created by Kevin Aoki of the famous Benihana restaurants. "It's remarkable how food is the universal language, through which friendships among cultures and communities are built."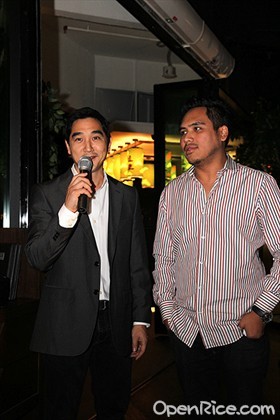 Kevin Aoki (left) and Hafez Hashim at a recent party for Internet media in their new K.L. restaurant.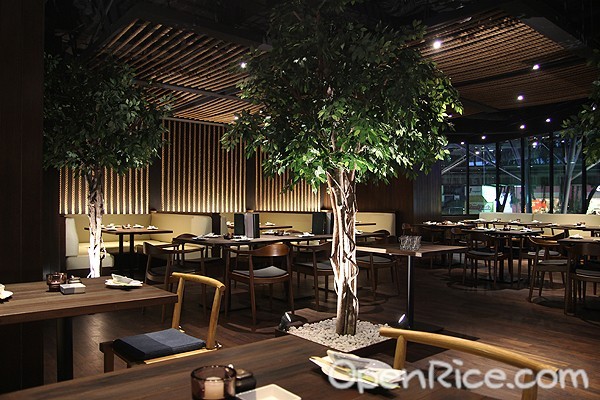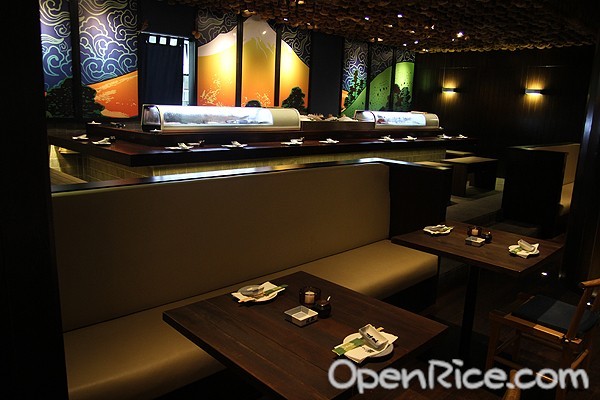 Tagging along are contemporary interpretations of Japanese fare — fused with Latin American and pan-Asian flavors — served in a cozy, chic, yet Zenic environment. Doraku's masterpieces were created by its executive chef Yutaro Tsuchiya, who was mentored by Iron Chef Hiroyuki Sakai, and has cooked for celebrities like George Bush, Tiger Woods, Beyoncé, and Shakira. They're prepared with only selected ingredients and fresh herbs that make the restaurant's menu stand out from others.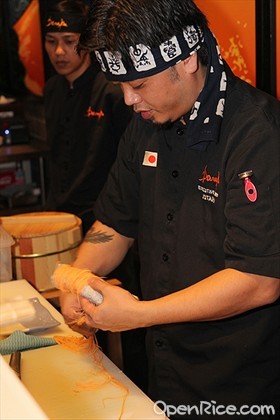 Chef Tsuchiya is in action, making Sweet Philly Rolls. Sweet Philly Roll Perfectly seasoned salmon, luscious cream cheese, avocado, and rice rolled in crispy sweet-potato strings and finished with a sweet, smoky, lightly savory, sticky unagi (eel) sauce.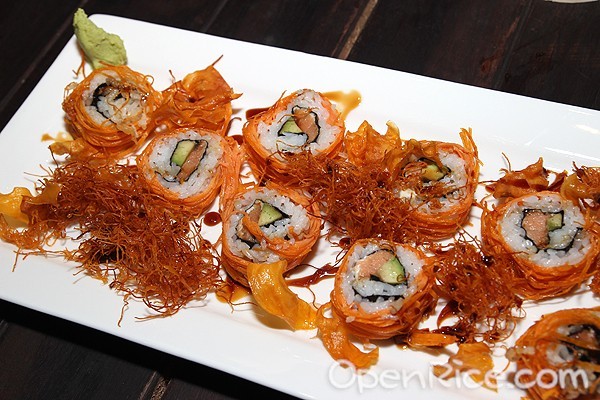 Emperor Rolls Ocean-fresh tuna, salmon, crabmeat, shrimp, scallop, and creamy avocado are rolled together, crusted in panko breadcrumbs and deep-fried briefly until crisp, and served over a lush bed of fresh greens and onion tempura with a little dollop of special aioli on top.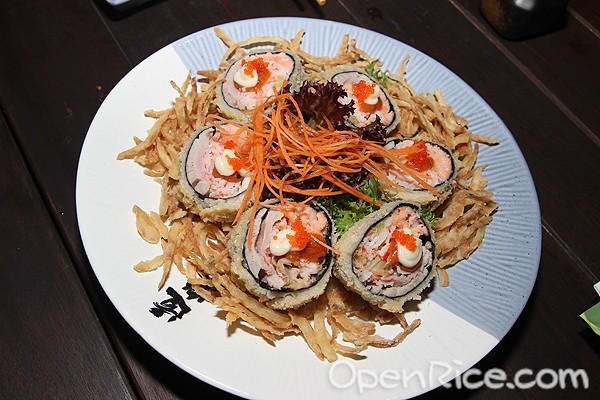 God of Fire Fiery tuna rolls with fresh, crisp cucumber and chile, topped with more raw tuna slices, chile(!), flying-fish roe, and hot, garlicky aioli.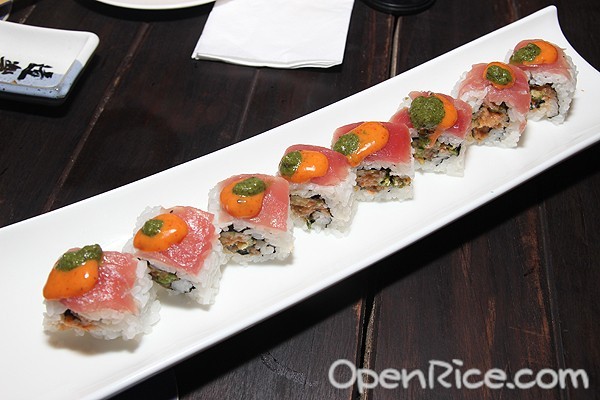 Salmon Carpaccio Thin slices of raw, sweet fresh salmon are complemented with flying-fish roe and creamy gingery sauce.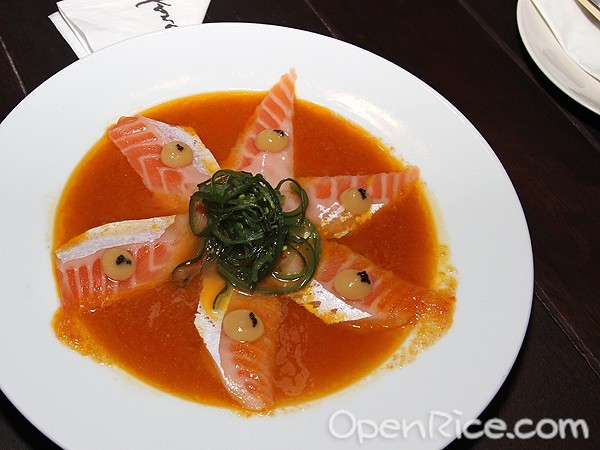 Ahi Hawaiian Poke Fresh ahi tuna, onion, seaweed, and nuts are served dressed in Doraku Special Sauce and topped with crispy fried scallions and garden-fresh greens.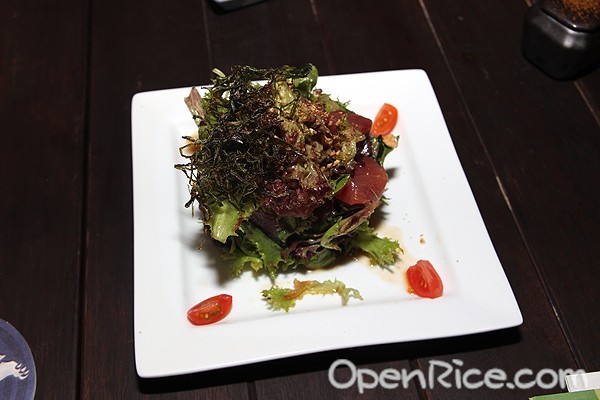 Baked Mussels Large, succulent green mussels are baked till perfection with flying-fish roe, scallions, and bonito flakes for that umami punch.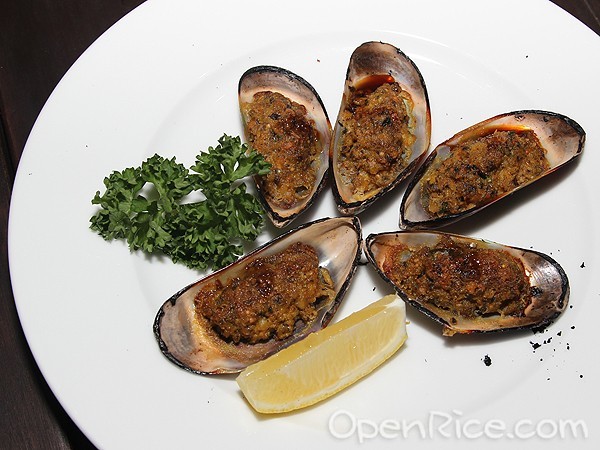 Japanese Beef Rib Top-grade beef cooked on its bone until meltingly tender and juicy, in an unctuous, sweet-gingery sauce.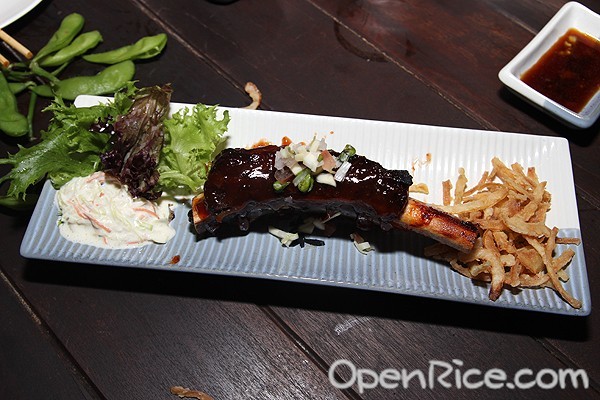 Brownie Tempura Ice Dark, densely chocolaty brownies are made even more sinful through getting deep-fried, tempura style, and then served with a large scoop of vanilla ice cream, strawberry purée, and Hershey's chocolate syrup.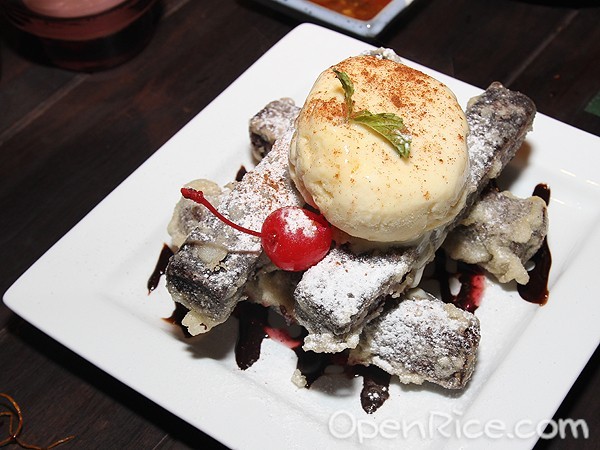 Assorted Cherry Cake Fruits Squares of creamy cheesecake get deep-fried, tempura style, and are served with refreshing mango sorbet and sticky dark-cherry coulis.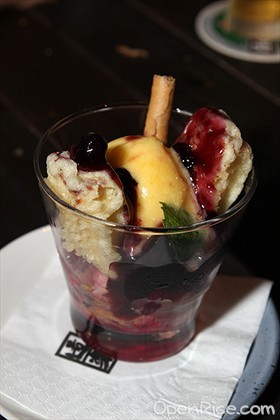 "We enjoy exciting our diners with creations customized to tantalize every taste bud!" chef Tsuchiya said. "Each creation on the menu is unique, which is what makes our restaurant special!" Immerse yourself in a whole new experience with Japanese cuisine at Doraku, which opens Sunday through Thursday, from noon to 1 a.m.; as well as Fridays and Saturdays, from noon to 3 a.m. Find out more best japanese restaurant Discover more hottest restaurant in Klang Valley