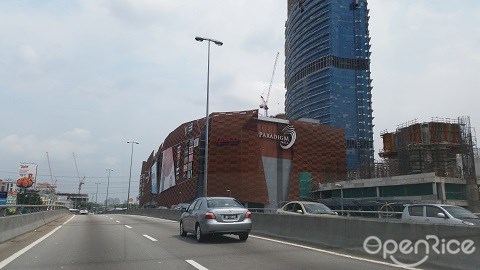 Located along the Damansara-Puchong Expressway, Kelana Jaya is getting pretty dense with high rise buildings and commercial parks. With that, more and more eateries are opening in and around these buildings. You will definitely be spoilt for choice with the different dishes and cuisines. We scaled down to 10 eateries to visit when you are in Kelana Jaya.
(The restaurants are listed in no particular order. Please click on the restaurant names for addresses and OpenRice members' reviews.) *Some of the establishments below are not halal.
1. Seafood Noodle @ B & Best Restaurant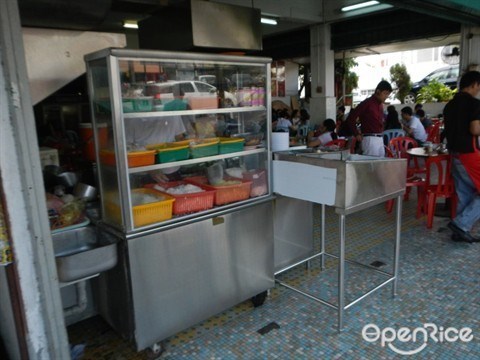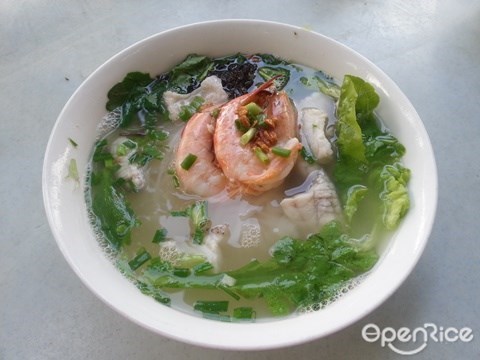 Tucked between rows of houses, B&Best Restaurant or the more visible signboard – Restaurant De Rasa Sayang serves only one dish: Seafood Noodle. You get to pick what you like and create your own concoction of a fresh bowl of seafood noodles. They have prawns, cockles, fish head, fish balls and at least 4 different types of fish fillets for you to choose from. Not to worry about the "fishy" smell if you are ordering the Ching Tong version, the soup is clear and you can taste the sweetness from the fresh seafood. A bowl of mixed seafood noodles with a bit of seaweed on the side can cost up to RM30. If you are not into the seafood, they do serve fish ball noodles too. Do drop by early as they are open for business from morning till after lunch.
2. Secret of Louisiana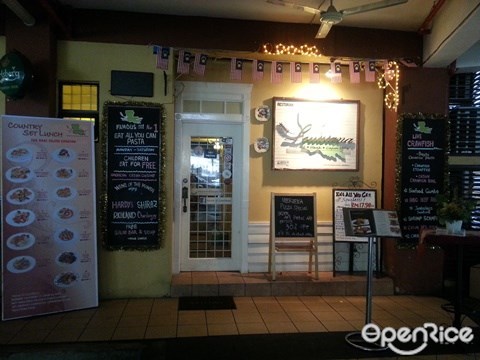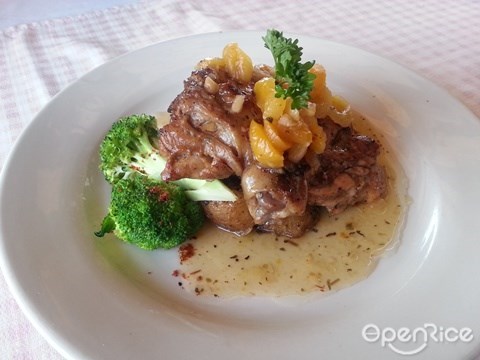 Fancy an all-you-can-eat meal by the lake side? Located by the Kelana Jaya lake, Secret of Louisiana offers 9 different types of spaghetti dishes during lunch (11.30am to 3pm). Their lunch sets include endless flow of Ice Lemon Tea, coffee, tea, soup, garlic toast and salad. If you are on a diet, fret not. They have lunch sets that come with grilled chicken, lamb or seafood. One of their specials on the lunch menu is the Herb and Apricot Sauce Grilled Chicken. The herb in the sauce is not overpowering and the apricot gives a tangy sweetness as you chew on the tender boneless chicken drumstick. Take note, only the spaghetti is on the all-you-can-eat menu available from Monday to Friday only.
3. Sanook Bistro & Sportz Bar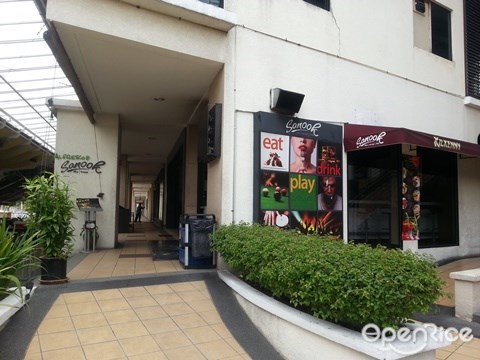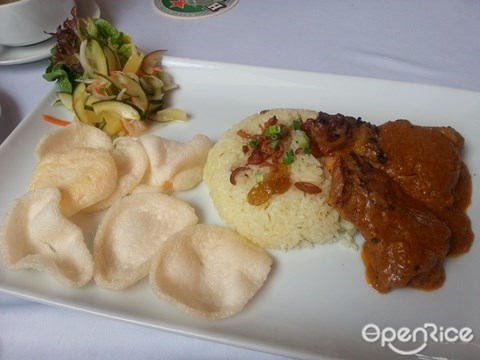 Beside the booze during happy hour, Sanook Bistro & Sportz Bar offers a good spread of fusion dishes. Just to name a few: Kim-Yang Lamb Cutlets, Espresso Chicken and Spicy Thai Mango Tuna Pizza. Their fusion menu will keep your taste buds dancing. During lunch hour, there are set lunch that starts from RM12++. It comes with a drink, a bowl of soup and a small plate of local fruits. The Ayam Percik needs a little more time in marinating, but the peanut sauce complements the tender chicken and fragrant rice nicely. On the side, the pickled cucumber helps keep your appetite up. They are open for lunch and dinner on Monday to Friday from 11.30am to 2.30pm and then resume from 6pm to 11pm. On Saturdays, they serve dinner and drinks only.
4. Grumps Restaurant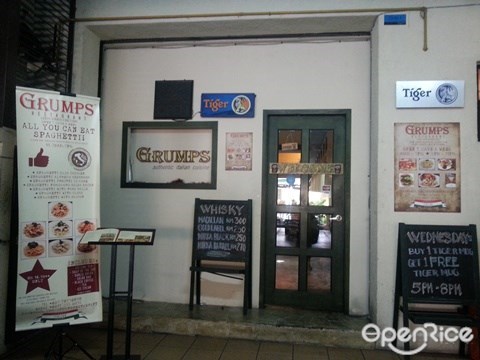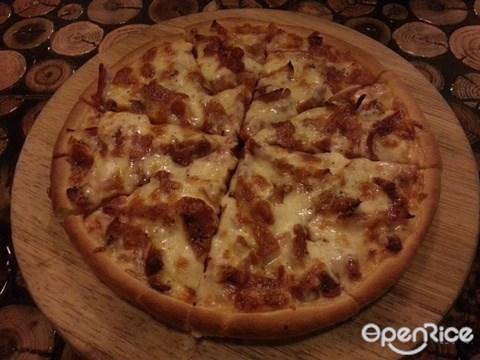 If you are craving authentic Italian cuisine, Grumps is the place to be! Not just for the food, the décor will give you an Italian charm. Stop by for lunch as their lunch sets are from RM16.90++ which includes drinks, soup, garlic bread, salad, tea or coffee and ice cream. Besides the spaghettis, they have À la carte on the menu like pizza, roasted pork ribs and pork sausages. It is unusual to find bacon bits as a pizza topping. For RM28, you can satisfy your bacon craving. The pizza was served piping hot with the right amount of tomato sauce, mozzarella cheese and a generous serving of bacon topping. Grumps definitely is a nice place to dine with family and friends or have a little get together party.
5. Fend Ikan Bakar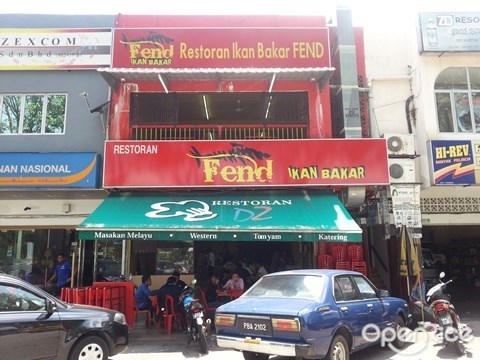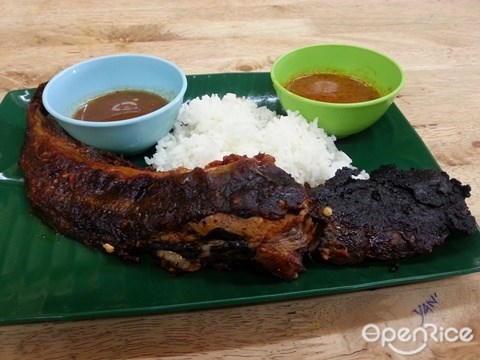 Located in the same row of shops as 7-eleven and Bank Simpanan Nasional in SS5, you can't miss Fend Ikan Bakar. It is bright red in colour and the smell of Ikan Bakar will draw you in as you walk pass the shop. As you enter the shop, you can see chefs standing by the never-ending fish grilling process. They offer at least 7 types of grilled fish, from Ikan Kembung to stingrays. You can also add-on a bowl of cockles if you are up for it. Their fish are marinated with the perfect combination of chili and spice, grilled to perfection. You can taste the mixture of chili, spices and the freshness from the fish. Wash it all down with a glass of Teh-O-Ais, you will leave Fend Ikan Bakar with a satisfy burp.
6. Fried Rice @ New Yew Sang Seafood Restaurant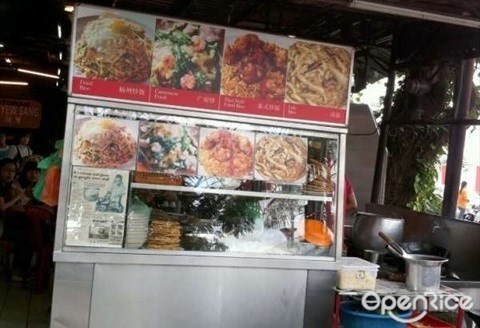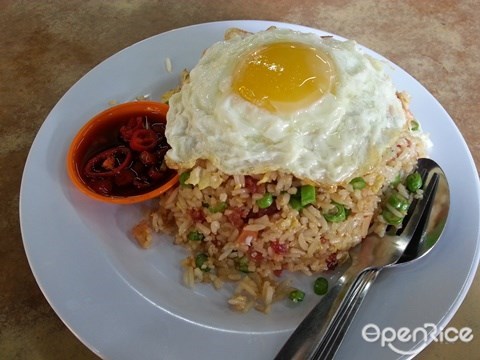 Hidden in a coffee shop directly opposite Paradigm Mall, you will have your fill of a simple fried rice with an egg, sunny-side-up. Restaurant New Yew Sang is a corner shop amongst the many coffee shops in a small area. With cubed luncheon meat, Chinese sausage, long beans and egg laced rice, this simple dish will leave you wanting more. Do go earlier, as the lunch crowd will keep you waiting for this simple yet delicious meal. There are other stalls that offer mixed rice, double boil soup, fried kway teow and turmeric glutinous rice (Nasi Kunyit) in the same shop too.
7. Fa-Ying by Rama V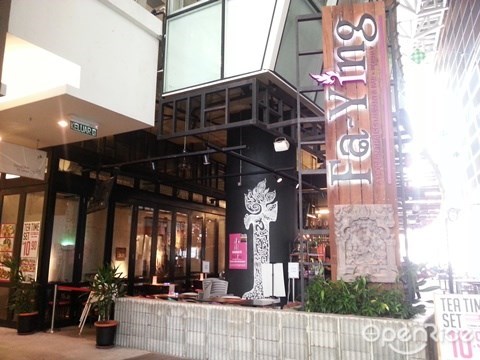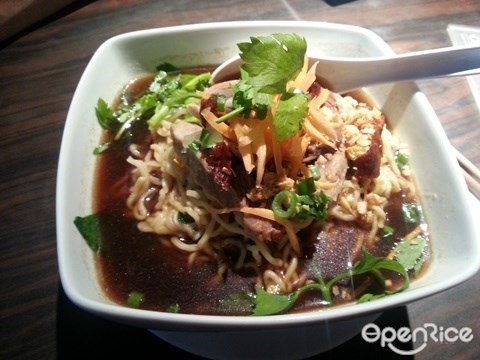 Located along the boulevard of Paradigm Mall, Fa-Ying by Rama V looks like a fancy restaurant from the outside. They offer modern Thai food like meat on skewers and tapas. In their Tea Time Set - serving from 11am to 6pm, you get a taste of some of the modern Thai food together with a cup of 3-layered tea and a Thai dessert. The Thai Spiced Egg Noodle Soup with BBQ Duck looks interesting as it is served with boneless duck slices. The dark soup tasted sweet with a tinge of hotness. If you are game for more, they have a menu for all day, every day Thai sets for 2, 4 or 6 persons. In these sets, you get to try more dishes like Papaya Salad with BBQ Chicken and Fa-Ying Platter.
8. Pig Out Café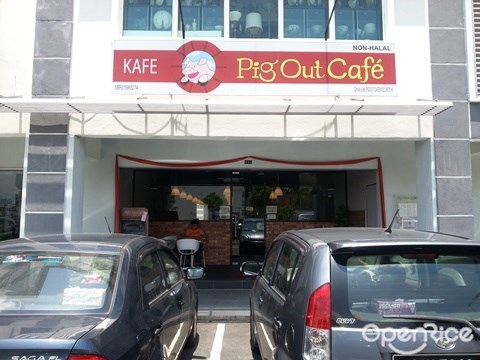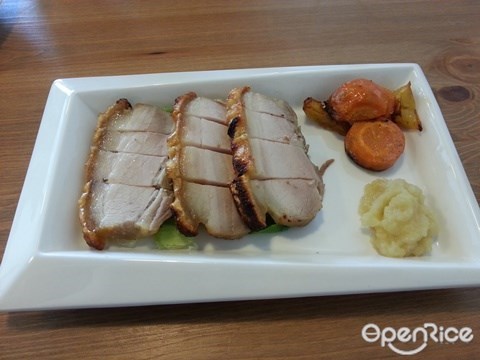 Decorated with pictures and mini pigs' statues, this is a must visit for pork lovers. Recommended to try the Pic Out Café (POC) Roast by the owner - this appetizer is the prime belly cut of the pig roasted to perfection. The crunch of the pork skin and the layers of fat in between the tender white meat are yummy just on its own. To bring it a level higher, couple the roast pork with their apple sauce. The combination will leave your taste buds tingling for more as the apple sauce and the pork roast melt in your mouth. With a top-up of RM1.50, you get to enjoy a cup of carrot soup and a drink with your meal. Needless to say, they serve everything with pork in this restaurant including their desserts. On their menu, they offer Apple Bacon Cheese Pie and Bacon Brownie! They are open for lunch from 12pm to 4pm and from 6pm to 10pm for dinner, except Wednesday.
9. Nom Nom Chomper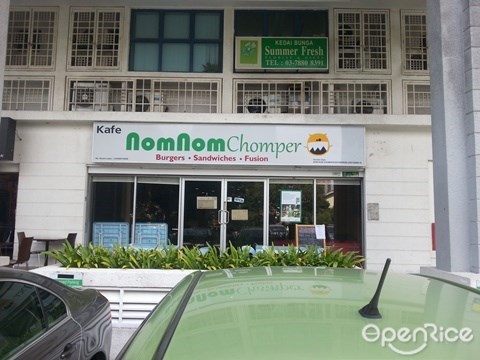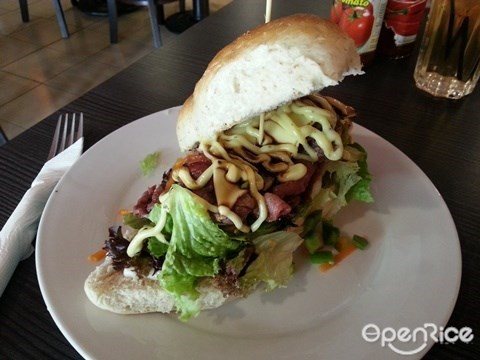 Facing the main street, Nom Nom Chomper is located in Block D of the Kelana Jaya Square. Serving delicious sandwiches and burgers on freshly baked bread the Chef's Value Lunch comes with a glass of green tea. The Beef Bacon and Cheese Sandwich are cushioned with lots of greens with just the right dash of balsamic vinegar. The chef is generous with the beef bacon and it is tender to the bite. Other signature burgers that you can try are Juicy Lucy, Big Bird and Banjo On My Mind. Nom Nom Chomper also serves spaghetti on their menu. With hand-written menu on one side of the wall and Marvel's superheroes on the other side – you can enjoy your Nom Nom meal in a nice ambience.
10. L'Epi D'or French Boulangerie Cafe & Bakery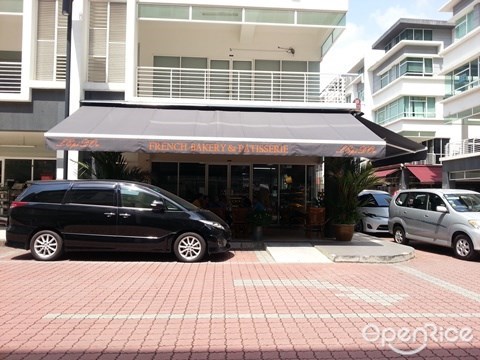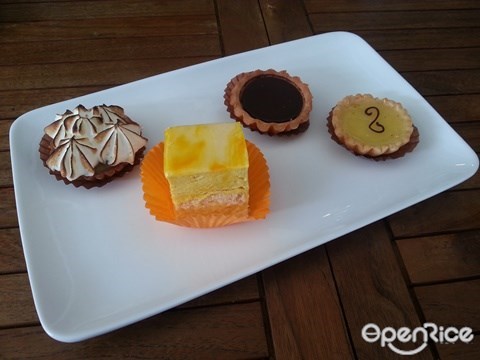 If you are looking for a place for delicious and affordable French bread and pastries, L'Epi D'Or is what you have been looking for. Planted in the new Zenith Corporate Park, this patisserie offers an array of breads, pastries and desserts – some frozen bread is available, if you want to bake at home. L'Epi D'Or makes their desserts in mini sizes; you don't have to worry on gaining weight easily. If you like citrusy dessert, the lemon tart and the mini mango passion is a must-try. The citrus flavor is very refreshing, the sourness will give you the lemony kick and as it melts, you will taste a little sweetness in it. The crust for both the Lemon Tart and the Chocolate Ganach is not too hard or too crumbly. Chocolate lover will love their Chocolate Ganach as the chocolate inside is very rich.
Find the Best Seafood in Klang Valley
Discover the Hottest Fish Restaurants in Klang Valley
Other Related Topics