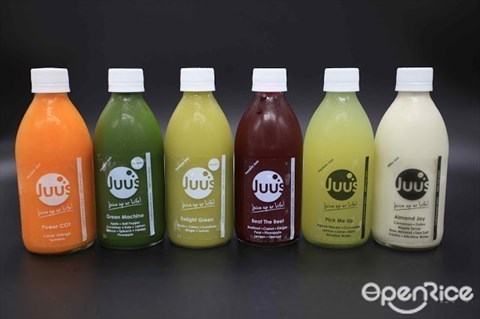 Several weeks ago, some of our members were invited to enroll in a 1 day detoxification program hosted by
Juus
, a cold-pressed juice specialty store at Jaya One. A day before the program, participants were given 6 bottles of different juices. Each has its own specific detox function. They were required to drink 1 bottle for every 2 hours, starting from 8am until 6pm. Have our OpenRice members benefited from the program? Let's hear what they say!

It was my first detox in my entire life! I have never gone on a puasa/fast in my life. The benefits of this detox are glowing skin, increase energy level, mental balance, stop craving of bad food and all around great feeling.

Hubby and I managed to finished all 6 bottles in a day and follow the timetable given. Overall I prefer the first three juices and the taste is more pleasant. I managed to have smooth bowel movements on the same day and feel more energetic.

I didn't check if it helps to reduce my weight, because this is only 1 day detox, but I feel more energetic and refreshing! I like the Power Cot, which contains carrot, orange and turmeric. It tastes so good!
经过一天的排毒疗程之后,虽然没有什么很显著的效果,但是我有感觉比较精神,步伐也好像变得比较轻盈一点。说明书有提到如果过程中有疲累、头晕、低血糖之类的症状,这是正常的,只要多喝水,症状自然会消失。

I prefer the first two juice flavours (Power COT and Green Warrior), and I managed to have a good bowel movement after trying this detox program.

I wasn't feeling hungry, tired, weak or any other sides effects during the day while on the fluid diet but by 9 pm, I began to feel hungry. By 10 pm, I needed to eat a bowl of oat as I felt too hungry already. Generally, the detox programme is pretty good. I didn't have any problem but I didn't feel energized, etc too. My body would have benefited but did not show any effect. Want to try Juus's detoxification program? Visit their website and Facebook for more info.