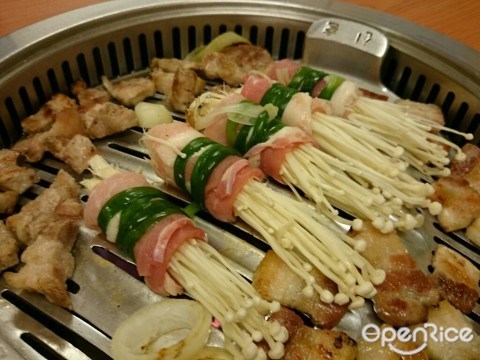 Ampang is a town that is located at suburb of Kuala Lumpur. Being known more as Korean Town, many did go there for one of the main purposes – to taste and indulge on good Korean food served by the Koreans living at Ampang! But do you know besides Korean cuisine, there's so many more food that you need to explore that's ranging from the famous Ampang Yong Tau Foo, Chicken rice, Burgers, Dessert and Indonesian cuisine! Ampang is a huge town that comprises of many other sub-districts. While there are so many foods to hunt at this area, what are you waiting for? Without further ado, let's take a look at what do we have in the list for you!
(The restaurants are listed in no particular order. Some of the establishments below are not halal.)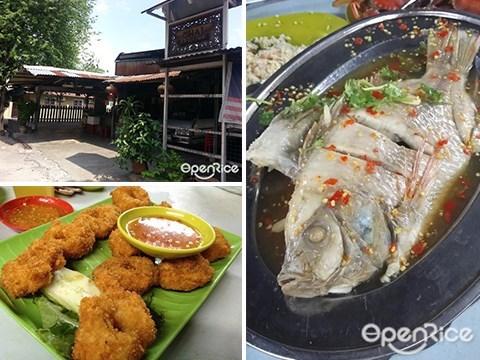 Thai food would be the best choice for dinner because it is sweet, sour, spicy and appetizing! When you stopped by Ampang, remember to pay Nong & Jimmy a visit. Serving authentic Thai cuisine, one can never miss this place! This restaurant is known among the neighborhood and is famous for their barbecued food. When dine in here, be prepared to get your hands on their barbecued crabs, prawns, cockles and squid! If you love to have starters before your main course, there's another recommended snack which is the fried 'You Tiao' in bite-size! Eaten with Kaya, it's so crunchy and delicious! Fried rice, tom yam and Thai-style steam fish – it is just too hard to say no! Not forgetting the dipping sauce that is really superb as it has peanuts in it!
Everyone knows Ampang is famous for its Yong Tau Foo. Plan to head over to Ampang for some good YTF? Then come to Foong Foong Yong Tau Foo here! Serves various stuffed yong tau foo ranging from bitter gourd, brinjal, lady's finger, white tofu, fried dumplings and fried stuffed 'fu zhuk'! It is freshly made daily and it is cooked in a wok of heated cooking oil. Upon ready, they will then scoop it up and pour some broth-like gravy on it. Every table without fail can clearly see ordering their fried dumplings and the tofu. Undeniable, this restaurant indeed serves one of the best Ampang Yong Tau Foo you can get from this district!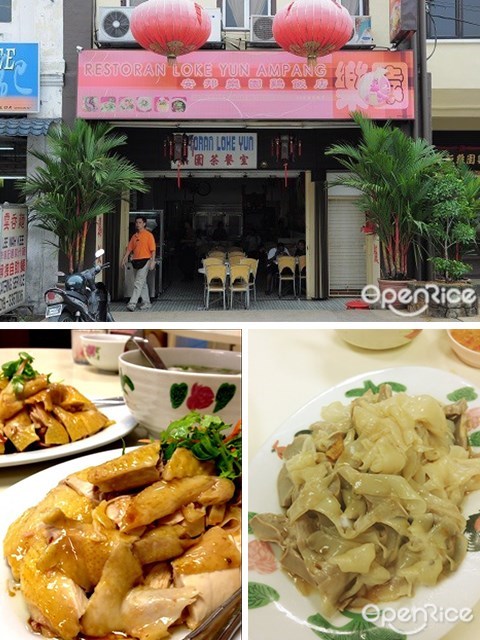 Looking for some good old authentic flavors that tickle your pickles? Loke Yun chicken rice here has the answer for you! Uses free range Kampung chicken, the meat texture is smoother and the skin is silkier. As the chicken is being poached, the timing that is used to cook this chicken is the answer. Tender, smooth and juicy chicken meat! While you as a foodie know that a bowl of chicken rice needs to be flavorful and fragrant; nonetheless you can find them over here too! To get some extra dishes besides chicken, you can see most of the tables do have a plate of slithering smooth chicken innards – of which consist of the intestines and gizzards. Crunchy and springy – surprisingly good! Don't forget to dip in the condiments of blended ginger and the chili sauce that is made to pair with the food! Head over for some great chicken rice here today!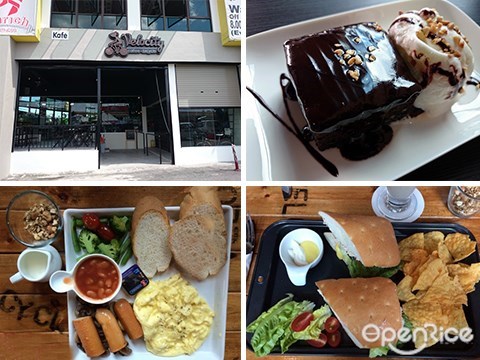 Are you a bicycle enthusiast at the same time a coffee maniac? Then you do not have any excuse not to pay this café a visit. Go further in after Ampang Waterfront, it is located just opposite AEON Big at Taman Dagang Permai. Uses bicycle as part of the decoration theme here; they are not just for decoration, but also for sale! There is also a bicycle workshop here. Foods ranging from breakfast platter, salads to dessert, simply the best you can find at this neighbourhood! Upon entering, ambience is tranquil and the lighting is perfect as the windows here are big plus it is spacious! This would surely be the place to chill and have a cuppa good brew of coffee to soothe your daily hectic lifestyle!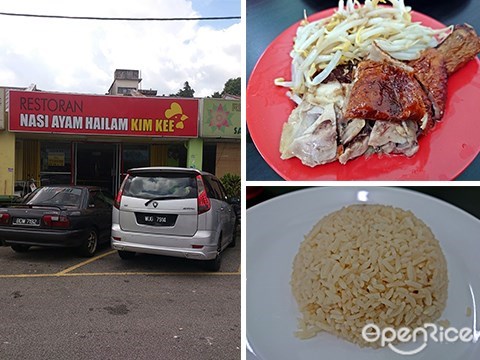 Hainanese chicken rice is your favourite too? Then that's good news ahead! Serves good authentic chicken rice for decades, the chicken here is served with bean sprouts and gravy! Smooth and tender chicken meat, be it roasted or poached. Served with fragrantly good buttered rice, they are indeed a good pair that surprises your taste buds! If you plan to visit their first founded stall that is located behind the Ampang Puteri hospital, they serve both Hainanese Chicken rice and Western food too! From mushroom soup, sirloin steak, lamb shank, Signature Hainanese chicken chop; remember to give their Hainanese Chicken chop a try! Authentic taste that is simply satisfying!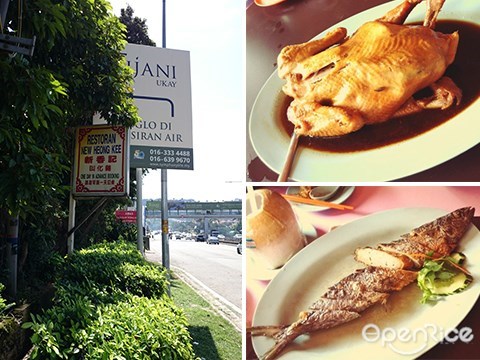 Established for more than 40 years here, many might not aware of its existence as it is further located at MRR2 highway. Famous for its Beggar's Chicken dish – a cuisine that is not easy to find it nowadays in the Klang Valley! Chicken stuffed with Chinese herbs, wrapped up carefully in layers of food waxed papers and then covered up with clay and buried into the charcoal burning pit for it to cook for nearly 8 Hours! Then, unwrapped it and you'll get to taste the fragrant and tender! Don't forget to order another great dish of Reconstituted Fish. What is it exactly? Deboned fish and then it is stuffed back to its skin and then being fried. These dishes are sure to require a certain level of skill before they could actually do that! Therefore, remember to do your food booking a day in advance before going to get them into your tummy!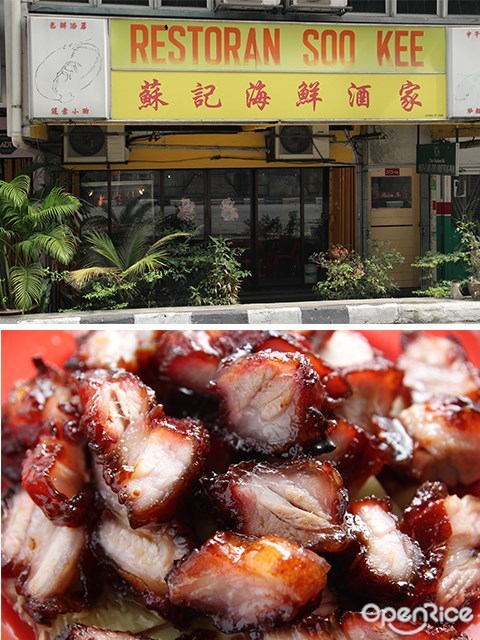 This is another restaurant that you shouldn't miss. Located just near to the flyover to Ampang Point, you can spot this old shop here that serves superb good caramelized Char Siew! Roasted using charcoal fire, the slightly charred taste and that layer of silky yet near-transparent later of fat! Not forgetting the roasted pork (Siu Yuk) is equally good! Nonetheless they do have salted roast duck, deep fried spring rolls and their signature tofu! Need we say more? Of course, it's your turn to go there and try them out today!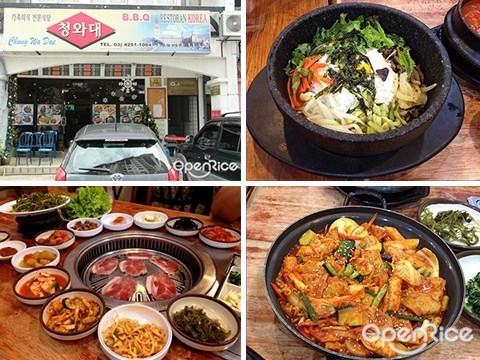 Besides Chinese food, Thai food, there's another cuisine that you need to try it out at Ampang. Famous for being known as 'Korean village', therefore you shouldn't miss the Korean cuisine here. Run by a pair Korean husband and wife team, they did their best to give you the most authentic taste of how Korean food should taste like! Comes with up to 10 small plates of side dishes or known as Banchan, nonetheless you can never go wrong by ordering some porky and beefy good meat for grilling! Fast and efficient service, the flavors of the meat is beautifully marinated and the portions are good for sharing too! Cravings fixed!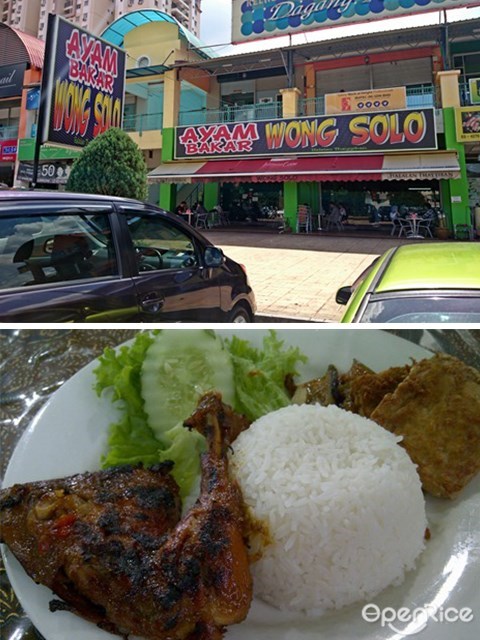 Not just mainly Chinese cuisine, you can find authentic Indonesian cuisine at Ampang too! Having many branches around Klang Valley, they too have it here! During lunch hours, patrons from nearby offices will start to flock the restaurant to get a place and enjoy the food here. Recommended you to try their Ayam Bakar, that is grilled and slightly charred, chicken are perfectly marinated and yet it is soft despite it is grilled. Eaten with the side dishes on plate of chili fried brinjal, fermented beans 'Tempe' and must have Indonesian Sambal; fix your cravings today!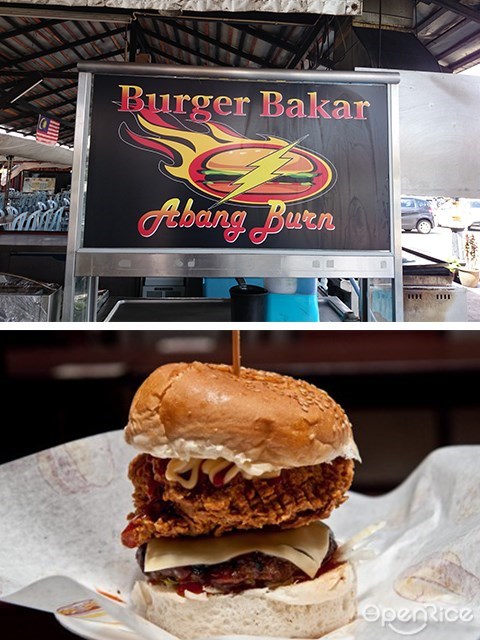 Burger Bakar had swept us all up completely when it was first introduced. We know how dangerous and addictive it could be upon the first bite. Ranging from single patty till sky high tall patties that you could imagine stacking up with melting cheese and sauces! Grilled beef patties that is juicy, succulent, and it tastes smoky good too. The fried chicken patty is made from chicken breast meat because it is so succelent and juicy! Topped with cheese and seal them up in a bun – be prepared to get sloppy because good food is always out of control!
Discover the best Yong Tau Foo in KL & PJ
Find the top chicken rice in KL & PJ
Other Related Topics