* Some of the establishments / dishes mentioned are not halal.
Life hasn't been easy. Five or six consecutive days of slogging drains our energy and enthusiasm in the things around us. All we want is sleep in and be served comfort food that will re-energize us and re-evoke our senses. Here are our five favorite brunch spots that will knock your socks off! (
Click on the restaurant's name for address and our members' reviews.
)
1. Jibby & Co. @ Empire Shopping Gallery, Subang Jaya
Cofounded by its Melbourne-trained head chef Najib Abdul Razak — hence, the restaurant's controversial name, which, by the way, doesn't belong to the Prime Minister! — is the newest darling in town. This spacious, two-story eatery whips up impressive brunch treats 8:30 a.m. to 4 p.m. all week long! That's good news for late-risers. Try its baked eggs with house-made chicken sausages, lemon zest, Neapolitan tomato sauce, and North African
ras el hanout
spices; runny double-yolk sunny-side-up on corned beef, with potatoes, cherry-tomato confit, thick toast, and labneh, whose wonderful tang cuts through the dish's inherent richness perfectly and effortlessly. Yearning for something sweet instead? Dig into its decadent French toast, which is topped with luscious pastry cream, juicy berries, and chopped pistachios, and drenched in pure maple syrup. Want something lighter? Enjoy a mound of voluptuous Greek yogurt accompanied with raspberry coulis and crispy honey cornflakes. Also don't miss its Banoffee Pie Shake, which isn't too icy or too cloying or too thick and yet feels creamy and tastes just like the real thing! Of course, coffee is always available for the caffeine junkie.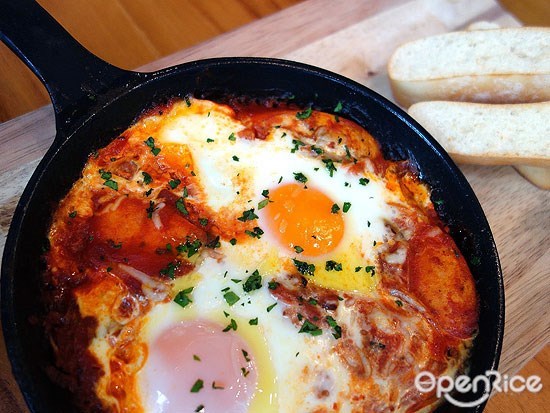 Image courtesy of Eat Drink KL.
boulangerie
meets wine bar, the Parisian setting as well as savory and sweet bites will teleport you to France. On the list of must-tries are
Croissant aux Thon et Mayonnaise
(mayo-tuna croissant sandwich); brioche toast with smoked salmon and poached egg or with poached egg, frisée salad and bits of smoked duck; its dizzying array of freshly made pastries, like
Chausson aux Pommes
(apple turnover),
Pain aux Raisins
(sweet raisin roll), and
Croissant aux Amandes
(almond croissant). You might also want to accompany these with its famous French hot chocolate (
Chocolat Chaud
), which is made with premium Valrhona dark chocolate.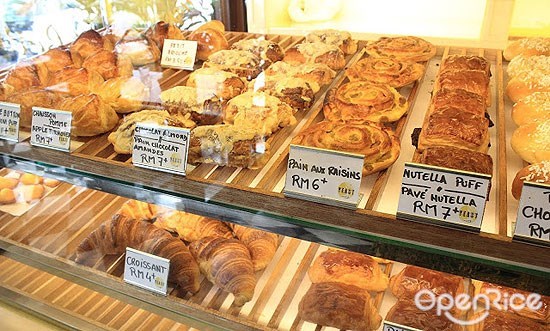 Image courtesy of Drops of Contentment.
3. BreadFruits @ Desa Sri Hartamas
At this greengrocer-cum-café, it's about natural, more balanced, yet hearty food that doesn't compromise on flavor. Its sandwiches, such as Smoked Salmon and Avocado with Arugula, Capers, Onion, and vinaigrette-ish dressing, are served with salad of the day. Another noteworthy dish is Brunch Pasta with Seven-Minute Egg — al dente pasta with bacon bits, sautéed mushrooms, cherry tomatoes, arugula, and runny-yolk hard-cooked egg. Fancy brunch for dessert? Try its less decadent version of French toast: baked rye toast with roasted banana and rashers of bacon with wild honey! Then, wash down the goodness with its signature Passion Fruit with Wild Honey drink, hot coffee, or fresh fruit juices. (Vegans and vegetarians, don't worry, as they've also got animal-free options on the menu.)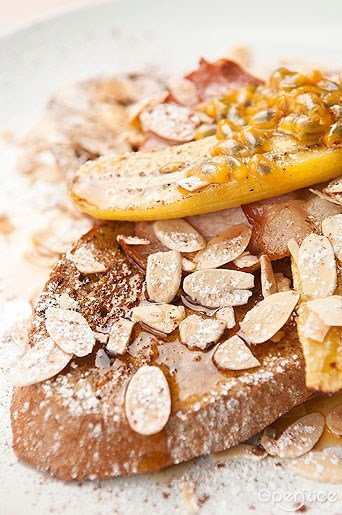 Image courtesy of Food n' Frame.
4. Dim Sum @ Maju Palace, Jalan Sultan Ismail
We've got "traditional" brunch fare covered, too. Located in a quiet corner of the Maju Junction Mall in the city center, the dim sum here is made with chicken meat. Though halal, it's equally good as their nonhalal counterparts, if not better. Be sure to order its
har gow
("translucent" steamed shrimp dumpling), Yunnan shumai,
cha siu bao
, Hong Kong-style egg tart, thousand-layer cake, pan-fried daikon (white radish) cake, and crisp deep-fried taro puff!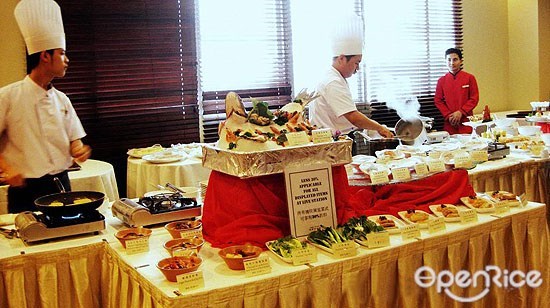 Image courtesy of This is Me; Melissa's Blog.
5. Yong Tau Foo @ Foong Foong, Ampang
This restaurant, which has been around for four decades(!), always brims with hungry folk. So if brunch is your plan, get there between 11 a.m. and 2 p.m. Since no one will be taking order, the first thing to do is drop by their PA-system-equipped counter to place yours. Then, watch as the staffer reads your order aloud on a mic and sends it to the busy kitchen. Besides the "classic" quartet of meat-stuffed okra, chilies, bitter gourd, and tofu, make sure you ask for its boiled or deep-fried
sui kow
and bean-curd-skin rolls. They're crisp, crunchy, addictive, not too greasy. Dip them in chili or dark sweet sauce, too, if you want.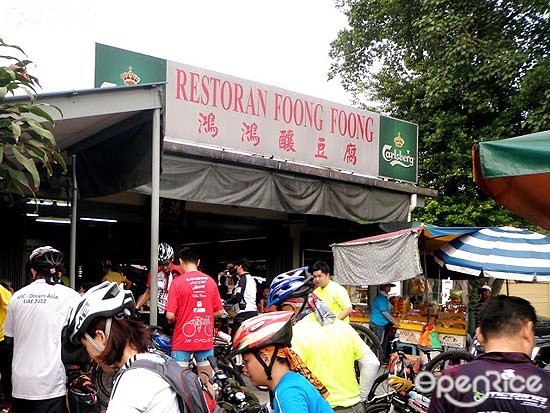 Image courtesy of Footsteps – Jotaro's Travels.
6. Hainanese Laksa @ Imbi Market, K.L.
Available on weekends only. This local specialty has been a bestseller for years. Though similar to the Penang version, it tastes surprisingly lighter, more balanced, yet complex with its fruity tartness and nuances. Its lemon-grass-and-galangal-scented, tamarind-based broth is scattered with flaked mackerel, thin slices of shallot, pineapple slices, as well as finished with fresh mint leaves and thick, dark
haeko
.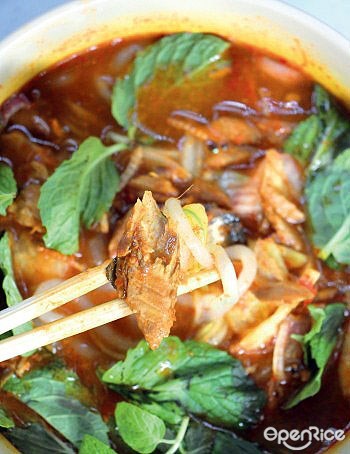 Image courtesy of TimeOut K.L.
Hunt for the hottest brunch restaurant
Discover more top dim sum restaurant
Other Related Topics