The whole nation has been shaken since the national Budget 2013 announced the implementation of the GST (Goods and Services Tax) in April 2014. Acceleration in prices of ordinary household goods coupled with the gradual withdrawal of government subsidiaries have also caused Malaysians to safeguard their wallets more frigidly.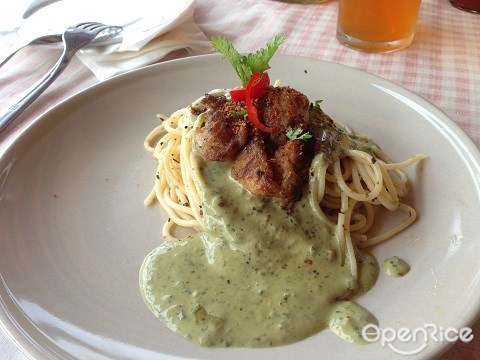 NEVERTHELESS, life goes on and we still need to enjoy and pamper ourselves with good food once in a while. When it comes to Western food, it is often associated with high prices. However, this is not always the case. So here are some value-for-money Western food that will not burn a hole in your wallet.
(The restaurants are listed in no particular order. Some of the establishments below are not halal.)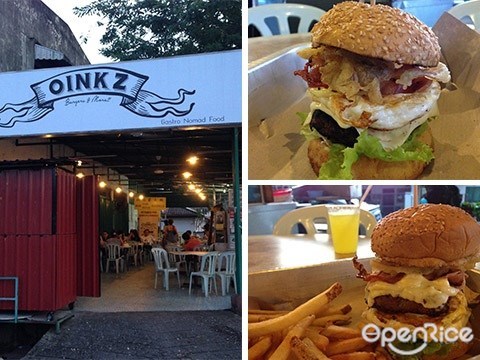 Price range:
RM10
Oinkz has recently stormed into the pork burger industry and has turned into a force to be reckoned with. WARNING: COME EARLY. Oinkz only operates on Friday, Saturday, and Sunday with only a limited number of burgers for sale each day and seating capacity is very limited too. Be prepared to get down and dirty as burgers here are loaded and oozing with sauce (don't worry disposable gloves are thoughtfully prepared for). Can't go wrong with the award winning combo of pork patty, bacon, eggs, caramelized onions, and cheese. The Hambo is the best seller here, with the tempura oyster mushroom paired surprisingly well with the whole package. Other than burgers, other porky snacks such as meatballs, siu yuk, and roti babi are available too. Oh and don't worry about paying a bomb, burgers here typically costs around RM10.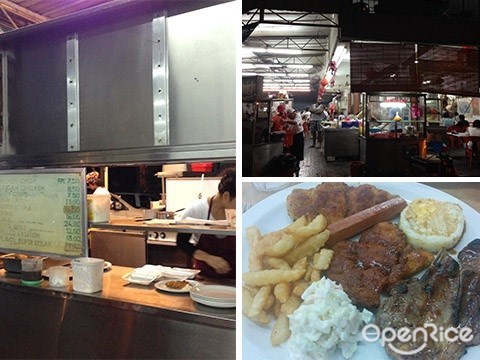 Price range:
RM8-RM25
Chicken Chop below RM10? Check. Salmon Steak below RM15? Check. Steaks below RM20? Check. This Western stall served a long history of operation in this humble coffee shop. It is so humble that it doesn't even have a name on its own. Can't make up your mind? Get the Mixed Grill at only RM12 and consist of lamb chops, fish fillet, chicken chop, sausage, egg, fries and coleslaw. The Sirloin Steak is also well cooked to retain its tenderness and juiciness.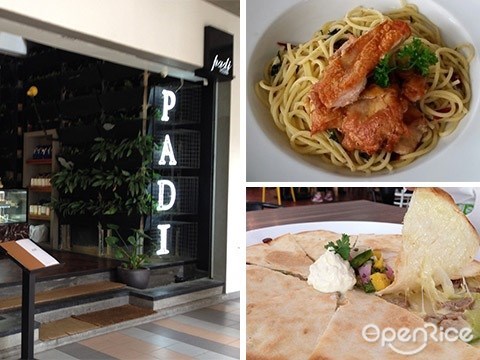 Price range:
RM15-RM25
Reasonable pricing, a massive menu, tasty food and great ambiance can be expected here. The Chicken Chop Rice is probably the best seller here with the chicken slices perfectly marinated and served with a runny-yolk sunny side up on fragrant rice. Pastas are also popular with the cream and pesto base ones faring better. Meanwhile, its menu also extends to serving Mexican dishes (outstanding Quesadilla at its price) and Asian. The drinks and desserts are also reasonably priced and is considered outstanding at its price.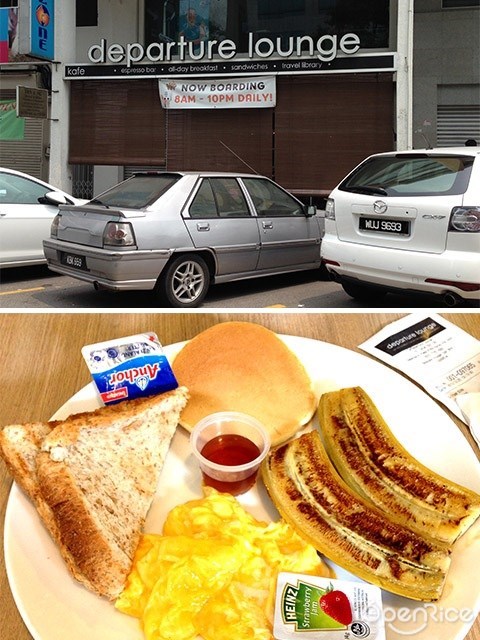 Price range:
RM9-RM15
For those who think that the typical big breakfast are too big, too pricey or doesn't have a selection of ingredients that suit your palette, well Departure Lounge's customizable all-day breakfast set should do the trick. Each breakfast platter comes with two slices of toast. For the breakfast platter, patrons can choose from 3-items platter (RM8.90), 5-items platter (RM12.90), and 7-items platter (RM14.90). Amongst others, patrons can choose from a variety of eggs, grilled tomatoes, sautéed mushrooms, fish fingers, pancakes and caramelized bananas.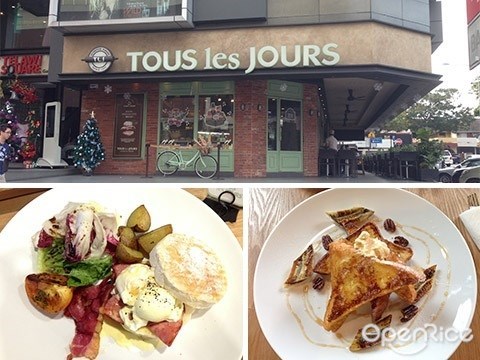 Price range:
RM10-RM25
Tous les Jours (pronounced as Too-Leh-Joo) means "Everyday" in French. Albeit being a French bakery, it actually has Korean roots dated back to 1997. Most eyes would probably pop in disbelieve at its RM9.90 Eggs Benedict. Don't have too high an expectation in terms of portion though, there's only one egg and a slice of ham sandwiched between English Muffins with a side of beef bacon, grilled tomatoes, salad and potatoes. Nonetheless, it does justify its price. The Banana Ricotta Cheese and French Toast is also a good rendition at only RM14.90 – grilled bananas with thick eggy toasts, sprinkles of ricotta cheese and walnuts which are further drenched with maple syrup. For chocolate lovers, try the Ganache Mousse which is rich, dark and intense.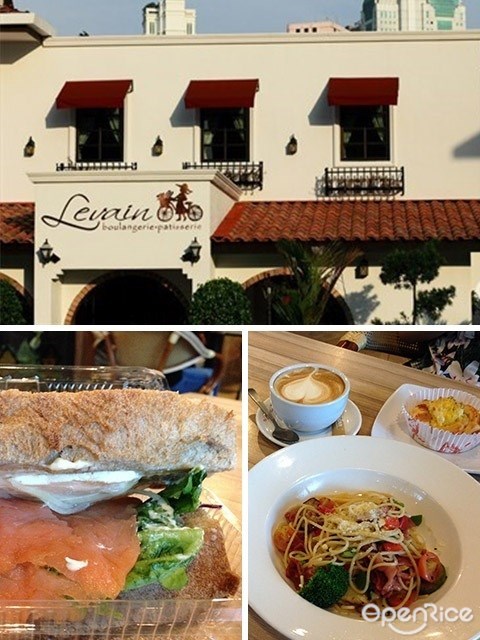 Price range:
RM10-RM25
This long-standing French Bakery within a colonial-style bungalow strategically located in the heart of KL is probably no stranger to the masses. It boasts over 60 varieties of breads and pastries of premium quality and competitive prices. All of its baked goods are baked in a specially imported stone oven that nurtures the natural yeast to rise, ensuring softer texture and enhancing tastes. It also serves reasonably priced pastas, sandwiches and pizzas.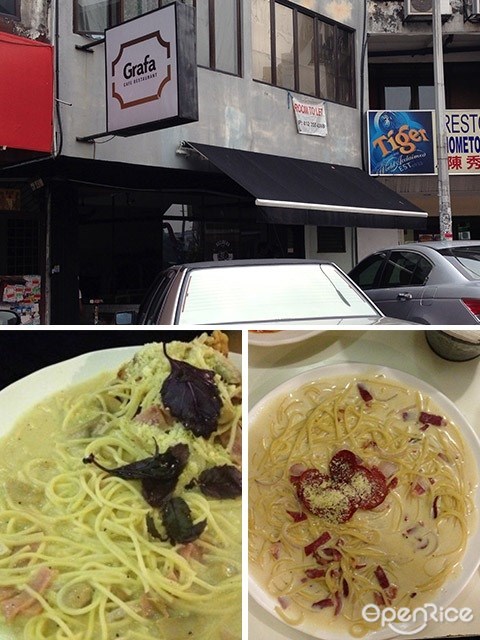 Price range:
RM10-RM25
(super big portion) What started out as a simple café in coexistence with a bicycle shop has now bloomed into a full-blown restaurant with an extensive menu and has since became a successful haunt for college students. Well if your idea of value-for-money is valued in terms of portion, then this is the place for you. Everything here screams SUPERSIZE ME. The menu itself is also massive, covering most of the popular food and beverages. Perhaps the best bet here would be the pasta with salted egg yolk, a unique blend of East meets West that proves simply addictive.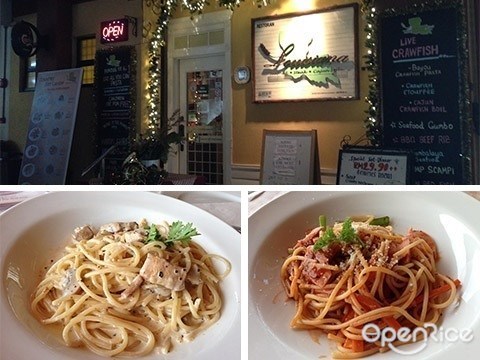 Price:
RM17.90
(pasta buffet) If you think a plate of pasta at RM17.90 is justly price, then what if there is a place where RM17.90 can buy you an all-you-can-eat ala carte pasta buffet and a buffet line comprising of soup of the day, garlic toasts and garden salad? Secret of Louisiana's pride and joy lies in its Cajun style cuisine and also specialties in seafood and steak. It is strategically located by a lake which is quite nice at night when the lights come alive. Altogether, there are 9 types of pastas to choose from for the pasta buffet. Our best picks are: Chicken Smoked Sausage, Creamy Pesto Fish, Cajun Garlic Shrimp and Vongole Clam.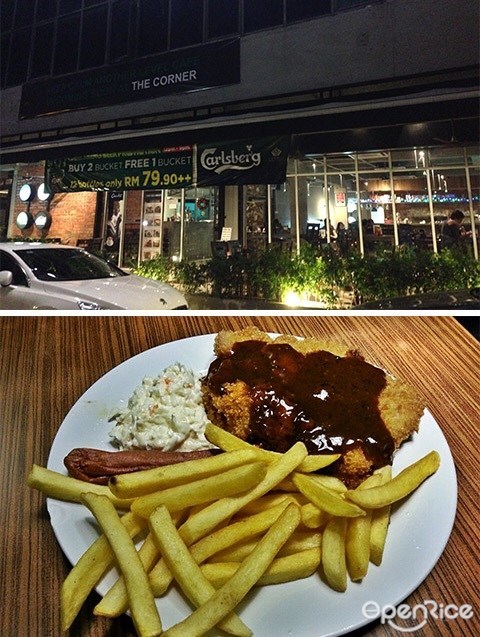 Price range:
RM10-RM25
We're talking about chops below RM20 and decent ambiance here. Like most of Malaysian's favourite haunts, The Corner also boasts a wide spread menu from pastas, chops, burgers, seafood to Chinese and Japanese inspired dishes. We would recommend the Chicken Maryland and Grilled Lamb Chop.
Find out more Western Food
Hunt for the hottest Fish & Chips
Other Related Topics