This Chinese New Year,
The Manhattan FISH MARKET
presents something special to bring family and friends together: the festive
Ha-Happy Prawn Platter
!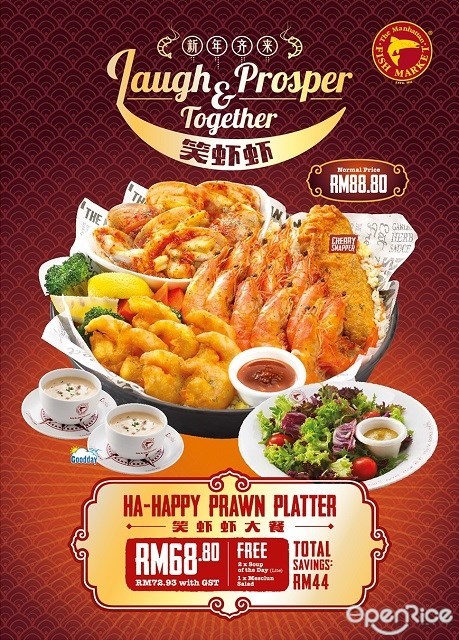 For just RM68.80 (RM72.93 with GST), you can enjoy a scrumptious prawn platter (worth RM88.80 a la carte) that comes with a complimentary Mesclun Salad and 2 free bowls of soup of the day. The prawn platter consists of
giant clams, prawns and cherry snapper
lying atop a bed of fragrant garlic herb fried rice and a side of vegetables.
In addition, guests have the option of two delicious add-on deals. For only RM4.80 (RM5.09 with GST), you can include a side of Fried Country Mushrooms, Icy Hot Fish Bananas, Lemongrass Cooler, Sunset by the Bay, Brooklyn Sunset or Melon Breeze. For just RM8.80 (RM9.33 with GST), you can enjoy an indulgent Sizzling Brownie with Ice Cream or the savoury Onion Glory.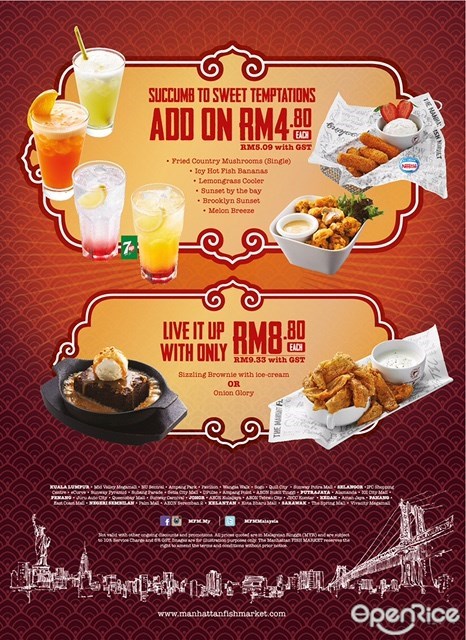 What's more, guests who spend RM50 and above will also receive exclusive The Manhattan FISH MARKET ang pao packets to share the festive joy and show their love for exquisite seafood. The packets come in sets of 8, in 2 festive designs. Dine at The Manhattan FISH MARKET near you today to celebrate the prosperous and auspicious season of Chinese New Year! Visit the
official website
or
Facebook
of The Manhattan FISH MARKET for more info.