Changkat Bukit Bintang used to be a street of pre-war colonial houses. At the turn of the century, these colonial houses were refurbished and some upper class restaurants and bars started to move in. Aside from the abundance of alcohol on Changkat Bukit Bintang, many great eateries can be found on the street. Here are some recommendations for your dining pleasure.
(The restaurants below are arranged in no particular order. Some of the establishments are not halal.)
1. Bijan Bar & Restaurant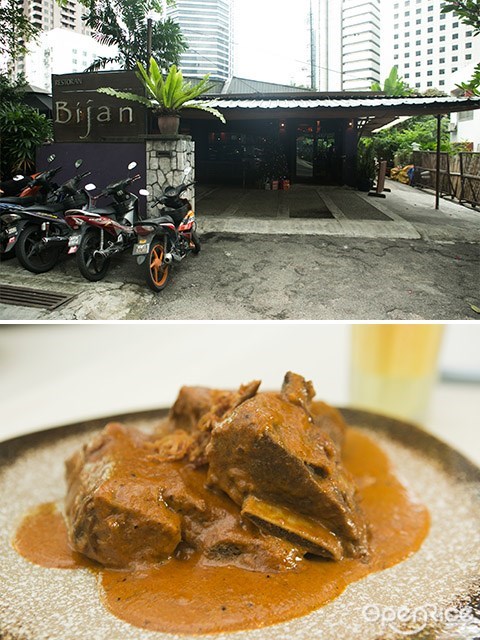 Named after the Malay word meaning "sesame", Bijan opened their doors in September 2003, and they have completely transformed the way we see and think about Malay Cuisine. The restaurant is great for corporate events and family dinners with their cosy wood interior & Gamelan playing in the background. Their signature dish is the Opor Rusuk, which is beef ribs prepared using a special sauce made with five different spices. The beef is cooked for 4 to 5 hours to make the meat tender and fall off the bone easily. Besides that, an almost forgotten recipe is also found at Bijan called the Ayam Masak Kuzi. This poultry dish is originated from Kelantan and has Arabic influence with ingredients such as raisins and almonds. The best part about Bijan is that their dishes are mildly spicy, which makes it suitable for children as well as tourists who are trying Malay food for the first time.
2. Ciccio Pasticcio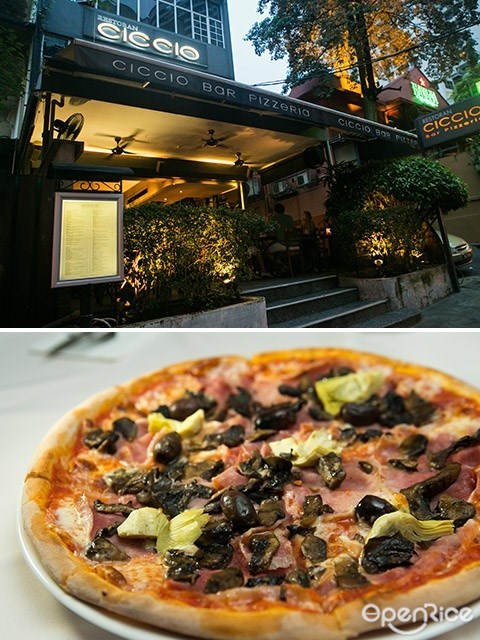 Opened in 2002, Ciccio serves the very best of Italian cuisine and is most famous for their wood fire pizzas baked in a brick oven at 250–280 degrees. The most popular pizza would be the Capricossa that is made with a special tomato paste imported from Italy. The toppings include mozzarella, cotto ham, artichokes, mushrooms, & black olives. Ciccio also serves handmade pasta such as the Ravioli di Pesce, which is squid ink seafood ravioli with seafood, peppercorn and saffron cream sauce. Complete your meal with the famous Italian dessert, Panna Cotta, which is a creamy coconut flavored custard with bittersweet chocolate sauce & shredded coconut.
3. El Cerdo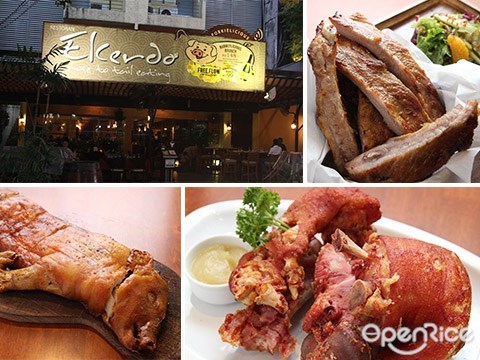 El Cerdo means "The Pig" in Spanish, and the restaurant is like a shrine to all things pork, from the menu to the decorations. In 2015, El Cerdo celebrates its 10 year anniversary, so we can expect many exciting promotions and fiestas from this restaurant throughout the year. The signature dish at El Cerdo is the 2 week old roasted suckling pig, which is a recipe originated from a small town in Spain called Segovia. The suckling pig is imported from Denmark and marinated for 24 hours before it is slowly roasted for 30 minutes. The result is a pig with crispy skin and tender juicy meat served with red wine sauce and a side of roasted baby potatoes and salad. Other popular dishes are German Crispy Pork Knuckles, Roasted Baby Back Ribs and Seafood Paella.
4. Frangipani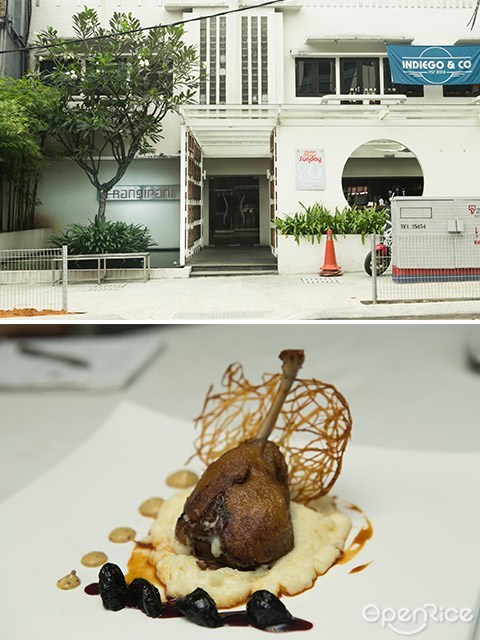 Frangipani is one of the first restaurants to open on Changkat and it is named after the 80 year old Frangipani tree that grew at the entrance of the restaurant. Their outdoor seating area looks more like a bar, but when you enter their inner sanctum behind the stainless steel doors, you will discover an interior so magical that it will take your breath away. Serving European Cuisine, their signature dish is the Organic Duck Leg Confit served with mashed potato, whole grain mustard, smoke plum and potato crisps. The duck leg is cooked slowly in its own fat for 8 hours and then pan seared. Because of the cooking method, the meat is tender and it falls off the bone while the skin is crispy and flavorful. Frangipani takes pride in serving the best ingredients from all around the world, customers should also try the Pan Seared Japanese Mulloway and Pan Seared Hokkaido Scallop. Remember to ask the staffs for the best wine pairing.
5. Fuzio Bar & Restaurant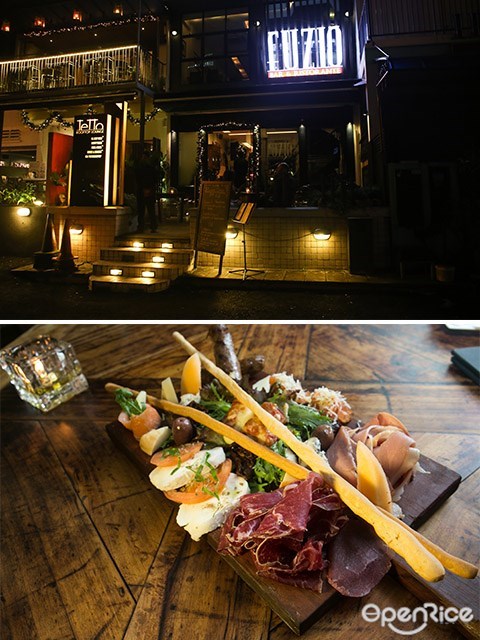 Fuzio Bar & Restaurant was established in 2012 and it is an Italian restaurant. It may look small from the front but Fuzio also has a roof top lounge where you can have private functions and have the DJ play you some upbeat music. The signature dish is the Fuzio Antipasti that is either served for 2 or for 4 pax. Served on a wooden board, the Antipasti includes cecina ham, smoked duck breast, tomato bruschetta, eggplant roll, tomato caprese and various cheeses as condiments. For the main course, there is no doubt that you have to try the Baked Cod. A large chunk of cod is pan seared and then baked, securing all the juices in the flesh. It is served on top of a pesto mashed potato and garnished with fried leeks. If you are not a seafood fan, then you should go for the Grilled Beef Tenderloin with roasted potatoes and a special side of mushroom carpacio that is slowly cooked with red wine and goes very well with the Black Angus.
6. J&P Magic House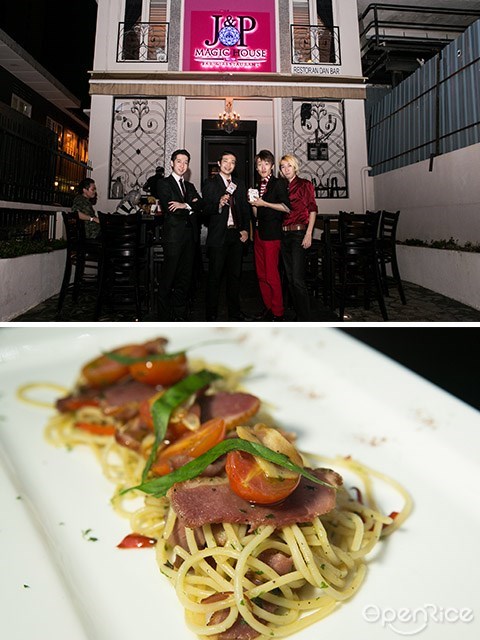 J&P Magic House is the first of its kind in Malaysia although they already have 6 outlets in Japan. This new concept restaurant at Changkat marries Italian food and mesmerizing magic show together. Their signature dish is the Spaghetti Olio Smoked Duck Breast with Cherry Tomatoes. The pasta is cooked al–dente and aromatic with the infusion of garlic and other herbs. The chef can also do a Spaghetti Olio with Prawn or Beef Bacon. In addition to that, the chef is planning an intriguing set for Valentine's Day that features a special dark chocolate and white chocolate mousse dessert paired with a cocktail aptly named Perfect Love, which is a vodka based beverage with strawberries. Customers who opt for the set meals at J&P are also entitled to a 30 minute stage magic show and for a special treat, these magicians will also go table to table for close up magic.
7. Opium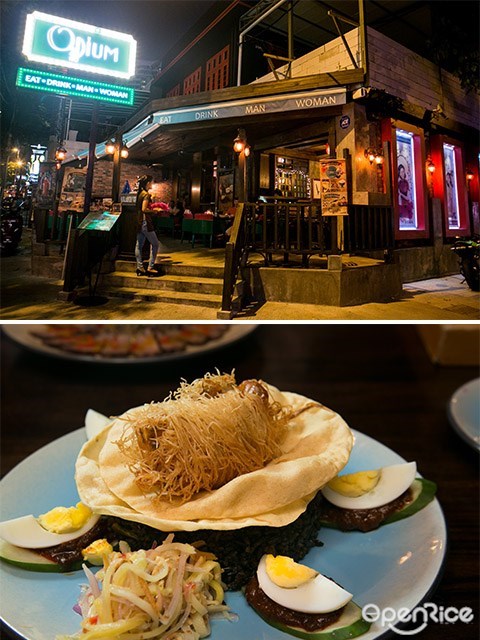 Only at 6 months old, Opium has already made headlines with its unique cocktails and Asian dishes with a twist. Stepping into the restaurant, you will catch a whiff of opium that comes from the cleverly hidden fragrance dispensers around the restaurant. The Black Fried Rice is a must try at Opium. The glutinous rice obtains its black from the squid ink and it is served with soft shell crab, eggs, and papadam. For a healthier option, there is the Fern Salad with Grilled Prawns & Sour Plum Pan Seared Duck Breast with Quinoa. Every dish in Opium is deliberately made to go great with alcohol and therefore all customers must try their signature cocktail, especially the Black Dragon. The Black Dragon is a vodka based cocktail with sweetness from blueberries. Opium also has weekdays lunch set with all you can eat dim sum, noodles and unlimited drinks. Besides that, they have Zen hours where certain beverages and food items go on a discount.
8. Pampas Grill & Bar
Pampas is an Argentinian grill and bar that was established in 2006, and it is also an art gallery. Both its ground floor and first floor walls are decorated with various paintings, which change from time to time depending on the owners. The paintings on display are also for sale at a very reasonable price. For starters, try the smoked Norwegian salmon carpaccio topped with sour cream and capers. For the main dish, the 250 grams of grass fed tenderloin cooked till medium rare is highly recommended. No meal is complete without a delicious dessert and at Pampas they serve a delightful chocolate lava cake with a side of vanilla ice cream. Pampas Group also have other branches under different names such as the 51 Restaurant and Pampas Burgers.
9. Rabbit Hole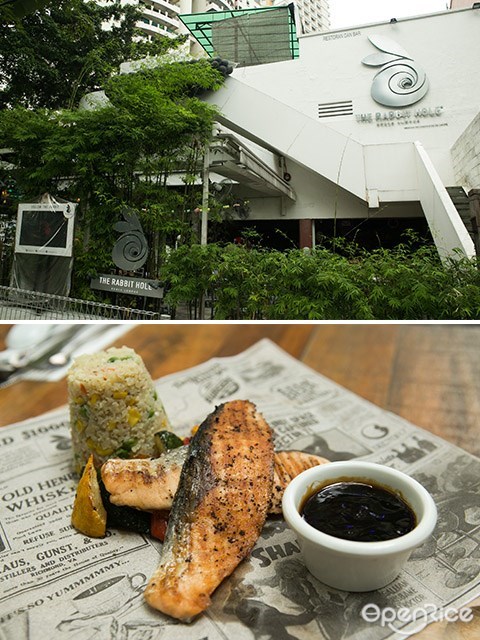 Inspired by Alice in Wonderland, this restaurant and bar is truly an adventure. Besides the al fresco and bar area, Rabbit Hole also has a cosy & intimate room called the Arthur Lounge and for a more happening scene they also have the Green Room for dancing and it also comes with its own dunking pool. The Rabbit Hole have a selection of healthy meals and their most unique one is the Salmon Teriyaki with Cauliflower Rice. The rice is actually shredded cauliflower and the salmon is lightly glazed with teriyaki sauce and then heat pressed to eliminate the need for oil. Besides that, they have an array of beer snacks such as the Dog Food and Duck Bacon. Rabbit Hole gives customers a dining experience with a difference.
10. Racks Bar & Baby Backs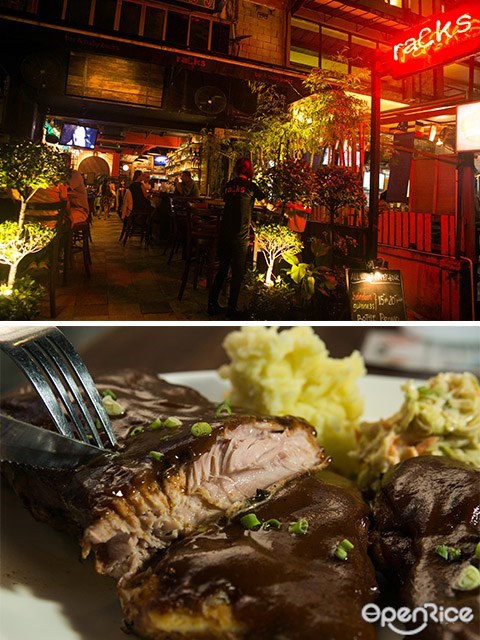 As its name denotes, Racks signature dish is the Baby Back (Pork) Ribs. The ribs are marinated overnight and oven-braised for over 3 hours to create the supreme tenderness. After a customer has placed an order, the ribs are then char-grilled to perfection. There are three types of sauces to choose from but the recommended one is the Torture Sauce, which is Racks' homemade spicy barbeque sauce. If you are a small eater, you can also opt for the quarter rack instead of the full rack. Recently, Racks has also introduced the barbeque chicken with the same three sauces for your choosing. For a great bar snack for sharing, go for the Cold Cut Meat Platter. The platter has four types of meat, such as Parma ham and salami Milano.
11. The Magnificent Fish & Chips Bar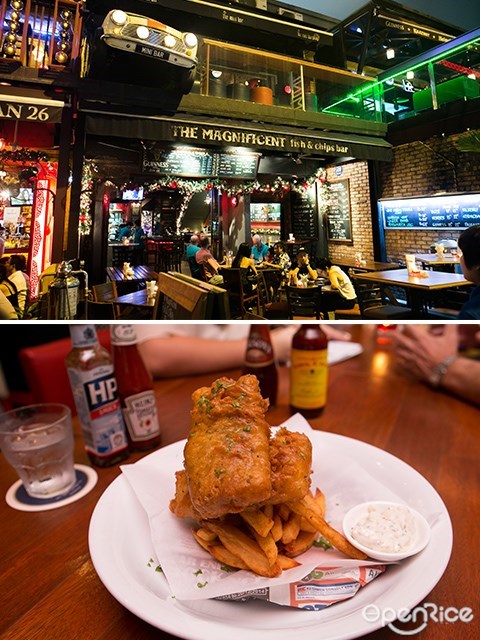 Fancy something British? Head over to the Magnificent Fish & Chips Bar and check out their selection of choice fish fillet seasoned and dipped in a light soda batter then fried golden crisp. Because of their homemade batter recipe, the fillet comes out of the fryer with a thin crust unlike most restaurants that serve fish & chips with a thick crust and deflated fillet. The Icelandic Cod is a good choice as it is a meaty fish or go for the butterfish. All Fish & Chips dishes are served with a triple cooked hand cut chips and chippies tartar sauce. And if you are a true blue Malaysian who prefers chili over tomato ketchup, they also have Lingam's chili sauce on the side. Unlike most restaurants that only open for the dinner crowd, the Magnificent Fish & Chips also serves breakfast and on Sundays they serve a typical British Sunday Roast with Yorkshire pudding.
12. The Steakhouse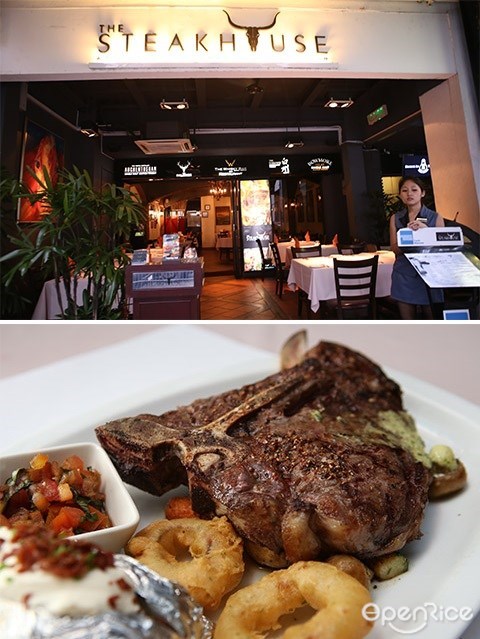 Nestled in the happening area of Changkat Bukit Bintang, The Steakhouse is a cozy and comfortable restaurant that serves Chargrilled Angus steaks. Their must-try steak is the 700 gram T–bone steak, which is great for sharing due to its large portion. Because the steak is lightly seasoned before it is grilled, the restaurant provides their customers with a selection of unique sauces such as red wine sauce, bernaise sauce, and kikkoman mirin to complement the steak. Next door to the Steakhouse is the Whisky Bar where you can order a whisky cocktail or two to complete your dining experience at the Steakhouse.
Hunt for the top western variety restaurant
Other Related Topics