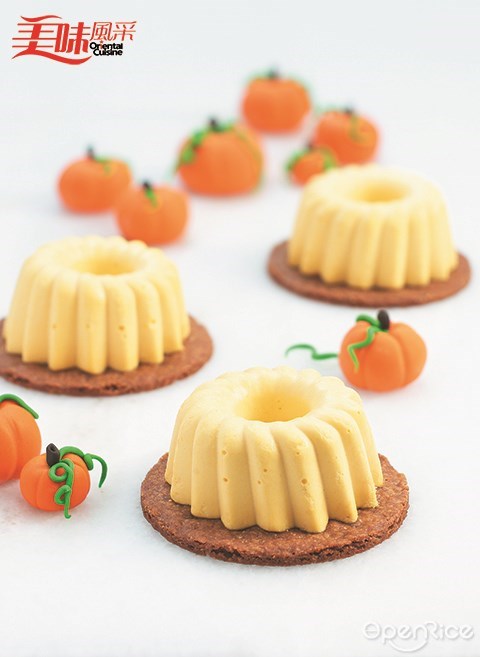 芝士搭配南瓜原来是那么的搭,吃每一口都能富有浓郁南瓜味道。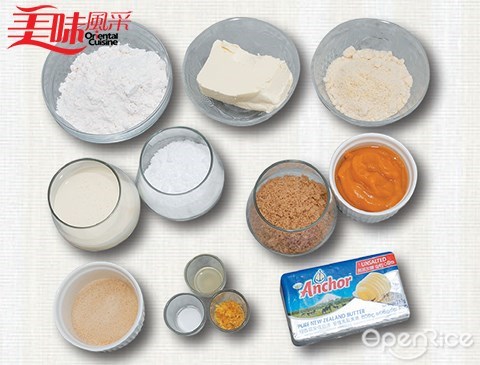 Almond Crust Ingredients |杏仁酥材料:
50g butter |牛油, 50g brown sugar |黄糖 50克, 50g almond powder | 杏仁粉50克, 40g cake flour |低筋面粉40克, 2g salt |盐2克
Method |做法:
1. Rub butter with dry ingredients to form a crumbly dough.(pic 1)
把牛油和干料以手拌成一团。(图1)
2. Roll dough in between 2 pieces of baking paper to get an even thickness of 2mm. (pic 2)
把面团放在两张油纸中擀成2毫米厚。(图2)
3. Chill for 30minutes. Then cut into rings. (pic 3)
冷冻30分钟,然后切成圈。(图3)
4. Bake at 175°C for around 13 minutes or until golden brown.(pic 4)
放入烤炉里以175°C 烤13分钟或至金黄色。(图4)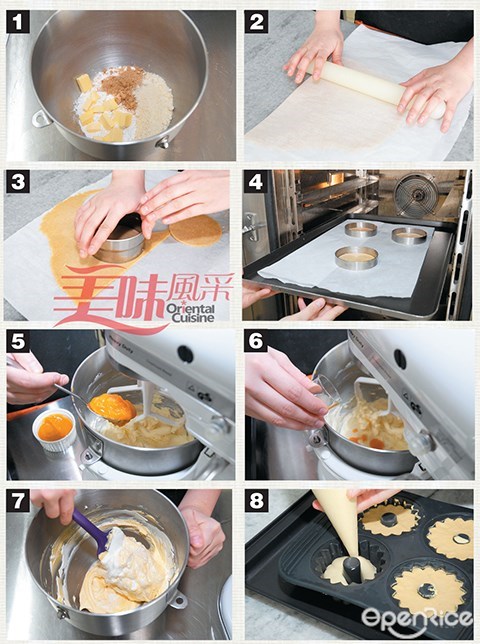 Method | 做法:
Cheese cake ingredients |芝士蛋糕材料:
60g cream cheese |芝士奶油60克, 40g Icing sugar |糖粉40克, 100g pumpkin puree |南瓜泥100克, 2 tbsp lemon juice |柠檬汁2汤匙, 1 tsp lemon zest |柠檬皮茸1茶匙, 6g Gelatine powder |鱼胶粉6克, 30g cold water |冷水30克, 100g whipped cream |发起鲜奶油100克
Method |做法:
1. Combine gelatine powder with cold water. Mix well and set aside to bloom.
把鱼胶粉浸泡冷水。然后等它溶解。
2. Beat cream cheese and icing sugar till smooth. Mix in the pumpkin puree, lemon juice and lemon zest.(pic 5)
把芝士奶油和糖粉搅拌至顺滑,加入南瓜泥、柠檬汁及柠檬皮茸。 (图5)
3. Slowly fold in the whipped cream and mix well.
慢慢加入发起鲜奶油,搅拌均匀。
4. Fold in the gelatine mixture and mix well. (pic 6)
把溶解鱼胶加入,搅拌均匀。(图6)
5. Pour into moulds and freeze till set.(pic 7-8)
倒入模子里,收入冰箱待凝结。(图7-8)
6. Remove from moulds and put on almond crust. De¬frost till complete ready to serve.
将芝士蛋糕从模子取出后放在杏仁酥上,待完全解冻后才吃。
原食谱来自:
美味风采 Oriental Cuisine