* Some of the establishments / dishes below may not be halal.
The
pasembur
, a Malaysian-Indian salad, is a crowd favourite dish that can be enjoyed at any time of day. Sometimes referred to as
pasembur rojak
and also
cheh hu
(Chinese pasembur), this modest street food usually consists of various ingredients such as prawn fritters, fried dough fritters or crackers, half-boiled egg, bean curd, potatoes and more. It is then topped with sweet potato sauce mixed with shredded cucumber and jicama (
sengkuang
) and, depending on some stalls, beansprouts as well. Here are eight places for the best pasembur in Penang.
(Click on the restaurant names for addresses and OpenRice members' reviews.)
1. Batu Lancang Pasembur @ Batu Lanchang Market Food Court
The pasembur sold at stall no. 8 here is well known for its pasembur that includes jellyfish for an extra charge. The ingredients that you get with the slightly spicy and sweet sauce are bean curd, prawn fritters and crunchy fried dough fritters. The price per plate ranges between RM3.50 and RM7.50. Opening hours: 11:30 a.m. to 6 p.m., daily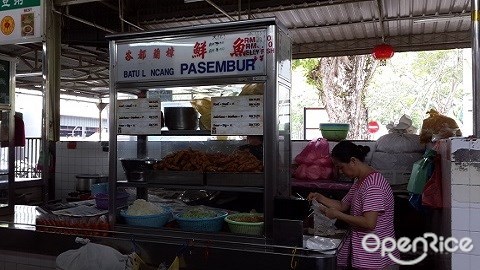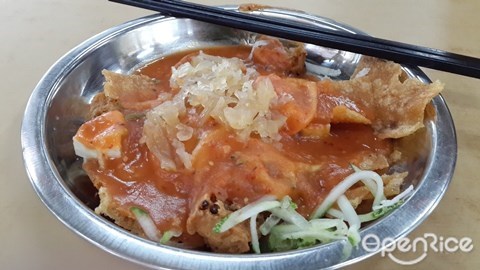 2. Pasembur @ Lebuh Cecil Market
Sold at the standard price of RM3.60 per plate at a stall here in the market, the pasembur is popular among office workers and market-goers. The pasembur here consists of the usual fritters, bean curd along with the shredded jicama and cucumber in the sauce that is not that spicy at all. Opening hours: 10 a.m. to 5 or 6 p.m., daily (closed when necessary)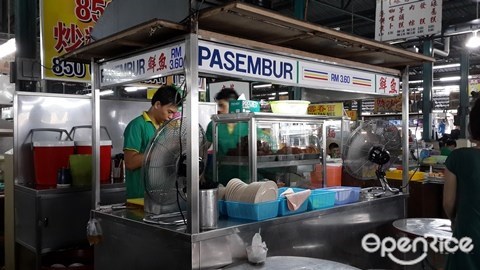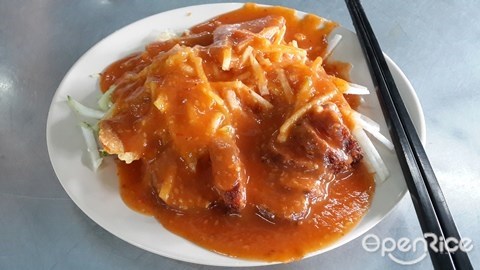 3. Pasembur 'Rojak' Edgecumbe Road @ Kompleks Makanan Persiaran Gurney
This stall is usually recommended when anyone asks for recommendations of pasembur in Penang. They have a variety of ingredients to choose from such as squid, prawns, fish cakes, fish balls, fried eggs and sausages. The sweet-smelling sauce that covers the ingredients also contains peanuts! Opening hours: 11:30 a.m. to 5 p.m., daily (closed Fridays)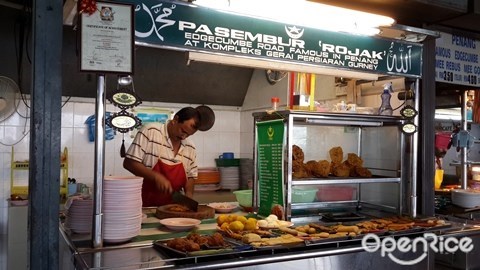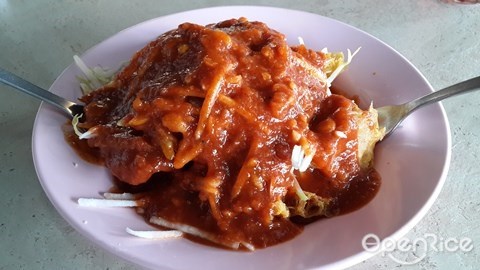 4. Hussain Pasembur @ Padang Kota Lama Food Court
Here is another pasembur stall where the customer would be spoilt for choice over the range of ingredients available. However, be prepared to stand in line at dinnertime. But as you wait, take your pick from the assortment of prawn fritters, fish balls, fish cakes, crab meat and sausages neatly arranged in front of the stall. They also top it off with a generous amount of sweet and spicy sauce filled with shredded cucumber. Opening hours: Noon to 1 or 2 a.m., daily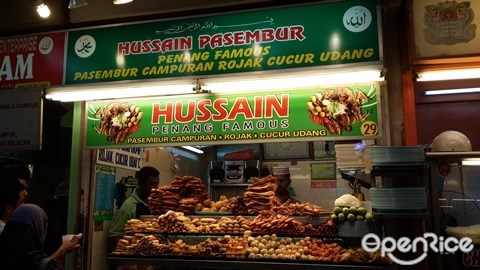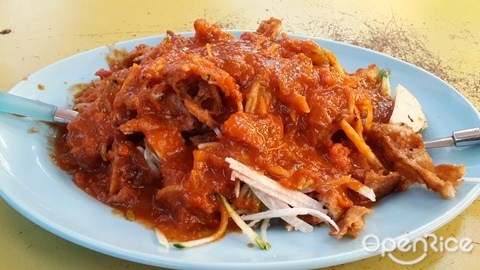 5. Tammin Pasembur @ Seng Lee Cafe
Have a plate of pasembur in a kopitiam in Lorong Bangkok. For RM5, your plate is filled with prawn fritters, potatoes and a fish ball. Savour it with the sweet sauce that has a tinge of spiciness in it along with the shredded jicama and cucumber. Opening hours: 8 a.m. to 6 p.m., daily (closed Mondays)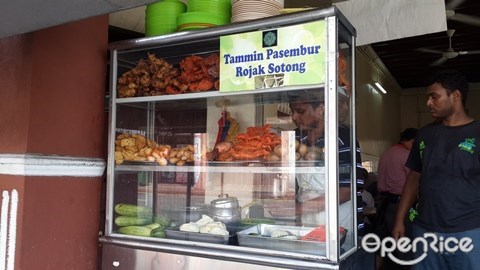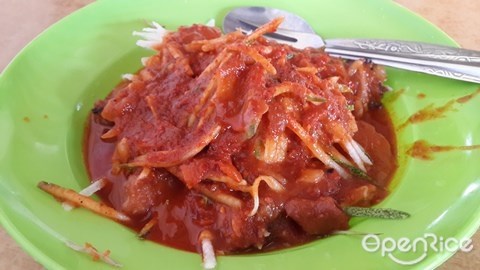 6. Union Street Famous Kareem Pasembor Rojak
Established in 1945, this stall continues to woo tourists and office workers nearby for its delicious pasembur. The ingredients here seem to be different from other stalls. On top of the usual pasembur ingredients, they also serve popiah (spring roll) and cheese rolls. The standard prices per plate here are RM4.50 and RM8 but the customer can select the ingredients as he wishes. Opening hours: 11 a.m. to 7 p.m., daily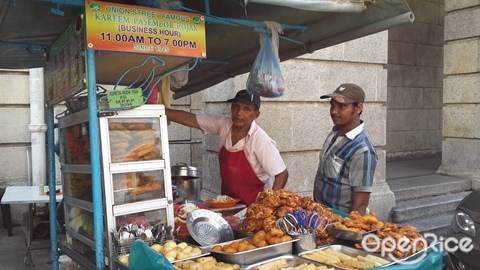 7. Pasembur @ Famous Stall 09 Anjung Gurney
A list of pasembur in Penang would not be complete without the mention of the famous stalls at the Gurney Drive hawker centre. Even Prime Minister Datuk Seri Najib Tun Razak had to make a surprise stop at this food court last year to enjoy the pasembur. Among the stalls here is stall 09, which serves specialties such as squid, prawns and fried crabs. Opening hours: 4 to 11:30 p.m., daily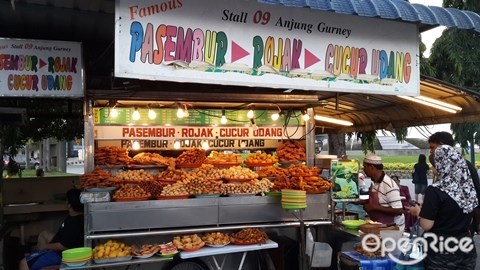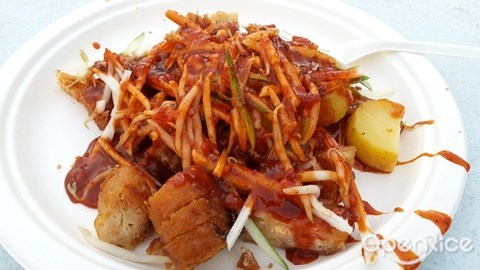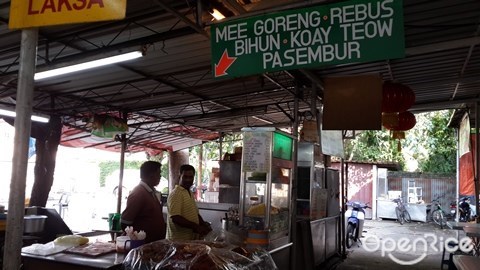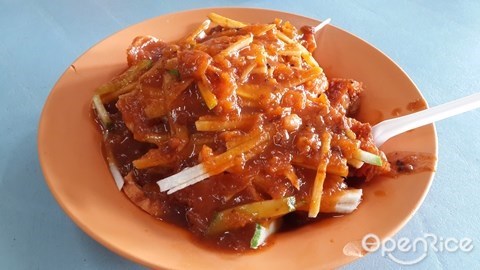 Search for the Best Rojak in Penang
Hunt for the Top Indian Foods in Penang
Other Related Topics