* Some of the dishes below are not halal.
When it comes to Penang food, usually a plate of steaming
char koay teow
springs to mind. Once a humble dish for the poor, it's amazing how this meal has become a popular hawker food. It's essentially flat rice noodles flash-fried with a touch of
sambal
, prawns, cockles, egg, Chinese sausages (
lap cheong
), bean sprouts, and chives. In Penang, the most sought-after
char koay teows
are cooked by the older generation, who has served customers from the world over for decades. Here are the island's six best
char koay teows
, with each being exceptional in its own right. (
Click on the restaurant's name for address and our members' reviews.
)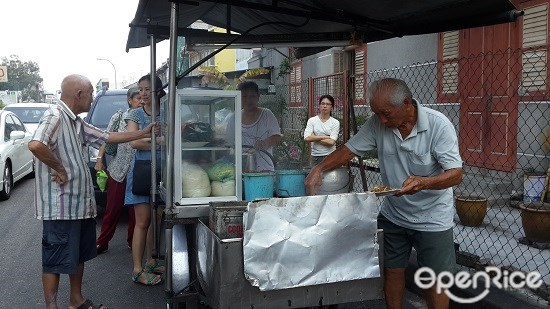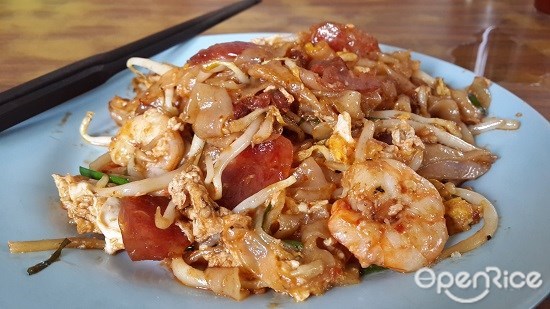 Customers don't mind the long line, sometimes waiting for an hour, for their fair shares. When you get to the stall on Jalan Siam, near the junction to Jalan Anson, you'll see the gray-haired cook relentlessly fanning the charcoal fire used for cooking his famed dish. His son, on the other hand, takes orders and delivers them to the waiting customers at the nearby Kedai Kopi Hock Ban Hin. Price: RM3.70, RM4.50, RM5.50 Opening hours: 3 – 11 p.m. (closed Mondays)
2. Lorong Selamat Char Koay Teow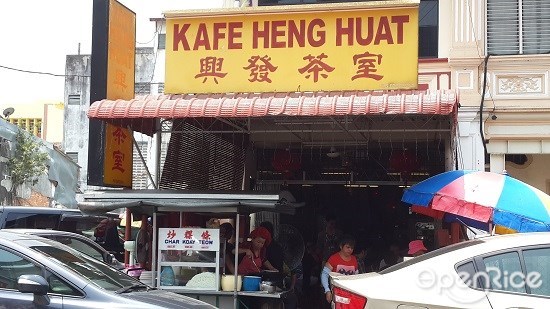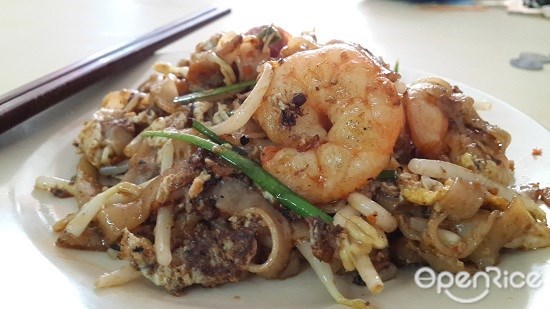 This stall in Kafe Heng Huat on Lorong Selamat draws a crowd; however, that doesn't intimidate the red-chef's-hat-donned lady cook. While her assistant helps with taking orders, the unstoppable cook whips up plate after plate of noodles. Relish your share of the coveted
char koay teow
and the big, fresh prawns that come with it. Price: RM8.50, RM9, RM11 (you'll be charged RM9 when you don't specify a price) Opening hours: 11 a.m. – 6 p.m. (closed Tuesdays)
3. Lebuh Kimberley Char Koay Teow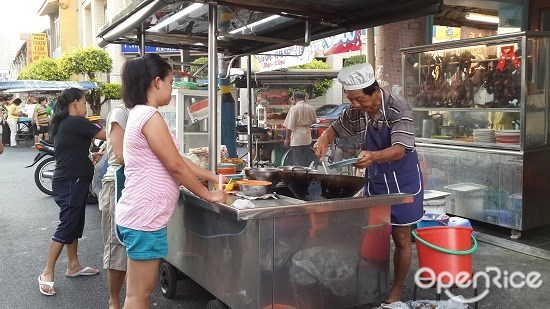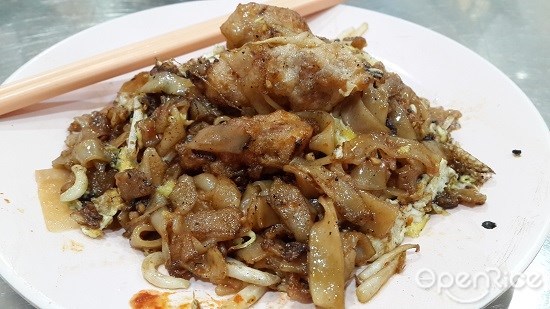 Located in front of Sin Guat Keong Coffeeshop at Lebuh Kimberley. Experience something different here by asking the cook to add mantis prawns to your
char koay teow
. You'll be given five mantis and two regular prawns, a good helping of fried egg, and still be charged reasonably. Price: RM7.20 Opening hours: 5:30 p.m. – 12 a.m. daily
4. Sisters Char Koay Teow @ Jalan Macalister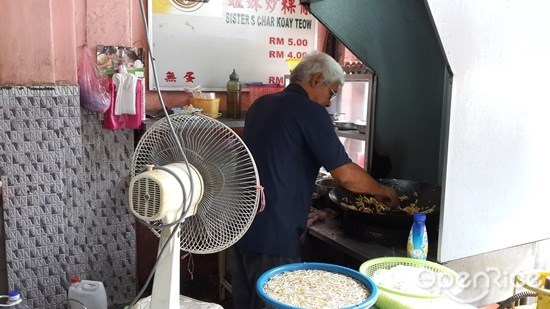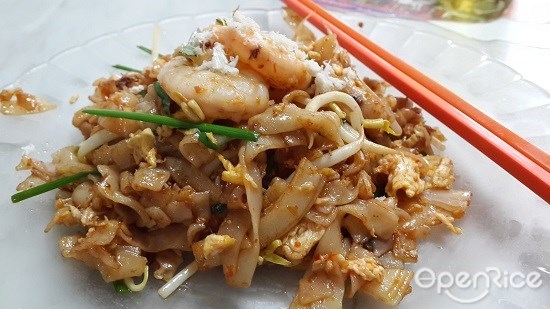 Though a bit far off from the busier dining spots, thanks to the loyal fan base and word of mouth, it's still going strong after more than 50 years. Initially manned by two sisters, one of them has since passed away, and the remaining one is already 80 years old! Thank goodness, the son of one of the sisters has taken over the business and is operating out of the stall in Lam Heng Café, opposite Loh Guan Lye Specialists Center. He, like his mom and aunt, still finishes off each plate of the legendary
char koay teow
with a sprinkling of shredded crabmeat. Price: RM4, RM5 Opening hours: 8:30 a.m. – 4 p.m. (closed Mondays)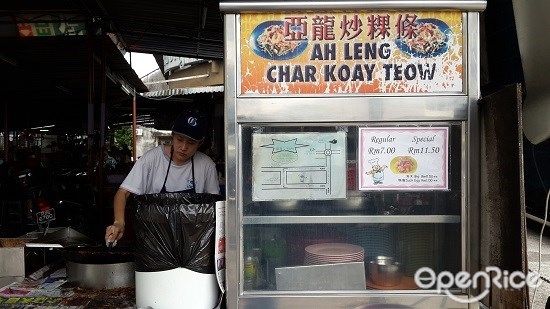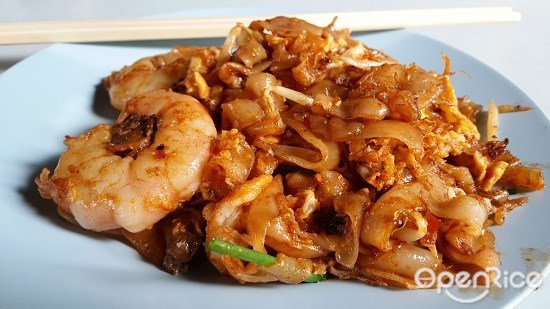 Some folk are sworn by the tastiness of char koay teow fried with duck egg. You can experience such a version at this stall in Khoon Hiang Café on Jalan Dato Keramat. If you fancy, ask for mantis prawns or for duck egg in place of chicken's at an extra charge. Price: RM7, RM11.50 Opening hours: 8 a.m. – 2 p.m. (closed Thursdays)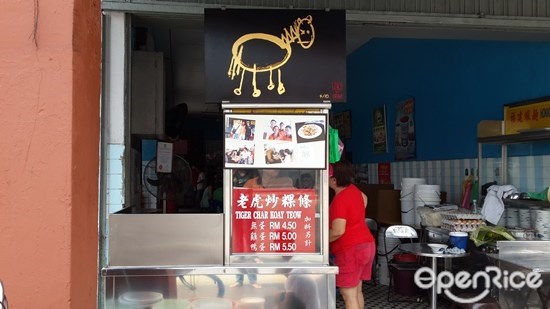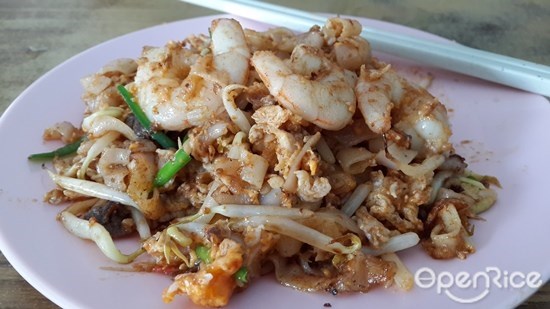 Customers can expect to enjoy a spicy plate of char koay teow goodness at this stall in Kafe Ping Hooi on Lebuh Carnarvon. With its distinctive stall name, it'd be a pleasant find for tourists walking along the streets of George Town. The stall is also adorned with a sketch of a horse courtesy of famed Lithuanian street artist Ernest Zacharevic. Price: RM4.50, RM5 (with chicken egg), 5.50 (with duck egg) Opening hours: 8 a.m. – 2:30 p.m. (closed Tuesdays)
Find out more hottest char koay teow restaurant
Hunt for the best kafe restaurant
Other Related Topics