家里没有烤炉但是手痒痒又想做蛋糕吗?那么这道免烤芒果芝士蛋糕就是必试的。 Ever wanting to try to bake a cake but buying an oven costs a lot? Worry no more, you can now make this Bakeless Mango Cheesecake with all joy!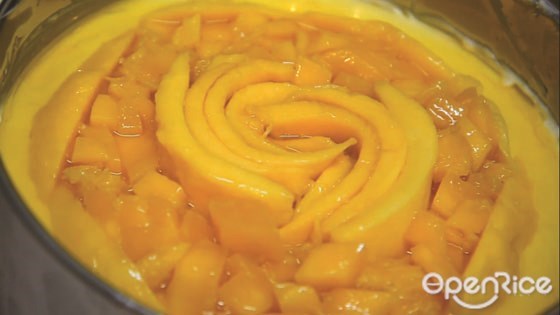 这是最经典的免烤芝士蛋糕,不但简单容易,而且可以吃到浓浓的芒果味呢!如果你是芒果的忠实粉丝,那你绝对不可错过哦!材料也简单和容易买到的。
This Bakeless Mango Cheesecake is not only yummy to eat but also easy to make. Mango lovers! Put in all mangoes you want!
Ingredient and Portion | 材料与分量:
100g Unsalted Butter | 无盐奶油 100克, 500g Philadelphia Cream Cheese | 忌廉芝士 500克, 250ml Whipping Cream | 淡忌廉 250毫升, 40g Granulated Sugar | 砂糖 40克, 2 Tsp Gelatine | 鱼胶粉 2茶匙, 3 Mangoes | 芒果 3个, 200g Digestive Biscuits | 消化饼 200克, Right amount of Jelly powder (Mango Flavour) | 芒果果冻粉 适量
Method | 做法:
1. Melt 100g of unsalted using double boiling method.
把100克无盐牛油用热水去座溶。
2. Crush 200g of digestive biscuits.
把200克消化饼压碎。
3. Put in crushed digestive biscuits into mixing bowl and then add in the melted unsalted butter and mixed together.
将压碎的消化饼加入溶化了的牛油然后拌均匀。
4. Place parchment paper accordingly onto the cake mould flat surface. Pour the crumbs onto the cake pan. Use a spoon to press the crust down. Press harder so that it stays firmly together. Once done; place into the fridge, to be chilled for 30 minutes.
铺上牛油纸,倒入饼碎压紧,记得一定要用汤匙把饼压紧。然后放入冰箱约30分钟。
5. Place cream cheese into mixing bowl and beat it using electric beater.
用搅拌器打发忌廉芝士。
6. Add in the sugar content, separating it by adding a little by a time for 3 times in total.
分三次加入砂糖,打至溶解。
7. Cut 1 mango and get all its content out, cut into cubes. Mash the mango cubes in a bowl.
用一颗芒果起肉之后压至蓉。
8. Add the mash mangoes into the cream cheese together and mix together with the beater
把芒果蓉加入忌廉芝士里搅拌均匀。
9. Beat the whipped cream until it reaches soft-peaks for about 2 – 3 minutes.
把淡忌廉打至雪糕溶了的状态,时间大约2-3分钟左右。
10. Mix together the whipped cream into the mango cream cheese mixture and mix well.
将打起的淡忌廉倒入芒果芝士里再搅拌均匀。
11. Taking another small bowl, put in 2 teaspoon of gelatine powder. Add in cold water (right amount will do) and mix it and then place it onto a larger bowl with hot water in it.
用小碗放上2茶匙的鱼胶粉。倒入冷水(适量的水)开稀后再座热水中给慢慢溶解。
12. Add in the gelatine mixture into the cream cheese mixture. Mix well.
把鱼胶粉加入芒果芝士糊里,搅拌均匀。
13. Take out the crust that is pre-chilled in the fridge for 30 minutes. Then add in the cream cheese mixture and spread evenly. Chill for at least 4 hours in the fridge before proceeding to the last step.
30分钟后之后把饼底取出。然后把蛋糕糊倒入模中,抚平。放入冰箱里最少4个小时或以上,最后就可以做最后的一个步骤了。
14. Add in cut mangoes, decorate according to your own liking. Add in the mango jelly mixture (right amount will do) and place back into the fridge for about 30 minutes. The mango cheese cake is now ready.
最后,就是把芒果肉切片,然后就慢慢的排好后,再放回冰箱里大概多30分钟就可以吃了!
不要说那么多了,现在就去片! 现在会了吗?马上就来试一试吧!
原食谱与视频来之:
Michael MA