Regional cultural differences in Malaysia affect the way each state present certain dishes to varying degree, and that includes Penang. Taste-wise, curry noodles in Penang aren't actually that different from curry noodles in Kuala Lumpur; the difference lies in the ingredients they're served with. Believe it or not, a difference in ingredients can make a huge difference in flavor.


For a slightly different curry noodle experience, make these 8 shops your next foodie destinations in Penang!


1. Kedai Kopi New Cathay
There's no better place to get authentic Penang curry noodles than here. The curry broth is extremely fragrant thanks to the coconut milk and it comes with a small but significant amount of chili paste
that aims to enrich both the flavor and your dining experience. The ingredients are also generous varied and generous — including cockles, cuttlefishes, bean curds, prawns, fish balls and coagulated pork blood.


While Tuai Pui's curry noodles are served with the standard ingredients you'd expect to have in Penang curry noodles, the plus point is that they offer extra ingredients that you could opt to be added to your noodles, ranging from chicken feet to big prawns. Going wild and indulging yourself is highly recommended as their noodles will not disappoint!


Unlike other stalls, the owners — two sisters in currently in their eighties — of this "stall" sell their curry noodles under a makeshift tent! They have been doing this for over 60 years now and if that's not hardcore, we don't know what is. The broth is cooked on a charcoal stove; eliciting a different kind of flavor and making it stand out from other curry noodles in Penang. This aspect alone makes it very worth the try!


This hidden little gem of Penang serves high-quality curry noodles. While the ingredients are comparatively more simple and fewer, the quality still stands and delivers. The chili paste is homemade as well; add it and the broth takes a fast transformation to being flaming red in color. Furthermore, the portion is absolutely generous — perfect for those with a large appetite.




Hot Bowl White Curry Mee is special — their broth is pure white in color! Upon a glance, it looks quite harmless but once the chili paste goes in, you're in for a hell of a ride! The spiciness can actually be adjusted accordingly depending on how much chili paste you throw in. Nonetheless, we highly recommend adding a significant amount for a stronger aroma and tang.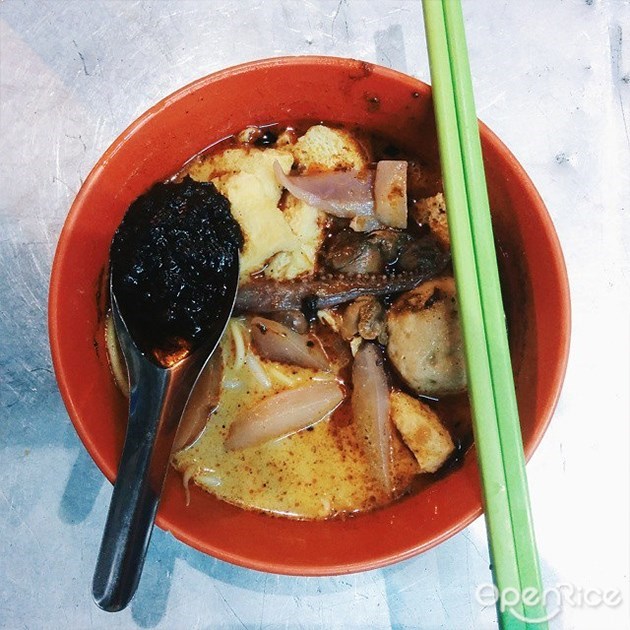 This little roadside stall is run by an old couple. Their curry noodles are the epitome of the phrase "don't judge a book by its cover" — it may look like any other curry noodles upon a glance, but you'd only have the truest experience of it when you taste it. There's a reason why many Penangite night owls flock to them.


If you go to Genting Café, getting the curry noodles is a must. You simply cannot afford to miss out on this absolutely redolent bowl of curry noodles. In fact, when it reaches your table, the scent will be quick to your nostrils! Still, the curry flavor is just right without overpowering anything else.


The curry noodle stall here is another one that's impossible to be crossed with. Every last strand of noodle is soaked in the thickness and fragrance of the soup, making every bite juicy and soothing to the appetite. Ingredients include the standard ones, plus a generous amount of bean sprouts. What could be better pairing the crunchiness of bean sprouts to the tenderness of noodles?