Ask yourself — have you ever found yourself feeling unsatisfied even after a complete meal of appetizers, mains and desserts? Do you wish you could have more? Buffets are the answer to your problem. Who doesn't love buffets? They save money and we never have to worry about the bill clocking in at a price as extravagant as the food you get.


You might be wondering, what's good? Well, we have specifically picked 10 of the best buffets in Klang Valley, coming in different variations and cuisines. Let's check them out!


1.

Best premium Japanese buffet:

Hanare
The price for their weekend buffets is at slightly above the average price, but mark our words — it will worth every single cent you spend on it. Beef lovers will have a field day wolfing down the free-flow wagyu beef after grilling them on the teppanyaki grill. Furthermore, their salmon sashimi comes in unlimited amount. Definitely a great deal for those who want to savour Japanese food but are on a budget.


2.

Best international buffet:

Lemon Garden Café

Lemon Garden Café doesn't have one of the best buffets in town for no reason — their selection is extremely diverse; you can easily see dishes from Japanese, Chinese, Malay, Thai and Western cuisines. We highly recommend getting the satays and daily roasts. Meat lovers will experience what true love is like when they sink their teeth into them!


3.

Best buffet for desserts:

Contango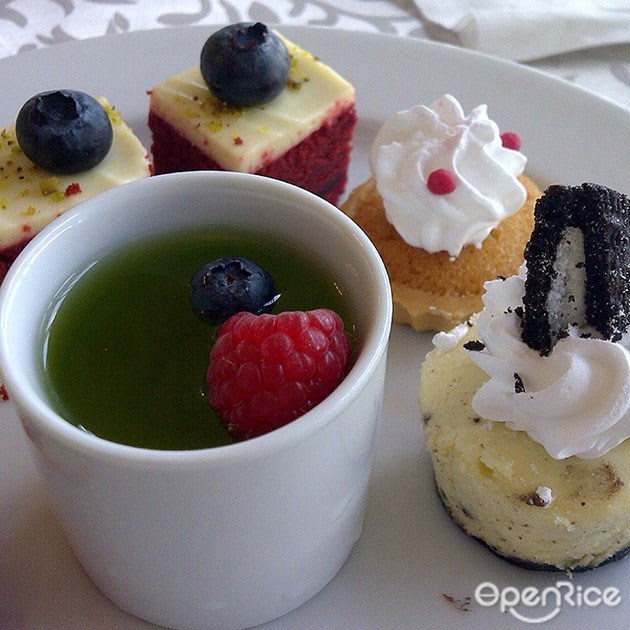 Contango presents an open kitchen with an interactive dining concept. Like Lemon Garden Café, the selections are quite diverse with Chinese, Japanese, Malay, Thai and Western ingredients to choose from. Starting your meal with fresh, premium-quality cold-cuts is the best way, but what really take the spotlight are their desserts, coming in great varieties!
4.

Best Japanese barbeque:

Rocku Yakiniku

Give this a miss and you're going to also miss grilling some of the tastiest beef and pork out there. The meat selection proves to be extremely delicious; their beef in particularly is specifically imported from Australia and New Zealand, so you're assured to be tasting the most quality of beef. Do note that they have a 100-minute time limit for every meal and you will be charged should you require extra time.


5.

Best buffet for variety:

Cinnamon Coffee House

They're the best buffet for variety indeed, as you could pretty much find anything here, ranging from local to Western. Cinnamon Coffee House stands out because they have live-cooking stations. Their pasta is a major hit amongst their patrons and seeing as how the pasta station works hard to deliver an endless amount of scrumptious pasta, it's not hard to see why.




6.

Best budget Japanese buffet:

Mitasu
This alar carte buffet restaurant is the dream place for the budget-conscious ones. Fresh ingredients? Check. Budget-friendly? Check. All-you-can-eat buffet? Check. Go wild and indulge yourself! Mitatsu runs on reservations by their customers, so take note to make reservations before coming.


7.

Best Chinese buffet:

Noble House
Noble House depends on 2-weeks-in-advance bookings with two different pricings: RM49+ that comes with braised shark fin with crab meat, and RM59+ that comes with double-boiled chicken wing stuffed with shark fin. Their buffet selection isn't limited to just Chinese ingredients either; they also have Japanese and Western. You can hit three birds with one stone now!


8. Best Korean buffet: San Nae Deul
We all love a good Korean BBQ, but the problem is that we don't always have the budget for them since they're not cheap. San Nae Deul is the hero we need — with prices that fare lower than the average price for Korean BBQ! Trying out the non-seasoned meat first before the seasoned meat is recommended for a difference in taste and flavour.


9.

Best dim sum buffet:

Tai Zi Heen
From 11:30am to 2:30pm, you can savour an all-you-can-eat pork-free dim sum buffet at Tai Zi Heen! With over 40 different dim sum to choose from, you'll be spoiled with choices. The highlights are definitely the Char Siew Chicken and Wok-fried Radish Cake, which we highly recommend for a simple but succinct glimpse into the best of Tai Zi Heen.


10.

Best budget American buffet:

Secret of Lousiana

Looking for authentic American cuisine and good Cajun-styled seafood? Look no further. At cheap prices, you get an unlimited access to a pasta and soup-of-the-day buffet. They pride themselves in their Cajun-styled seafood; the Cajun Garlic Shrimp is a MUST. This restaurant is also conveniently located beside a lake, so if you're lucky enough to get a seat outside, you can enjoy a beautiful view alongside your meal.