The Lunar New Year is just around the corner. Still don't know what and where to eat for the reunion dinner? Fret not. Let us show you some of the tastiest of the holiday dishes, and where they're served.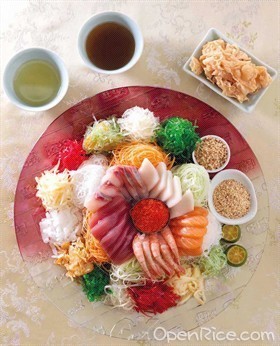 YEE SANG (魚生) This festive staple includes raw fish slices; fine shreds of fruit and vegetable pickles, often artificially colored; condiments, like plum sauce and toasted-sesame oil; and Chinese five-spice. Crackers, nuts, and seeds are added for crunch. The highlight comes when everything gets tossed together — the more and the higher they're tossed, the better, as it's believed that prosperity, vigor, and good luck will ensue. Auspicious words like 發 (faht in Cantonese, or hoo-aht in Hokkien) are called out during the great toss, adding to the excitement. Every mouthful of this colorful salad is burst of flavors and textures; refreshingly sweet and sour, succulent, crispy and crunchy. Most Chinese restaurants would serve this at this time of year. But for Yee Sang that's a little out of the norm, depending on your location, you can perhaps try One World Hotel's Zuan Yuan restaurant (鑽宛) in Bandar Utama; Grand Millennium's Lai Ching Yuen (荔晶園) in K.L.'s city center; Gu Yue Tien (古月天酒樓) at Jalan Raja Chulan, K.L.; or Penang's Jade Blossom Restaurant (粵翠軒).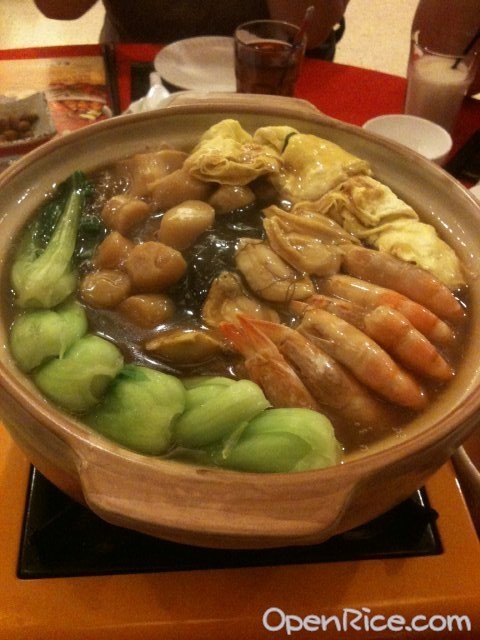 POON CHOI (盤菜) Though became popular only recently due to the media, the dish has already been served for over 600 years by the Hakkas in Hong Kong's New Territories. Legend has it that when the Mongols invaded China's north, the then-emperor, of the Song Dynasty, and his troops fled southward, to present-day Hong Kong and Guangdong province. The villagers there gathered the finest ingredients available, turned them into delicacies, and served them in large wooden laundry basins since they had no "fancy" serving vessels. This gave rise to the name Poon Choi, which in Cantonese means "basin vegetables." Notable for its massive portion, one Poon Choi easily feeds 10 people. Virtually any kinds of meat — chicken, beef, pork — seafood, and vegetables can be used, alongside items like meatballs, mushrooms, tofu, or dried bean-curd sheet. Thank goodness, we don't have to travel to Hong Kong to enjoy this. Sungai Buloh's LYJ Restaurant (李雄記冷氣酒家); Golden Sun Seafood Restaurant (金陽) at Jalan Kuchai Lama, K.L.; Dragon-i (龍的傳人) at the Pavilion, K.L.; as well as Penang's HoHo Food World (好好吃為先世界) and Zi Zai Restaurant (自在飯店) would offer their signature Poon Choi to tantalize your palate this festive season.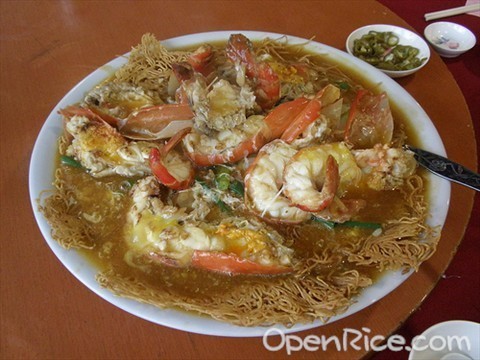 SANG HAR MEEN (生蝦麵) Literally means "fresh shrimp noodles" in Cantonese, the name says it all. Jumbo, sweet freshwater shrimp, which have been wokked to bouncy, juicy perfection, lie idly in a pool of rich, luscious, orangeish, thick eggy gravy that's strong on shrimp juices. The noodles, as a result, runs the gamut of textures, satisfying all taste buds: crispness from the part barely touching the gravy, and sogginess from the noodles that are soaked through in the warm shrimpy goodness. Add this to your Lunar New Year get-together menu. Green View Restaurant (長青海鮮飯店), located in Petaling Jaya's SS2, is famous for theirs. Not only will your guests be pleased, they'll most likely be fighting over any last bits of the shrimp, gravy, and noodles!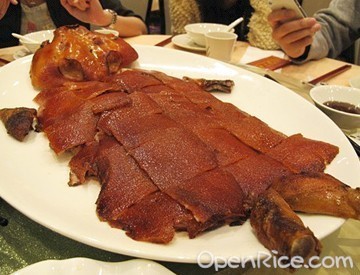 ROAST PIGLET (燒乳豬) Most Chinese families would treat themselves to this delicacy come the New Year. Underneath the ruddy, crackling, crispy skin are a tissue-thin layer of marbling and half an inch or so of succulent, flavorfully smoky meat. It's easy to find Chinese restaurants, including big ones like Oversea Restaurants (海外天) and Tai Thong Restaurants (大同), that serve up decent roast piglets at this time of year.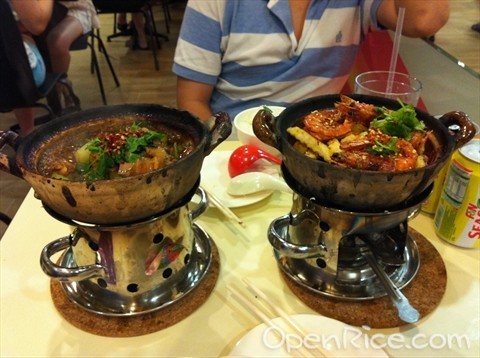 HOT POT If you want a really communal, homey thing to do during the holiday, hot pot — better known locally as steamboat — is the clear-cut winner. Nothing beats the fun of cooking your own grubs in the communal pot of rich, flavorful broth (which also comes with heaps of tender loving care, too, if it's homemade). It's not hard to find hot-pot restaurants, but here are a few that are worthy of your attention: Lin Yuan Steamboat Restaurant (淋園火鍋小館) and Hong Kee Seafood Noodle House Restaurant (雄記海鮮麵家) at Cheras; Happy City Steamboat (快樂城海鮮火鍋) at Bukit Manjalara, Kepong; Good Times Restaurant (碳世界火鍋專店) in Ipoh; and Wonderful Steamboat Buffet (旺德福自助火鍋) in Malacca.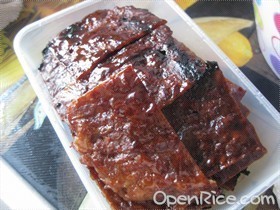 BAKKWA, A.K.A. LONG YOKE (肉乾) Though not a meal on its own, it makes for a lovely nibble before or after meal, when you'd have company over during the two-week-long festivities. Unless your guests are vegetarians or vegans, they'll probably also be fighting over these thin slices of chewy, sweet-salty meat jerky. It's usually pork, sun- or oven-dried, then grilled over hot charcoal to render charred edges, an irresistible smoky flavor, and a very caramelized, sweet exterior. You can buy bakkwa easily from shops that specialize in selling Chinese charcuterie. But be on the lookout for famous ones, like Wing Heong (永香), Lim Chee Guan (林志源), Loong Kee (龍記), and Bee Cheng Hiang (美珍香). The above are just the tip of the delicious, giant iceberg that is of Malaysia's vibrant food scene. If you're interested in having the reunion dinner at any one of the places, don't hesitate calling them up! Also, let us know, too, if we've missed out on your favorite Lunar New Year dishes or places to eat. Meanwhile, OpenRice would like to wish you and your loved ones a very happy Lunar New Year! Gong xi fa cai! (恭喜發財!)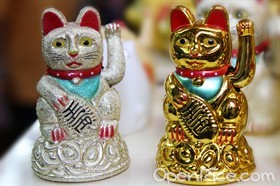 Hunt for the hottest chinese restaurant
Discover more top Singaporean restaurant