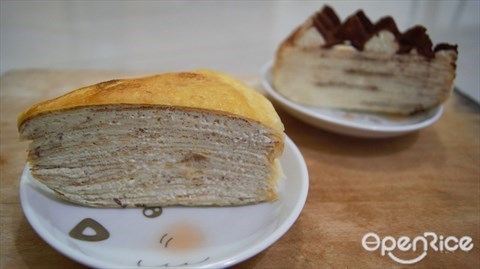 Nadeje
's mille crepe is a must-have delicacy whenever we visit Malacca. The good news is that now they have expanded their business to Klang Valley with 3 outlets in Petaling Jaya, including the
latest outlet
at 1 Utama Shopping Centre. Some of our active members were invited to review their signature mille crepe at this new outlet. Let's hear what they say about the cakes!

The mango yogurt cake was really supremely delicious. It had all the fresh taste of mango lathered in creamy goodness, there's some nuts sprinkled on top. I love every bite of this as I love mango. The cream is not too sweet or buttery, it really tastes like yogurt.

Banana Chocolate is a must order cake for me in Nadeje whenever I visit their outlet in Melaka. It was delicious and it is still my favorite crepe. The Original was yummy. Normally I won't go for original but this round it was recommended by the staff so I gave it a try. My boyfriend and sister loved it and they even finished it off.

The rum & raisin has a delightful sophisticated taste, with a sweetness that is just alright. The rum complements the soft and fluffy mille crepe perfectly, and the taste of rum was not overpowering. The addition of raisins certainly adds texture and delightful burst of sweetness to the lovely piece of cake!

Banana Chocolate的香蕉味道很香浓, 和奶油的味道非常搭, 面皮呢就是巧克力口味的。蛋糕面上还有切片的香蕉, 满满地咬一口整个口腔都充斥着香蕉和巧克力的气味,这两种味道的组合可以说是绝配啊。

Strawberry Chocolate is a combination of fresh strawberry, dark chocolate and white fresh cream make the crepe taste delicious. This is my favourite and I can't stop eating and eating it. Not too sweet and not too creamy. This mille crepe boost up my day.

外表看似厚实芝士块的原味千层蛋糕,入口那种柔滑极致香滑的奶油瞬间充满了整个口腔,一层层的可丽饼初时丰富了口感,但又快速地化开和奶油融合在一起,口感舒润并荡漾着香草的美味,再缀以焦糖回甘,无不让食用者感觉幸福满满。

Mango Yogurt - An exquisite indulgence of fresh creamy mango puree and healthy yogurt with smooth cream cheese to pamper your taste. Refreshing and not too sweet.

Double Chocolate - Double the happiness of generous spread of delicious dark chocolate cream with melted rich chocolate and tasty chocolate chips. My girls love this so much. She finish almost all. Service is nice and friendly. Head to Nadeje at 1 Utama today to satisfy your craving for delicious mille crepe!