If you're planning for group dining recently, we have a perfectly fine idea for you – come to Dave's Bistro Bar & Grill at 1 Utama Shopping Centre for scrumptious party platters! Plenty of food choices await you, from delectable pork platter to jaw-droppingly huge pizza, this is the place where you get to enjoy the genuine fun of sharing food with your loved ones!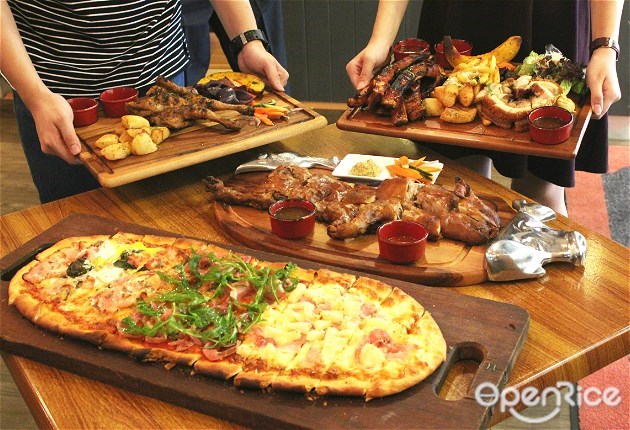 Pork lovers must be no strangers to Dave's Bistro Bar & Grill – specializes in pork delicacies, this gorgeous restaurant is always packed with patrons especially during lunch and dinner, proving the positive remarks often shared by their customers, and big portion sizes are what you'd expect when you walk into an 'Italian-ish' restaurant like here. Big eaters, rejoice!
Dave's Ultimate Pork Platter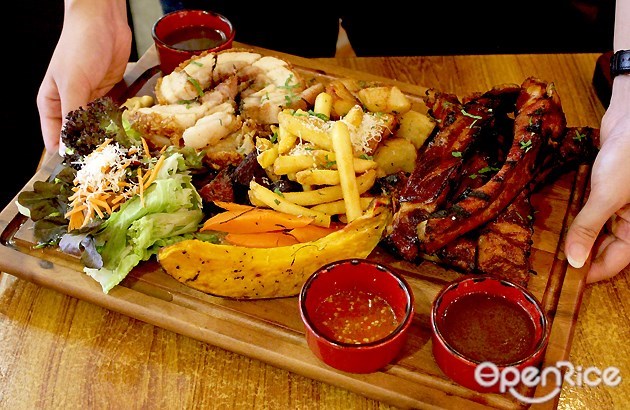 Starting off with this sharing platter that feeds up to 3 persons, comprises Dave's Signature 'Siew Yuk', Dave's Baby Back Pork Ribs and complementary sides including fries, grilled pumpkin and fresh greens. The Dave's Ultimate Pork Platter will definitely be your best bet of all time, not only for how good the food tastes but also for how shockingly affordable it is – originally priced at RM128, you can now enjoy this meaty abundance at ONLY RM88!
Dave's Famous Roast Piglet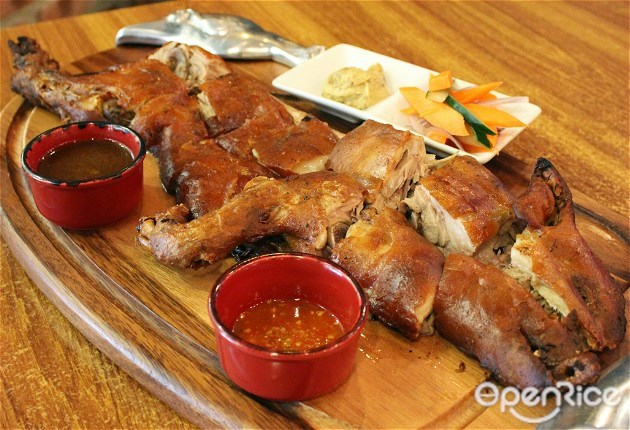 Dave's Famous Roast Piglet is one of the heroes that brought Dave's into spotlight – diligently marinated with Dave's signature blend of spices and oven roasted to perfection, the perfect pork crackling and melt-in-your-mouth meat texture are what make this dish stands out. Enjoy it with special house-made roast gravy and spicy dipping sauce – this is the heavenly taste bud experience all you needed.
The Whole Lot Pizza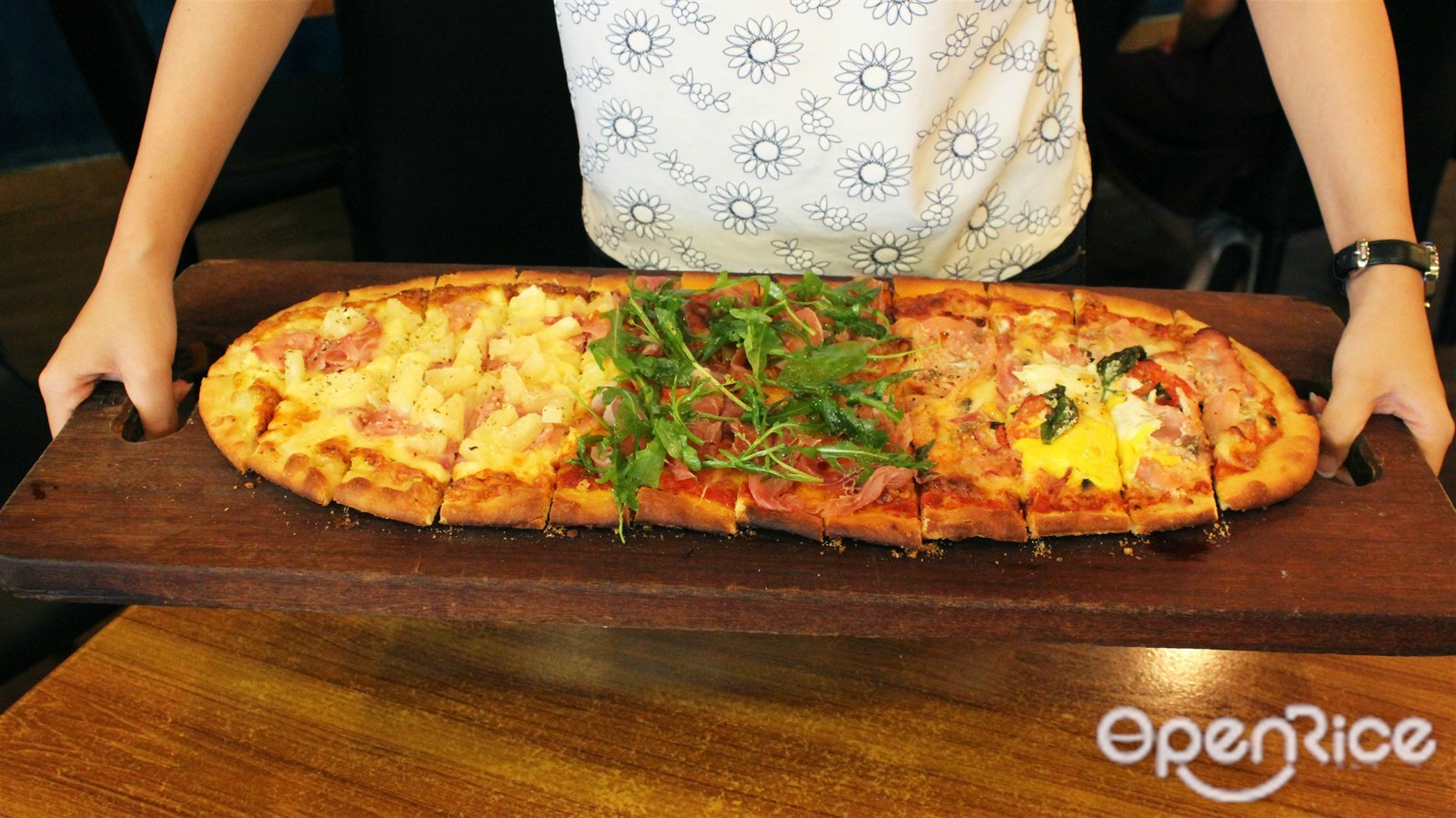 Another specialty that we'd like to highlight for you, The Whole Lot Pizza is a half meter pizza that allows customers to customize with 3 different combinations. Ends your dilemma by picking all 3 of your favorite flavors in one go! The huge portion is enough for at least 4 persons, just perfect for sharing.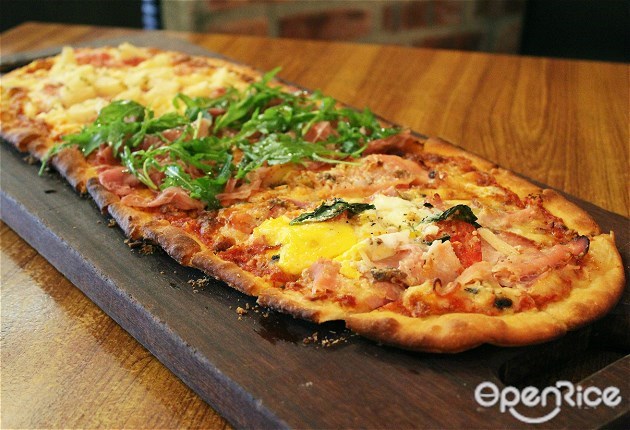 Here are the pizza flavors that we recommend: Prosciutto & Rocket, Aussie and Hawaiian. The Prosciutto & Rocket, in particular, stood out to us because it's unconventional, definitely not something that we usually get from pizza chains, and all pizzas here in Dave's are fresh from the kitchen. It's time to unleash your inner beast and let's conquer The Whole Lot Pizza, yea or nay?
Whole Roasted Spring Chicken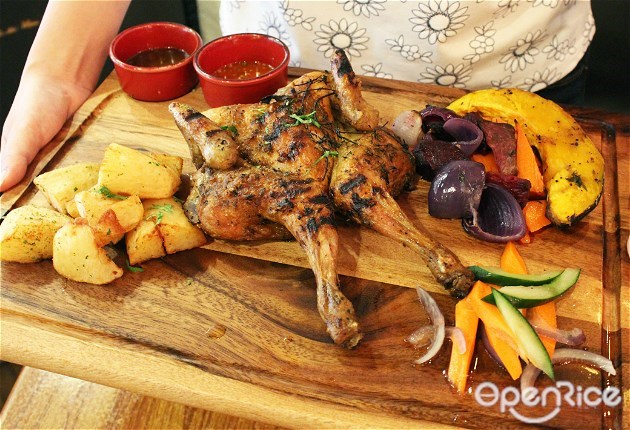 A must-include for everyone's order, try the Whole Roasted Spring Chicken at Dave's – marinated in a Mexican rub and slow roasted to perfection, this moist, tender and flavorsome chicken is complemented with delicious herbed roasted potatoes, roasted vegetables, pickles and Thai chili sauce.
Dave's 'Siew Yuk'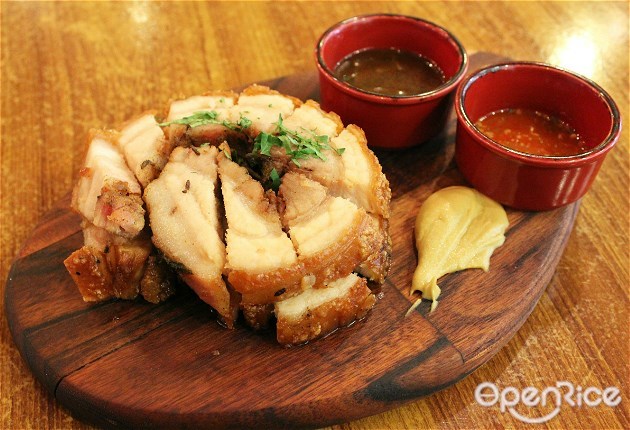 'Siew Yuk' is that one dish that basically everyone loves, and Dave's is serving one of the best in town. The preparation of Dave's signature 'Siew Yuk' takes up to 8 hours by slow roasting the rolled pork belly to perfection – crispy on the outside, tender and juicy on the inside – the rolled roasted pork belly is then served in small cuts with mustard and chili sauce. Our advice is to pair this fantastic 'Siew Yuk' with beers for a greater taste!
Dave's Baby Back Pork Ribs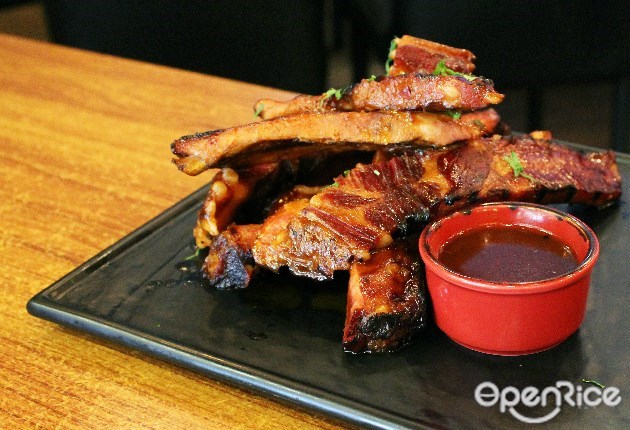 Have Dave's Baby Back Pork Ribs in the Ultimate Pork Platter or in ala carte version like this one here – succulent, fall-off-the-bone tender, basted with delectable BBQ sauce and served with gravy – Dave's Baby Back Pork Ribs showcases all the essential qualities that a nice BBQ pork ribs dish should have, bursting with bold flavors alongside a delightfully burnt aroma that brought by the slightly charred finish, just too good!
Slow Roasted Pork Belly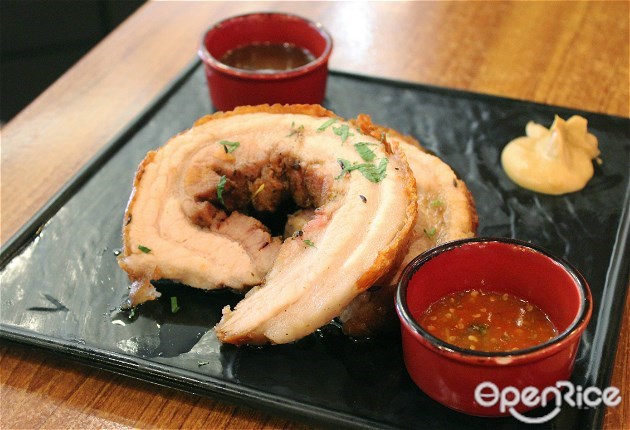 Two full slices of Slow Roasted Pork Belly served with mustard, Thai chili sauce and gravy, just if you would like to enjoy the 'Siew Yuk' rough and original – different cuts but same awesome taste.
Fish In A Bag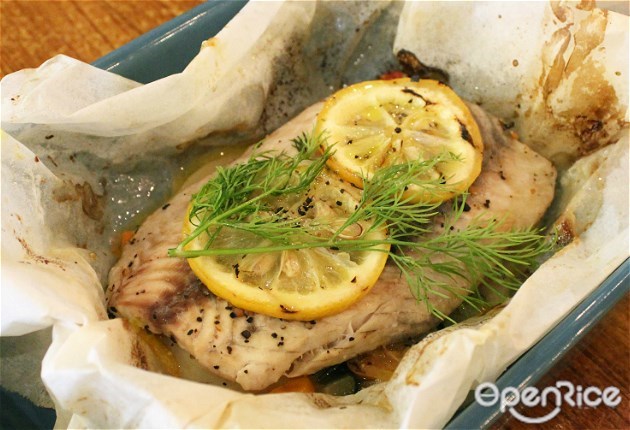 While you think Dave's menu is all about pork only, here's where Fish In A Bag comes in. Fresh fish of the day parcel baked with white wine, dill, fennel, zucchini, leek and potatoes, made perfect with butter cream sauce – the fish turns out to be soft, moist and absolutely delish, a masterpiece indeed.
Seafood Bisque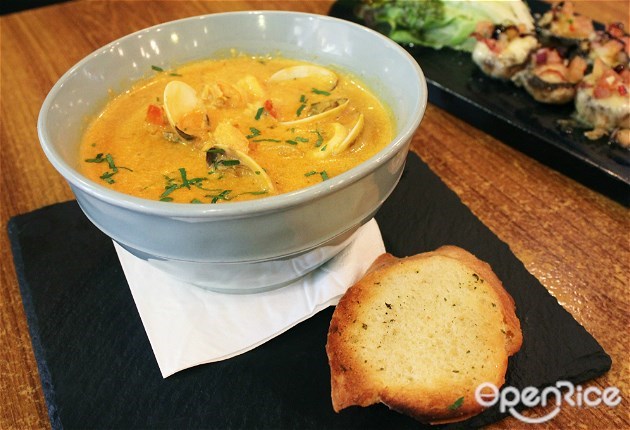 Assorted fresh seafood comprising prawns, mussels, sliced fish and calamari cooked in a creamy tomato broth and served with garlic bread, have this appetizing Seafood Bisque as a good starter to your meal!
Olio Seafood Linguine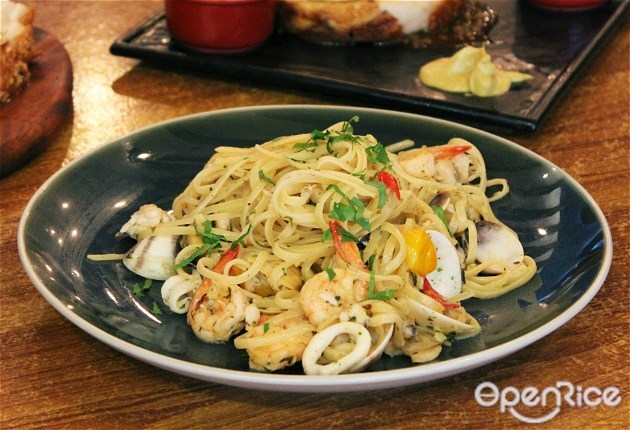 Dave's pasta selections are no less popular than their pork dishes. We highly recommend the Olio Seafood Linguine to you – linguine tossed with assorted seafood mix, garlic, chili, white wine, parsley and butter – perfectly al dente and packed with oceanic flavors, definitely worth trying.
Dave's Stuffed Mushrooms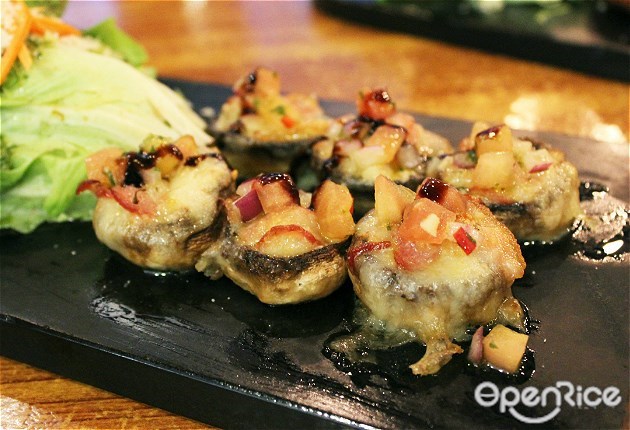 If you need some small bites to complete your feast, here's Dave's Stuffed Mushrooms being the savior – baked with creamy bacon, gratin of cheese, topped with tomato salsa and truffle oil, enjoy this dish while it's hot for the heavenly juice burst.