SS2 is known as the treasure ground for good food in Klang Valley. You just never know when you will stumble upon another gold mine as more highly recommended food places appear on our treasure map every day. Other than the must-visit Wai Sek Kai food court, here are 12 other awesome eateries you should plot on course during your next food hunt.
(The restaurants are listed in no particular order. Some of the establishments below are not halal.)
1. Burger dan Nasi Lemak Utara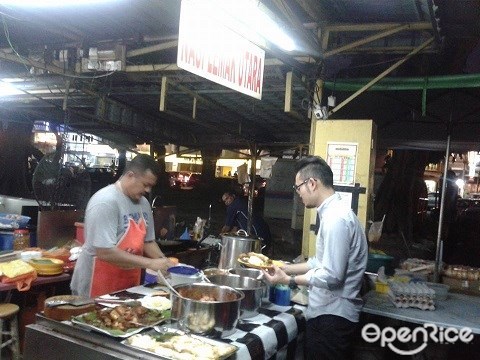 True Malaysians know good Nasi Lemak when they taste it! Pair fragrant coconut rice with Rani Bakar's greatly sought after Spiced Fried Chicken, White Cuttlefish, Clams, Chicken Rendang and Malay-style Red Chicken Curry.
A mouth-watering plate of Nasi Lemak costs up to RM5 for a side of cuttlefish and clam, or RM6 for the chicken dishes. Burger lovers can also find a quick fix to their cravings with extra rare burger patties such as rabbit, ostrich, lamb, deer, fish and even prawn, besides the usual beef and chicken. Prices range from RM3 to RM9 for a double cheese special with meat patties of your choice.
2. Melaka Street Restaurant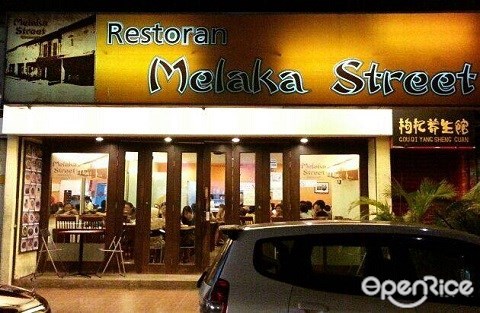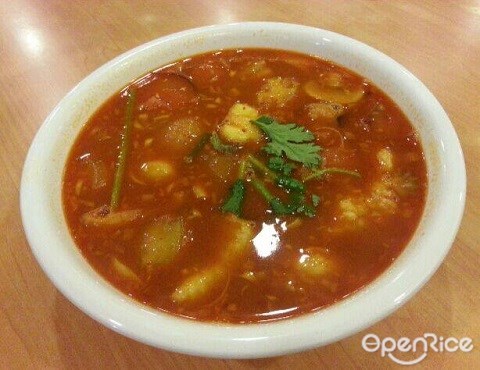 Come taste the best food Malacca has to offer at an affordable price in the heart of SS2! Restoran Melaka Street has held its own in the hearts of local families (especially the elderly) in the neighbourhood. Key signature dishes include Melaka Street Claypot Fish Head Curry, Assam Fish, the ever popular Chicken Curry Kapitan, Sweet and Sour Abalone Mushroom, Kangkung or Ladies Fingers Belachan, Tomyam Seafood, Sambal Petai or Butter Prawns, Melaka Street King Noodles, and one of the best tasting Cendol and Ice Kacang in the whole of Klang Valley! If you have a sweet tooth, you will love the undiluted Gula Melaka which is served in a generous portion! This is also a Halal-certified restaurant.
3. Fatty Duck Teo Chew Stewed Duck @ Restaurant Okay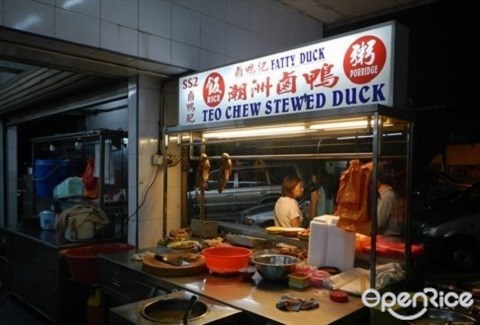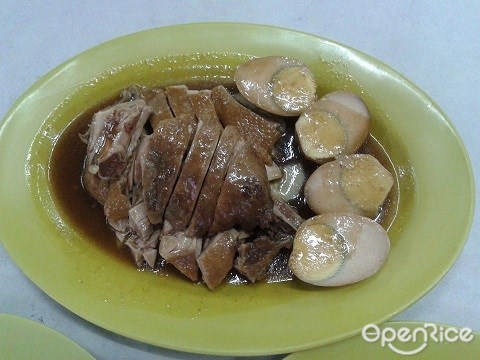 Restaurant Okay is this humble looking hawker place near Kayu in Chow Yang where Mr Kok has been operating his Fatty Duck stall for 33 years! This family business is now passed on to his son. If you happen to be in that area, get yourself a plate of braised duck rice, for RM7.00, with side dishes such as braised pork (RM8.00), braised mushrooms (RM4.00), braised peanuts (RM2.00), salted vegetable (RM2.00) and braised tofu (RM1.30 per piece) to choose from. This stall is highly favoured among working adults and families in the neighbourhood.
4. Crab Factory: Original Louisiana Boil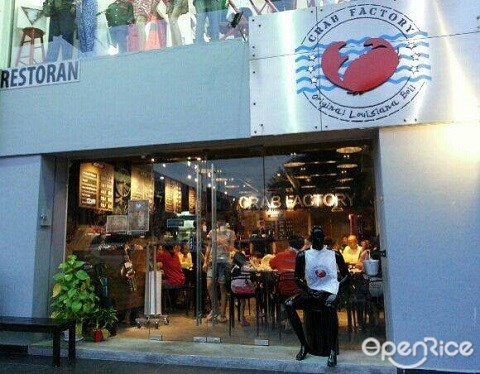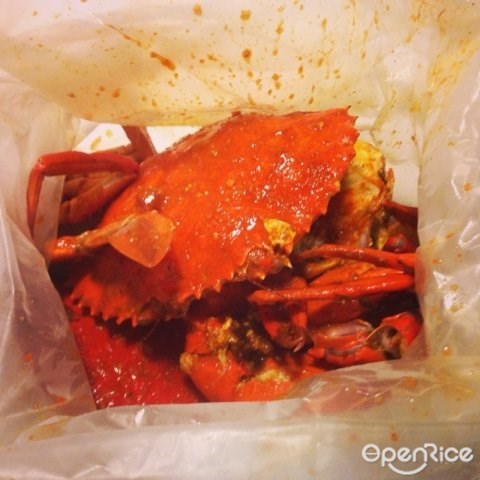 Do away with the fancy dining utensils and tableware, and prepare to get down to practical hands-on eating a.k.a. pouring food out onto tables covered with plastic sheets. A plastic bib is provided to protect your clothes from the mess. If you don't mind splurging a bit on quality fresh seafood once in a while, this is definitely THE place to come to enjoy seafood of your choice, cooked Cajun style, with aromatic herbs and spices that keep you coming back for more. Choose from a wide variety of seafood served with garlic butter and CF's signature "Southern Bang" sauces. There are four levels of "heat": Mild, Medium, Holy Crab and Death Valley. Do note that the latter can be seriously lethal, not for the faint-hearted.
5. New Paris Restaurant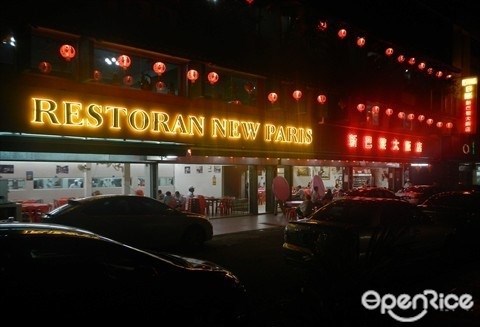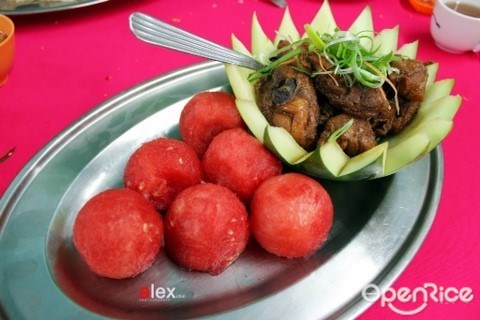 What started as a humble single storey wooden house restaurant 30 years ago has now blossomed into a restaurant that covers 3 shop lots! The Huang family business offers signature dishes that never get old such as Champagne chicken with Watermelon, with sweet juicy watermelon balls that complement the juicy chicken perfectly, Thai Style Grouper head, Sambal Petai Prawns, Kam Heong Lala, Teo Chew Steamed Siakap Fish, and Guinness Stout Pork Ribs. There are also new dishes such as their Three Element Fried Vege Dish featuring Brinjal, Long Beans, Petai and minced pork for RM15+ per plate. An average meal with a small-sized family sets you back around RM100+.
6. K.T.Z. Food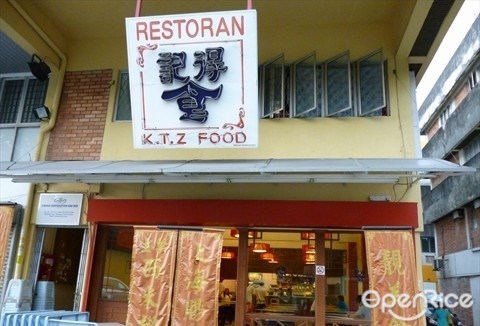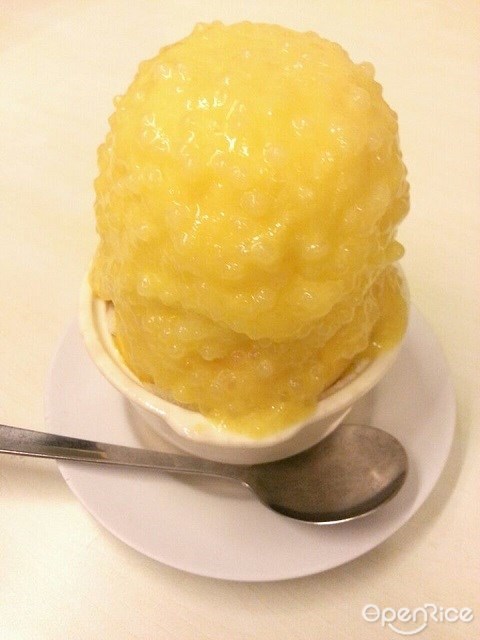 K.T.Z. is famous for their variety of hot and cold desserts and snacks. The deep-fried snacks, steamed yam cake and radish cake are highly raved about, apart from the Tong Sui, being Peanut Butter, Black Sesame, and Tong Yuen in particular. They have even added some new dishes such as Japanese fusion into their menu. The highlight of this shop is their Mango Loh (ice blended mango dessert with chunks of quality fresh mango). Or if you have extra budget, do try their Mat Toh Loh (ice blended dessert consisting a mix of all the types of fruit they offer).
7. The Lobsterman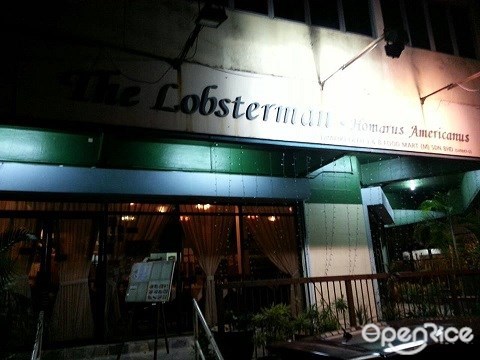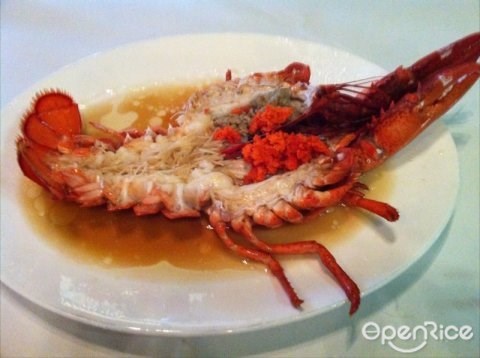 Being the only lobster specialty restaurant in Malaysia, The Lobsterman is a place many are willing to fork out more for, due to the satisfying fresh food quality, and fixed prices. The Atlantic lobsters are served in a variety of cooking styles, such as Char-Broiled, Garlic and Chilli, Simmered, Tarragon Butter Baked (France), Stuffed, Local (stir-fried with XO sauce) and many more! For those who appreciate the sweet original flavour and texture of your seafood, you can opt to choose the salad or steamed version. Be prepared to share as servings are quite big, with the smallest portion being 500gm.
8. Rekindle Café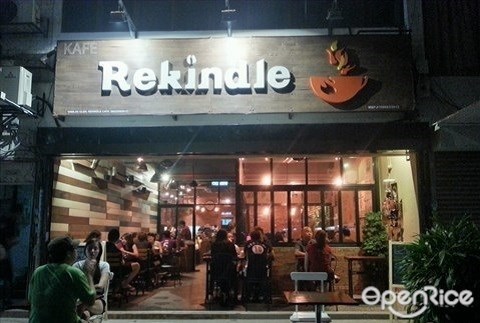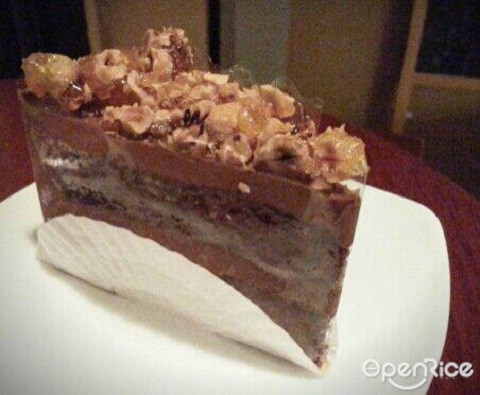 The owner Jason Heng came up with the concept to build a non high-end place where people do not worry about restrictions, how they dress, and would want to come back for the comfort. Cozy with its dim lighting, rustic brick walls, special bean bag area, and customized actual antique sewing machines for tables, Rekindle Café offers a unique Signature Drink "Upside Down"(RM15) which consists of Nutella spread on a cup (which you can scoop and eat), milky mocha, and a topping of salted caramel ice cream! Cake specialities include Tiramisu Kahlua and Chocolate Baileys Hazelnut cake which have a relatively stronger alcohol content, and their famous Rekindle cheesecake which is only available once a week and sells out really fast.
9. Sacto Courtyard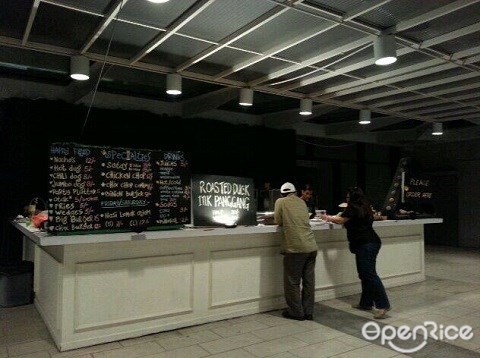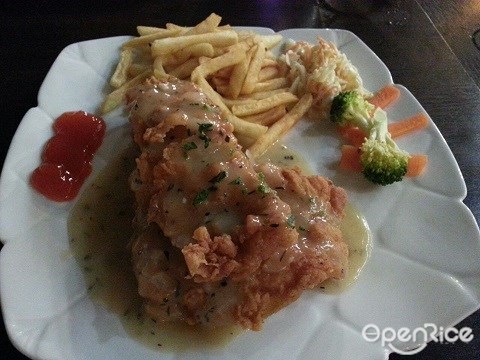 The name "Sacto" is short for Sacramento, the capital city of California, where owner Moe Mohammad, 49, and manager Alex who grew up in the states, first ventured into their pizza franchise. This newly opened eatery is located at the courtyard section of SS2 Mall and offers authentic California food with 100% quality minced meat patties in their burgers. Key signature dishes include Chicken Chop Set (RM12), Beef Burger Set (RM15), Chicken Burger Set (RM12), and Minion Burger Set (RM9). Besides, Fish and Chips which consist of fish fillet lightly battered with a unique lemon butter thyme sauce. They also sell Halal Roasted Duck from a Chinese Muslim supplier. The roasted duck is only available in limited quantities and gets sold out really fast.
10. Loong Seng Restaurant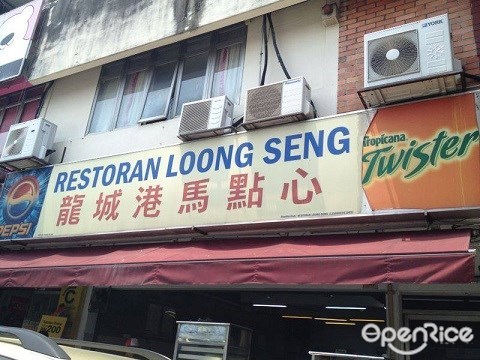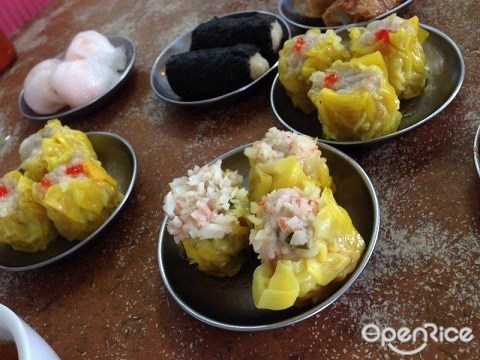 Loong Seng Restaurant is a highly popular old-fashioned coffeehouse that offers very delicious Char Siew Pau in particular. Its food is relatively affordable compared to other dim sum places. Signature dishes include their fluffy Char Siew Pau, Seaweed Wraps, Prawn Dumplings, Steamed Glutinous Rice, silky Chee Cheong Fun with Prawn, smooth Chicken Congee, Deep Fried "Bird's Nest", Chicken Feet, Fried Radish Cake, and Fried Prawn Dumpling.
Discover more Hottest Bak Kut Teh in Klang Valley
Hunt for the Best Nasi Lemak in Klang Valley
Other Related Topics