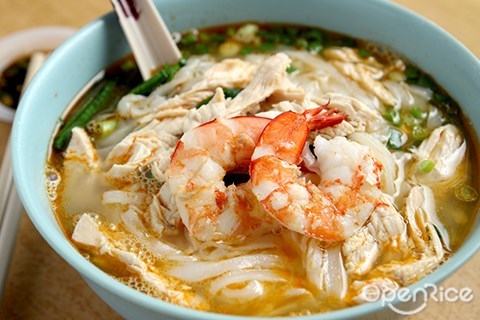 Ipoh Sar Hor Fun
, or simply Chicken Hor Fun, is one of the most common hawker foods in Malaysia. As its name suggests, the soup noodle is originated from Ipoh, where the best hor fun with a soft and silky smooth texture can be found, because the "water" in Ipoh is believed to be cleaner and of higher quality. Nonetheless, we can still find many good eateries in the Klang Valley that offer Ipoh Chicken Hor Fun that is as good as, if not better than, its original counterparts. Here, we have picked 10 Chicken Hor Fun stalls/restaurants in the Klang Valley that you wouldn't want to miss!
(Please click on the restaurant names for addresses and OpenRice members' reviews.)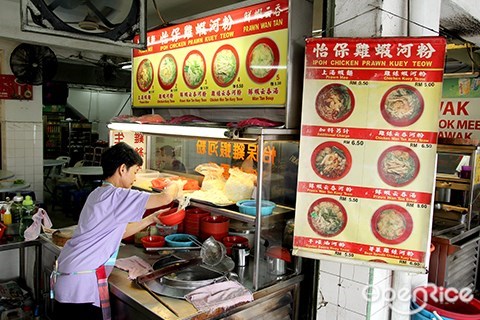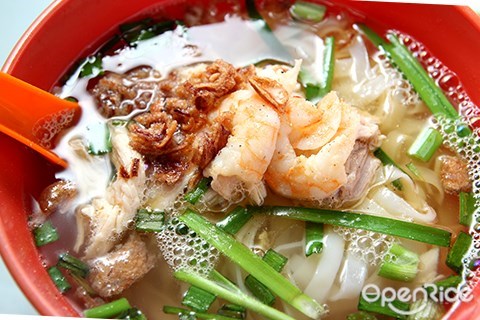 Nestled in
New Twenty-Twenty Coffee Shop
, this humble Chicken Hor Fun stall has been around for more than 20 years, almost as old as the coffee shop itself! Their Chicken Hor Fun can be mixed and matched with different ingredients, including prawn slices, shredded chicken, bean sprouts and prawn wanton. Ask for a big bowl of Chicken Sar Hor with additional ingredients to enjoy all the delicious ingredients in one go. Their rice noodles are not as smooth as the original ones in Ipoh, but their prawn wantons are superb with a crunchy texture!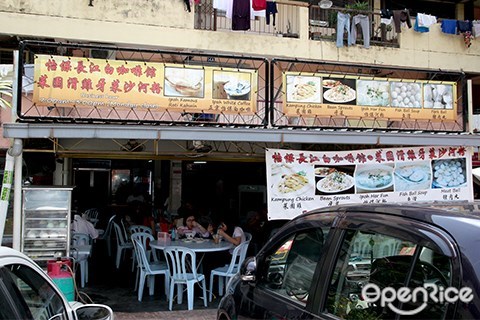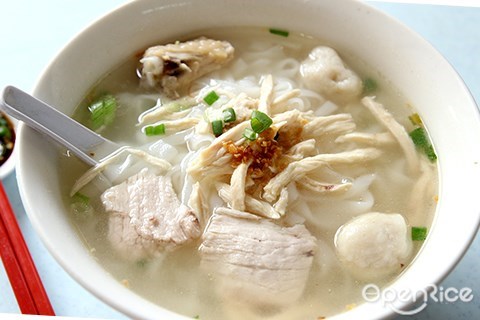 Finding this restaurant can be a challenge, as it is quietly hidden at the ground floor of a four-storey flat at Section 17. This eatery specializes in all sorts of Ipoh delicacies, especially Ipoh Hor Fun. Their Ipoh Hor Fun is very different from KL version. No prawn slices or prawn oil are added to the noodles, which makes the soup clearer and plainer. According to the owner, their Chicken Hor Fun is healthy and suitable for food lovers who are allergic to seafood.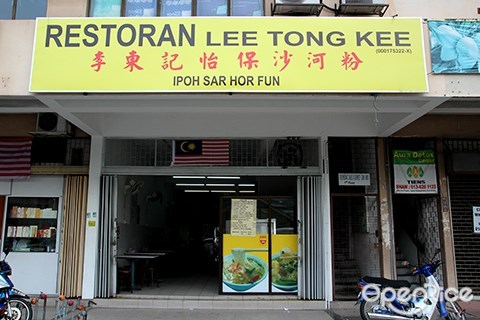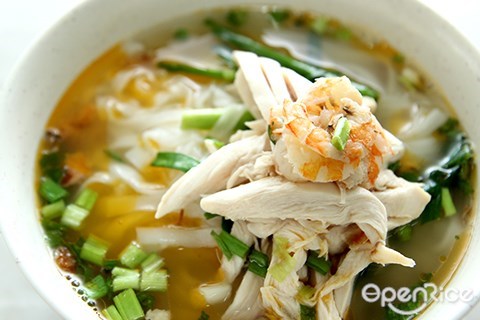 Originally located in Petaling Street,
Lee Tong Kee
used to be the most famous Ipoh Chicken Hor Fun restaurant in KL. Even now, a few Chicken Hor Fun restaurants are still using "Tong Kee" as part of their names. Lee Tong Kee has moved to a few different places over the years, and now they are located at a quiet shop lot area near YMCA in Brickfields. The taste of their Ipoh Chicken Hor Fun is not as fantastic as it used to be, but it is still worth visiting if you are looking for Chicken Hor Fun with a traditional twist.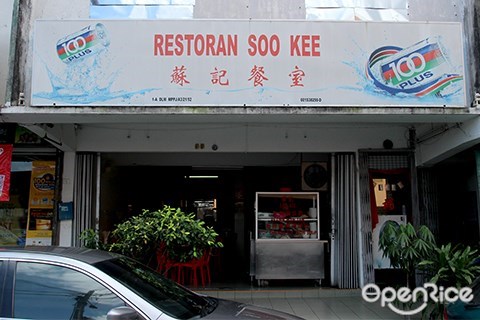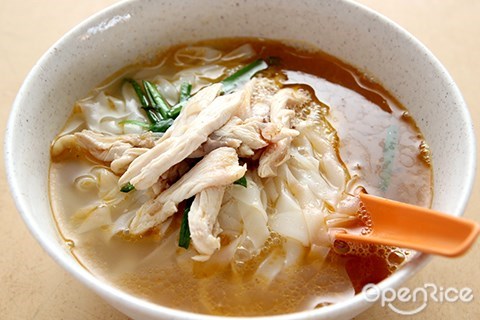 Looking for a nice bowl of Ipoh Chicken Hor Fun in PJ? Head to
Soo Kee
at Seapark. This restaurant has operated for more than 20 years, serving delicious Chicken Hor Fun with soft and slippery rice noodles topped with shredded chicken, prawn slices, and chives. The soup loaded with prawn oil is flavorful. If you are a prawn lover, don't forget to pamper yourself with their popular prawn wantons stuffed with fresh and springy prawns.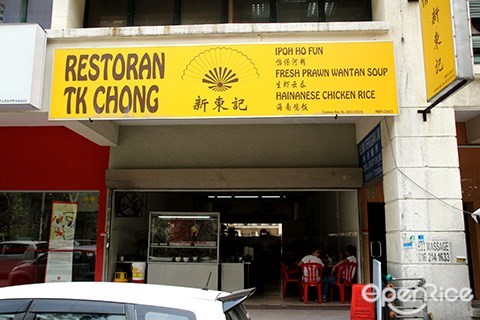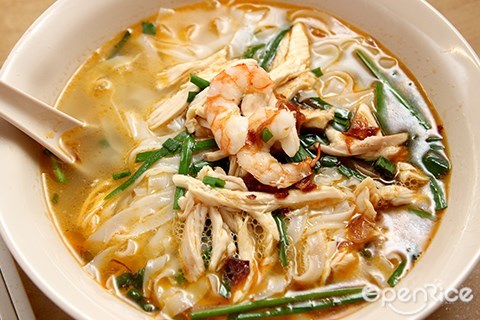 Located at a relatively new commercial area,
TK Chong
has opened its door to the public for 10 years. The restaurant's owner is actually the elder sister of the owner of Chan Toong Kee at TTDI, which explains why their Chicken Hor Fun look almost the same. TK Chong's Chicken Hor Fun is loaded with fresh ingredients, including prawn slices, shredded chicken, chives and fried shallots. The soup drizzled with prawn oil is rich in prawn flavors. Aside from noodles, they also offer Hainanese Chicken Rice with smooth poached chicken.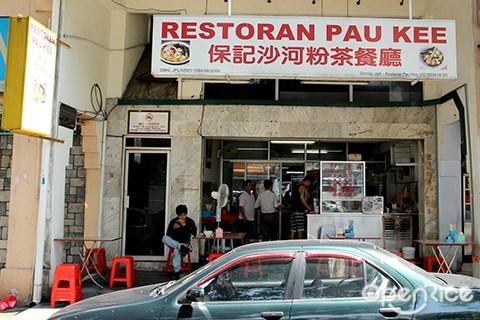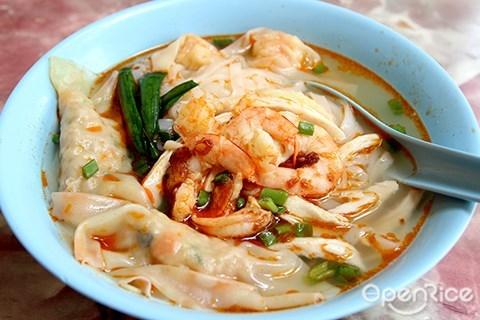 The restaurant's owner used to work for Lee Tong Kee in Singapore for many years. After coming back to Malaysia, he started his own stall at Tengkat Tong Shin, and now he runs his own shop in Imbi, not far from the Honda showroom. Pau Kee's version of Chicken Hor Fun has won the hearts of many patrons, as they insist on using only the freshest prawns to prepare the noodles as well as wantons and dumplings. If you prefer dry noodles, give their popular wanton mee with prawn wantons a try, and you'll surely come back for more!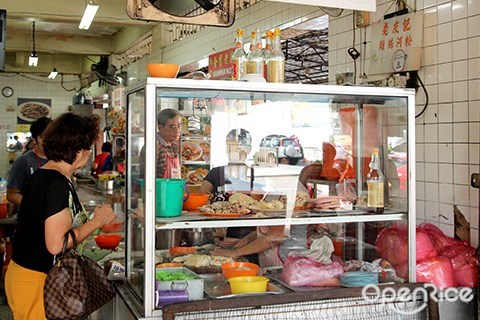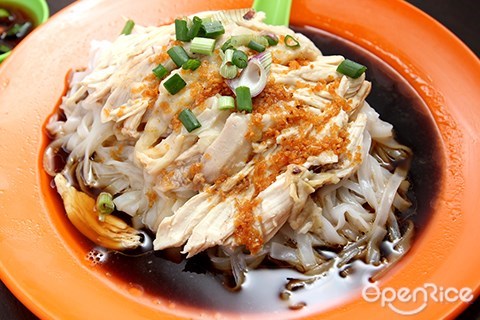 Housed in Mei Sin Coffee Shop,
Lou Yau Kee
is famous for their dry version of Ipoh Chicken Hor Fun. 20 years ago, when the current owner took over the stall from his father, he decided to make a difference by creating a different hor fun drenched in soy sauce. Their rice noodles are superb with a silky smooth texture (almost as smooth as chee cheong fun!). And the hor fun is topped with a generous portion of shredded chicken and fragrant fried garlic.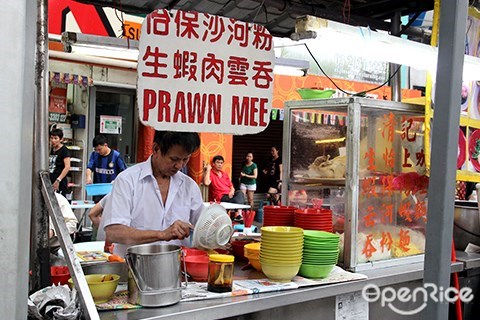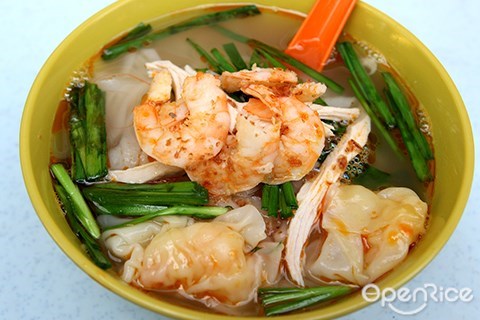 Located in front of KK Mart,
Ching Kee
is probably the only surviving Chicken Hor Fun stall in Chinatown. The stall is manned by an old man who used to work for the original shop of Lee Tong Kee in Chinatown several decades ago. Currently, they offer three types of noodles, including Soup Hor Fun, Dry Hor Fun with Oyster Sauce, and Wanton Mee with Prawn Wanton. Many patrons come here for their signature Chicken Hor Fun and prawn wantons, which are stuffed with crispy whole prawns.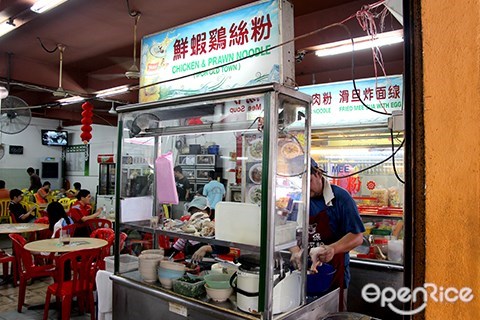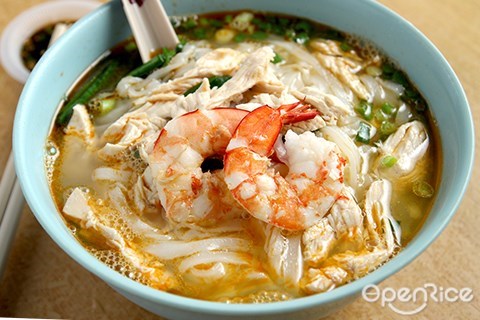 The only stall in the list that is originally from Ipoh. The stall's owner is the son of Ah Seng who runs the famous Chicken Hor Fun stall at Restoran Thean Chun in Ipoh. The Chicken Hor Fun here is as good as the original version in Ipoh with smooth rice noodles and flavorful soup with lots of chives and prawn oil. The business here is so good that their Chicken Hor Fun is often sold out by 11am, so arrive as early as possible to avoid disappointment.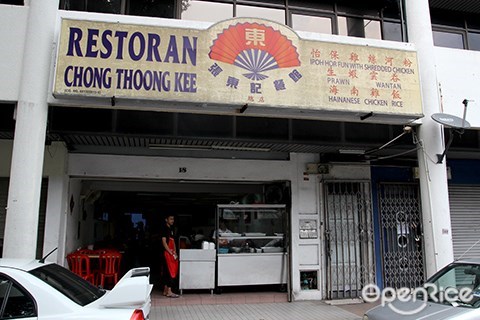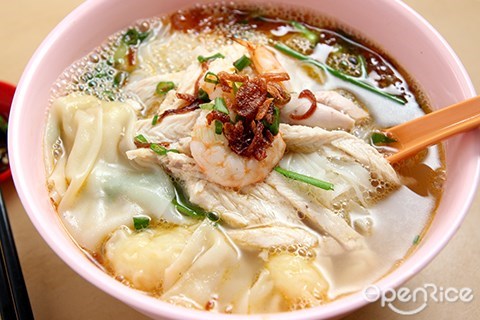 Definitely one of the best Chicken Hor Fun restaurants in town. Knowing that the soup is the key to a delicious bowl of Chicken Hor Fun, the restaurant's owner insists on preparing the soup everyday using lots of stir-fried prawn shells and chicken bones to ensure that the soup is flavorful and rich in taste. "Now very few people are willing to use good ingredients to prepare the soup base, because the cost is very high. That's why it's getting harder and harder to find a good bowl of Chicken Hor Fun," explained the owner. Visit here today for a bowl of fabulous Chicken Hor Fun! If you are a big fan of Chicken Hor Fun, make sure you don't miss any of them!
Search for the Best Chicken Rice in Klang Valley
Find the Best Chinese Restaurants in Klang Valley
Other Related Topics