Fried chicken
is so popular in Malaysia that it can be found almost anywhere. Walk into any fast food restaurant, there is a high chance that you'll see fried chicken on the menu. In Malaysia, there are a few fast food chains that specialize in fried chicken, such as KFC, Texas Chicken, Marrybrown, BBQ Chicken, etc. The fried chicken of fast food restaurants is good, but the taste is quite predictable. In this article, we bring you to explore 10 independent hawker stalls and restaurants in Klang Valley that offer top-notch fried chickens that are equally good if not better than those fast food giants.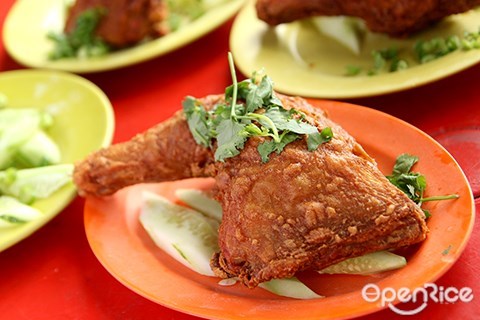 If you are a huge fan of fried chicken, make sure you don't miss any of these awesome eateries!
(The restaurants below are arranged in no particular order. Some of the establishments are not halal.)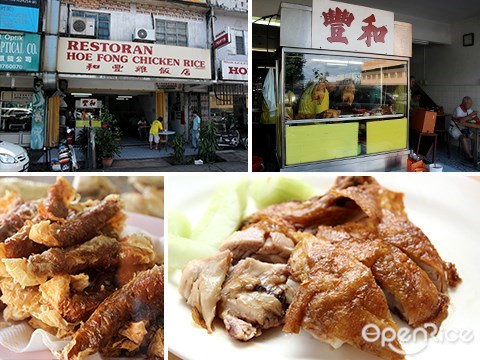 Hoe Fong
is one of the oldest restaurants in Seapark, PJ. Run by the third generation, the restaurant specializes in chicken rice with a choice of steamed or fried chicken. Most patrons flock to this restaurant for their signature fried chicken with thin and crispy skin and succulent meat. The fried chicken rice is served with a plate of aromatic rice, a plate of chicken, and a bowl of vegetable soup. Also enticing is their deep-fried Lobak, which is equally crispy with a juicy filling.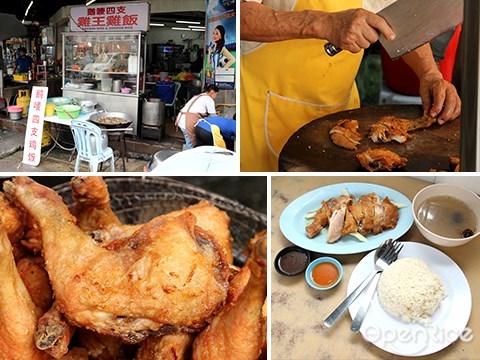 Originally located at Jalan Gombak, this popular fried chicken rice stall is now located at Uco Coffee Shop at Prima Setapak. Literally meaning
"Chicken King"
in Mandarin, the stall is one of the earliest stalls in Gombak and Setapak area that offers fried chicken rice. At the stall you can see how all the chicken legs are freshly deep-fried on the spot using a wok. The chicken whole legs are deep-fried to perfection until the skin is golden brown and crispy. You can choose to enjoy the whole leg (RM8) or only the drumstick or the thigh (RM4.50).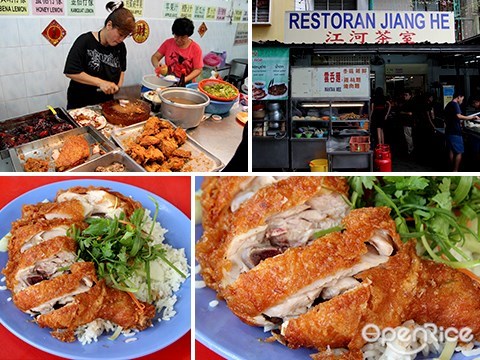 Nestled in
Jiang He
Coffee Shop, this stall is quite difficult to find, as the shop is hidden at a car park area behind Fahrenheit 88 Shopping Mall. What's more, the fried chicken stall is only open twice a week, on every Wednesday and Saturday. Same as Chicken King in Setapak, you can choose to enjoy the fried chicken whole leg, or only the drumstick or thigh part. Their fried chicken wins the hearts of patrons with its super crispy skin and firm meat. Try it once, and you'll surely come back for more!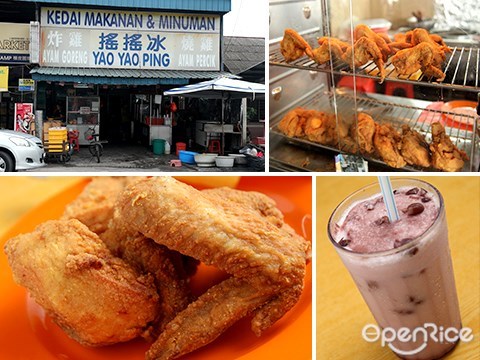 Many fried chicken lovers in KL are willing to travel all the way to Klang just to savor the mouth-watering fried chicken at
Yao Yao Ping
. The shop was originally a stall selling Yao Yao Ping, a shaved ice dessert originated from Taiwan. To attract more customers, they started selling fried chicken, which turned out to a big success. Klang people love their fried chickens that are slightly salty but rich in taste. All chicken parts are freshly deep-fried on the spot to ensure the meat is fresh and piping hot.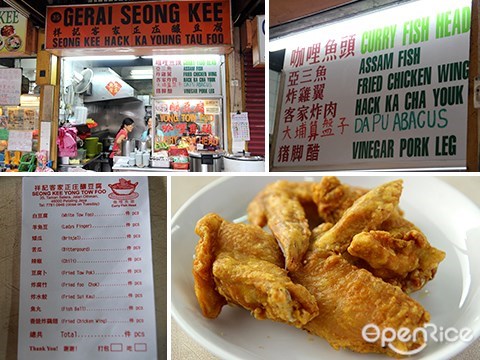 Located at the popular PJ Old Town Food Court,
Seong Kee
is the no. 35 stall that offers a wide variety of dishes, including Yong Tau Fu, Curry Fish Head, and Fried Chicken Wings. Many patrons like to come here for their famous fried chicken wings, which are served with a pair of chicken wings that are chopped into halves. The chicken wings are well marinated with a secret flour mixture that makes the chicken wings not only fragrant and delicious, but also very crispy.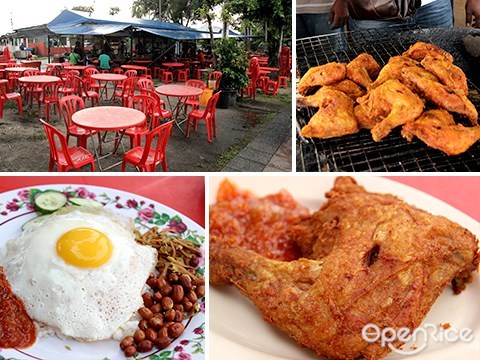 Meaning "Big Tree" in Cantonese,
Dai Shu Tow
is a roadside mamak stall located at Persiaran Mergastua, near the Durian street in Kepong. The stall is very popular among the locals, especially Chinese, who like to come here to enjoy a hot plate of Nasi Lemak with Indian-style Fried Chicken for dinner or supper. Most people will go for the fried chicken whole leg that is deep-fried until the skin is crispy and meat tender. Don't forget to wash them all down with the mamak's signature BIG drink, which is triple the size of a normal drink!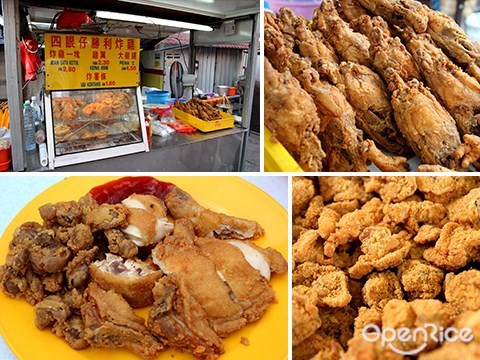 A well-known hawker stall at Pudu Wai Sek Kai offering crispy fried chickens that are said to be tastier than KFC! The business here is brisk, as there is always a long queue in front of the stall. Different chicken parts are offered here to suit different needs, including chicken wing, chicken drumstick, chicken carcass, chicken neck and many more. All chicken parts are freshly deep-fried on the spot to ensure the skin is crispy and the meat succulent. Remember to try their signature fried chicken butts, which are tender and juicy without any pungent smell!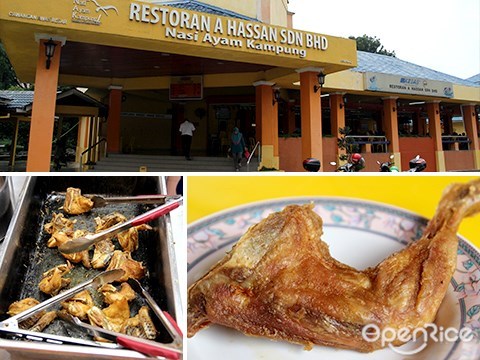 Located at a highway stopover,
A Hassan
is no stranger to lovers of fried chicken, as they offer awesome ayam goreng kampung. Their Malay-style fried chicken is very different from normal fried chicken that we normally have at Chinese hawker stalls, because they use free range chickens (ayam kampung) instead of farm raised chickens. Ayam kampung is smaller in size, but the meat is a lot firmer and richer in taste when deep-fried. Remember to eat the chicken with their house special chili sauce to add a spicy kick to it!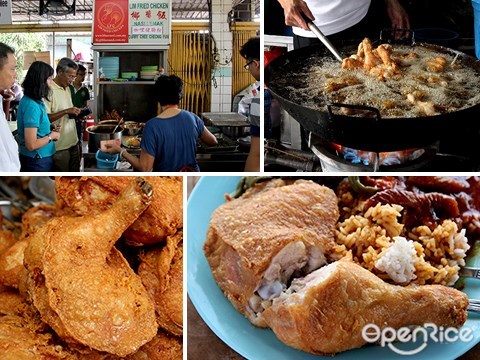 The famous fried chicken stall at Wong Soon Kee has recently relocated to Glenmarie Shah Alam. They used to offer the fried chicken at 2pm, but now it's available in the morning at 8am. Freshly deep-fried on the spot using a huge wok, the fried chicken is perfectly cooked with golden and crispy skin. Chopped into halves, the fried chicken whole leg is an ideal match with the aromatic nasi lemak.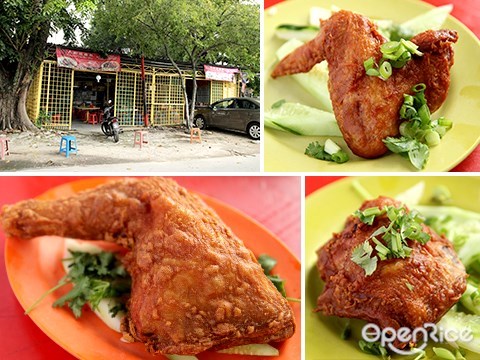 Tucked away at a factory area in Segambut you will find this famous restaurant specializing in fried chicken rice. This old shop has been around for more than 50 years, and it is now operated by the second generation. Different parts of fried chicken are available here, including whole leg, drumstick, thigh and wings. Freshly deep-fried in the kitchen, the fried chicken here is very fragrant and crispy with a hint of saltiness. The fried chicken rice is served with two types of sauces: chili sauce and soy sauce. Craving for some delicious fried chickens? Head to these amazing eateries today!
Find the Top Chinese Foods in KL
Search for the best chicken rice in KL
Other Related Topics