Cheras has tons of eateries that you might probably visit most of them, but aren't you bored of it? Yes, you've got our point here for sure. Searching high and low for new eateries, guess what we spotted? Whole new rows of shop lots that you need to know because it is just located in Cheras Selatan! So much love because it is so near to Sungai Long, Mahkota Cheras and Belakong for sure!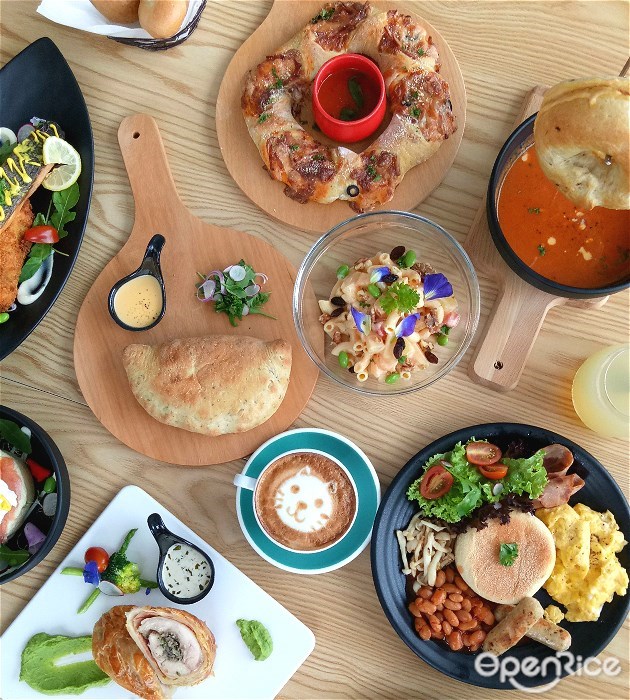 Brightly lit, corner lot and minimalist design; this place could be the next Instagrammers' favorite place. Opens as early as 8.00am, why wait for other eateries to open when you can enjoy your breakfast and the best aromatic good brew coffee here?

Hanging Muddy Wheel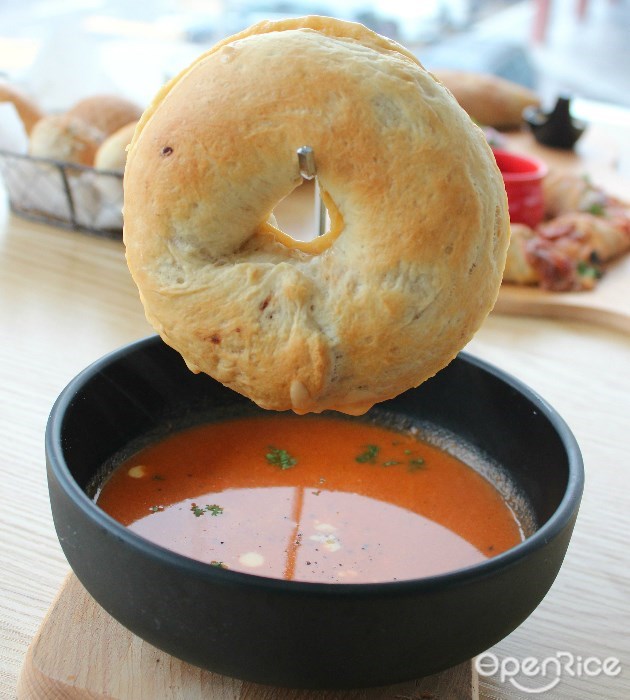 Spot this hanging muddy wheel, which isn't made of mud for sure (pun intended)! Covered with melted cheese on a piece of home-made bagel, soft and fluffy as it is eaten hot, the melting cheese drips on the tomato soup; thick and flavorful. Such a fresh twist isn't it?

The Pizza Ring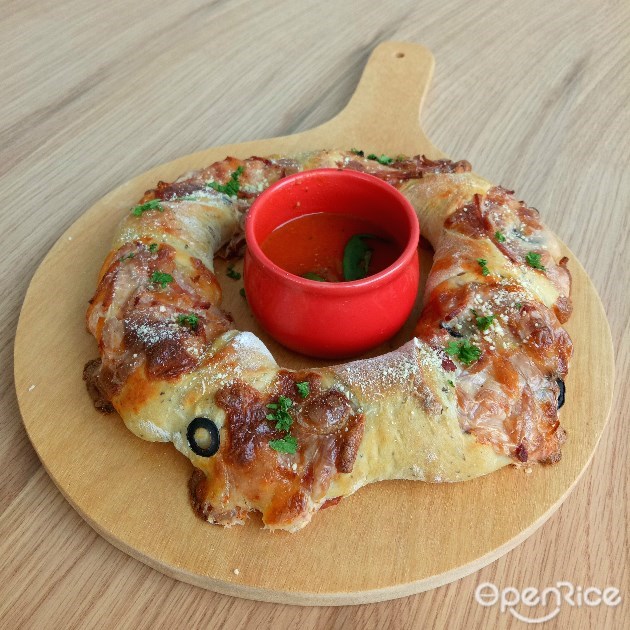 Pizza that isn't slices but instead of a ring form? Now that's what we called creative thinking! Surely thinking out of the box, this pizza comes with the tomato dipping sauce that is specially made by the chef, matches so well with it.

English Breakfast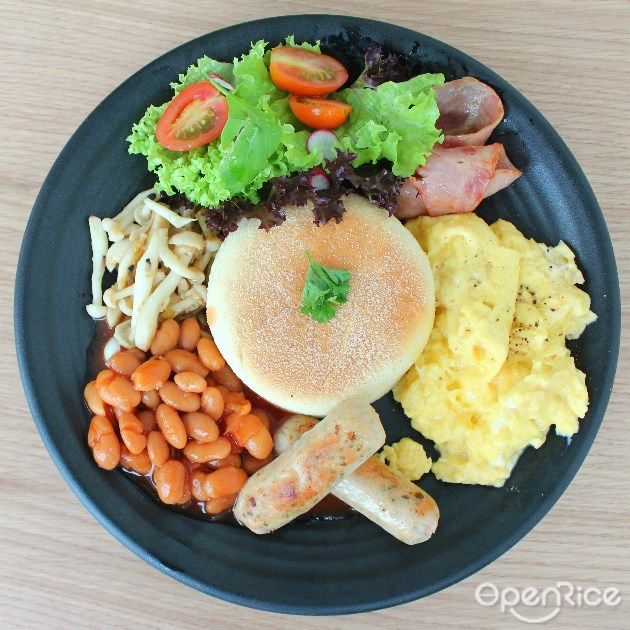 An English breakfast platter to kick-start your day makes it so worth-while don't you think so? A platter of goodness that doesn't disappoint, soft and fluffy English muffin was used on this breakfast platter. Comes with the essentials, the early bird surely catches the breakfast platter!

Roasted Salmon with Potato Cake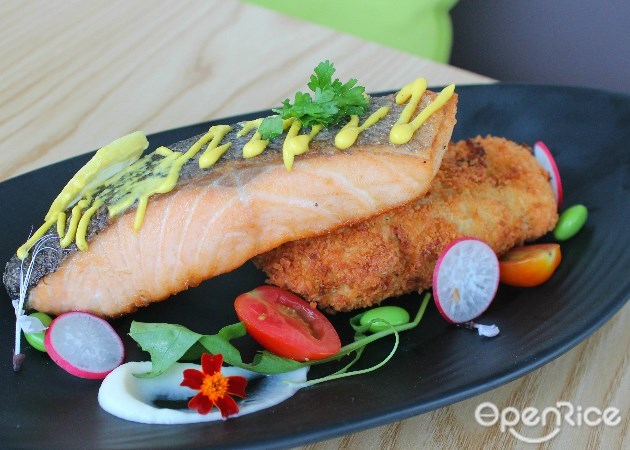 A piece of thick and juicy roasted salmon that is so nutritious and fresh, it comes with a chef-creation potato cake that is breaded and deep-fried to perfection. These two ingredients run and swirl together and help enhances other's flavor too.

Chicken Wellington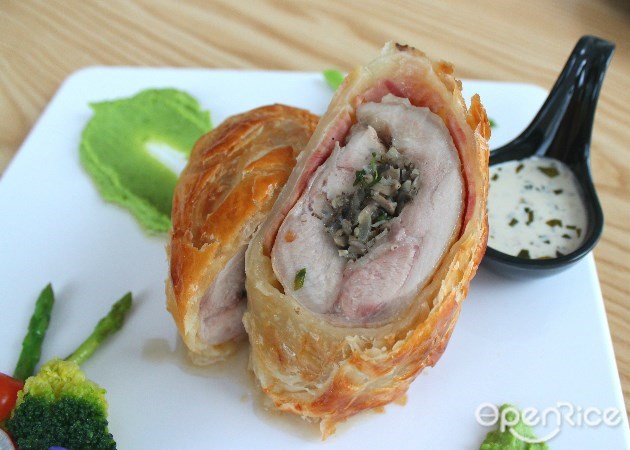 An interesting take on this Chicken Wellington, stuffed with ingredients, spices, and herbs; chicken meat is done right and wrapped with a puff pastry, what a refreshing twist that always pleases even the pickiest taste buds.

Quad Cheese Calzone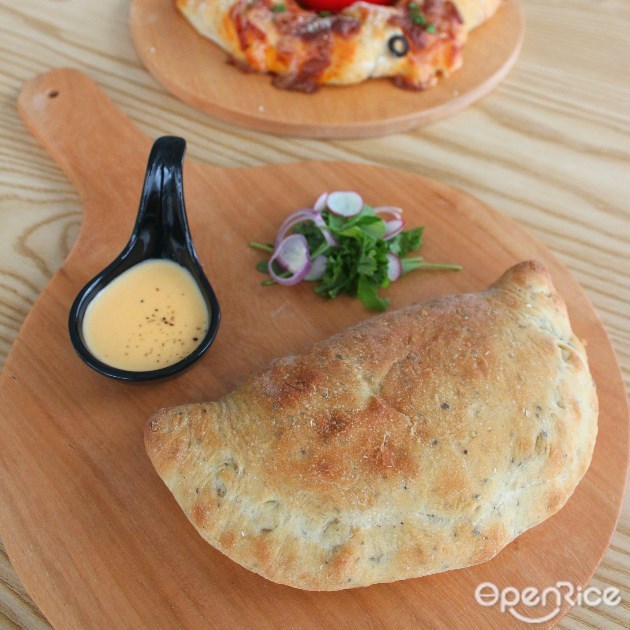 We're talking about cheese, all about cheese! Contains 4 types of cheeses inside, the flavor combination compliments the whole calzone leaving you wanting more! Each bite is so rich in flavor and good for sharing too.

Egg Benedict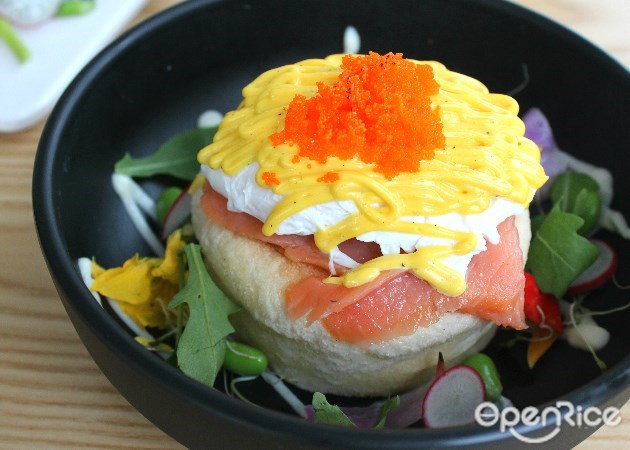 Egg Benedicts that surely made you lick your plate clean, comes with a piece of English muffin, smoked salmon, poached egg and hollandaise sauce; some greens and what's special? It has crab roes too! Adding in some biting texture to it, this makes it a comfort food for a perfect mood ahead too!

Orzo with Beef Kalbi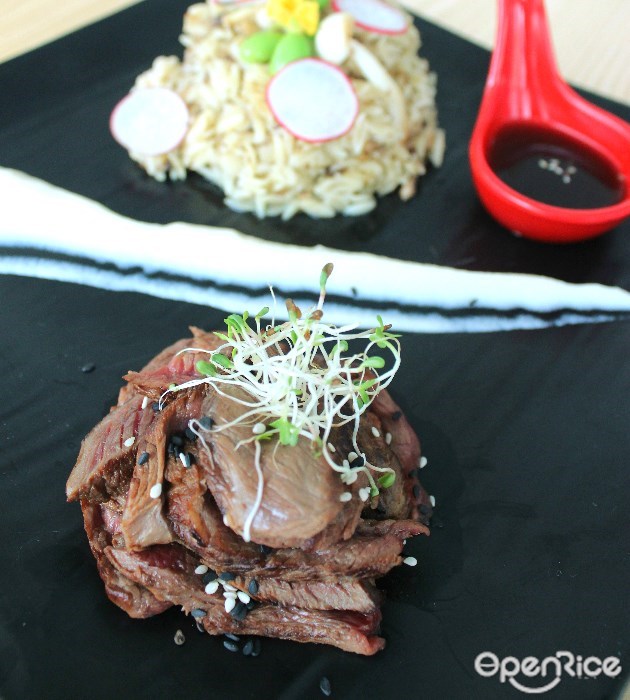 Orzo, a form of cut short pasta that is shaped like a large grain of rice, it's adaptable in many dishes and this dish that's similar looking like a plate of risotto is served with beef kalbi that is perfectly marinated and sliced properly for you to enjoy. Cook at the right doneness, tender and juicy.

Fruit Salad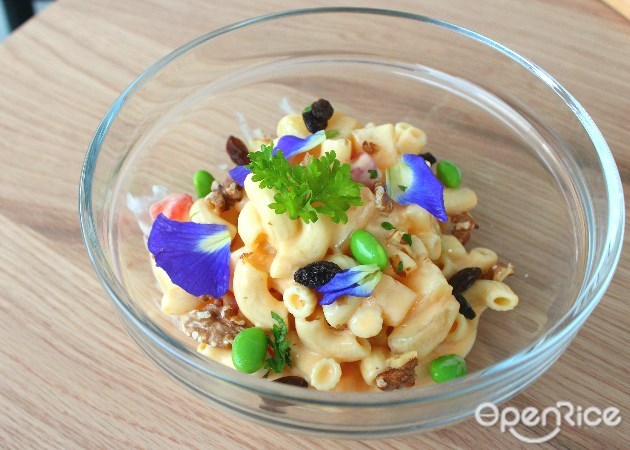 A very refreshing salad that is made from orange flavored yogurt, with fruits, macaroni, raisins, and nuts; overall taste was so good that you will surely finish it all by yourself!

Daily Harvest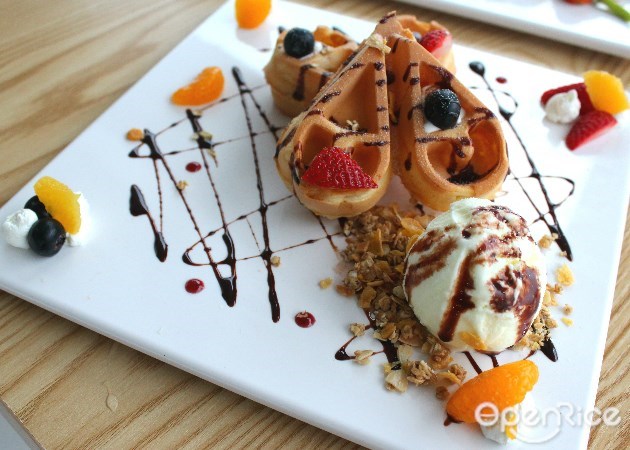 Looking for a dessert to share with your buddies? Then order this waffle dessert that comes with ice cream because it will never go wrong!

Hot Coffee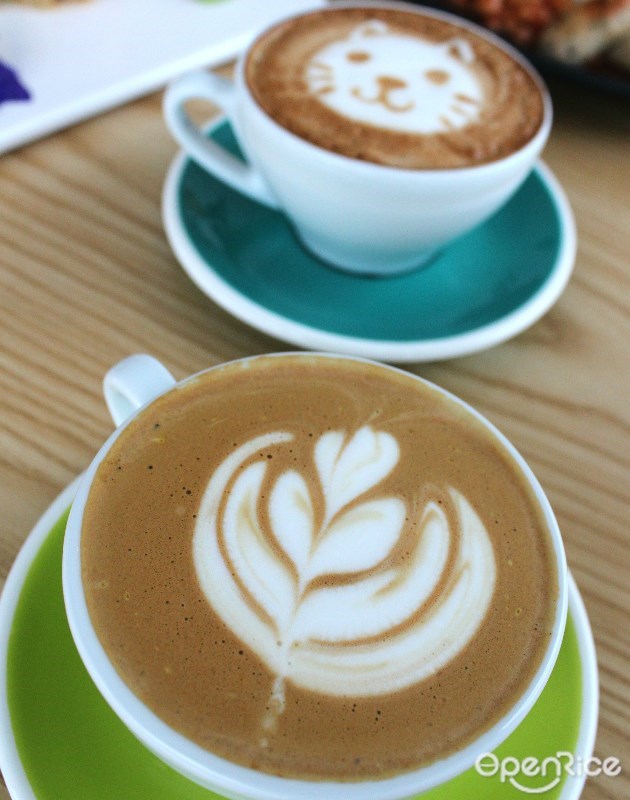 Looking ordinary but surely not the same, their coffee was totally stronger and so aromatic when you sip it! Signature Durian Latte will sure to gain likes from you as it tastes really fragrant and strong durian smell that simply matches with the latte! Not only that, the specialty latte like the Shortbread Latte was fragrant and aromatic as they carefully pick the beans that are used in brewing you the best cup of coffee!
Of course, not forgetting cappuccino too!

Cold Drinks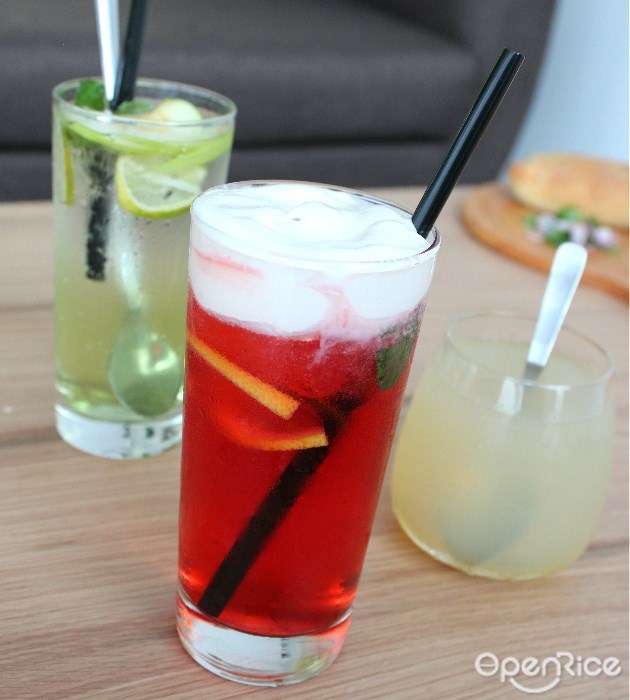 Scorching hot outside? Then enjoy these thirst quencher – Green Apple Soda, Strawberry Mix Tea with Caramel Cap or the enzyme drink – Summer Windblown!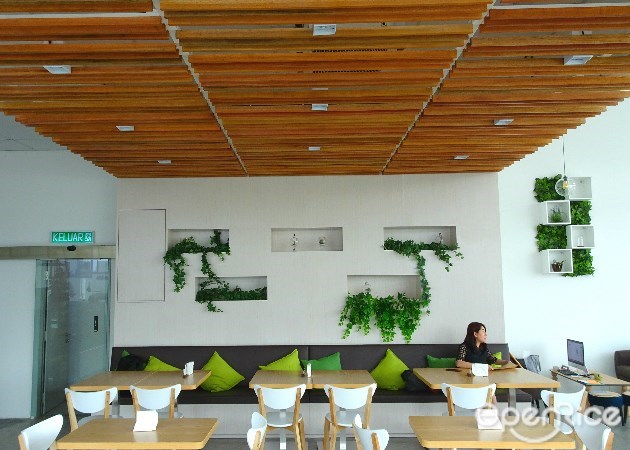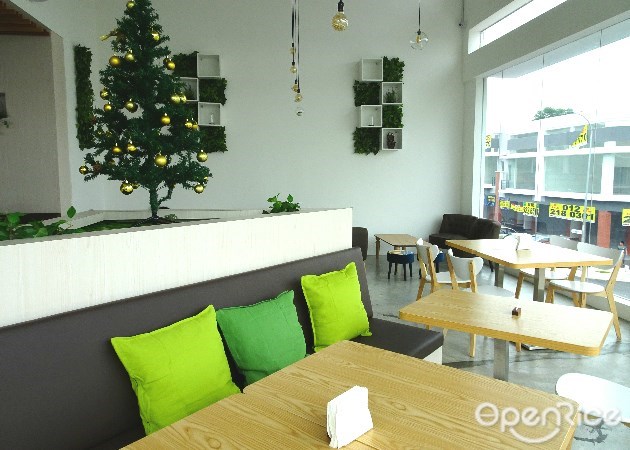 Clean colors were chosen as the café's color and guess what, as it is a corner lot, therefore the glass panels allow the sunlight in and picture perfect for sure! Perhaps minimalist design is a new style and you'll surely love the details in this café too.
Located on the first floor, heads up everyone!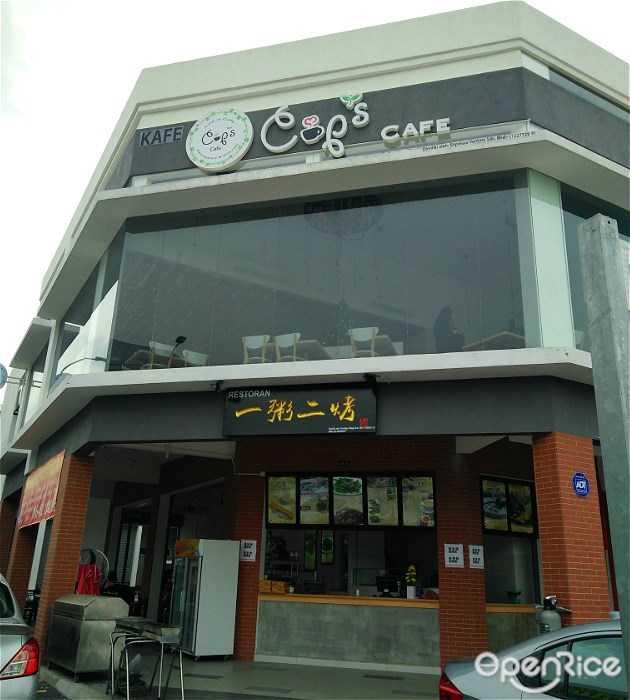 CUPS CAFE