There are so many pork noodles around the Klang Valley and most of them are indeed famous, you must have tried them up many times in average. But do you know there's even more of it that you might not know? These are the ones that you need to try out today!
Located at Serdang, they are usually crowded with patrons and many recommend you to try this pork noodle out. The signature pork noodles – a bowl of pork noodles with minced pork meat, pork slices, pork balls, liver, kidney, and pork lard. Many returning customers here daily, the soup is thick in taste as it is boiled for hours using all the pork bones and ingredients; worth trying!


Photo credit: wpteng, amphed18, michellelly1124
Located at Kota Damansara, packed during lunch hours, come for a bowl of decent pork noodle here that is served with all the essentials like minced meat, pork innards, liver, pork slices and you'll even spot the Sam Kan Chong style pork meatballs here. Add in an egg to enhance your broth, otherwise, the original taste of the broth brings a hint of sweetness that you'll enjoy! Enjoy the soup or dry pork noodles as they are equally recommended!

3. Restoran Jalan Tanjung Satu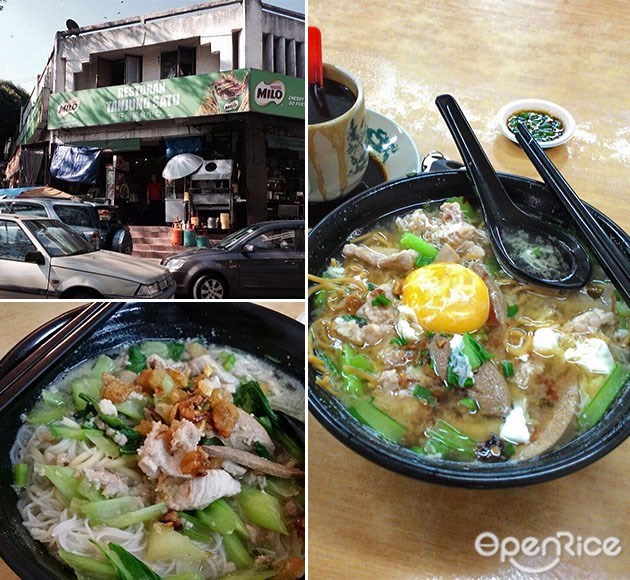 Perhaps you've heard about the fried spaghetti and the Seafood noodles that are raved among the Kepongites, located at Manjalara here, pork noodle here is worth the try as well. The pork noodle broth here are savory in taste and uses fried pork lard, it makes it tastes better too. Pork kidney is available too, come to taste it yourself!




Many recommend trying the XO Mee Sua Pork Noodles – very fragrant as it has pork lard, egg, tomatoes, minced pork meat, pork liver, and intestines in it. Thick and savory soup with a fragrant hint of the wine tastes will make you slurp everything up. Besides, recommended trying the herbs pork noodles, bitter gourd pork noodles, and the spicy pork noodles too. They are located at Sungai Long!


Another pork noodles that is located at Bukit Jalil, come here for a bowl of warm and tummy satisfying pork noodle. Apart from the most ordered pork noodle, they actually do have the salted vege peppery pig's stomach soup noodle here. Taste a little bit salty but matches with the strong pepper taste, come and order yours too. Seafood pork noodles and tomato pork noodles are available too!



More article:


5 Stuffed Mantao Buns to Hunt for at Klang Valley!
5 Places for Sweet Dessert Indulgence Around Klang Valley!
PJ Section 17 Hawker Street Food Hunt!
6 Chinese Tong Sui Places to Try at Klang Valley!
6 Jalan Ipoh Food That's Recommended to Try!
Travel to Klang's Pandamaran for These 10 Worth-Trying Restaurants!