If you're a true fan of Tom Yum, we're sure that you have at least heard about the famous seafood Tom Yum pot from Pim's Thai Food in Klang. Many KL folks would spend their weekends travelling all the way to Klang just for their scrumptious Tom Yum, and here we have an exciting news for you – Pim's Thai Food had recently launched their first branch in Aman Suria PJ!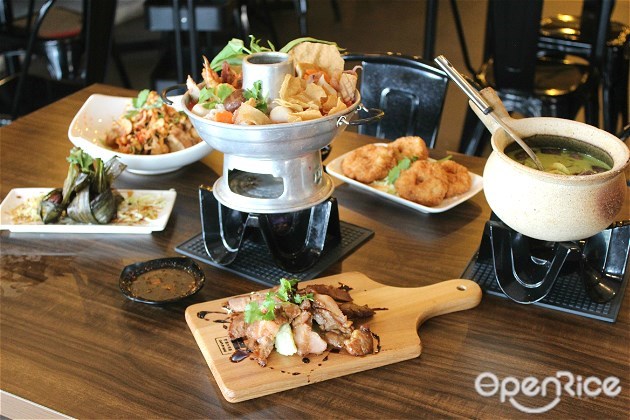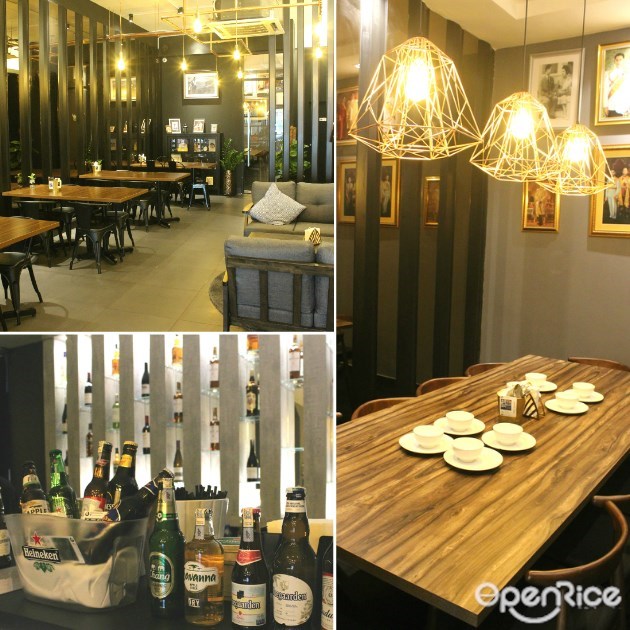 Named after the well-respected former king of Thailand, Pim's & The Rama is more than just a restaurant – it appears to be more spacious with sleek and stylish interior designs with a modern bar that offers dizzy array of Thai beers, wines and craft cocktails. What makes this outlet more appealing is their extensive menu – Pim's & The Rama offers more variety of food as compared to Pim's Thai Food in Klang, but with same awesome quality! Now, let's check out some of the must-have dishes here:
1. Signature Super Seafood Tom Yum Pot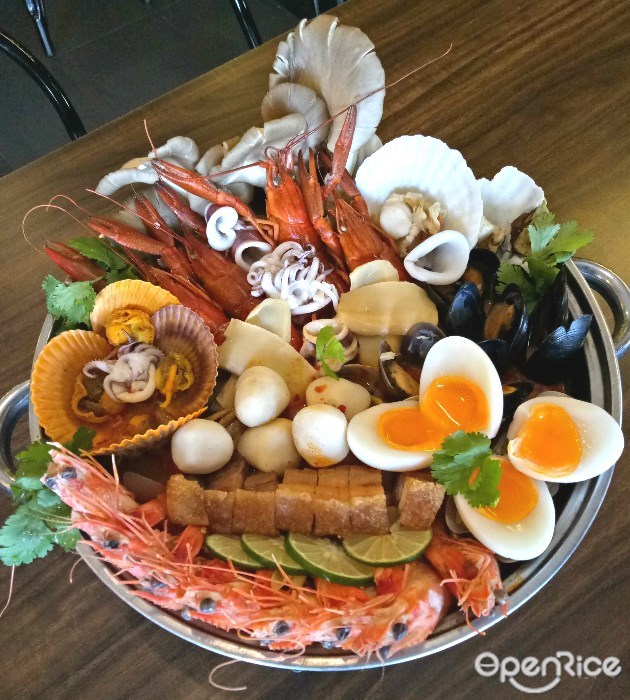 Pim's Thai Food had become the most popular hit in Klang, all thanks to this supremely delicious Super Seafood Tom Yum Pot. Three types of servings are available at Pim's & The Rama, from 1-2 pax to 3-5 pax and 6-8 pax, this Tom Yum pot does not only caters to group dining, but also a fine choice for small number of persons.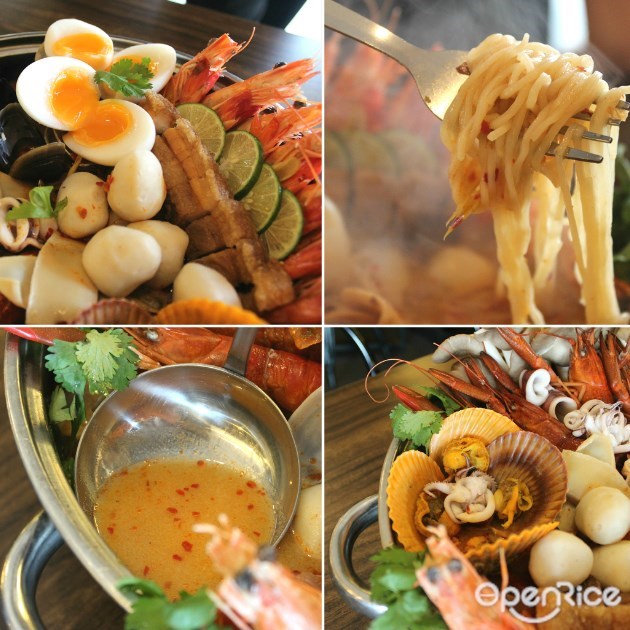 They don't call it Super Seafood Tom Yum Pot for no reason – filled with fresh seafood abundance comprises of tiger prawn, crayfish, mussel, scallop, squid, octopus and many more to name, the soup base features the oceanic sweetness of seafood, with well-balanced spicy and sour flavors that're just enough to get us hooked, not to mention the Thai roasted pork, custardy onsen eggs, and Thai QQ noodles that makes this Tom Yum pot even more remarkable! Best of all, you can request for Tom Yum soup refill!
2. Yen Ta Fo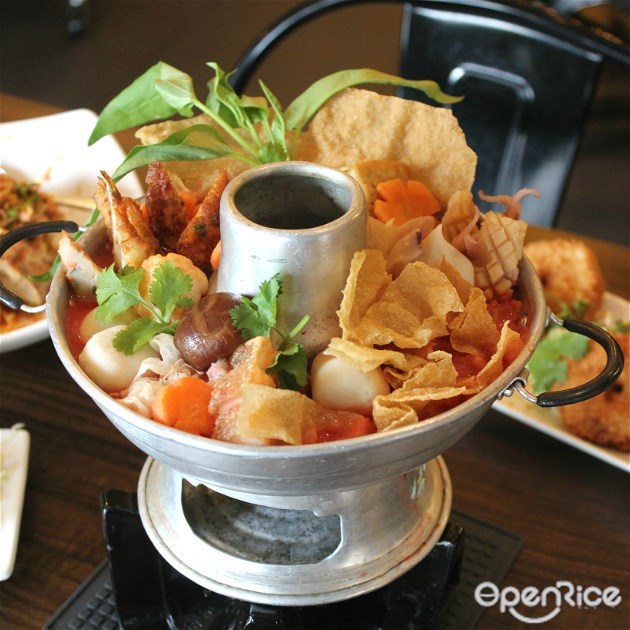 Yen Ta Fo is one of the newly introduced dishes at Pim's & The Rama. Yen Ta Fo is most likely to be recognized as Thai version of Chinese Yong Tau Foo, and what makes it distinctive is the sweet-tangy-spicy red broth that made from soy, tomato and chili.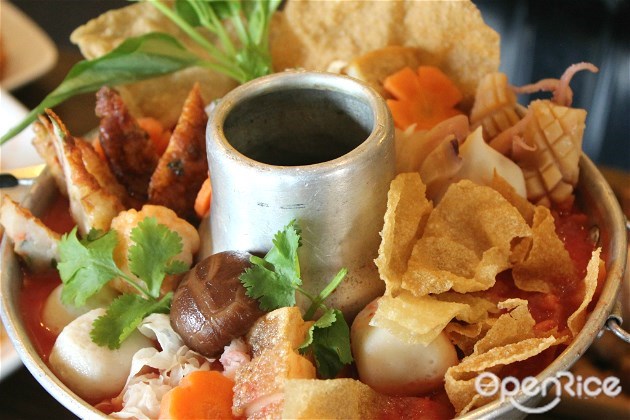 Yen Ta Fo of Pim's & The Rama is served in a hotpot, with plentiful of ingredients including cheesy bursting fish ball, fried bean curd, fishcake, squid and others drowned in the flavorful red broth. This special dish is absolutely appetizing, and it tastes especially good when you enjoy it with Thai jasmine rice!
3
. Che

f's Green Curry Chicken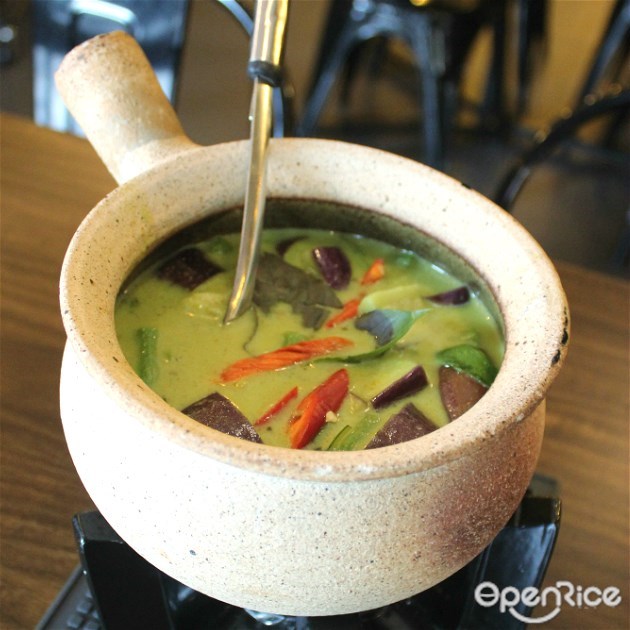 Aside from Tom Yum, green curry is another recognizable local dish that can be said representing Thailand. Pim's & The Rama make sure their Chef's Green Curry Chicken is one of the best in town – creamy and packed with flavors, as well as the subtle taste of coconut milk that perfects the tantalizing curry aroma – the addiction is real.

One thing we love about Pim's & The Rama, is they serve amazing appetizers and sides – ranging from fried food to Thai salad and BBQ dishes, you're definitely spoilt for choice! Start up your feast with these recommended dishes:
1. Donut Prawns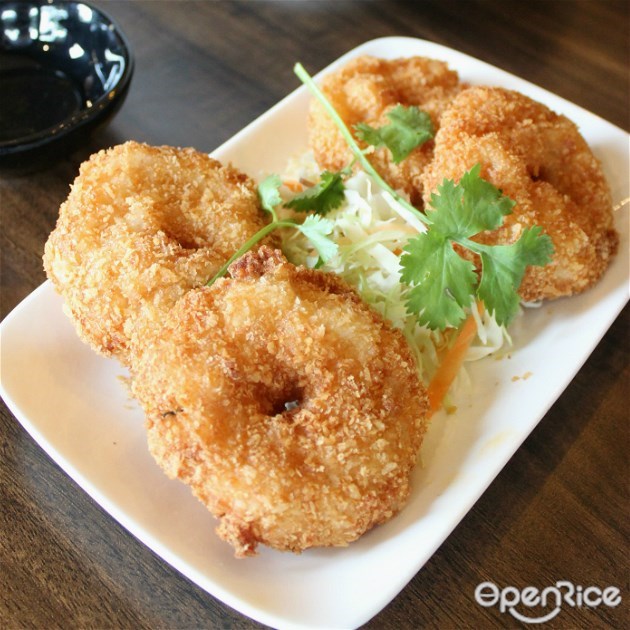 Crispy, tender and savory donuts – like what?! Rest assured, these donuts are definitely going to win your attention. Minced with fresh tiger prawn and dory fish and fried into a ring, complemented with special made plum sauce, this would certainly be your best bet of all time, try it?
2. Spicy Softshell Crabs Thai Salad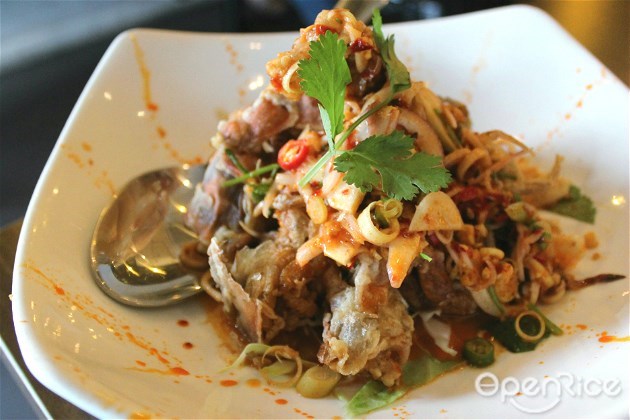 Crispy fried-to-perfection softshell crabs served in classic Thai salad style, and the highlight of this dish would be the aromatic Thai herb sauce that prepared with generous amount of ingredients like lemon grass, onion and chili – zesty, piquant, oddly refreshing and worth adoring, call this a reward for your gourmet taste buds.
3. Thai Grilled Pork Neck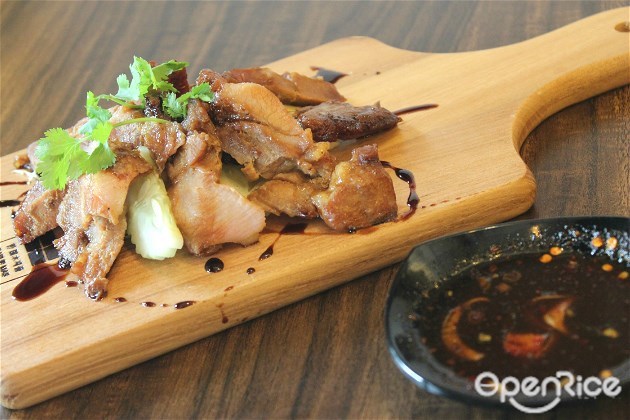 Delectable grilled food bursting with flavors? The Thais know how. At Pim's & The Rama, you can find some skillfully done barbecued meats that'll remind you about scrumptious street food hidden in Bangkok alleys, like the Thai Grilled Pork Neck that's diligently marinated and grilled to perfection. The thick cuts highlight the fine proportion of fats and meat, leading to tender, moist and juicy bites.
4. Pim's Pandan Chicken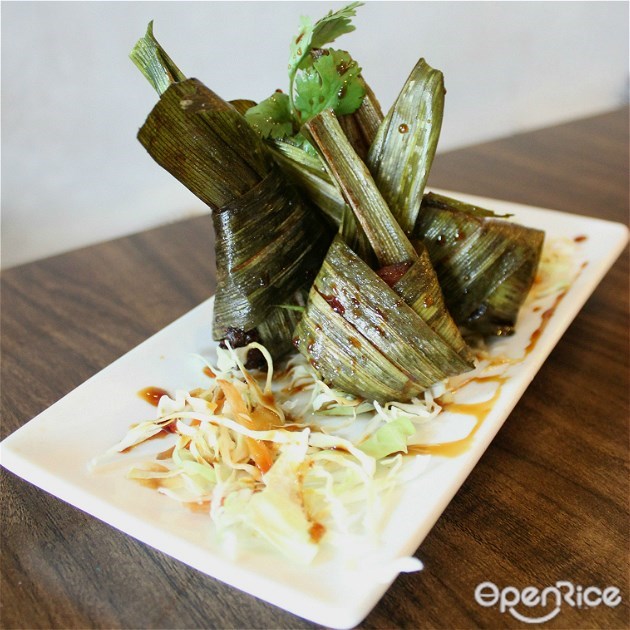 Pim's Pandan Chicken is worthwhile too. Impeccably tender chicken chunks wrapped in pandan leaves that give this dish a distinctively pleasant aroma, this deep-fried delight is easily one of the most ordered dishes here, totally irresistible!
Beverages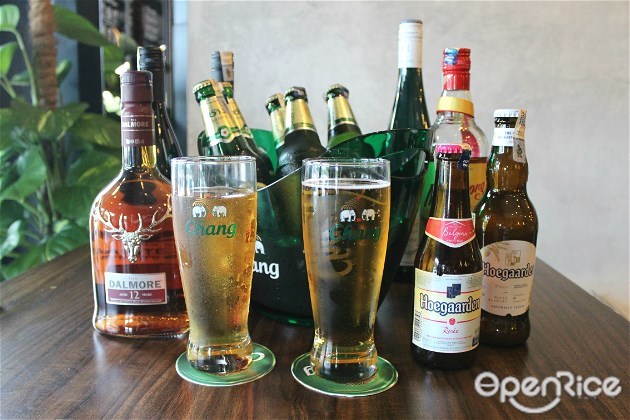 Come to Pim's & The Rama at night and get your drink on – other than variety of beers and wines, we'd highly recommend you to try out the craft cocktails here, with more than 20 choices to pick from including Thai-inspired cocktails that can hardly be found at the bars in Klang Valley.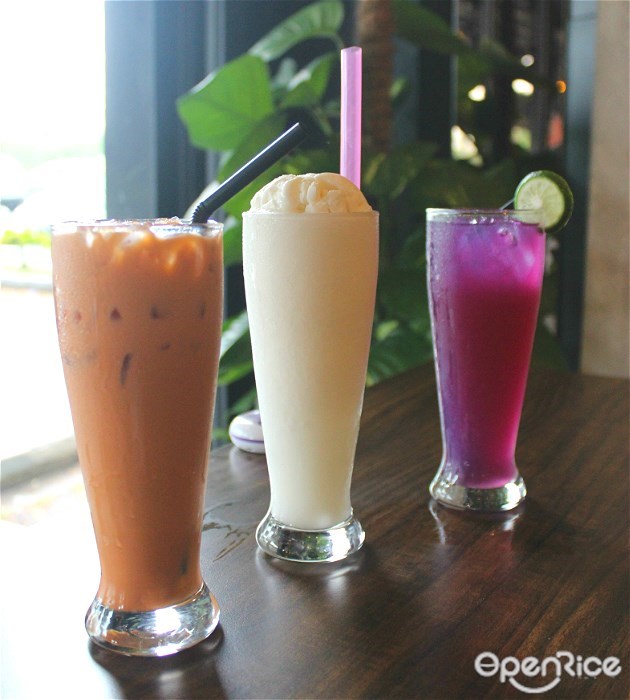 If you opt for non-alcoholic drinks, Pim's & The Rama does not disappoint too, by offering a wide selection of Thai beverages like Thai Ice Royal Milk Tea (Cha Tra Mue), Thai Purple Drink w Lime, Coconut Shake, Thai Rose Pink Milk and others.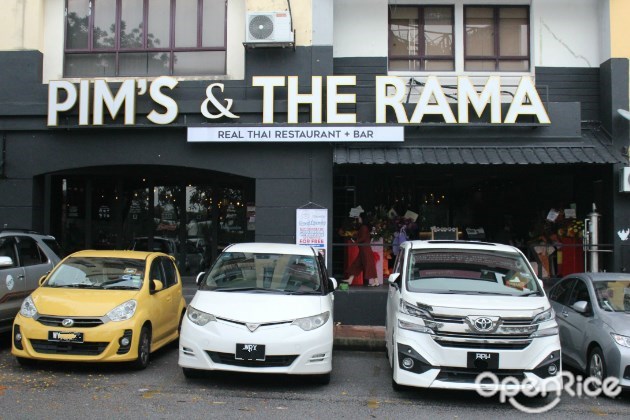 PJ Aman Suria >
Pim's & The Rama
Klang >
Pim's Thai Food