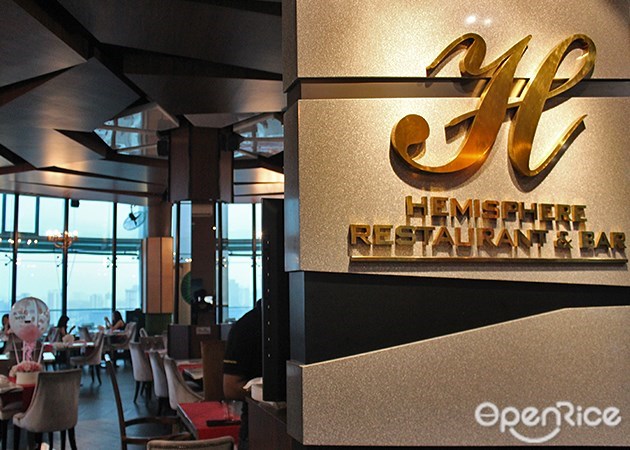 Breezy wind, sunset and skyline view all from Level 37, this isn't a dream, upon entering Hemisphere Restaurant & Bar that is located in Regalia Residence, we were so absorbed into the whole atmosphere. Romantic and nice view, we couldn't get our eyes off the skyline view!


Romantic, Dimly Lit Environment & Comfortable Place to Dine in the Skyline of KL City Centre!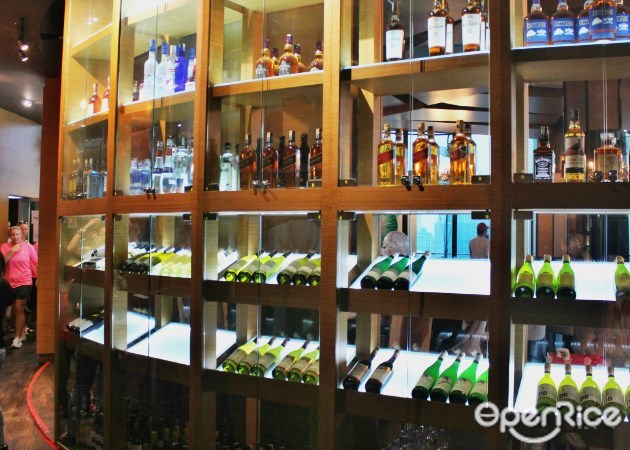 Never had the thought of dining way high up? Then you should. Give him or her that surprise to spice up things in life – upon entering; they have a large collection of wines and alcohol leaving you with extensive of choices to pick from.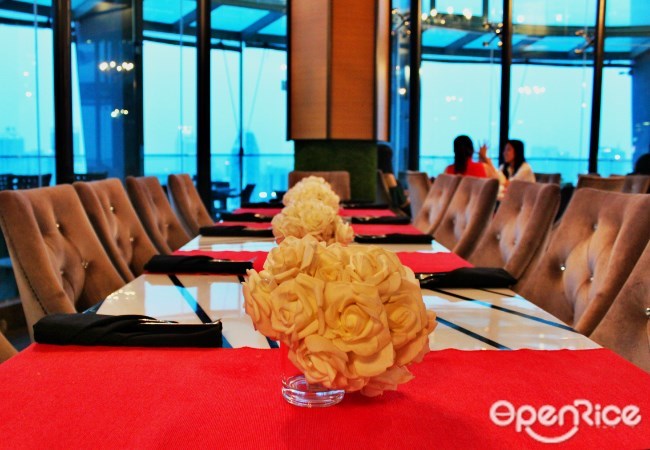 The environment was perfect as they are sophisticated and whole-heartedly decorated to cater for anniversaries, proposals and birthday celebrations.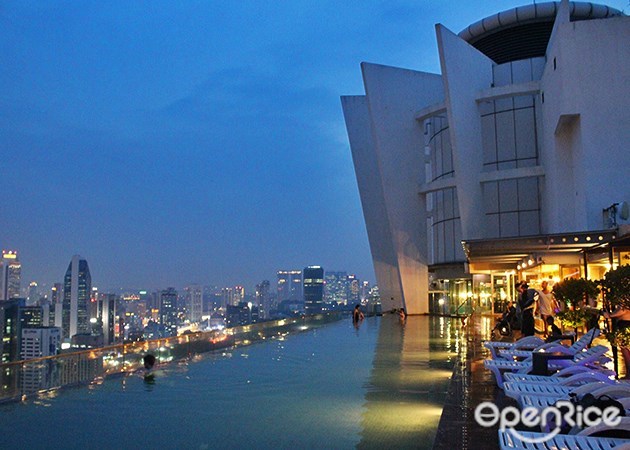 An open-aired infinity pool that can be easily accessed through the doors from Hemisphere Restaurant & Bar, it is another great spot for you to enjoy the night view while you dip in it!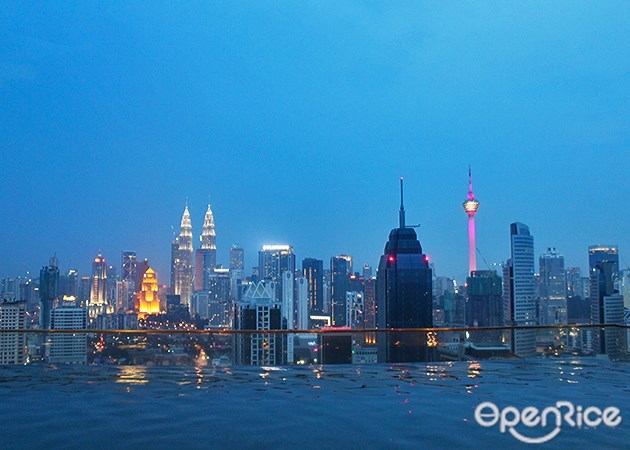 Dusk was falling rapidly and so you know your heartbeat skipped a little when you realized how beautiful it is to dine at Hemisphere Restaurant & Bar. Lights blaze in the dusking sky making sure you'll enjoy every moment from sipping on wines, sampling on that piece of perfectly grilled wagyu and some slow talks.

Not only all about the views, Food matters too!


Appetizers:

Cigar Foie Gras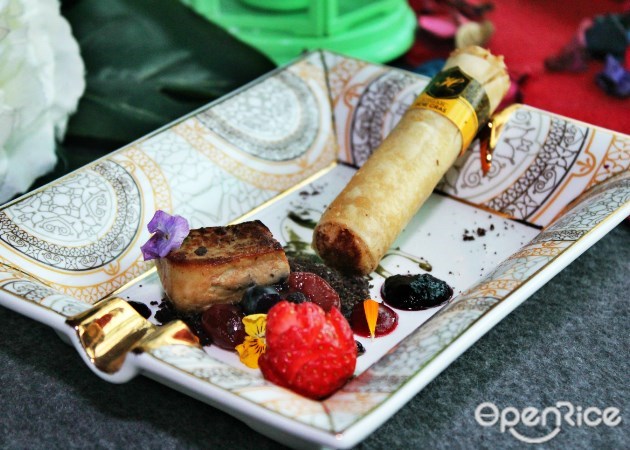 Just like indulging on the cigar but minus that flame, get a bite on this and truly mesmerizing as it is made from foie gras but in mousse form and adding in Grand Marnier wine to further enhance the dish. Eaten with sweet sides, perfect.

Crispy Foie Gras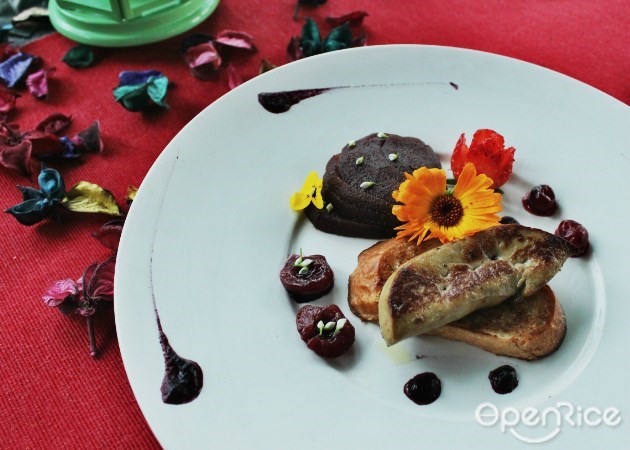 Another recommended appetizer to choose from, pan-seared foie gras eaten with wine-soaked pear that's fragrantly appetizing, bringing a hint of sweetness and crisp texture from the pear itself.


Creamy Escargot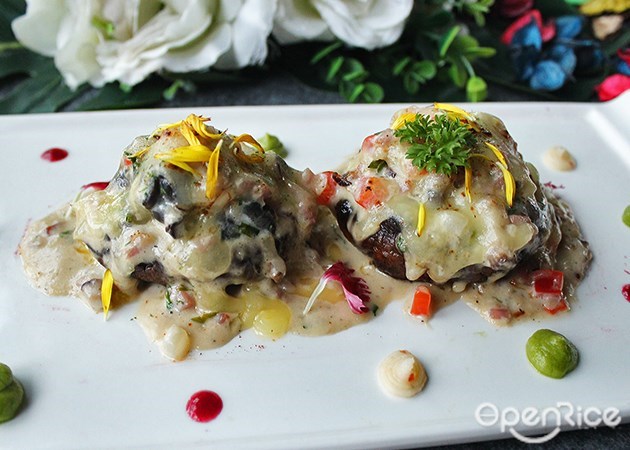 Wondering where the escargots were? Nah, they didn't snail away but they were finely chopped and stuffed into the Portobello mushrooms, served with cream cheese sauce for a creamier taste. Portobello was juicy and was plump in texture, which of these appetizers manage to seduce your appetite right now?


Main Dishes:

Lobster Risotto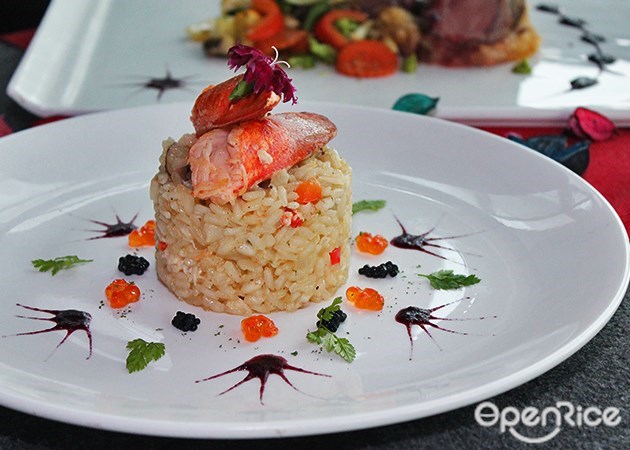 Cooked using seafood stock to a creamy consistency, theirs were great. Topped with pan seared lobster claws, an Italian rice dish makes it a fabulous main starter. Spotted some prawns were used in it as well. We love how the portion would be able to give us enough space for the next dish.


Seafood Paella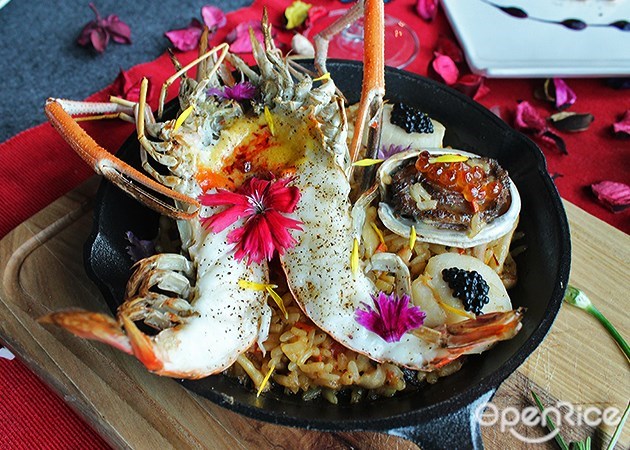 Uses 3 types of seafood in it – Hokkaido Scallops, African Abalone, and River prawns served with saffron which is a seasonal spice; impressively delicious one-pot seafood paella with moist rice at the bottom, along with some caviar, this dish is not just artistically good looking, but masterfully executed in taste too.


River Prawn Aglio Olio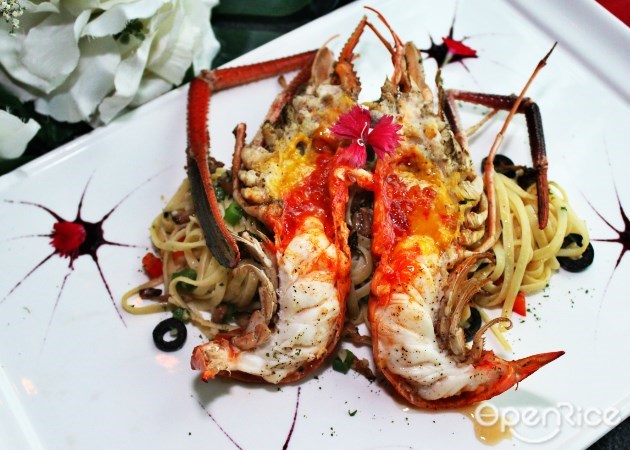 River prawns again were chosen to be served in this dish the roe is so much better than normal tiger prawns. Served in fragrantly tossed Aglio olio linguine pasta, river prawn were fresh and rich in prawn roe, a great total of enjoyment in a plate.


Lamb Rack
To balance up your taste buds, not only were the fresh seafood selection made into the menu, here comes the Lamb Rack too. Nicely seared, expect soft and juicy lamb meat and no worries of chewy texture of course. No gamey smell or whatsoever served with mashed potatoes and sautéed vegetables.

Pumpkin Soup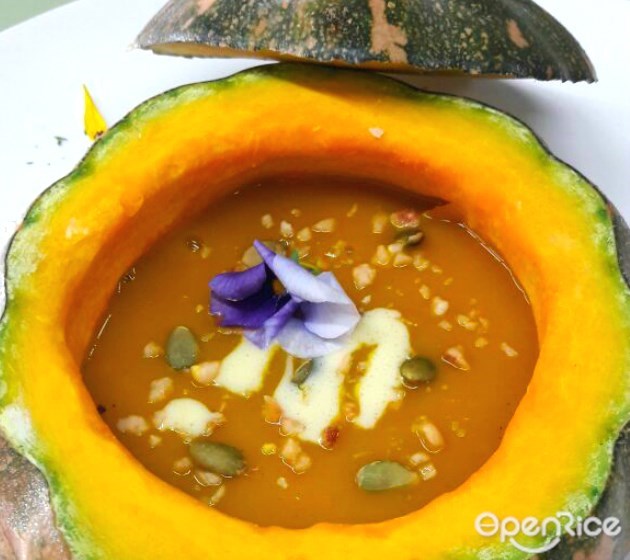 Nope, it isn't the pumpkin used as Cinderella's carriage, but instead, Hemisphere uses imported Pumpkin from Japan! Known for its natural sweet taste and higher in nutritional value comparing to local ones, thus this soup didn't add any sugar or additives when cooked. Thick and creamy consistency, you'll surely love this one.


Free Range Flaming Chicken Beggar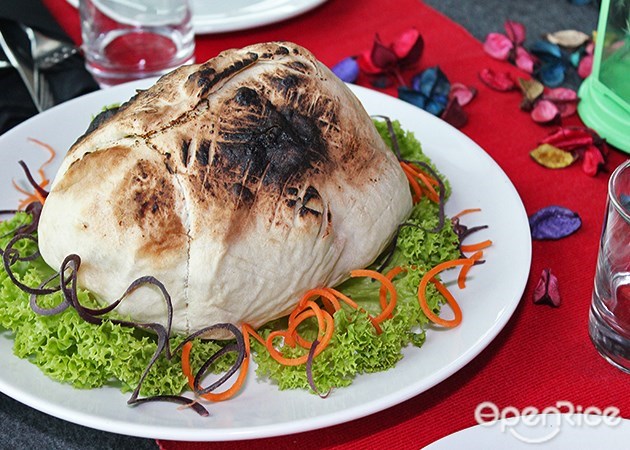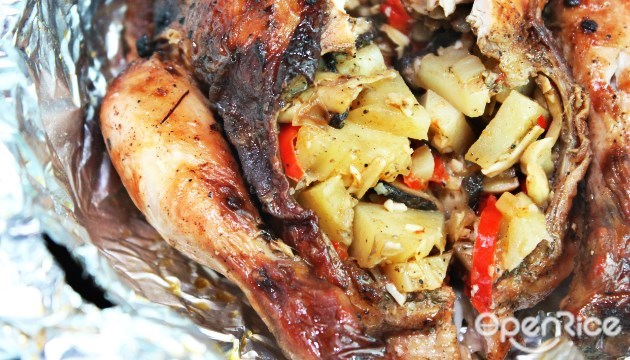 Something you might want to try, one of the new recipes tried and tested by the chefs, oriental style but uses the ingredients and spices from the western – chicken is marinated with herbs and stuffed with mushrooms, tomatoes and poured over with Grand Marnier wine so that it has a little bit of tanginess taste absorbed into the meat! How thoughtful and creative the chefs were in creating this new dish.


Black Angus Beef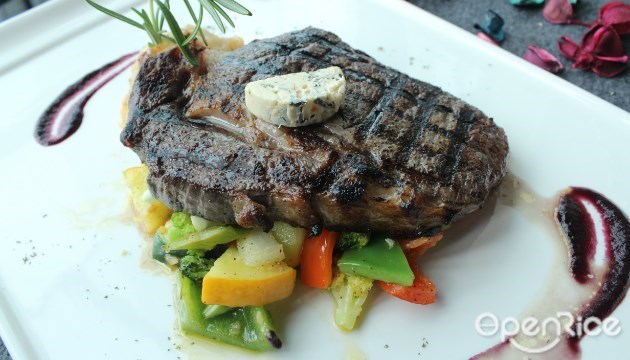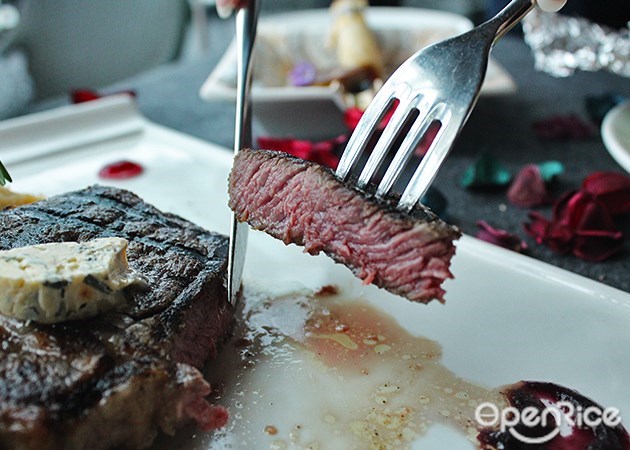 This piece of quality Angus meat was juicy and tender and would be good if you're in the mood for some beefy good meat selections. Marbling wise although wasn't as much as the Wagyu, but Angus beef was flavorful enough to tackle your taste buds for some meat if needed!


Wagyu Beef Score Marble 9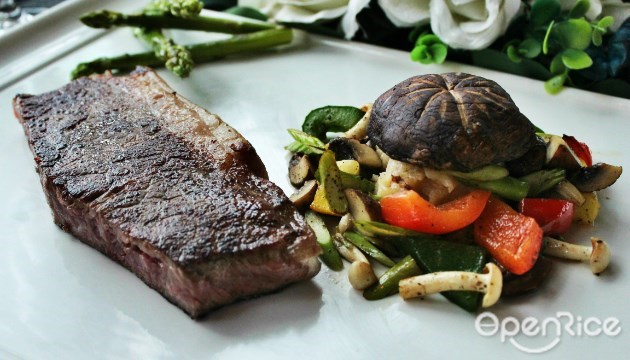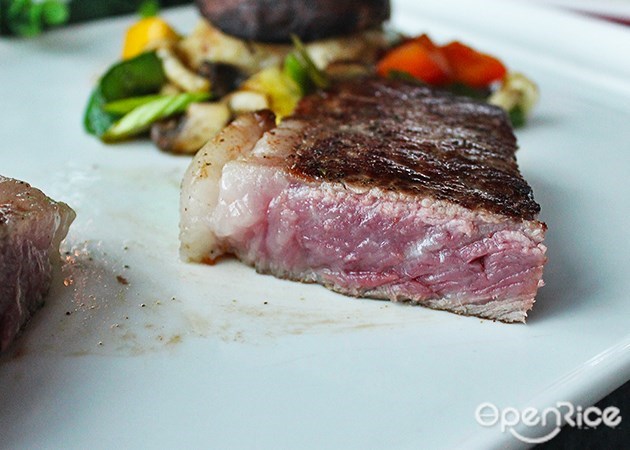 A better beef cut option – Wagyu beef that has a high degree of marbling simply making it a great cut to enjoy with some wine and we love the medium rare doneness, maintaining the juice inside and minimal seasonings used, and the chef explained how we can eat it by sprinkling some sea salt on it to enhance the flavor further, indeed a mouthwatering piece of top grade wagyu!


Dessert:


Lava Cake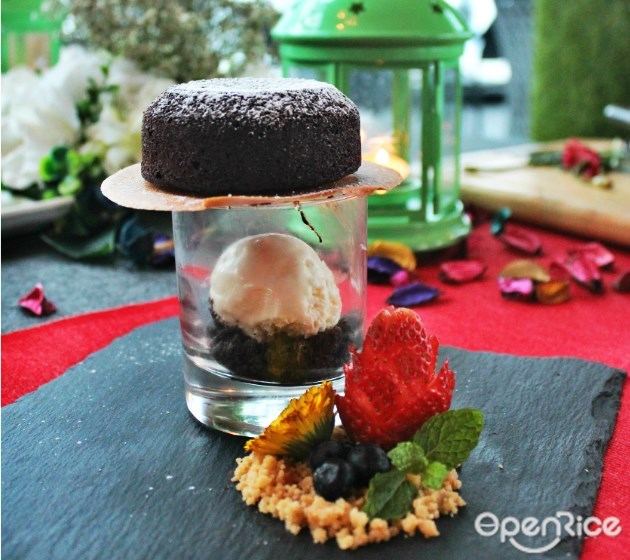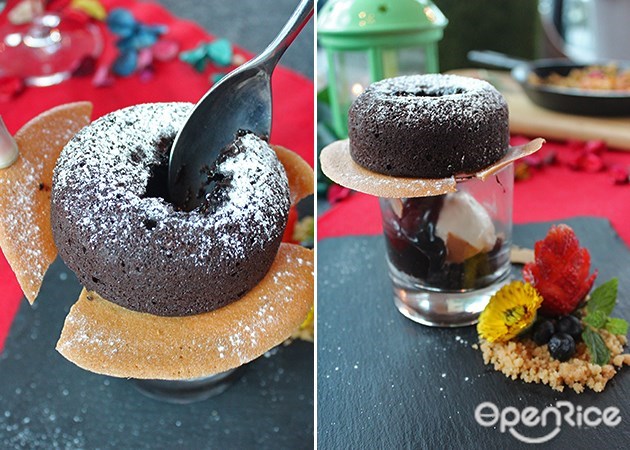 Always remember to end your remarkable meal with the house dessert. Introduced to us the Lava cake, it is the same lava cake used but the eating method was something different from the rest. A scoop of ice cream beneath the lava cake, poke onto the lava cake from above, leaving the oozing chocolate lava flows to the bottom. Hot and cold, plus thick chocolate ganache is something we would really dig into it for! Superbly good to wrap up every meal – dessert is a must order!


Still planning for some upcoming anniversaries or birthday parties? Come all the way up to Level 37, Hemisphere Restaurant & Bar for some exciting wine & dine along with breathtaking skyline views of the Kuala Lumpur City Centre for that pure enjoyment to the eyes and camera too!


More restaurant information: Hemisphere Restaurant & Bar