The acclaimed Serai Group of Restaurants, a homegrown family business that's been around for almost 23 years, and is known for its unique contemporary Southeast Asian cuisine, recently opened its sixth and largest restaurant, in size, to date, at the new Life Center on Jalan Sultan Ismail. The group's latest establishment in the city center boasts a clean, snug, spacious interior and a simple, yet chic modern design. Since it's Wi-Fi enabled, busy working folks from around the area particularly will find convenience dining while taking a break here. "We want our restaurant to become a favorite spot for high tea, lunch, and dinner get-togethers in this neck of the woods," said Serai's executive chef Najib, who's also the group's F&B and client-servicing director. That said, stellar cuisine is a must — considering also when culinary passion runs deep in chef Najib's family. He and his team try to build almost every food from scratch. And only the best and freshest ingredients, as well as world-class culinary skills and innovative approach are used, as seen in Serai's signatures like: The Serai Platter Lies in the rice is where the savory essence of a chicken rice meets the exotic tropical whiff of a lemongrass-scented coconut rice. Each grain is cooked until supple and fluffy. Not too greasy, either. Served on the side are heaps of deep-ruby, unctuous Oxtail Asam Pedas, sweet and sour and a little hot; "Honey" Squid, sweet, spicy, and tender enough to yield under your teeth; snappy and crisp fresh Acar; as well as Malay-style Spiced Fried Chicken that has a crispy skin and juicy meat.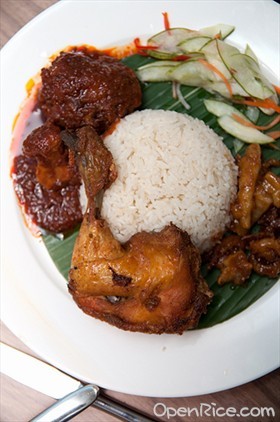 Thai-Style Deep-fried Grouper / Sea Bass An unpretentious way to showcase a fish's freshness. It's crispy without, tender and moist within. The zingy sweet-sour Thai-inspired Spicy Sauce and the fine, delicate shreds of lip-puckering green mango will whet your appetite.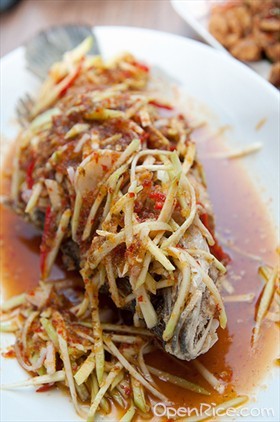 Middle Eastern Meddley Gargantuan lamb shank is given a lavish Moroccan treatment: braised for hours in a potpourri of herbs, aromatics, tomato and dried fruits, until everything is rendered fork-tender, honeyed, and lightly savory. It's then served on a plush bed of warm, moderately chunky, buttery mashed potatoes, with bright, sweet asparagus on the side, blanched to just "al dente."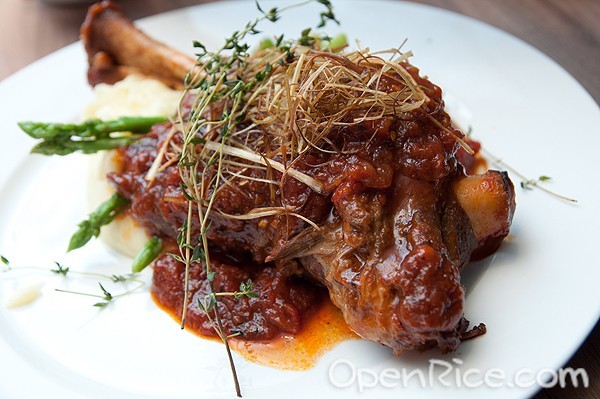 Serai's desserts are not shy on flavor and texture, too. Quality is a given here, chef Najib emphasized. For instance, the restaurant sources its stash of France's famous Valrhona-brand chocolates from Singapore to satisfy the most discerning of chocoholics. So if you have a sweet-tooth, remember not to miss out on: Nutella Ravioli These possess the power of making the gourmet chocoholic go ooooohh-aaaaahh. Savor them while they're still hot (careful not to burn your tongue, though!). Their thin, crispy pastry shatters and gives way to the warm, luscious, gooey Nutella and the toasted hazelnut chunks inside.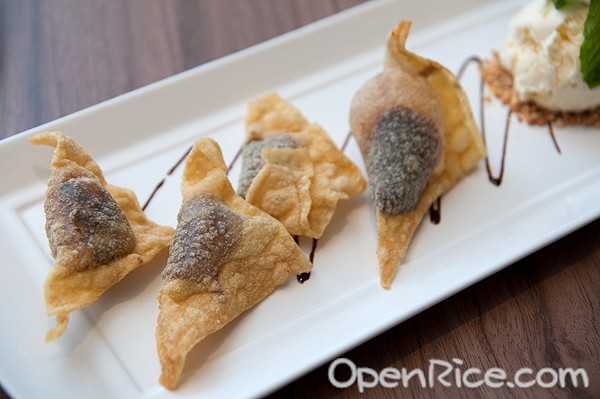 Pistachio Crème Brûlée Rich, creamy, and yet not cloying. This pure decadence sports a very light mossy-green, and is speckled with nutty, mellow pistachio goodness through and through.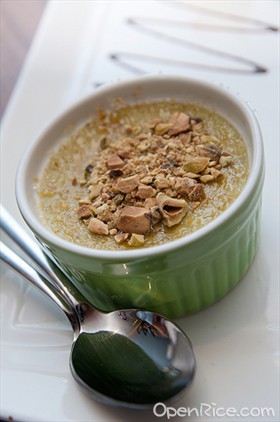 Pavlova A treat Najib has come to love since his day in Australia. At Serai, he serves his with a little more sophistication — the huge meringue is sliced horizontally, in half, then sandwich with a thick layer of vanilla-kissed, lightly sweetened whipped cream in between, and top them all with more cream and fresh, plump, juicy berries. The result is a dessert that's not overly sweet, with an airy and moist chiffonlike texture. At the same time, the berries help cut the cream's richness.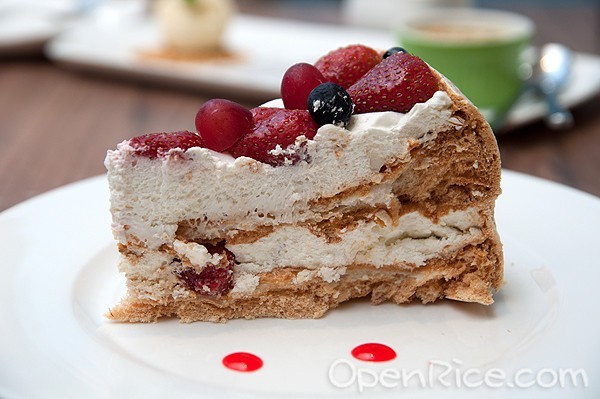 How about a thirst-quencher or palate-cleanser between the mouthfuls of deliciousness? Sip on Serai's signature Iced Tea, a bold blend of intensely earthy, pleasantly bitter, lightly sweetened black tea with citrusy lemongrass extract and fresh mint, spiked with a generous scoop of zesty lemon sorbet. For a sweet-sour drink with a fizz, Orange Blast — a tropical concoction of orange juice, passion fruit, and grenadine, topped with fresh mint and crushed ice — will cool you down.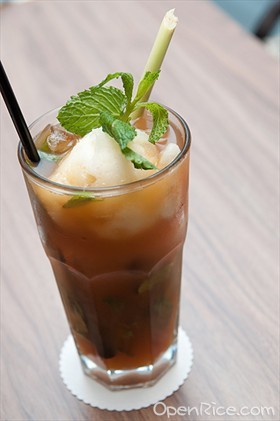 Serai Iced Tea.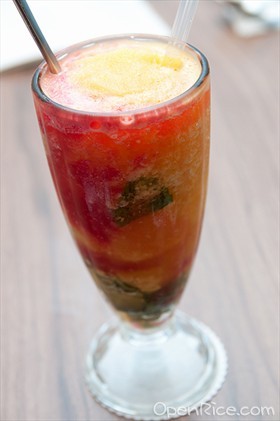 Orange Blast. If you crave privacy while dining, there's the Chef's Table Room to host closed-door events. Najib, a Le Cordon Bleu-trained chef who's amassed 10-plus years of culinary experience in Australia and cooked for celebrities like Sean Connery, Michael Schumacher, and Kylie Minogue, will work closely with you to design a personalized menu based on your preferences. Additionally, Serai also provides catering services for corporate functions and other public events. Hunt for the hottest Singaporean restaurant Discover more top malay restaurant