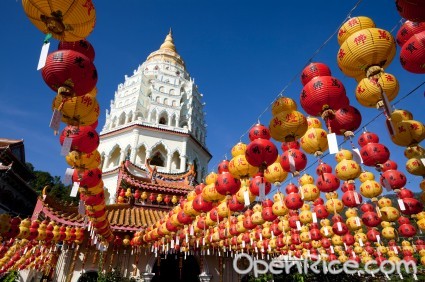 Penang's Kek Lok Si Temple, the largest Buddhist temple in Southeast Asia.
Penang
bustles with rich history and culture. By the 15th century, it had traded with China. But it was only put on the map in 1786, when Francis Light, a British East India Company trader, took over the island from
Kedah
. As the company's base in the Malay States, it prospered into an international trading post. The Penang then embraced immigrants from around the world. In fact, Old Penang was more culturally diverse than it is today; among others, there were Burmese, Ceylonese, Japanese, Sumatrans, Armenians, Jews, and Germans. Though most are no longer around, they've lent legacy to the island's landscape — as seen through its street names (Gottlieb Rd., Armenian St.) and buildings (the Crag Hotel, the Penang Jewish Cemetery). No wonder the capital George Town was inscribed as a UNESCO World Heritage site on July 7, 2008. Since food speaks of people, a way to learn about Penang is through its food. And the good news? Thanks to its 24/7 roadside food stalls and endless array of inexpensive, tasty street fare, it's now Malaysia's food capital and one of Asia's most sought-after food havens. Penang cuisine is multicultural, reflecting the island's blend of cultures — from Chinese, Malay, and Indian to Peranakan and Thai. Here are a few of Penang's classic street foods.
Char Kway Teow
(炒粿條) A savory amalgam of fresh broad rice noodles (
kway teow
) and ingredients like soy sauces, chile or
sambal belachan
, Chinese sausage or fish cake, shrimp, cockles, bean sprouts, Chinese chives, and egg. They're flash-fried in a wok, over ferocious heat, till smokin' hot and is punctuated with
wok hei
. Try
Kedai Kopi Sin Hwa
,
New World Park
,
Kafe Heng Huat
.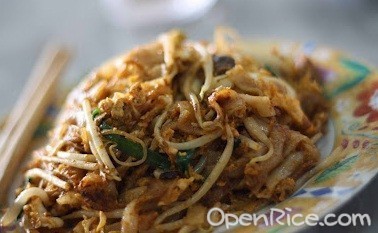 Penang Laksa
Named as the world's seventh-most delicious food by CNN Go in 2011. Thick, bouncy
laksa
(a type of rice noodles) comes in a bowl filled with satisfyingly rich fish broth that's made appetizingly sour with tamarind or
asam gelugor
, as well as thickened with lots of shredded fish. To go alongside are sprinklings of cucumber, onion, pineapple, lettuce, torch ginger (
bunga kantan
), mint leaves, and shrimp paste (
hae ko
). Try
Pasar Air Itam Laksa
,
Super Jumbo Café
,
Lok Pin Café
,
Penang Famous Laksa @ Gurney Drive Hawker Centre
.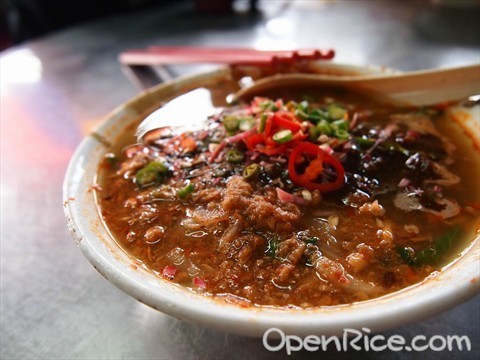 Curry Mee
Noodles are served in a headily spicy coconut milk-laden curry broth, along with tofu puffs, shrimp, cockles, bean sprouts, and sometimes shreds of poached chicken. On the island, chunks of congealed pork blood — a delicacy among Malaysian Chinese — are featured regularly, too. Try
Restoran New Dragon Phoenix
,
Batu Lancang Market Food Court
,
Sisters' Curry Mee
.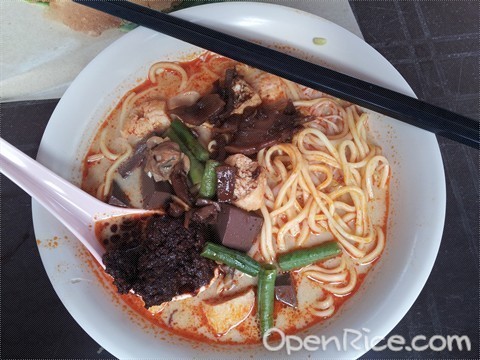 Penang Rojak
This zesty salad consists of such local specialties as cucumber, pineapple, mango, rose apple (
jambu air
), jicama (
sengkuang
), dried cuttlefish, and tofu puffs. They're dressed in a dark, syrupy, mildly hot, sweet-savory dressing made largely with shrimp paste (
hae ko
), as well as strewn with crushed peanuts and crispy deep-fried Chinese cruller for textural contrasts. Try Majestic Rojak @ Lorong Swatow,
Penang Famous Rojak @ Red Garden Food Paradise
,
Kedai Kopi Goh Chew
.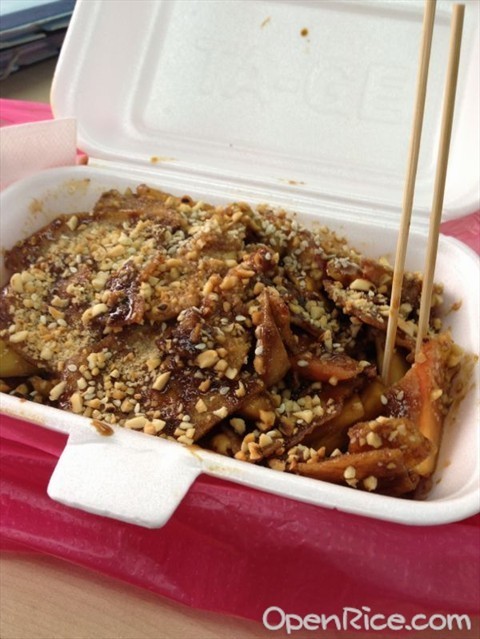 Nasi Kandar
Steamed rice is served with curries and sides, like fried chicken or squid, and vegetables like eggplant and bitter melon. Yet, the best part lies in having curry gravies are ladled over the rice, so much that the rice seems flooded. Try
Nasi Kandar Line Clear
,
Restoran Tajuddin Hussein
.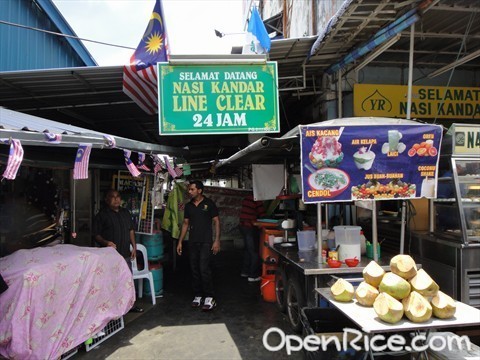 Prawn Mee (蝦麵)
The essence is in the orange-hued, intensely shrimpy broth, which gets poured over a bowl of noodles for a hearty meal. They're finished with more shrimp, fish cake, pork, water spinach (
kangkung
), fried shallots, and a dollop of
sambal
. Try
Ah Mei Hokkien Prawn Mee @ Kedai Kopi New Cathay
,
Hock Kian Prawn Mee @ Restoran Bee Hooi
, Prawn Mee @ Farlim Night Market.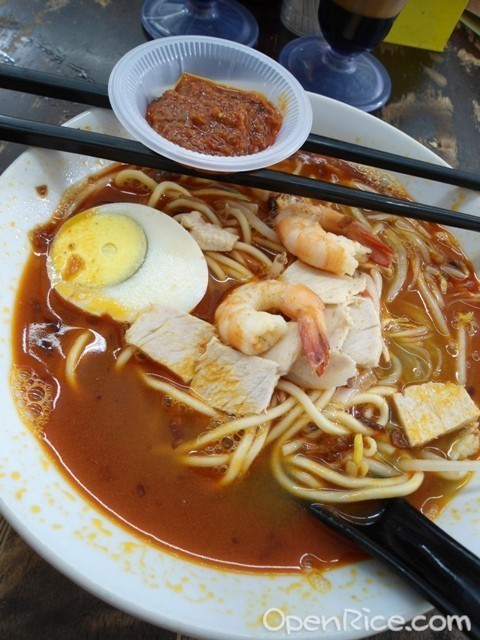 Ikan Bakar
Fish — stingray a favorite here — is marinated with spices and, sometimes, sambal belachan before getting grilled. Banana leaf is placed between the fish and the griddle when cooking to impart a hint of sweet creaminess. Try the
Ikan Bakar @ Bukit Tengah
,
Mami Gurney @ Gurney Drive Hawker Centre
.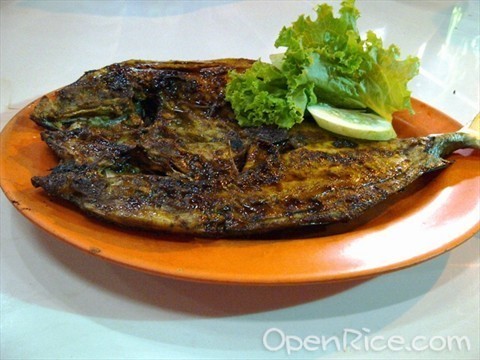 Tau Sar Pneah (豆沙餅)
Flaky pastry enrobes a plush, sweet-savory mung-bean filling that's scented lightly with fried shallot and Chinese five-spice powder. Try
Ghee Hiang
,
Him Heang
.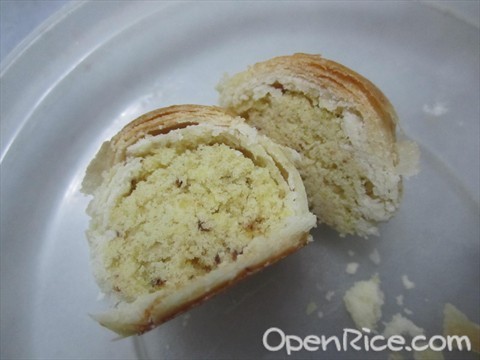 Ais Kacang, a.k.a. ABC
This quintessential shaved-ice dessert staves off tropical heat. It's drizzled generously with condensed, evaporated, or coconut milk; colored and flavored with palm-sugar or rose syrup. Ingredients such as palm seeds (
attap chee
), creamed corn, azuki beans,
cendol
, and grass jelly (
cincau
) top it all off. For a little novelty, a scoop or two of ice cream atop will do! Try
New World Park
,
Kek Seng
,
Ais Kacang @ Anson Food Court
.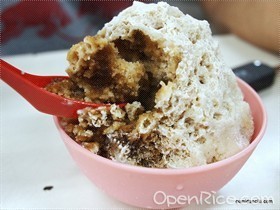 Ching Pu Leang
(清補涼) This simple, cooling dessert soup is a medley of nourishing foods, like winter melon, sweet potatoes, rambutan, azuki beans, sago, longan, and ginkgo. Try
Mat Toh Yau
.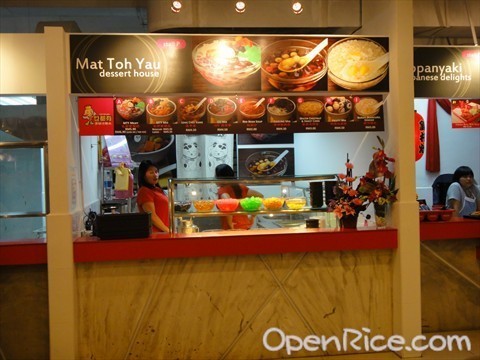 Loh Bak, a.k.a. Ngoh Hiang (五香滷肉)
Spring-roll-like delicacy. A savory mixture of ground pork, sometimes shrimp or fish, and vegetables like jicama (
sengkuang
) or water chestnut gets seasoned with Chinese five-spice powder — from where the delicacy got its name — and rolled in tofu skin and deep-fried. Try
Kafe Kheng Pin
,
Kek Seng
,
Red Garden Food Paradise
.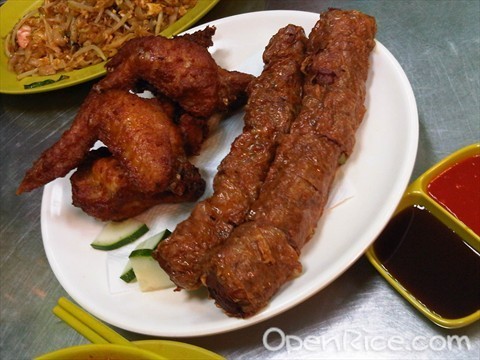 Those are just the tip of the iceberg. Penang — a culmination of centuries of cultural interplay; a year-round destination for the gastronomically adventurous — has much more to offer. Plan on a few trips, or a long stay there, to immerse yourself in the Penangite spirit. You'll be captivated!
Hunt for the hottest prawn mee restaurant
Discover more top curry mee restaurant