Looking forward to some spices to 'spice up your life'? Well, for the best of both worlds, the authentic Chinese dishes will never go wrong. Head straight to Kota Damansara to find it out!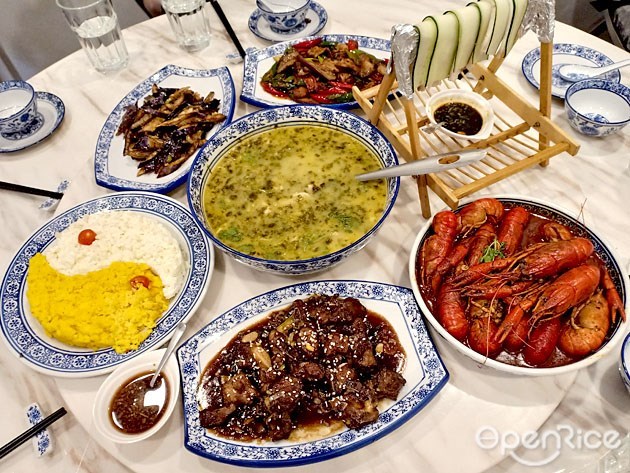 一線馆 Front Line Cuisine serves you a whole new 'revised' authentic Chinese dishes that is the same but only some slight twist to ensure we locals enjoying it to the max. Here, you'll get a mixture of everything that includes Sichuan, Hunan and the famous Shanghai dishes. Perfecting the tastes for you, let's check what they have to offer us!

Special Ma-La Crayfish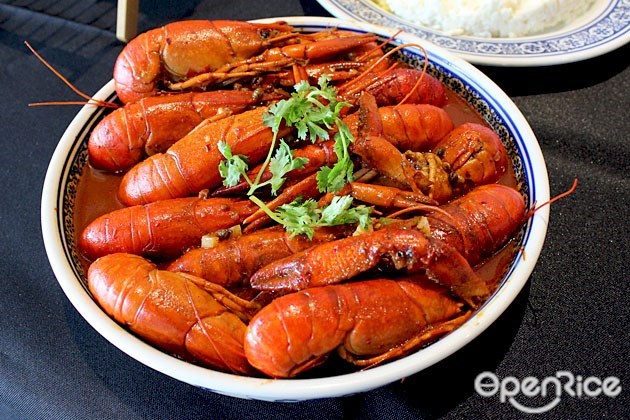 Indeed a famous dish from Hunan, such a well-balanced taste between the spiciness that doesn't just numb your taste buds, but leaving the aromatic taste bathing in your mouth. Imported peppers used, you might start to worry if they sweat you a lot. But in fact, you'll be swimming in a bowl filled with fresh crayfish delight and piping hot broth; truly satisfying that the spiciness won't burn your mouth and your appetite!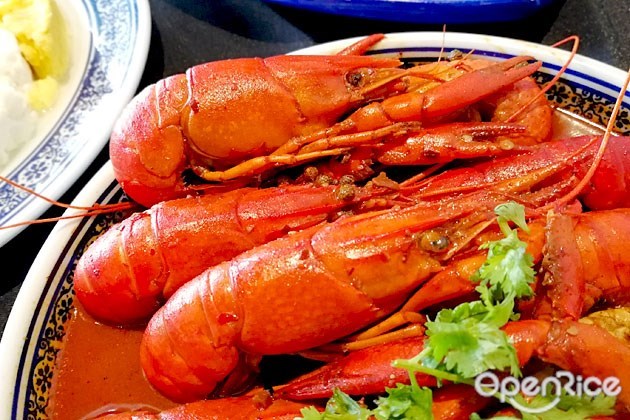 Fresh and bringing a hint of sweetness, a dish that you shouldn't miss.

Cold Appetizer – Hanging Boiled White Meat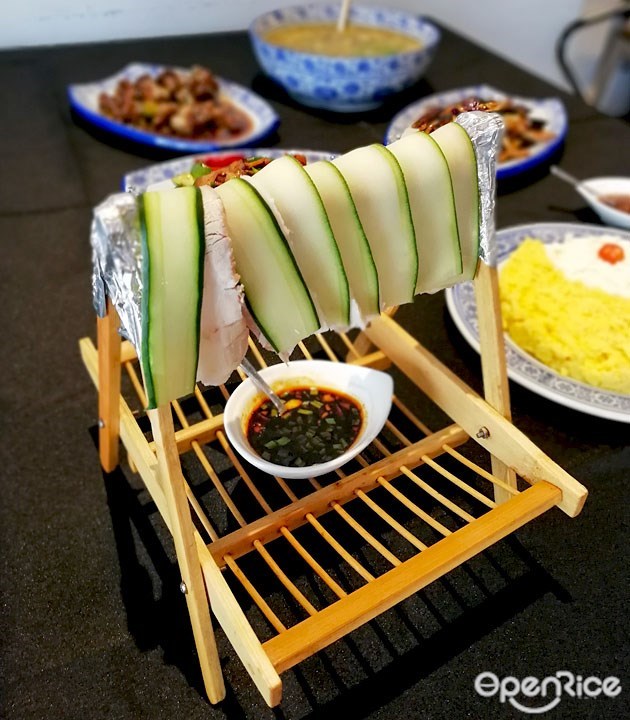 Dining here means you'll always want to enjoy the very best of everything they have to offer from the menu. Eaten with sliced cucumbers and the special made chili oil dipping sauce that clings on each piece of meat, mild spiciness and lightly salted sums up a great appetizer!

Boiled Fish in Pickled Cabbage & Chili Soup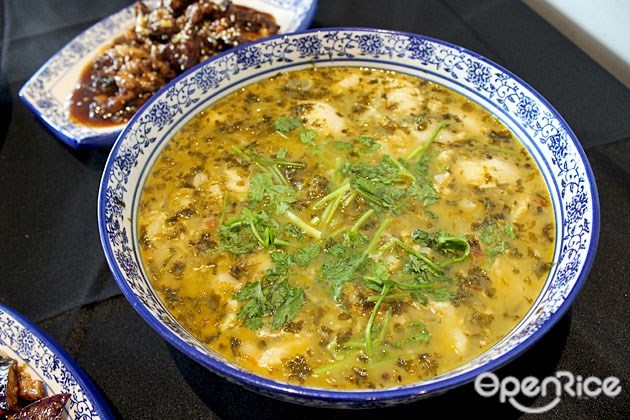 Totally an eye opener – this dish is so recommended that you'll never have enough of it. Sourish and spicy combined together leaving you wanted more. Slight sweetness as they used fish slices in it, all the mixture of taste in this bowl is truly mesmerizing.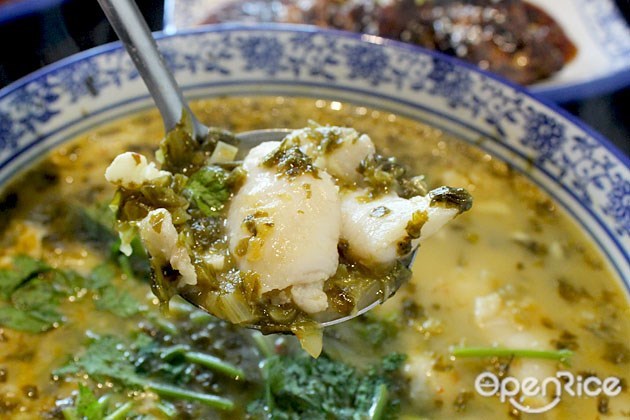 Fresh fish slices, eaten with pickled cabbages, preserved vegetables and chili, indeed whet up your appetite for more.

Twice Cooked Spicy Pork Slices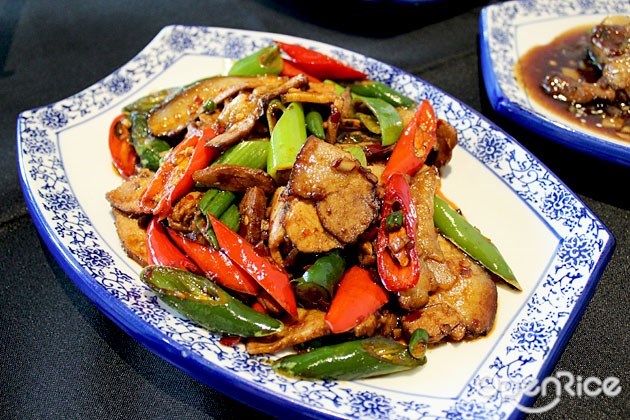 Cooked with leeks, red and green chilies – the meat was marinated and stir-fried for a better aftertaste. Best eaten with a bowl of rice, the gravy and meat will have you salivating. Slight spiciness that is acceptable, you'll never say no to this dish!

Shanghai Style Imitation Crab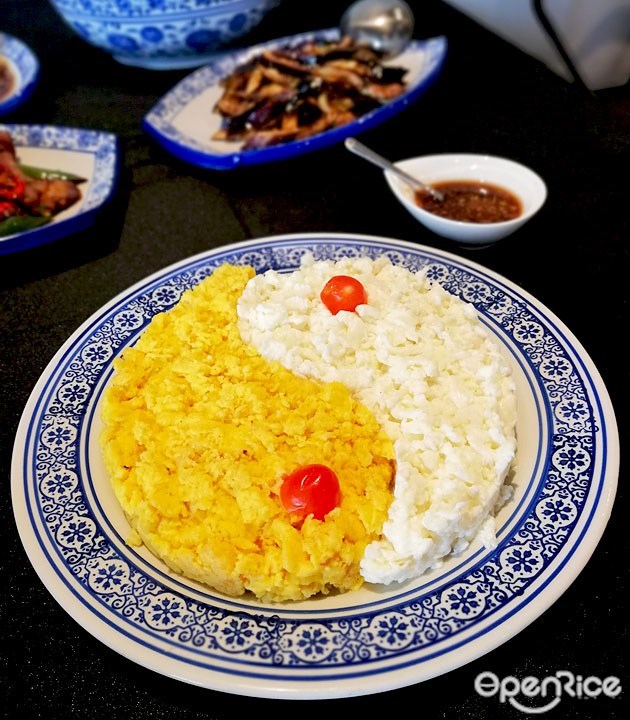 A Shanghai style dish served to look in a Yin & Yang shape, the egg whites were added with crab meat and fish meat while the egg yolks were added with fish roes. Beautifully executed, each scoop brings out a truly decent taste that you'll only compliment upon eating it. Naturally soft and smooth, it is said to be eaten with the vinegar as it helps enhances the taste better too!

Grandma Home Cook Sweet Spare Ribs Recipe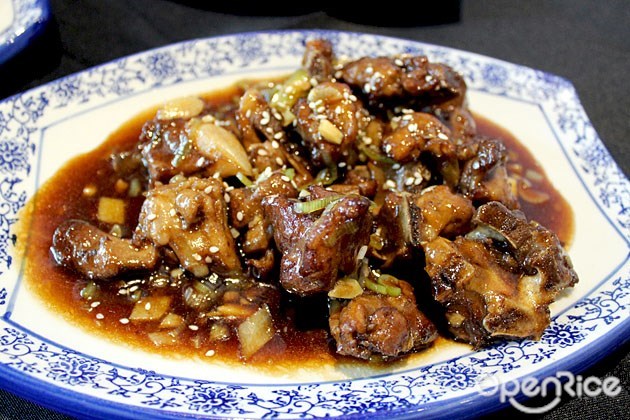 A very homey taste that's made from a pass-on recipe; the ribs very so flavorful and tender which you'll enjoy eating it with rice. Seasoned to perfection with a propriety blend of the homemade secret sauces, a very savory selection that you'll like!

F.R Signature Eggplant
Stir fried until perfection with garlic and chilies – not to be missed!

Purple Taro in Hot Toffee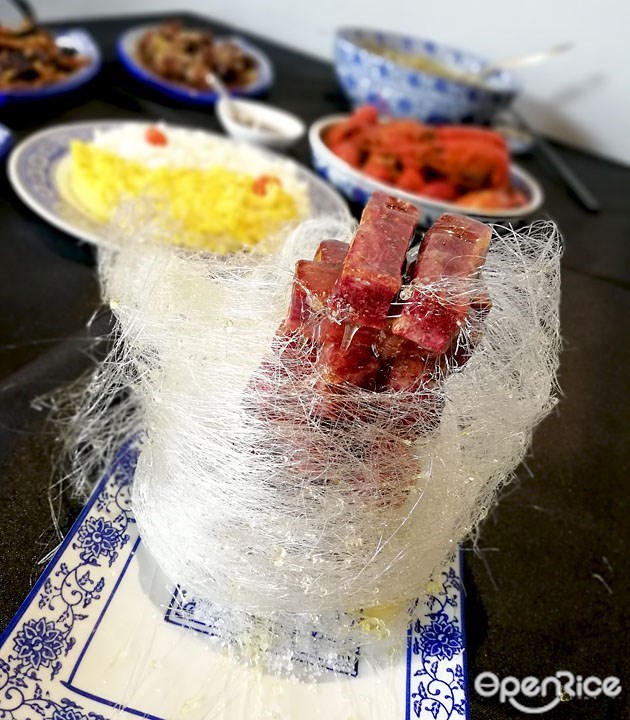 A very well-known dessert that from China, this dish gets attention from us all! Made to look like a nest, with purple potato in it, it is actually made from toffee!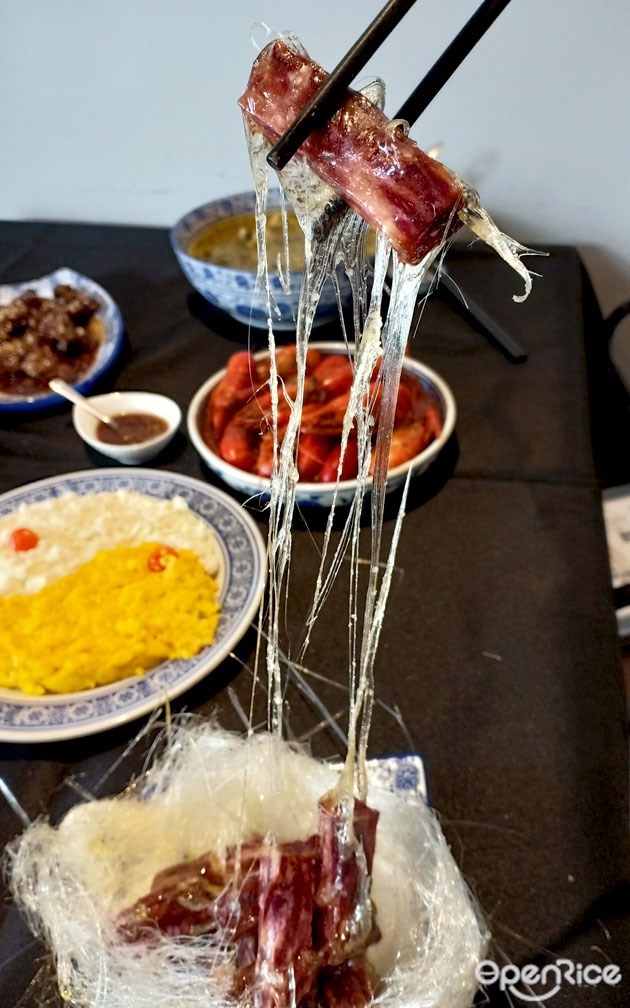 how is it eaten? When it is served hot, make sure you start digging in! Get hold of a piece of purple potato and twist it up because the melted maltose will do the trick! Crispy, sweet and the purple potatoes were so aromatic yet soft, not cloying at all. Such a great dessert that you must try!