When mentioning vegetarian food in Bandar Puteri Puchong, most people will point you to Together Vegetarian Restaurant, which is famed for its healthy and delicious vegetarian cuisine.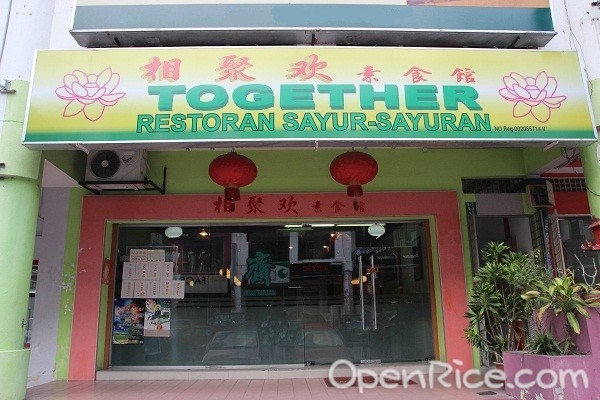 Now you have a chance to try seven tantalizing vegetarian dishes for FREE at the restaurant in our upcoming MakanVenture food tasting session! Sign up NOW to grab the limited seats!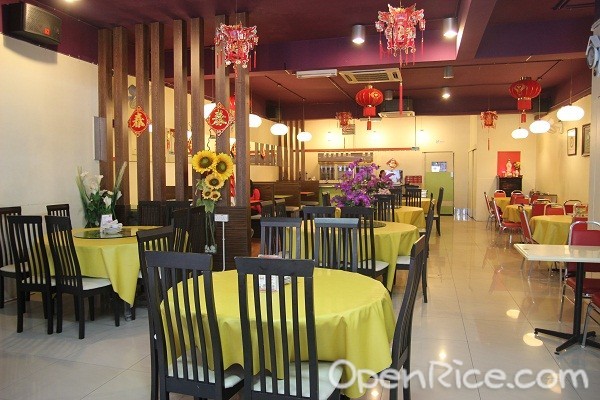 The restaurant was co-founded by Helen's family members in 2011. Her siblings run two other branches in Petaling Jaya and Subang Jaya under different shop names. They share similar menu and often help each other to improve the recipe. Youngest among the three shops, Together Restaurant has gradually become a must-visit place for vegetarian food in Puchong area.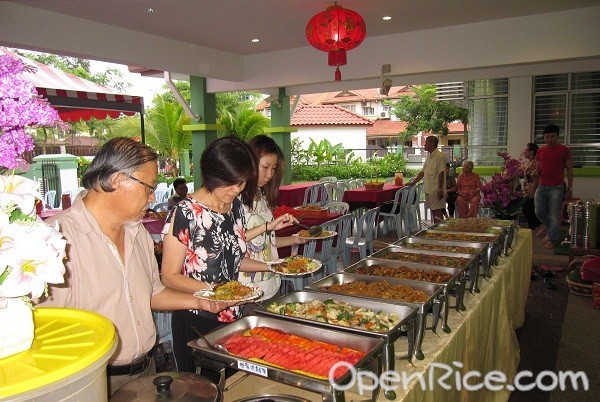 The restaurant's main chef has over 20 years of culinary experience. Most of the vegetarian dishes are homemade by him using fresh and natural ingredients without adding any preservatives or MSG to ensure the freshness and quality of food. Regulars from different ethnic backgrounds like to patronize the shop for its healthy delicacies. The restaurant also offers catering service for weddings and private functions. During the food tasting event, the restaurant will provide seven tantalizing dishes for our members to try, including: 1. Shark's Fin Soup with Crab Meat (蟹王鱼翅)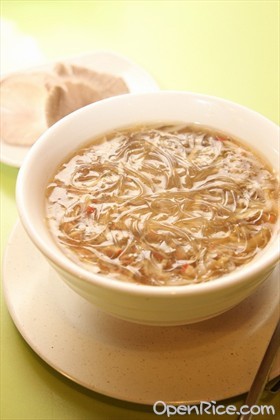 An indispensable dish in a typical Chinese wedding banquet. The soup is cooked with vegetarian shark fin, crab stick, and mushroom in thick herbal stock. It is an excellent appetizer to warm your palate before main dishes are served. 2. Fried Bean Curd with Fresh Mushroom (灵芝菇豆腐)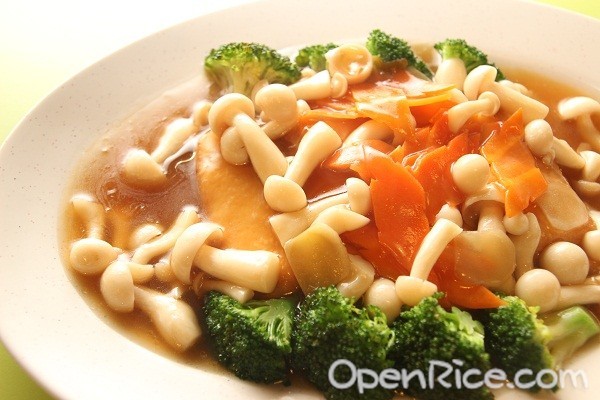 One of the best-selling specialties here. The bean curd is freshly homemade daily and deep-fried until it is crispy on the outside and soft and tender on the inside. The mouth-watering fried bean curd is garnished with carrots, fresh mushrooms, and cauliflowers in herbal sauce. 3. Red Enzyme with Mushrooms (红麴双菇)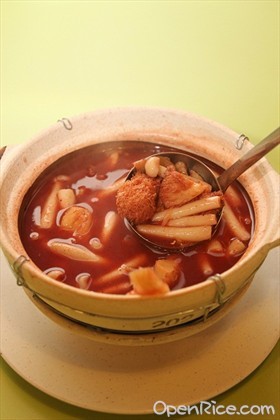 A new and healthy dish with nourishing red enzyme. Red enzyme is proven to have medical benefits in lowering blood pressure and cholesterol. Two types of mushroom are cooked with red enzyme soup in a claypot. The dish doesn't contain any alcohol, yet the red enzyme adds a natural wine-like sweetness to the soup. 4. Asam Fish (亚参鱼)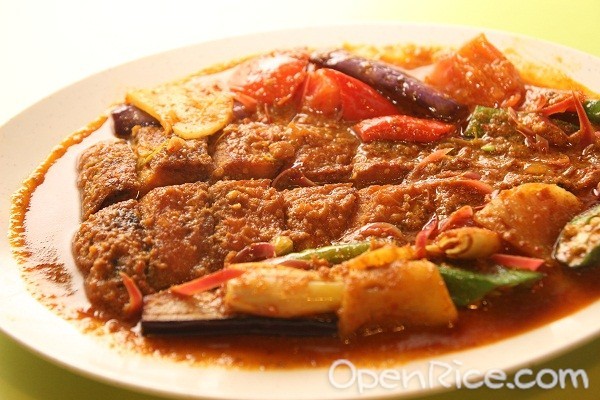 A not-to-be-missed delicacy for spicy food lovers! The vegetarian fish is made of bean curd and wrapped with bean curd skin and dried seaweed. The spicy Asam sauce is homemade using natural ingredients, adding a pleasant sweet and sour taste to the fish. 5. Butter Abalone Mushroom (奶油鲍鱼菇)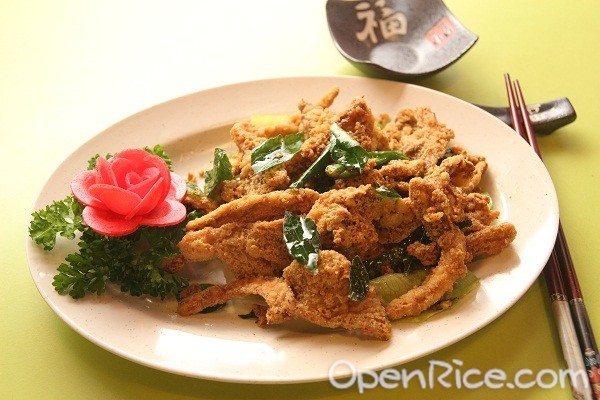 Mushrooms are widely used in vegetarian cuisine to imitate the texture of meat. In this dish, the abalone mushrooms are deep-fried before they are stir-fried with butter to make the mushrooms crispy and chewy. Take a bite and you won't stop eating one after another! 6. Curry Mutton with Bread (咖喱羊肉配银丝卷)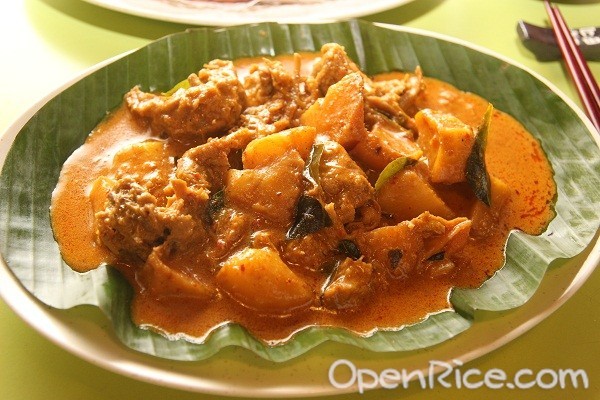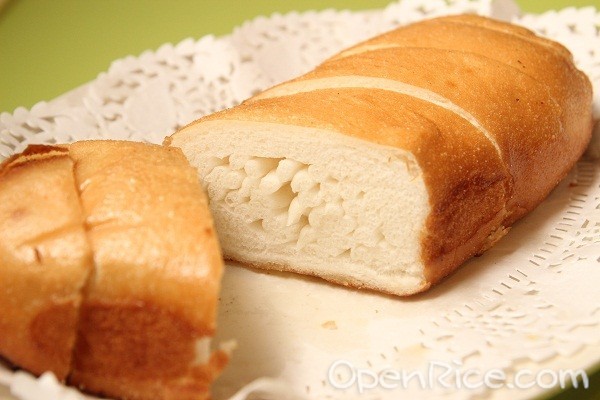 The vegetarian muttons are made of mushroom. They are simmered in spicy and fragrant curry with potatoes and curry leaves for long hours until the mutton has fully absorbed the essence of the curry. The curry uses only high quality coconut milk to make it smooth and aromatic. The curry mutton is accompanied by a plate of fried buns. Remember to dip the bun into the curry sauce to enhance its flavours. 7. Spinach in Herbal Sauce (上汤芫菜)
A vegetable dish to make the meal complete. It is boiled spinach moistened with thick herbal sauce. The sauce is prepared using Chinese wolfberries, which are believed to have healing effects on our eyes. During the food tasting session, the chef will also demonstrate how to make a vegetarian pomfret fish by using natural ingredients. Can't wait to try all seven dishes mentioned above? Come and join us by signing up here! The MakanVenture event will be held on 15th April. *The restaurant is now offering exclusive discount coupons for OpenRice members! Click here to find out more! Discover more best vegetarian restaurant Find out more top fish restaurant