The Seven @ Bandar Puteri Puchong


Bandar Puteri Puchong, a location that stores many eateries that are rapidly increasing each day. Bars and bistro are one of the most happening additions here, nonetheless when they have everything you need.
Newly added into Puchong's district, The SEVEN Bar & Bistro are seemingly attracting crowds. A modern and convincing exterior and interior makes it a reason to give it a try. Spacious bar and comes with an upper level for casual vibrant dining; take a glimpse and catch your favorite toothsome promising meals here.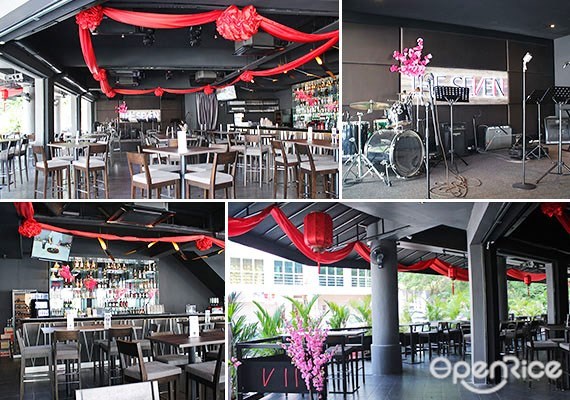 Spacious and promising live band from Monday – Saturday, The SEVEN wouldn't leave you hanging with bad music!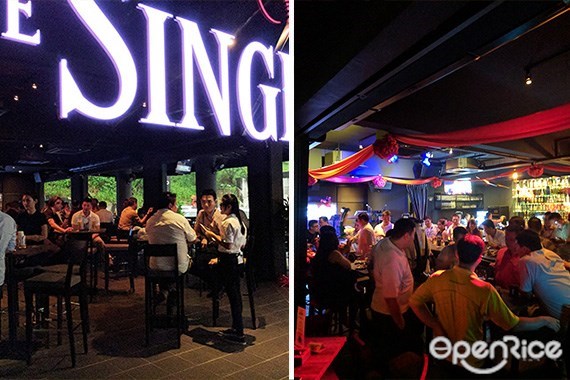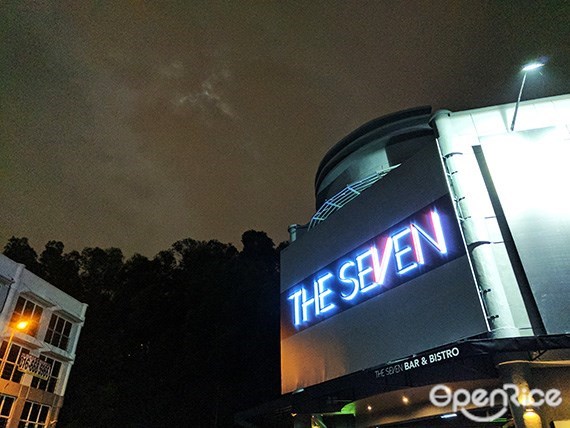 When night falls, the environment at The Seven Bar & Bistro changes completely and totally rocking it right! Packed with patrons, come here for a drink or two, or even for celebrations!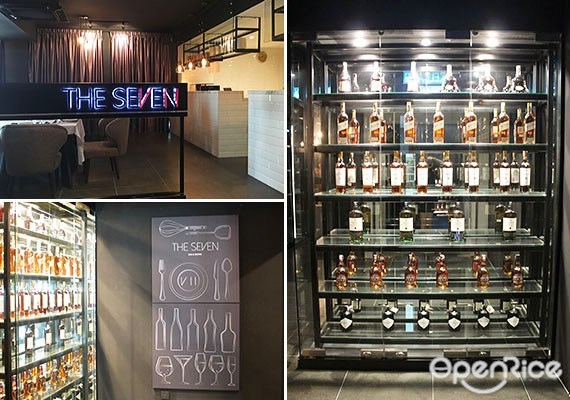 Heading up to the first floor, you'll be mesmerized upon entering as the ambiance plays a vital role here. Romantic dimly lit lightings and comfortable seats; The SEVEN will sure to give your date or your dining partner a delightful and delicious dining experience.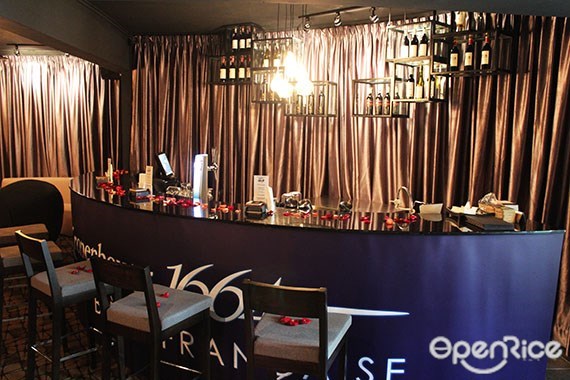 All eyes on the bar as exclusive and imported wines were seen placing on the bar and pleasant decorated bar top boost up some mood for a glass or two.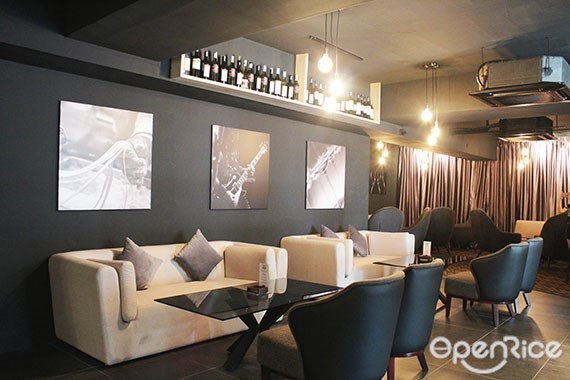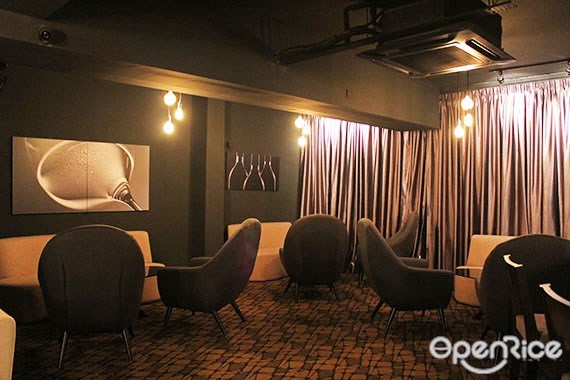 Paintings here play an important role as it stands out by enhancing the dark-colored wall to another perspective. Sophisticated interior and comfy, come here for Valentine's Day celebration or birthday celebrations would be a great choice.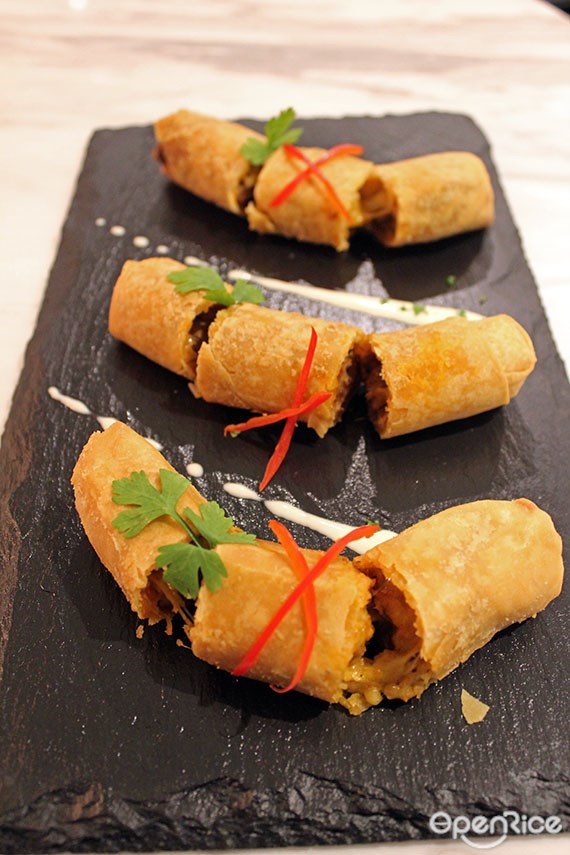 Extensive menu that offers a wide range of appetizing acclaimed dishes from experienced Head chef here; get a bite off the starter – Deep fried lamb spring rolls where mozzarella cheese and lamb meat marinated in curry wrapped in dumpling skin, deep fried till crunchy and guaranteed crisps on every bite. A brilliant starter that makes us anticipates for more dishes here.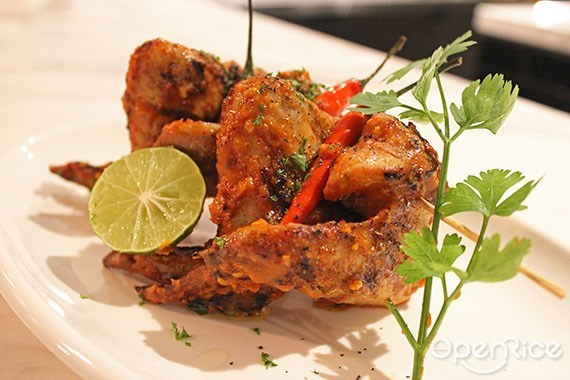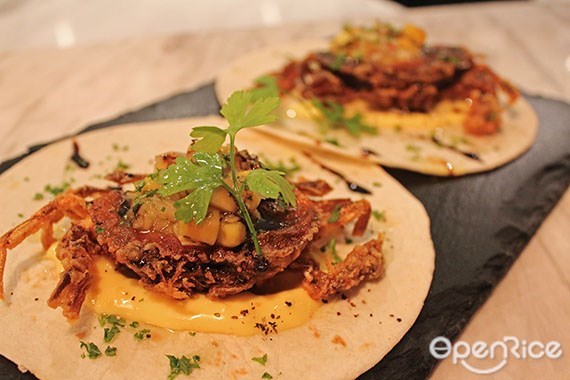 What's more addictive than some Asian fusion delights? Peri-peri chicken wings and soft shell crab tortillas masterfully executed leaving your taste buds speechless but only spurting out compliments for sure. Chicken wings grilled over slow fire leaving it crispy, juicy and succulent meat, drizzle the lime juice over for some spicy-sourish zesty taste. Devour the soft shell crab that's being topped with mango salsa house-made recipe for a tangy and crispy mouthfeel tortilla wrap experience.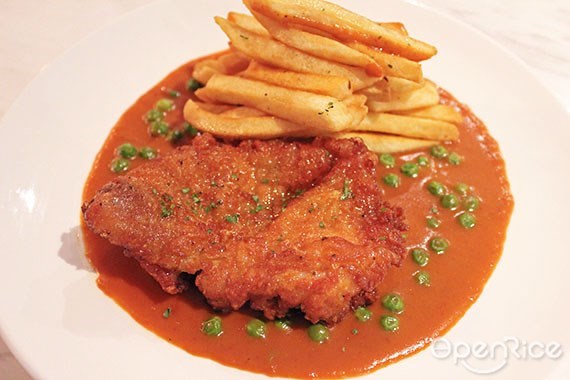 The most ordered that leaves patrons salivate most – Homemade chicken chop, available in 3 different sauces of tomato, black pepper or BBQ; cut it up and eat with the sauce, comes along with some fries to balance up everything on a plate, kudos to the chef.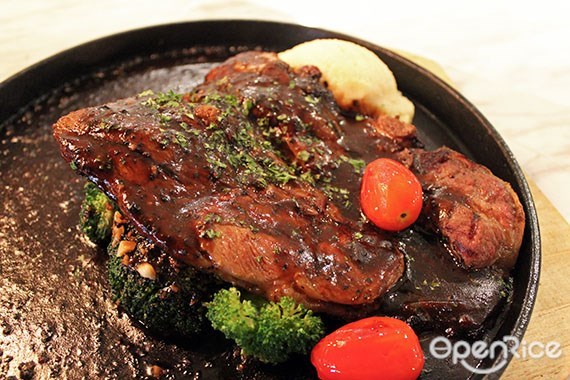 When it comes to meat, we would love to have a bit of everything and here comes our first choice which is the Sizzling lamb shoulder with Connor's stout black pepper sauce. A decent full-flavored, classic cut of a lamb is amazing however the chef cooks it. Pour in the house specialty black pepper sauce and watch it sizzle, but that's not all. Incredible flavor and tenderness, it will leave you wanting more.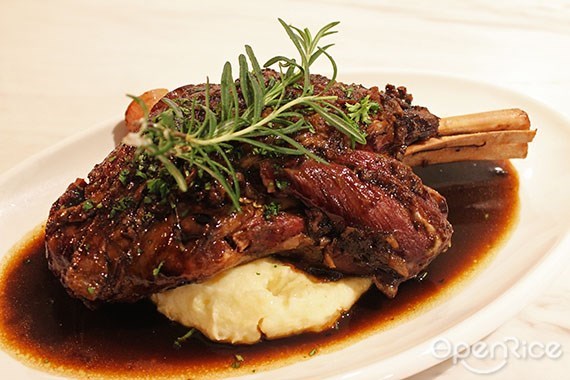 The SEVEN here gives you plenty of possibilities when it comes to meat dishes. As explained, infused with red wine and uses the slow-cooking technique, this Braised lamb shank's meat falls off the bone easily without a doubt. Big portion, this would surely a great choice for sharing.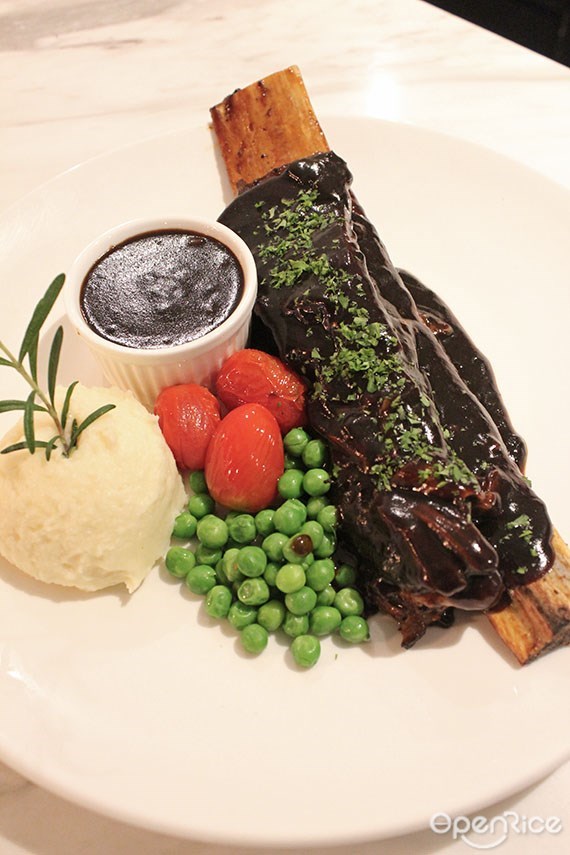 No kidding here when it comes to meat choices, The SEVEN will never let you down. We were explained on how to indulge in this piece of BBQ beef ribs. All you need is to dip it into the special house-made BBQ sauce and chucked it into your mouth immediately. Melts in your mouth, the sauce at the same time compliments it perfectly. Interesting.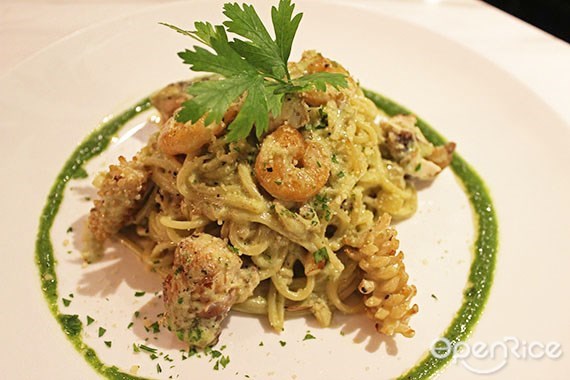 Too much of meat might start to clump up on your stomach easily, balance it back with Seafood Pasta with Pesto. Al-dente spaghetti, creamy, thick and fragrant pesto makes it a flavorful combo that matches with the fresh seafood like prawns, squid and fish.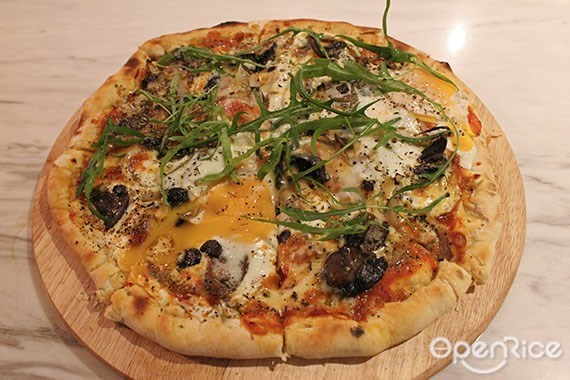 Egg yolk lovers, this one's dedicated to you. If the usual half-boiled egg is your thing, have you tried them on a pizza?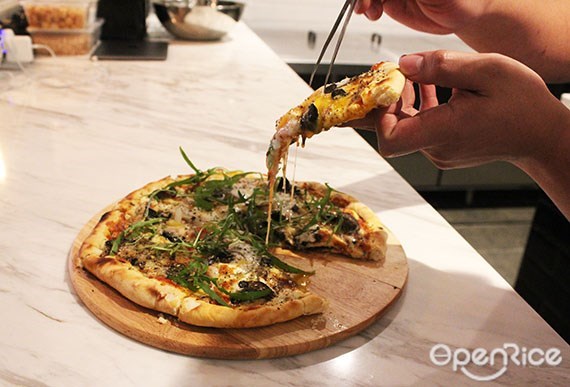 Well-executed Aussie pizza topped with soft-boiled eggs; poke the yolk and watch it flow together with melted cheese together. Mouthwatering, the pizza is topped with mozzarella cheese, cheddar cheese, onions and mushrooms, indeed a joyful jumble of ingredients in there.
Feeling incomplete without cocktails? The SEVEN will never disappoint you. You'll never get something like this house cocktail anywhere else!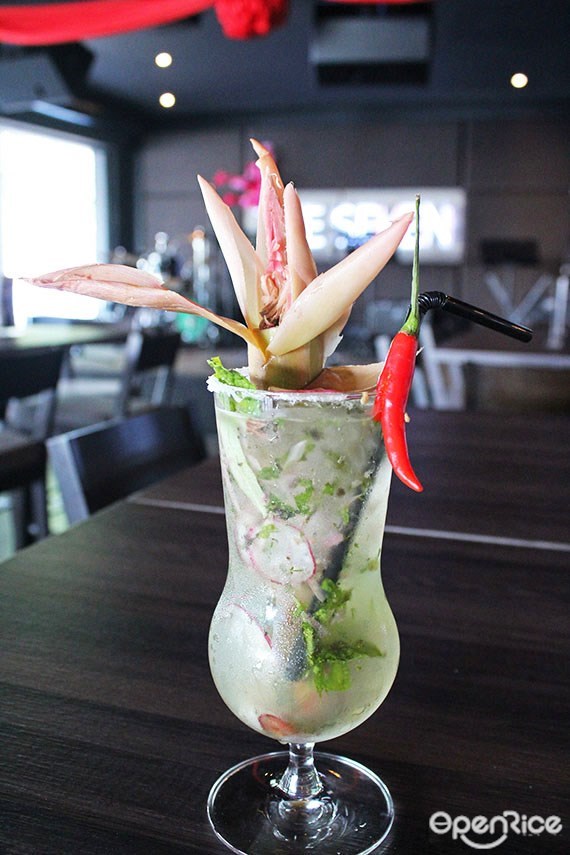 Laksa might sound overly adventurous for a glass of cocktail, but put your trust in this as you'll be amazed on all the ingredients used in making this cocktail. Known as Laksa, you'll notice that this creative cocktail mix uses wild ginger bud, mint leaves, bird's eye chili and a mixture of vodka. Although it is one of a kind, but it is indeed fun-to-drink. Tastes sourish and mild spicy after a while, give this a try.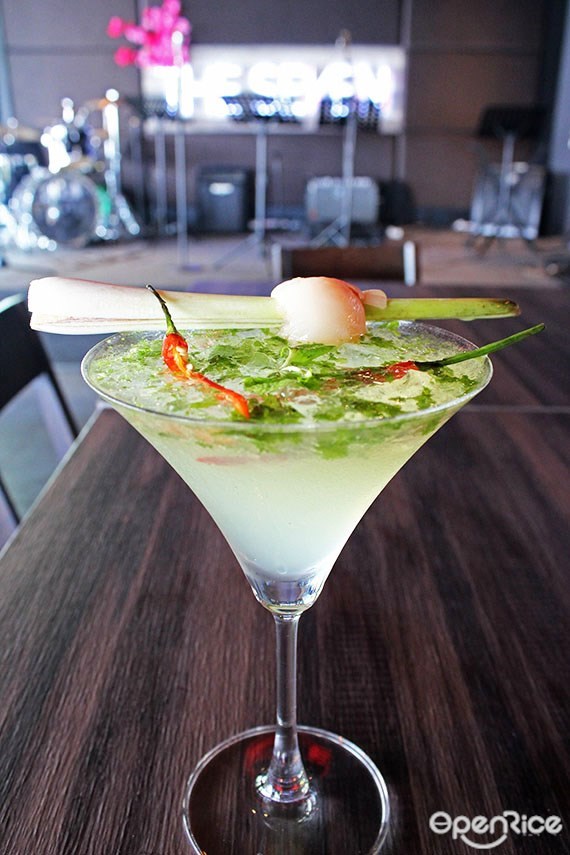 Since we had Laksa, why not go ahead and enjoy another fruity Mojito – Lime Chili's Mojito; with mint leaves, bird's eye chili and lime juice; a bold creation that gets a nod from everyone. Iced and ideal to cool you off, sip it up!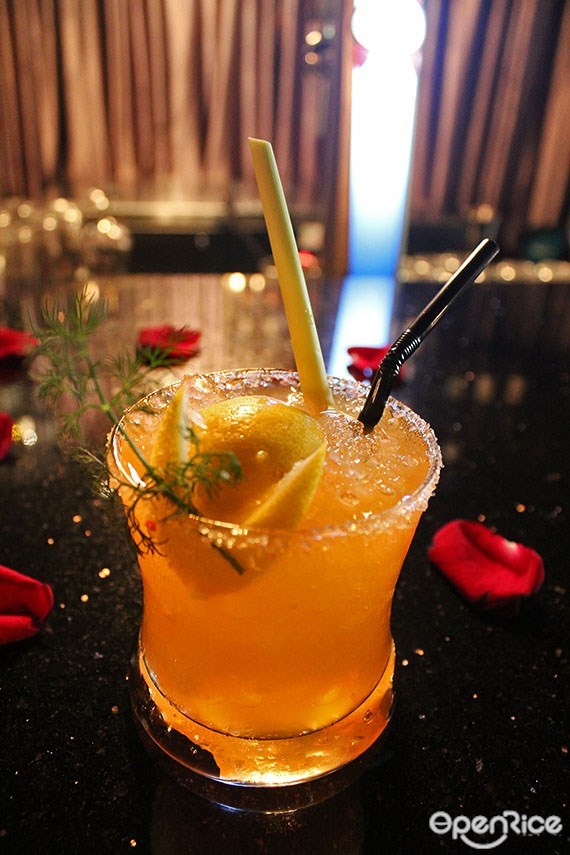 Thinking to stick to something more medium-sweet instead? The Rabbit's Foot – one of the most likable beverages here among the ladies; made up from carrot juice, lemongrass and wine, refreshing and fruity!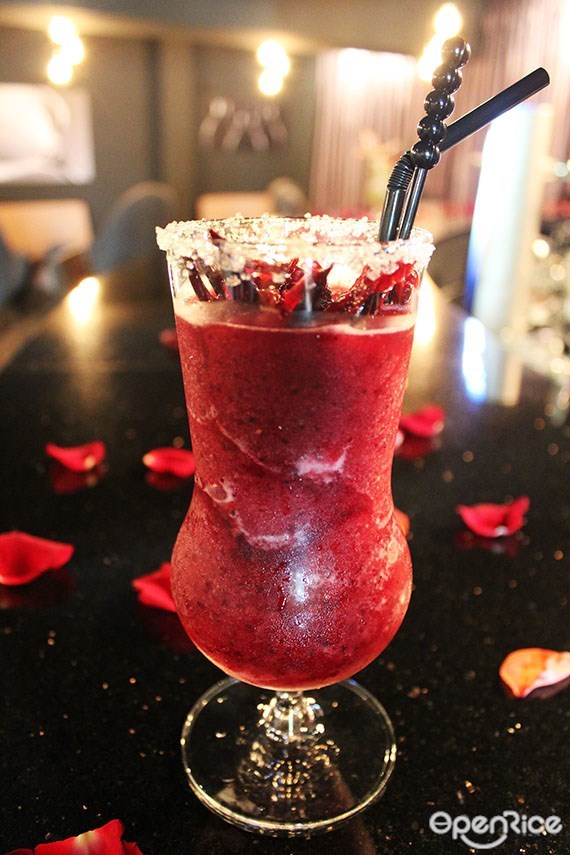 The Flower Experience – Roselle and Vodka mixture? The sweetness from the Roselle flower and mixture of the alcohol balance the taste up making it taste like smoothie too. Sipping it up, luscious taste and somewhat taste like ice blended, refreshing! Indeed eye-opening when it comes to creatively executed cocktails and mojito at The SEVEN Bar & Bistro!


[Valentine's Day Special]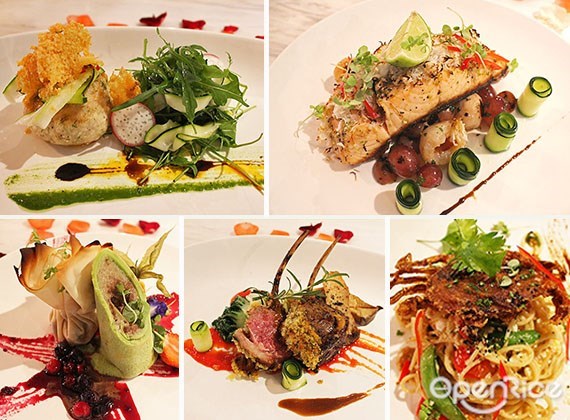 Valentine's Day is just around the corner and this venue is one to consider too! For only RM158 per couple (2pax), enjoy scrumptious premium Valentine's set that comes with wine too.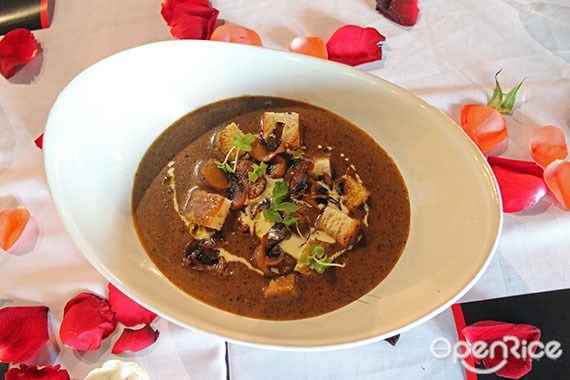 Valentine's set includes Mushroom soup – added with truffle oil, warm and hearty bowl of soup as a starter to warm up everything, isn't it good?


Valentine's is all about the ambiance and mood, therefore The SEVEN are just good at it. Making sure you'll enjoy dining with your loved one; they precisely decorated the tables and place with rose petals and dimly lit lighting so you'll enjoy everything there.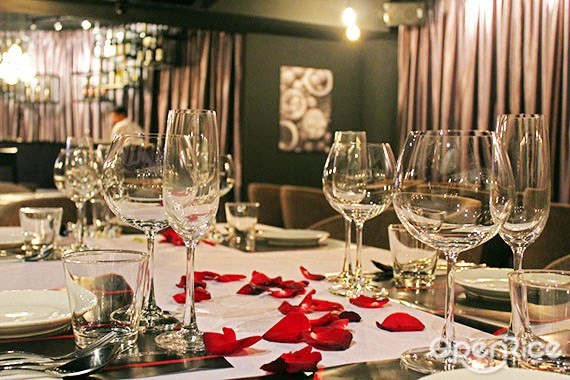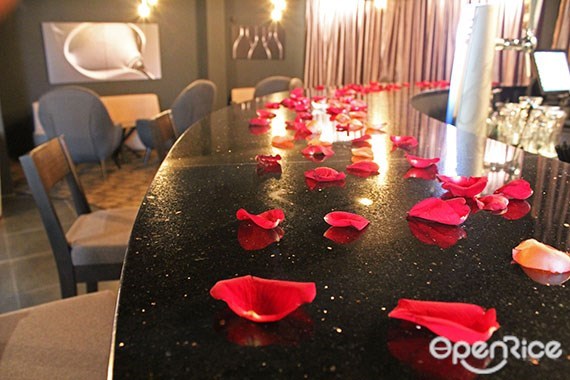 Totally into the mood for Valentine's at The SEVEN, why not a change this year? Casual and fun dining, The SEVEN gives you a dining experience you'll never forget. A fresh twist on fusion food that's beautifully executed, you won't go home hungry or disappointed for sure.


The SEVEN Bar & Bistro: Click HERE for more info!