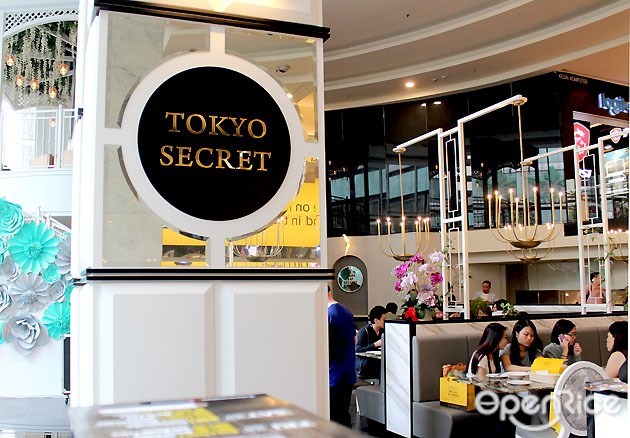 Aren't they famous for the half-baked cheese tart that made most Malaysian go crazy for it? Indeed! Now they are even better because not only you'll get to taste the best cheese tarts, try em' bakery and hot food from the café too!

Strategically located in Mid Valley Megamall, you'll spot them up easily as they are located at the linked bridge to The Gardens. Crowded with patrons, check this out!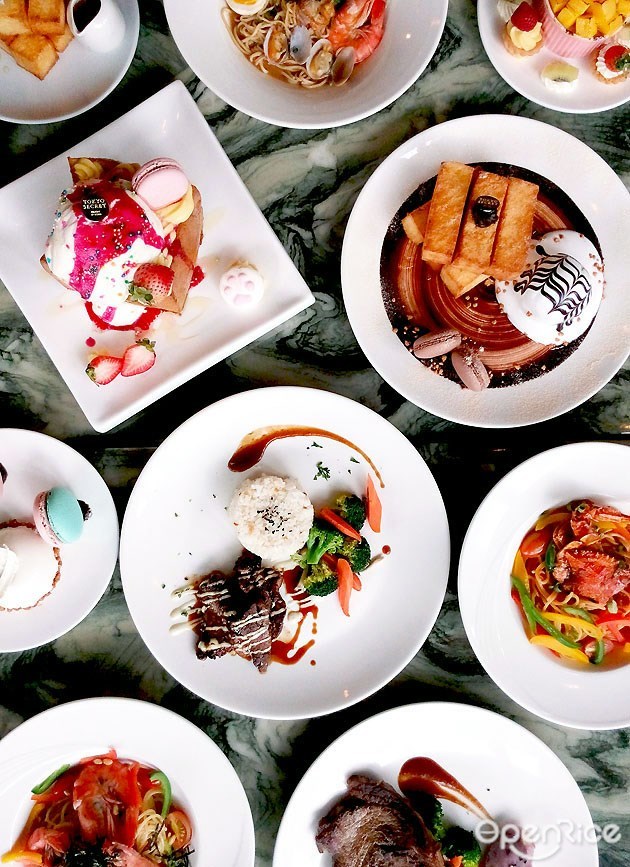 Tokyo Secret café mainly focuses on Japanese and Western hot food, dessert and pastries; giving you the best of both worlds. So many to choose from and not forgetting the famous Honey Toast – they have them too!

Chilled Angus Beef Rib Eye in Teriyaki Sauce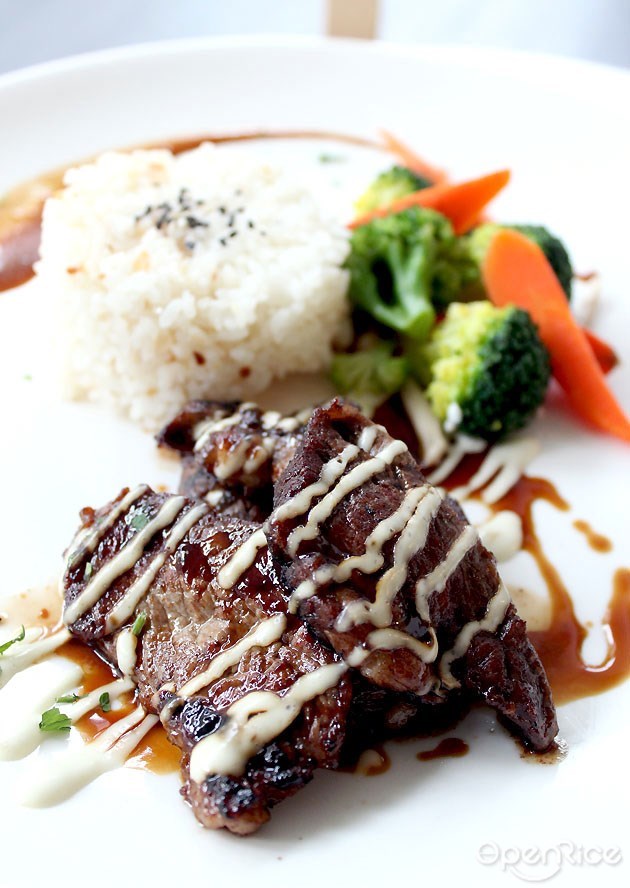 Bet you didn't see this coming. They even serve the best part of a steak – the Rib Eye! Juicy and tender, enjoy eating this piece of perfection with the house-made Teriyaki sauce and the Japanese grains, exquisite taste that you'll love.

Chilled Angus Sirloin Steak in Mushroom Sauce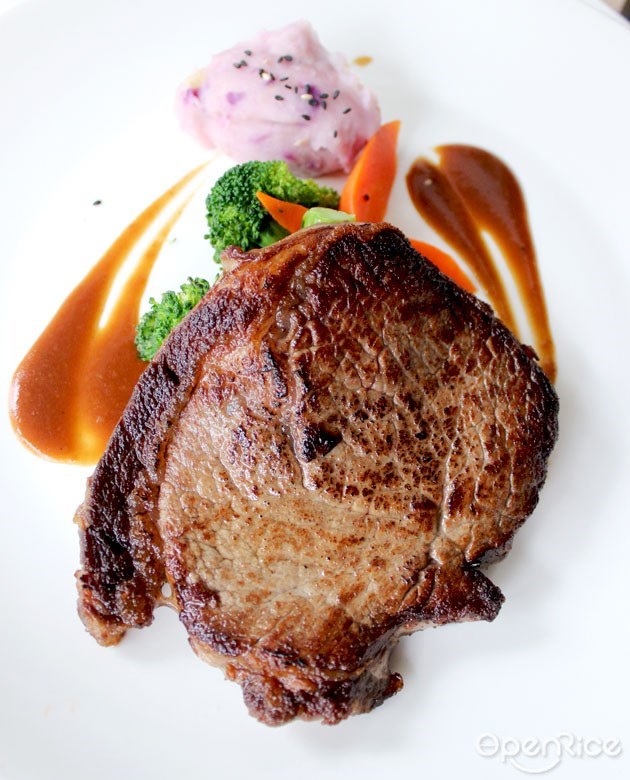 Now look at this piece of treasure again, didn't expect you'll get to enjoy steaks from Tokyo Secret isn't it? Cook at the right doneness, still remains the juices inside, tender and meaty, eaten with the chef's saucy creation – special mushroom sauce; utterly delicious!

Chili Crab Pasta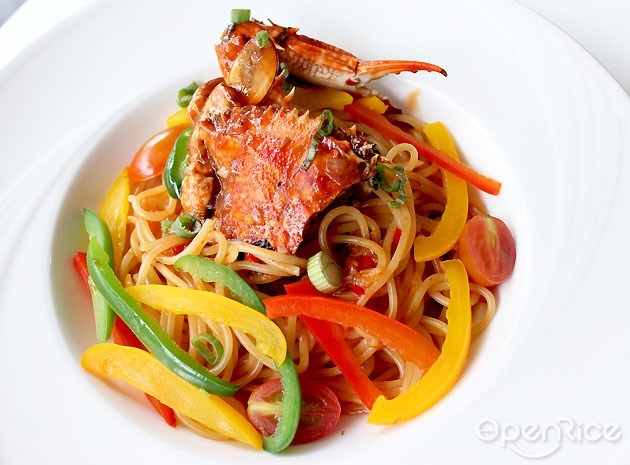 Looking colorful and appetizing, isn't it? This plate of western and Asian style dish will sure to tantalize your taste buds. Combining the Chili crabs and spaghetti tastes slight spicy and sweet too! Not forgetting fresh crabs were used in it; it gives the whole dish and the gravy a light hint of sweetness too.

Seafood Ramen with Hokkaido Scallops and Prawn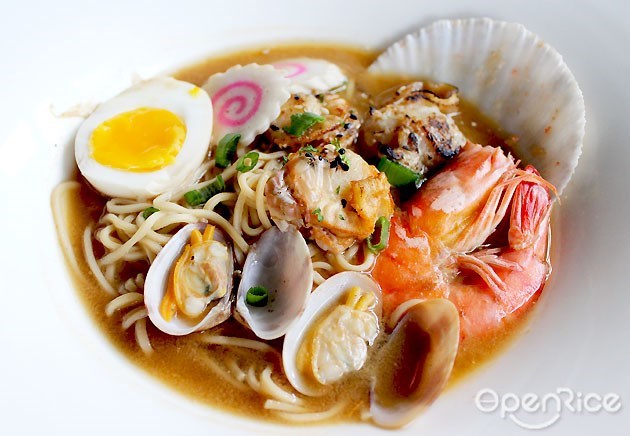 Here comes the seafood ramen! Cook in miso soup, comes with clams, scallops, prawns and the specially made 62 degree Celsius Onsen Tamago; indeed a must try.

Spaghetti Prawns Aglio-Olio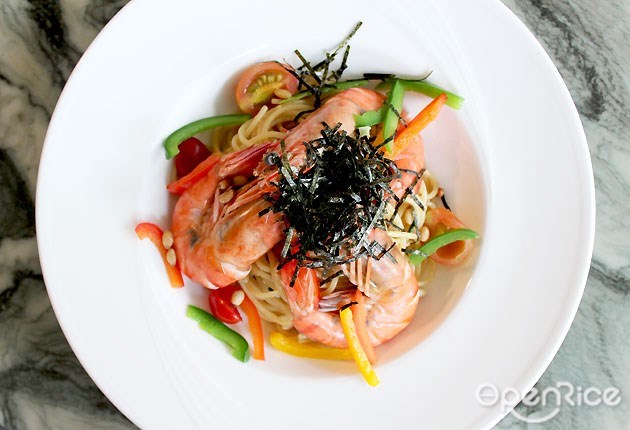 Aglio Olio is known for its minimal taste that brings the best from a plain looking spaghetti. At Tokyo Secret here, they do not disappoint. Huge prawns are used to stir this dish up to a whole new taste. Try it and you'll know how good it tastes!

Strawberry Lover Honey Toast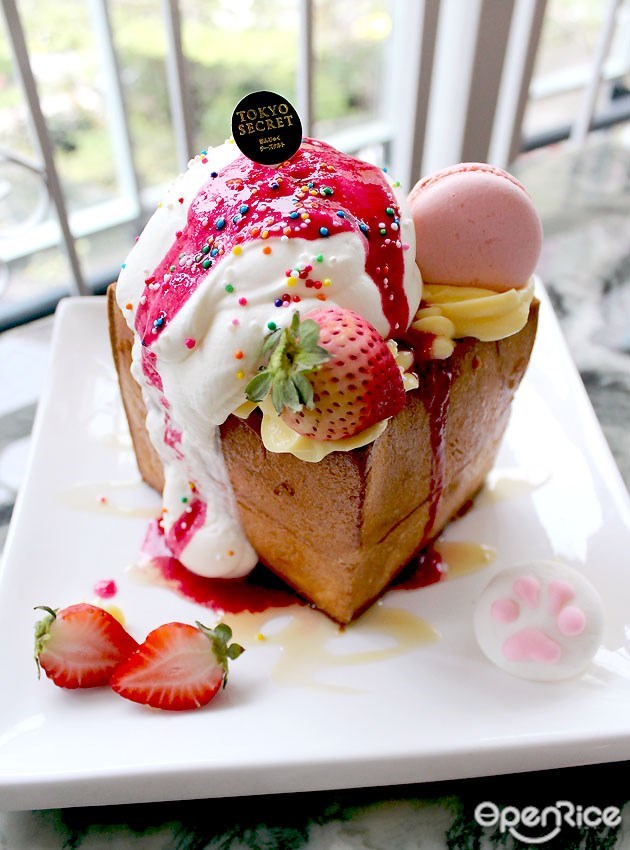 Look at this! Girls, be prepared to order this and enjoy it with your dessert squad. Not only do the strawberry and the cream looks tempting, the overall of the toast that has the pinkish color makes it so dreamy! Comes with huge strawberries and macaron, how to resist? Nicely toasted baby toasts inside that are smooth and buttery, eaten with a scoop of strawberry ice cream, what are you waiting for?

Black Chocolate Honey Toast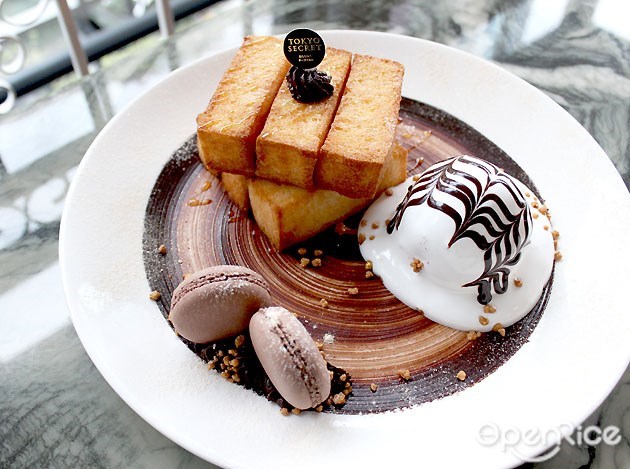 Buttery toast that deserves the attention from you, nicely toasted till crisp and too comes with a scoop of ice cream and macaron, how do you say NO to dark chocolate? So satisfying!

Hi-Tea Set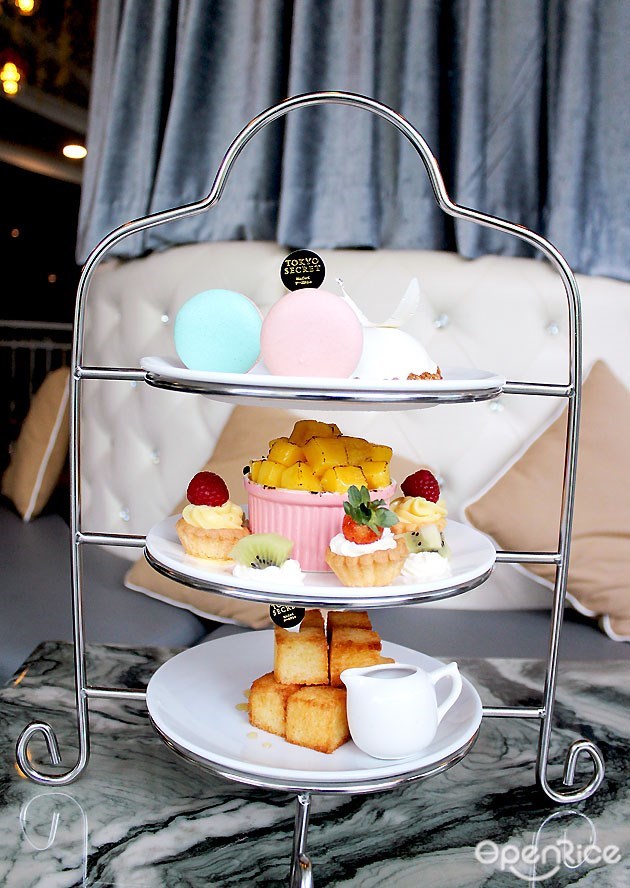 Planning to drop by for Hi-Tea? They have this Hi-Tea set too. 3 layer of goodness, ladies, get all your sweetheart along for a mini tea sesh!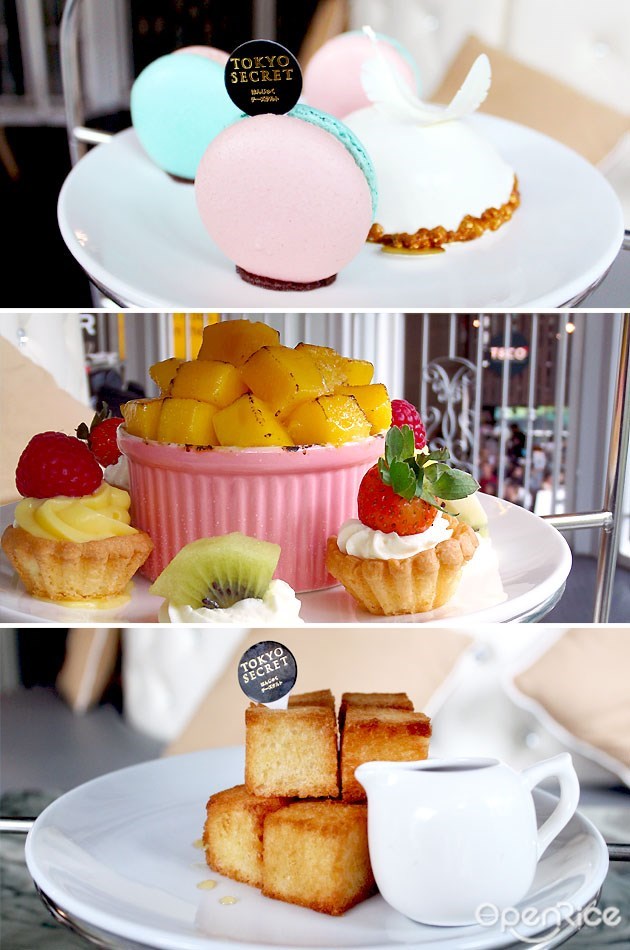 Comes with macarons, mini fruit tarts, cube toasts and more possible matches, you'll sure to lick them all clean!

Mille Crêpe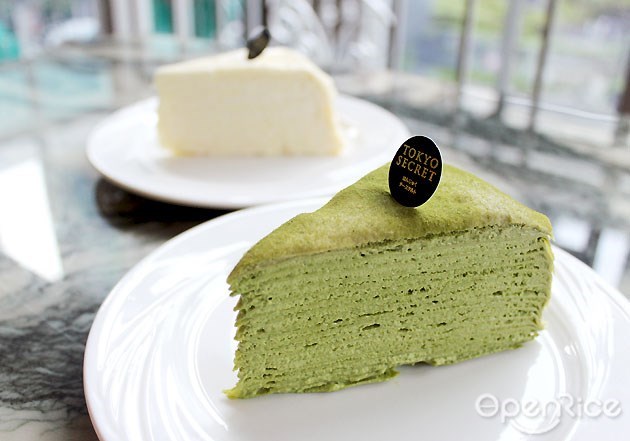 Mille crepes are not forgotten here, enjoy this chef's creation of Signature Mille Crepe and Matcha Crepe; light and creamy and not cloying!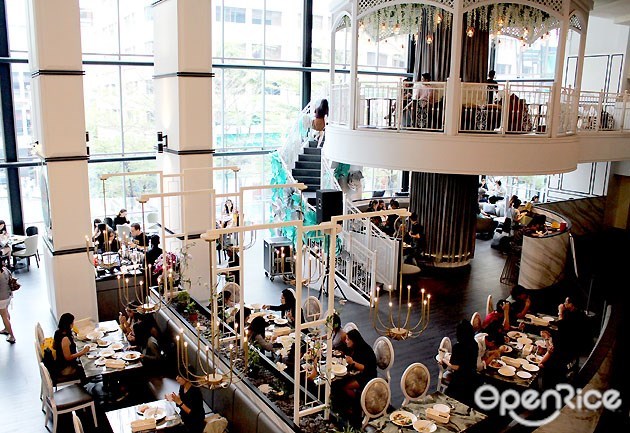 The ambiance is good for dates and meets ups as they are spacious and the natural lighting makes it so good for selfies! Not only that, they have an upper floor which is decorated with a garden-themed too.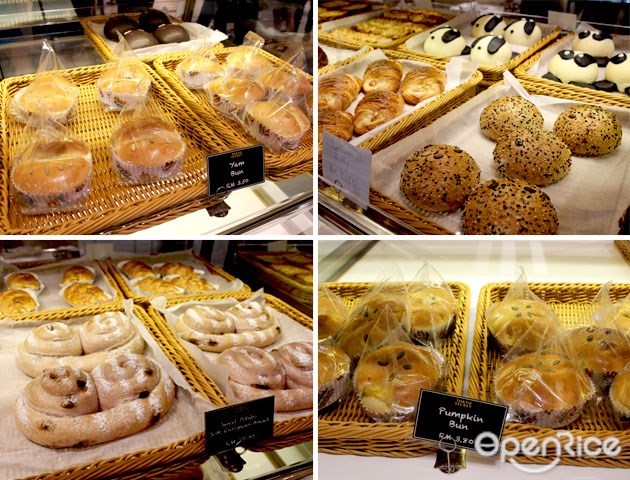 What's Tokyo Secret famous for again? Yup, the half-baked cheese tarts! Not just that here, enjoy soft European bread here that's perfect for tea-time. So many types of bread to choose from, it is just so hard to decide! Low sugar, less salt and less oil, a healthy meal is nonetheless what Tokyo Secret is aiming for.
What are you still waiting for? Head your way to Mid Valley Megamall to Tokyo Secret right away now!
TOKYO SECRET (All Branches)