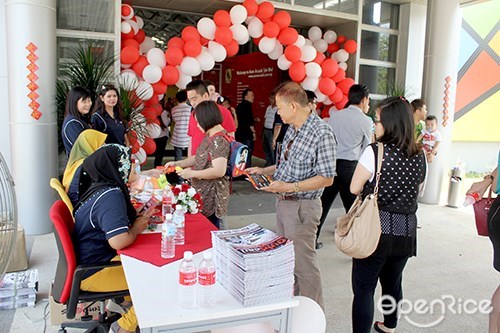 Image courtesy of Glory Wheels & Grand Saisaki.
23rd February, 2014 an impactful CNY Open House by Glory Wheels SB in collaboration with Grand Saisaki attracted more than 3500 visitors for the event. More than 600 imported cars were on display and for test drive! From AUDI's to Velfire, BMW's to Wish, Saloon to sports cars, family MPV's to rugged SUV's, Big bikes and convertibles, Limited edition models to one of its kind, in short the A to Z of your favorite automobiles. Special prices for selected models were offered to commemorate the event including attractive door gifts contributed by On the Road, Motor Trader and Car List.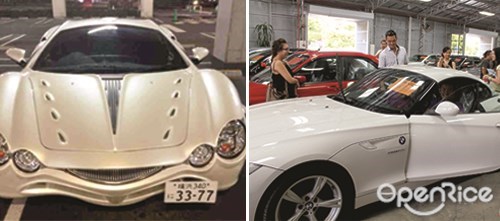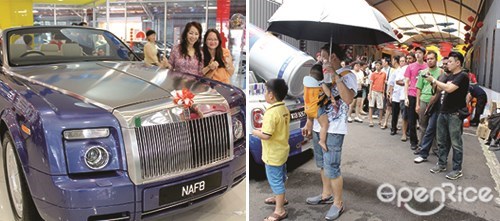 Image courtesy of Glory Wheels & Grand Saisaki.
Among the vast selections that were showcased at Auto Arcade's 4 acres land, visitors were also treated with a scrumptious Japanese Buffet catered by Shogun2U, events & catering arm of Grand Saisaki buffet brands
Shogun
,
Saisaki
&
Jang Gun
. A non-stop flow of food, created long queues at each buffet section. Live cooking was conducted to cater for the huge volume crowd. Squeezit™ was the attraction for desert!! A Hokkaido Frosty which overwhelm everyone with a triple "X" sensation, which is an "Xtraodinary" "Xciting" "Xperience" sponsored by Shogun Xpress. There was an endless line for this section as the crowd patiently queued for seconds. Other sponsors include Red Bull wings team that stopover at the venue to energize up the event by noon.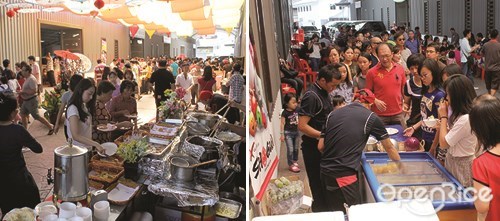 Image courtesy of Glory Wheels & Grand Saisaki.
Those wanting more of the spread were treated with a special promotional offer only for that day!! Shogun BCard was on sale for only RM19.90 from its retail price of RM168. This is a Lunch discount card valid for a year which entitles the bearer 50% discount off Weekday Lunch buffet rates and 30% Off for weekends at all Shogun, Saisaki & Jang Gun outlets in the Klang Valley. In March, members get to enjoy dinner privileges on Monday nights throughout the month. Apart from offers, visitors also get the opportunity to pose at the photo booths created for the young to have fun while the adults shop for their dream cars. Dato' & Datin Sri Michael Chong, was at hand to wish all the visitors who patronized the event well wishes and Gong Xi Fa Cai in the year of the Horse. It was a fun filled weekend for all to enjoy!!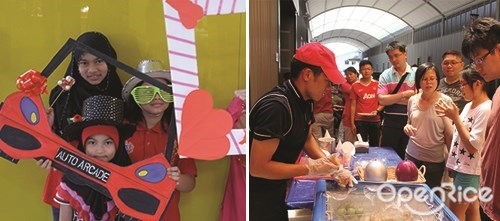 Image courtesy of Glory Wheels & Grand Saisaki.
Find out more best chinese restaurant
Discover more hottest fish restaurant