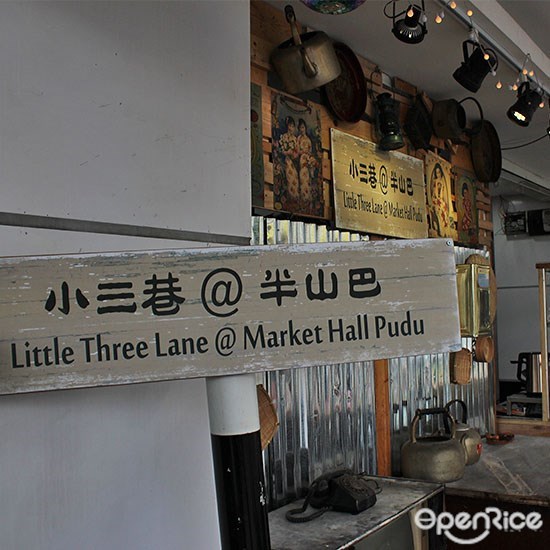 All these years you've been visiting the 'Wai Sik Kai' or stalls at Jalan Seladang area, but now here's a better reason for you to refresh your taste buds as we discovered this stall that sells local delights and we thought of giving it a try – the results were unexpected!
Just located at the busiest streets at Market Hall Pudu, upon passing by you'll notice the stall there as they are designed to look 'old school' too. Tempted, we look for a parking space within seconds and we decided to give it a try!
Little Three Lane – Nostalgic and A Step to the Past Design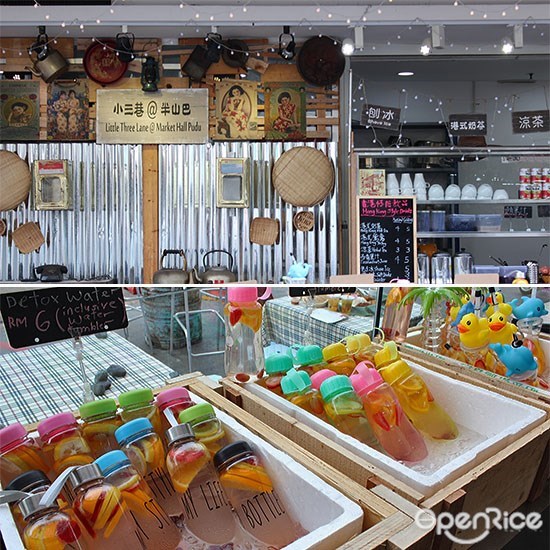 A small corner that has some old TV, kettles, signage and table; that makes it a good corner for selfies! Spacious and has quite some tables, they began operating by 3.00pm until 12.00am, psst… tea break fixes would be great too because we found out that they have quite some great selections on food! Since they are operated till late, dinner and supper sounds good too! What are they? Let's reveal!
Jumbo Nasi Lemak Set (RM39)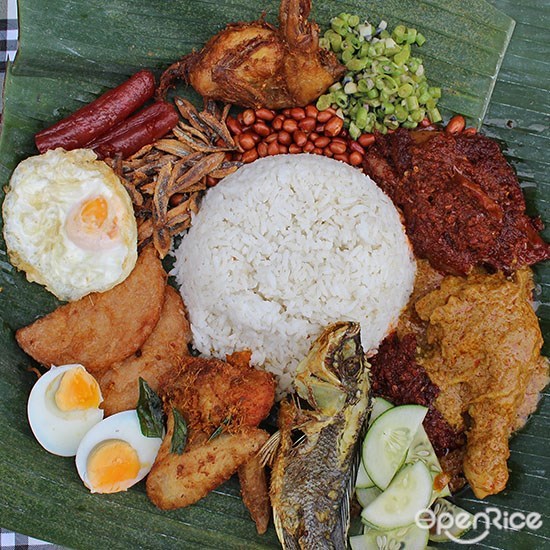 Platters. Yes, we never imagine we would get a chance to enjoy local delights in platter, do you? Signature Jumbo Nasi Lemak Platter here, it is good for sharing and especially when you do not what to eat, think no more. This is the best choice to enjoy a little bit of everything as it comes with Fried 'Puyuh', Sambal Sotong, Curry Chicken, Fried Chicken, Hard Boiled Egg, Fried Egg, Fried Tilapia Fish, Luncheon Meat, Long beans, Chinese Waxed Meat (Lap Cheong), peanuts and anchovies! Only available from 6.00pm – 12.00am daily!

Little Three Lane Nasi Lemak (Ala Carte Style)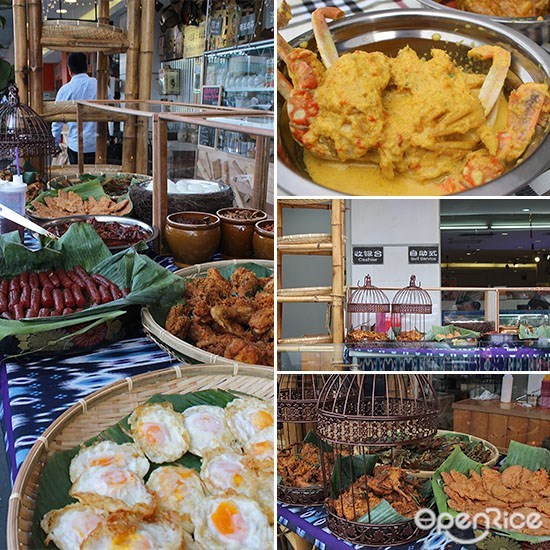 Coming over here with only your friend? Of course they do have ala carte Nasi Lemak picks! Self-service style, pick your favorite ingredients and head over to the counter for pricing purposes. Besides curry chicken or fried chicken, they do have Rendang Chicken too! Not forgetting to mention, they have Crabs in Masak Lemak style! Sambal was fantastic as its spiciness level gives us a nice 'kick' that doesn't burn in the stomach afterwards! Price wise ranging from RM4.00 onwards.
Hong Kong Style Milk Tea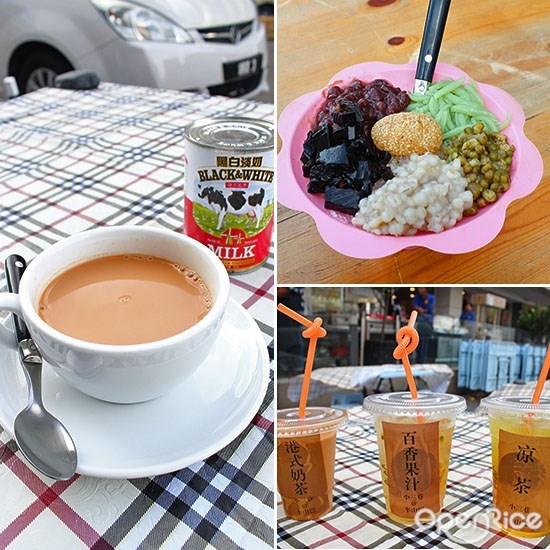 Thumbs up if you love HK style milk tea! We never thought that we can get our cravings fixed easily here. Why? They uses imported evaporated milk from Holland and that makes it simple smooth and creamier than usual too! Yin Yong too was good, with hint of coffee taste in it too. Beverages ranging from RM4.00 – RM5.00, depending on Hot or Cold; they do serve freshly boiled Herbal Teas, Passion Fruit Juice and Shaved Ice to quench your thirst! Shaved ice would be good eaten on a hot sunny day and we got to know from the owner that the Mochi in it is freshly homemade daily! Chewy but easily munch on without sticking on your teeth, other ingredient includes barley, grass jelly, red beans, cendol and more when you dig in!


Thai Style Grilled / Steamed Buns & Toast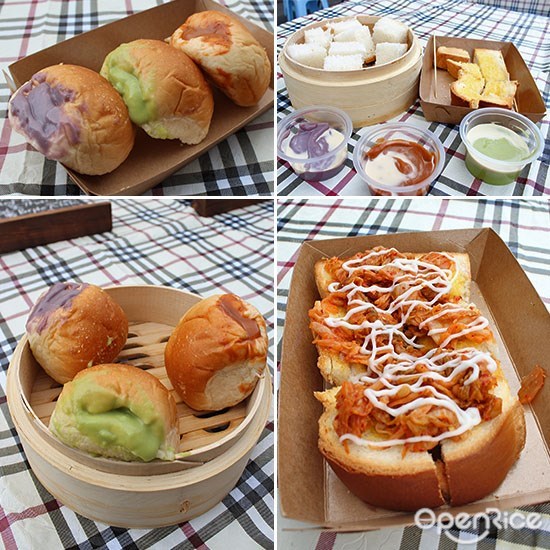 Breads here are homemade and NO preservatives used thus you can enjoy with no worries! Choose from grilled or steamed bun up to your liking, buns are filled with their homemade lip-smacking 'Kaya' in 3 flavors of Purple Sweet Potato, Pandan Kaya and Thai Tea flavor. This goes to their steamed or grilled toast as well. Kaya was so smooth and fragrant, we couldn't resist to finish it up too. 3 pieces for RM6.00 or a plate of steamed / grilled toast for RM5.00. Another specialty – Kimchi Toast (RM5.00)! Wasn't as pungent in Kimchi taste that we thought we wouldn't continue eating it, but surprisingly it was mild spicy and sourish and crunchy texture that matches the toast perfectly. A good combo!

Croissant Taiyaki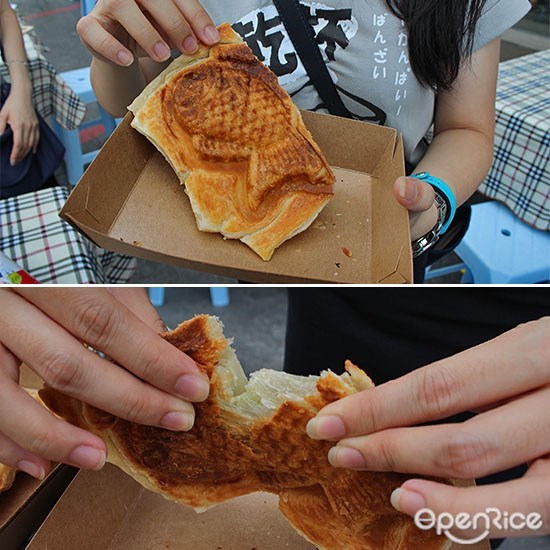 Surprisingly not only buns and breads, you get to enjoy Croissant Taiyaki at Little Three Lane here! Crispy even eaten afterwards, uses croissant pastry making it even better. Buttery and flaky, comes in 3 flavor of Kaya, Red bean or Tuna! Flying fishes, anyone? Croissant Taiyaki for only RM5.00, or you can get 3 for RM12.00!


Little Three Lane Snacks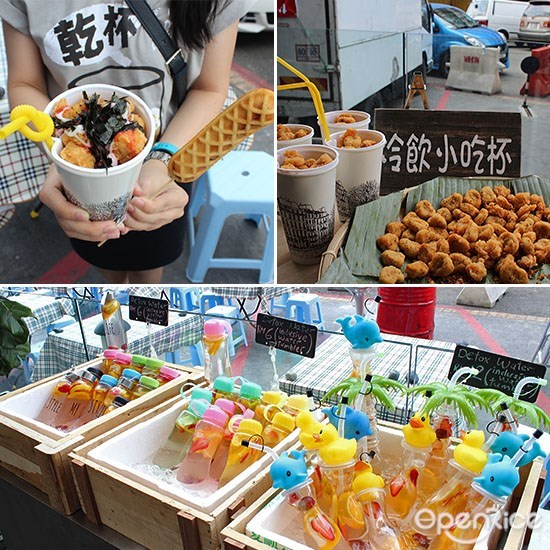 Never ending snacks that you can get from Little Three Lane, they do have a quite special combo of soft drinks with snacks (RM5) in the same cup! Snacks on top of the cup and drinks beneath it, you can enjoy hot snacks and cold drinks at the same time. How great is that. Waffle hotdog (RM4) was one of the snacks too you can get here. If you notice some bottles of water that comes in all sorts of designs, they are the Detox Water specially made here plus every purchase; it comes along with that bottle too! Cleanse and detox at the same time indulging on food, we love this concept! (Detox Water prices ranging from RM6 – RM12, inclusive bottle).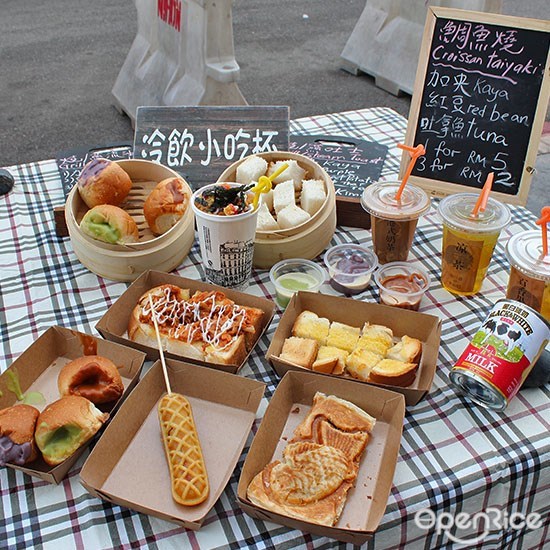 More information: Little Three Lane


Click here for Little Three Lane's: