It's been almost two months since the dry spell hit us. Let's be honest, how many times have we dreamed of shoveling our faces in ice-cold goodness on sultry days like now! Here are a few smashing frosty treats that you might want to try now to cool yourself down.
Refreshing Lime Shaved Ice (清涼解渴酸梅雪花冰)
Cool and utterly refreshing. This is sure to quench thirst and even lift your spirit when you're feeling down! The mound of thin, delicate, citrusy ice flakes is made of pure fresh lime juice that had been frozen and then shaved right before serving. It's sweetened to perfection so it's neither too tart nor too sweet. To amp the lime-y factor, it's showered with a good sprinkling of fresh lime zest.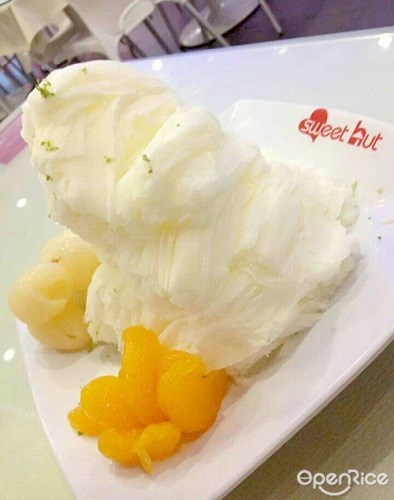 Coconut Jelly with Caramel Custard (焦糖布丁椰子)
A beauty to look at, and even more gratifying to feast on. Silken and tender caramel custard, while bathing itself in the pool of cold fresh cow's milk within, rests on top of an unsweetened coconut-juice jelly that lies cozily at the bottom of a hollowed coconut. To the delight of our taste buds, the jelly — especially since it's unsweetened — becomes what salt is in sweets — rounds out the custard's sweetness and caramel-ly note. All the nuances and textures simply complement each other!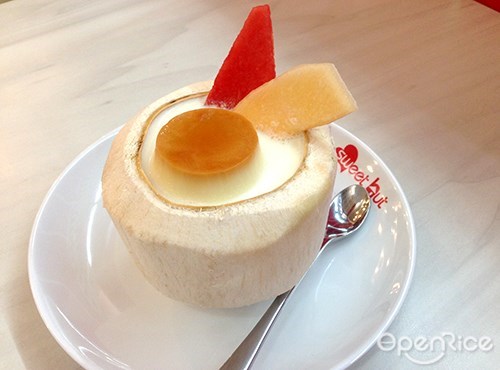 Mango, Pomelo, and Pearl Sago Dessert Soup (椰果珠西米露)
This version not only captures the essence about this classic Hong Kong dessert but also heightens it by adding a creative touch or two of its own. Luscious mango ice cream is embodied here besides the "obligatory" fresh mango slices. Bite-size morsels of the unsweetened fresh coconut jelly are also thrown in as part of the sweet surprise.
Coconut-Milk Slush with Mango, Pomelo, Pearl Sago, and Longan (白雪金露)
A "colder" riff on the above. "Colder" in the sense that you've got creamy coconut milk here but in the form of thick and icy slush, which, as it melts, you'll get to stir into the rest in the bowl. On the other hand, fresh longan and unsweetened fresh coconut jelly are also included, which help to cut coconut milk's inherent richness.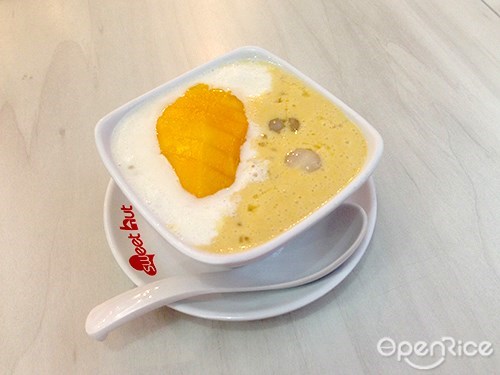 Egg-White Custard and Aloe Vera in Papaya (暖蘆薈純蛋白木瓜)
Just as you think it's served warm, let us tell you that it's also great chilled! A favorite among women, this low-sugar ambrosia features a perfectly ripe and juicy papaya that cradles a melt-in-the-mouth, tofu-like egg-white custard (you won't even be able to discern that it's yolkless!). Finishing off are tiny cubes of nourishing aloe vera, The flavors meld seamlessly. Just after tasting it the tummy already feels lighter!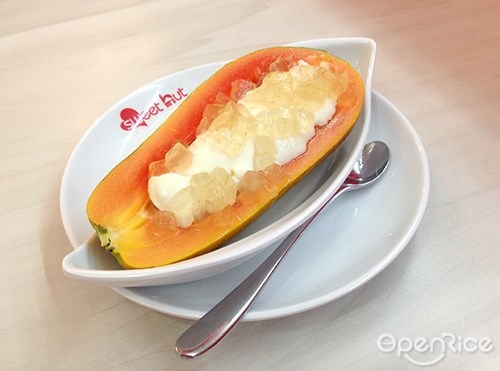 Want to stuff your face in refreshing desserts like these amid the sweltering heat? Why not head to any one of these dessert parlors below!
Discover more best desserts restaurant
Find out more top chinese restaurant