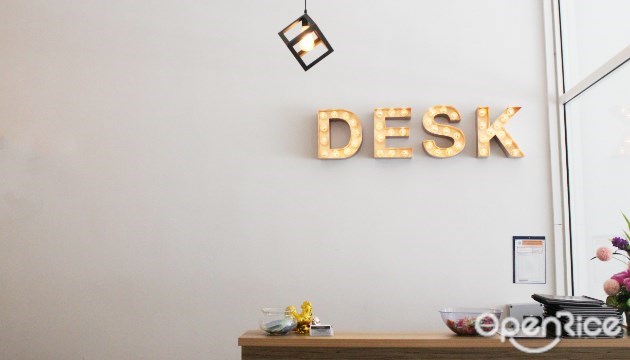 Mahkota Cheras is a well-known gathering spot for scrumptious eateries, and recently DESK Restaurant has just joined the bunch – specializes in pork dishes, DESK provides a wide selection of food choices including tummy-pleasing pork platter, and also value lunch treats that are available ALL DAY, even on weekends!

Pork Platter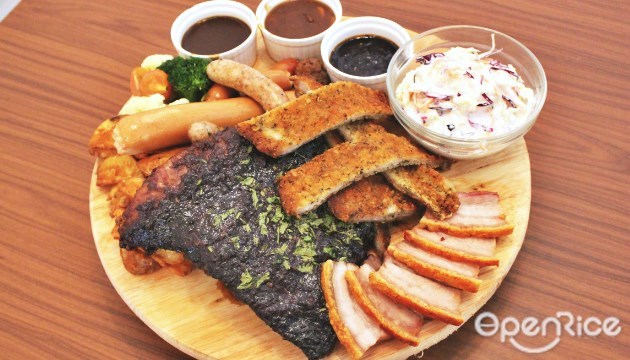 DESK offers a rather affordable Pork Platter (RM98) with generous portion of serving that's sufficient for 2-3 persons. The huge pork platter includes their signature pork ribs, roasted pork belly, pork schnitzel, mixed pork sausages, French fries, saute vegetables and coleslaw
–
abundant meats to satisfy the 'meatarians' like you and me!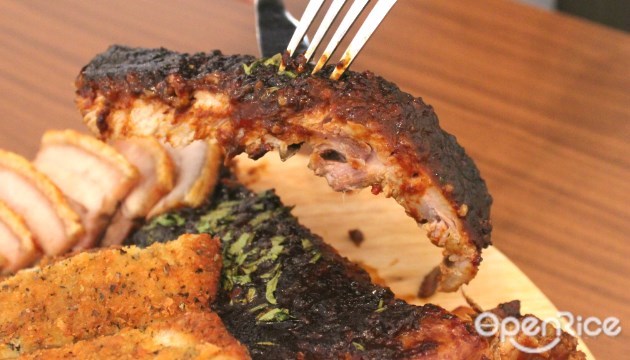 Their signature pork ribs certainly deserve a special mention. Well marinated and diligently grilled to perfection, it is really moist and succulent, easily one of the best fall-off-the-bone ribs you will ever have! The zesty sauce does a great job in enhancing the flavours too – a masterpiece indeed.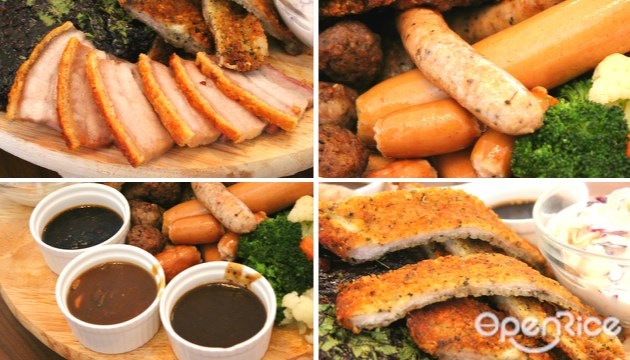 The pork platter is served with three complementary sauces – signature zesty sweet sauce, mushroom sauce and black pepper sauce in order to cater for different tastes. There are other platter choices too, like
Mixed Grill Platter
that includes seafood and lamb, and
Poultry Platter
that includes chicken and duck.
Value Lunch Sets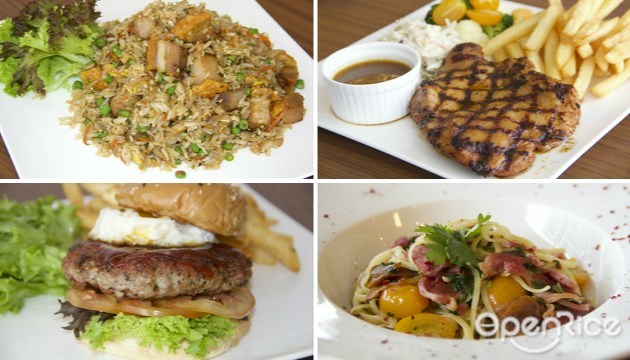 Specially catered to the lunch hour crowds, DESK has introduced a selection of value lunch sets at
prices as low as RM15
that comes with a soup of the day and a lemon tea / peach tea. Amongst the offered choices, we highly recommend you to try out
DESK's Signature Fried Rice, DESK's Signature Grilled Chicken Chop, Pork Burger and Smoked Duck Aglio Olio
– great taste, generous portions and of course, great value!
Signature Dishes
Roasted Pork Belly & Mushroom Risotto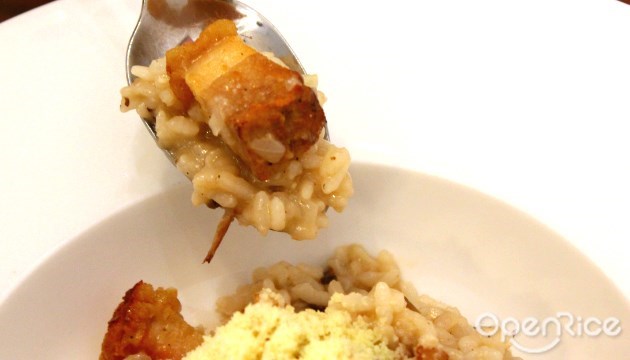 Rich in taste with al dente rice, this is how a perfect risotto should taste when done right – DESK definitely nailed it, at the same time taking it to the next level by adding roasted pork belly to enhance the flavours. Sprinkled with parmesan cheese powder for a hint of cheesiness, this hearty plate of risotto should be able to satisfy your taste buds.

Roasted Pork Belly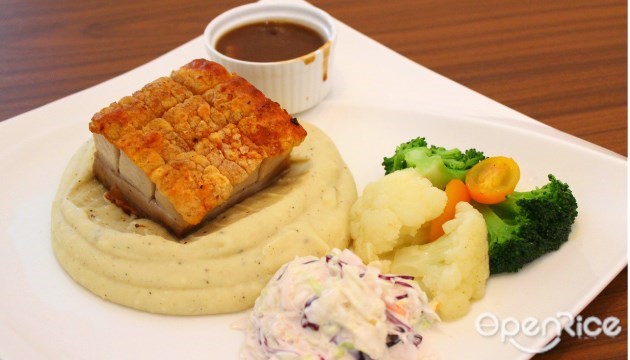 Need more of roasted pork belly? No worries, you can always count on DESK for this! A huge brick of golden roasted pork belly rested on a bed of creamy mashed potato, served with saute vegetables and coleslaw – the fat ratio of pork belly used is just nice to enhance the juiciness without being too greasy, absolutely amazing!
Spicy Eggplant Sausages Pasta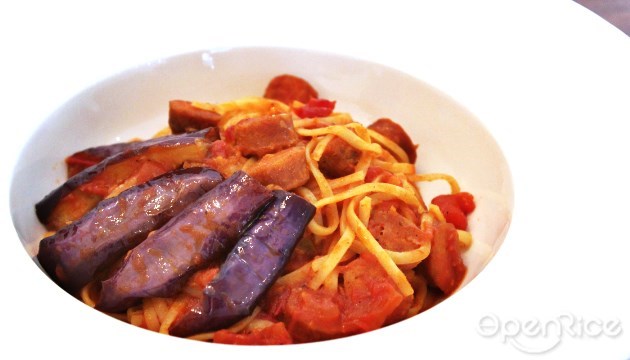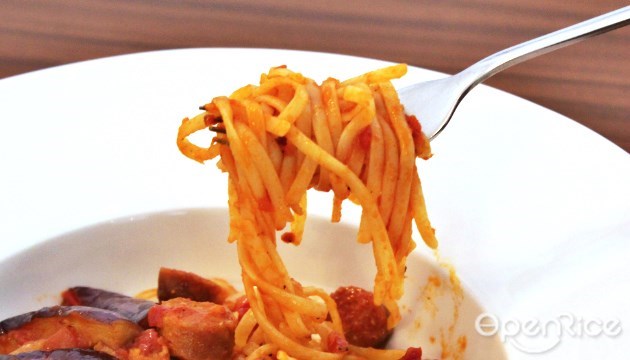 If you're getting bored with overflowing white sauce pasta in every restaurant you go, this might be the one for you – perfectly al dente linguine tossed in tomato sauce with spicy sausages and silky smooth eggplant, will this be your kind of comfort food?
Sides
One of the perfect ways to round out a feast
–
some toothsome side dishes please! DESK offers more than enough choices for sides on their menu, ranging from crispy fried food to luscious oysters, you choose!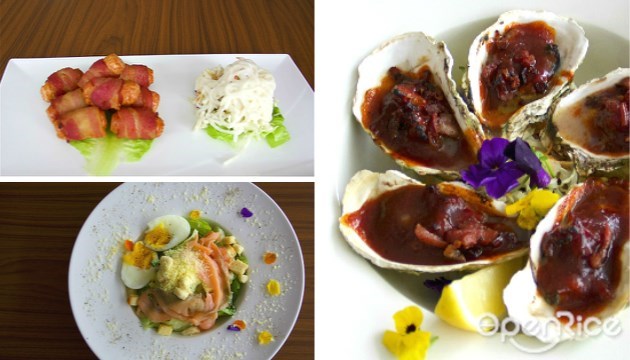 Bacon Wrapped Cocktail Sausage
A classic party food that anyone would loves! Crisp and juicy with a hint of smoky flavour that comes from the bacon, how to say no?
Smoked Salmon Caesar Salad
Crunchy veggies tossed in flavourful Caesar dressing and made perfect by luscious smoked salmon – a more refreshing option to satisfy your fibre needs.

Oyster Kilpatrick
Fresh oysters sprinkled with Worcestershire sauce and bacon chunks, grilled to perfection and lastly, served with lemon. What a perfect harmony of ocean and porky flavours, a must-try indeed!

Desserts
Lava Cake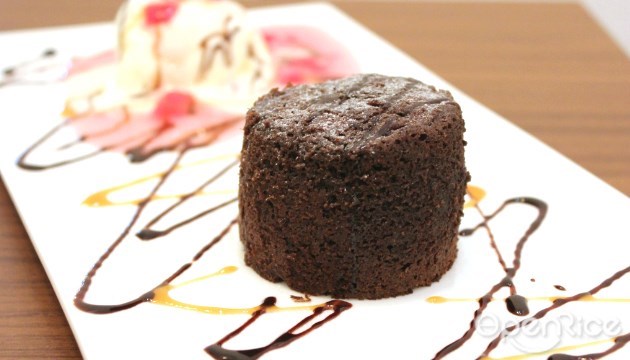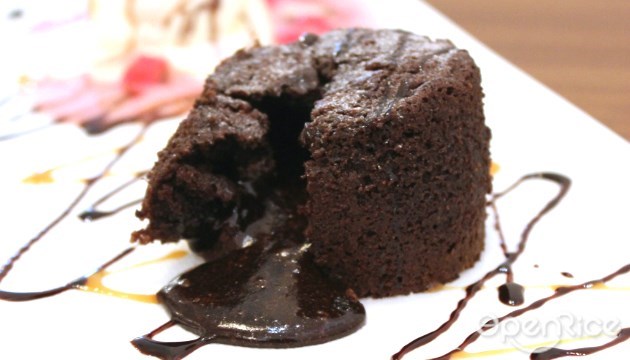 Always have room for a dessert? We recommend the Lava Cake – firm on the outside and gooey on the inside, served with a scoop of vanilla ice cream, a wonderful chocolatey goodness to complete the feast.



Beverages
Hot Chocolate
Coffee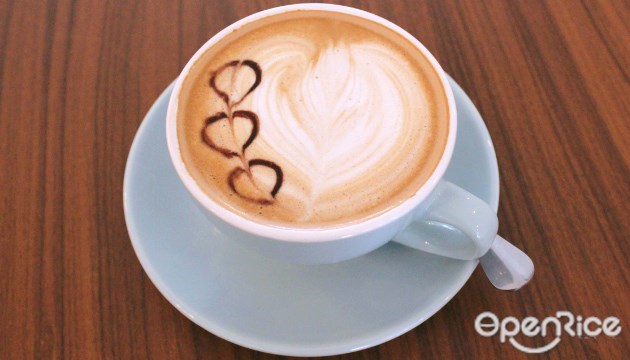 Specialty Drinks