Chicago Rib House (CRH)
is back in action after the upgrading works, just in time to share our one-month special for Father's Day, the
"Feast on Ribs"
promotion.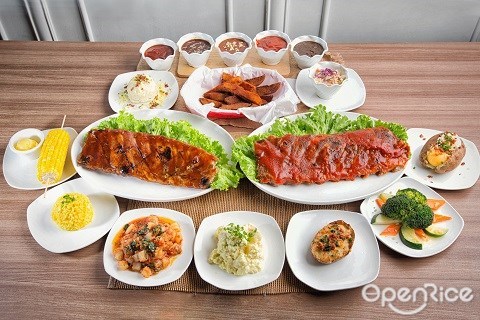 This Father's Day "Feast on Ribs" promises great value and quality for all rib lovers. From 6th June till 6th July, enjoy two full slabs of all-American pork ribs with a choice of two sides, which includes a US potato accompaniment, for just the price of ONE! Priced at RM79.90, the ribs are also served up with a selection of signature sauces to choose from - Original BBQ, Honey Garlic, Flaming Kansas City, Bourbon Sauce or Caramelized Plum. For this promotion, all ribs come paired with a choice of sauce, and a choice of two side dishes, one of which has to be a potato dish. In addition, guests who order a full rack of ribs will also get to participate in the restaurant's "Vote Your Favourite Sauce" lucky draw where they will stand a chance to win the top prize of a year of free ribs from Chicago Rib House!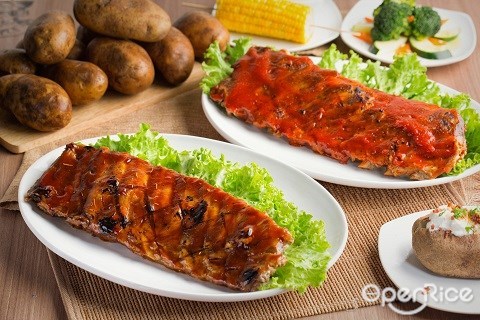 Well-loved for its smoking' good pork ribs, Chicago Rib House only uses high quality baby back ribs, celebrated for its tastier meat and more tender texture.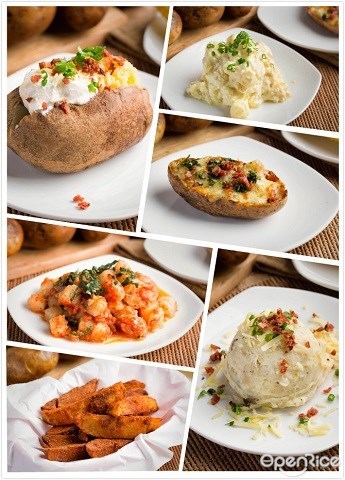 To up the all-American spirit, Chicago Rib House has teamed up with the US Potato Board to create US Potato dishes to pair with the American-style ribs. The US potato is a great source of potassium, loaded with fiber, iron, vitamin B6 and C. The chef brigade at Chicago Rib House has whipped up three new potato side dishes – Macho Potatoes (baked potato), Brave Potatoes (cooked potatoes with tomato sauce) and Happy Spuds (potato salad). On top of this promotion, guests who order the "Feast on Ribs" will get to participate in the "Vote Your Favourite Sauce" lucky draw. This draw provides guests a chance to win the top prize of a year's free supply of pork ribs! Voting sheets will be given to all guests after their meal to vote for their favourite sauce paired with the ribs. Every order of a full rack is entitled to one vote. Voting ends on 7th July, and the restaurant will pick the winner for one year's worth of free pork ribs (one full rack of pork ribs per month)! The first runner up will receive free ribs for 6 months and the remaining five lucky voters will get RM100 cash dining vouchers each.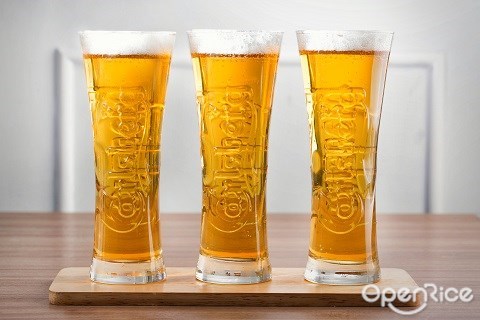 CRH is also offering a free glass of Carlsberg for every two glasses purchased at RM24.90.For non-alcoholic choices, try the Bobo juice. Priced at RM14.90 for two drinks, the third glass is for free.
Search for the Hottest Rib Eye in Klang Valley
Find the Best Pork Chop in Klang Valley