It's about time to celebrate the season of 'HUAT' again! This year, let's forget about usual hot pot and make your reunion dinner or company dinners a little more special – try the traditional Three Sauce Simmer Pots at Simmer Huang, Pavilion KL! What's more, Simmer Huang had come out with scrumptious Lap Mei Rice special for CNY 2018, and also Hui Lau Shan Prosperity Lou Shang that you have been looking forward to!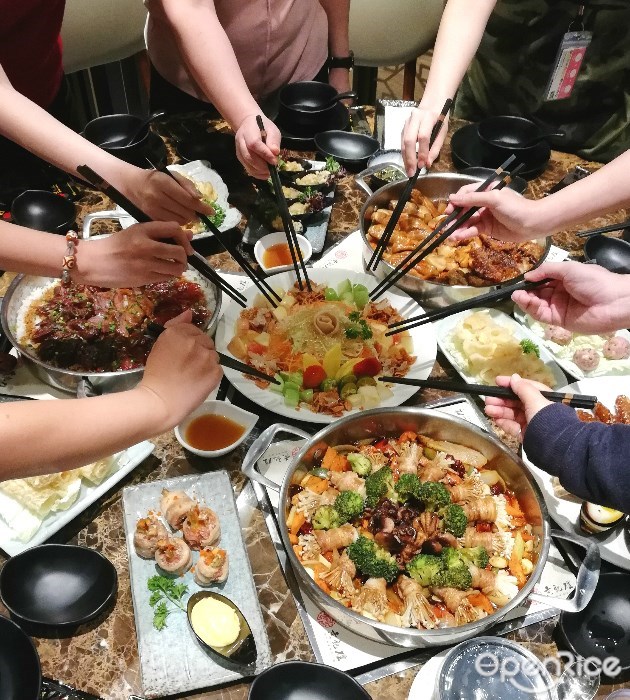 In conjunction with the celebration of upcoming CNY 2018, Simmer Huang had introduced 2 exclusive sets of CNY feast – 'Prosperity Feast' (RM488 nett, 4-6 pax) and 'Abundance Feast' (RM688 nett, 8-10 pax)! Both sets include their signature Simmer Pots, Lap Mei Rice, Hui Lau Shan Prosperity Lou Shang, CNY Platter, appetizer selections, and more!
Lap Mei Rice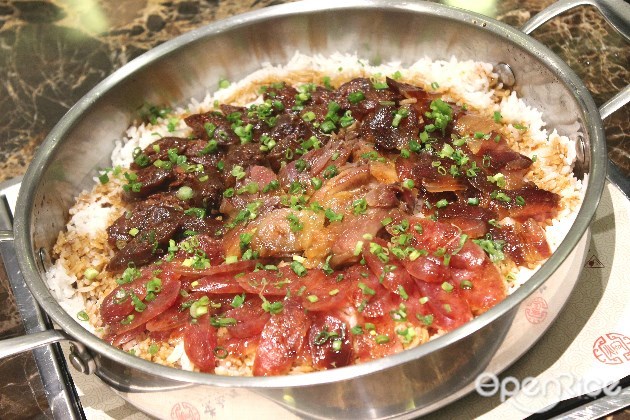 We'd like to highlight this Simmer Huang's Lap Mei Rice for you. Lap Mei is a Cantonese phrase means salted-cured meats, usually consumed by the Chinese during CNY, and typically served with rice. Al dente steamed rice mixed with special made sauce and several kinds of Lap Mei including pork sausage, waxed duck and liver sausage, this is easily one of the best Lap Mei Rice you've ever taste – the flavors are superb, Lap Mei portions are really generous too.
Main Pots

Come to Simmer Huang and you should never leave without trying their well-known Simmer Pots. To celebrate CNY 2018, Simmer Huang had introduced 3 new flavors with different ingredient combinations and 5 sauce choices to choose from: classic, seafood, spicy, hot & spicy, and soy.
Abalone Pot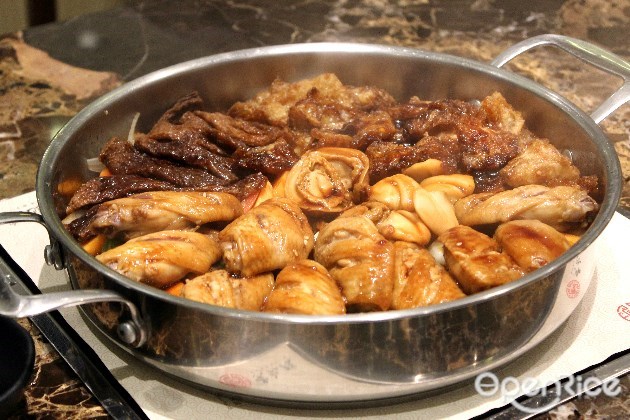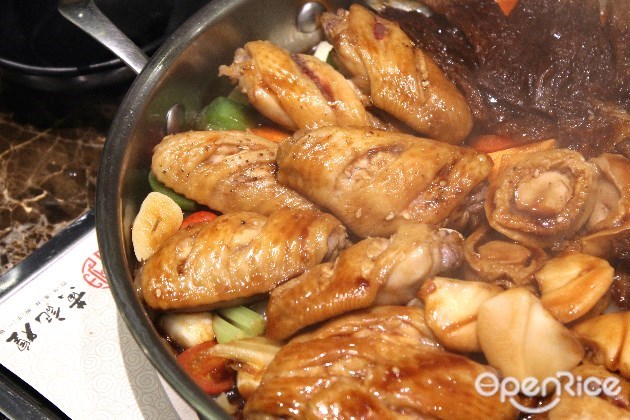 It's one of the Chinese traditions to enjoy abundant food during CNY, which represents a symbol of great wealth and prosperity in the upcoming year. We highly recommend the Abalone Pot to you – consists of premium ingredients including abalone, pearl abalone, fish maw, chicken wing and bamboo fungus, this is definitely the pot of 'HUAT' all you needed for this CNY!
Seafood Pot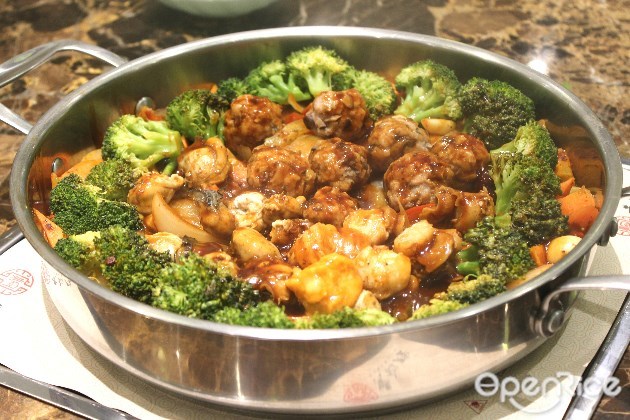 You'd love another combination of ingredients? Try this Seafood Pot that includes oysters, pearl abalone, scallops, mushroom pork balls and broccoli. All of the ingredients complement each other really well – the delicate sweetness came from oysters, and broccoli that's good to absorb the flavors – just perfect for a satisfying reunion meal.
Enoki Pork Roll Pot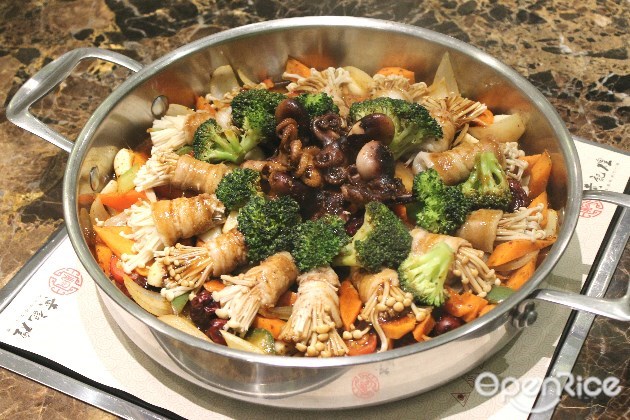 The noteworthy part about this pot would definitely be the Enoki Pork Rolls – fresh enoki rolled in thin pork belly slices, come along with octopus and broccoli – an absolutely mouthwatering pot full with nutrients!
Add-on Dishes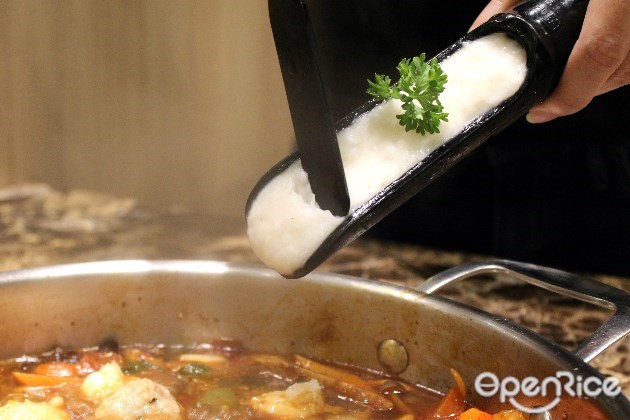 One of the best parts about Simmer Huang – all the simmer pots here can be turned into shabu-shabu, just request to add some soup stock into your pots when the gravy turns thicker, and enjoy shabu-shabu with their delicious add-on dishes like fried beancurd crust, fish maw and mushroom pork balls.
Hui Lau Shan Prosperity Lou Shang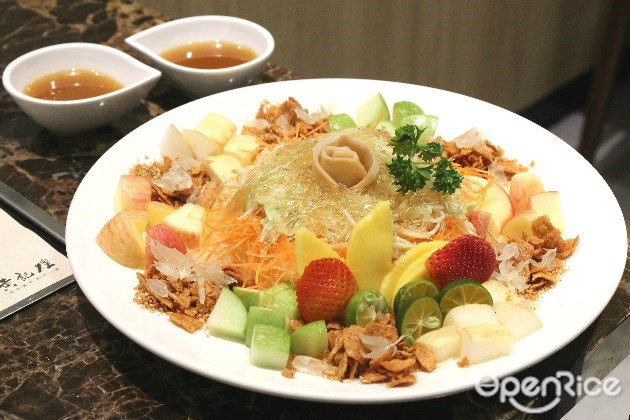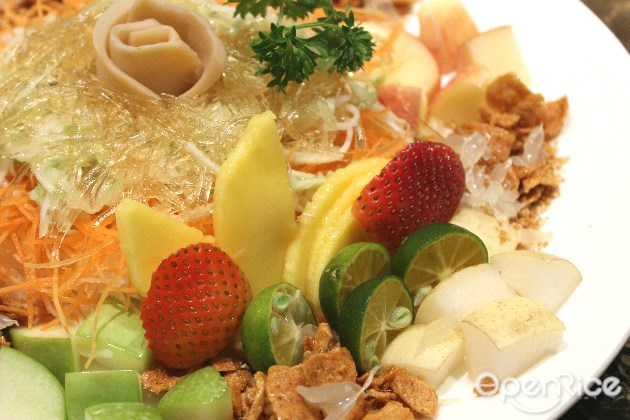 What's CNY without Lou Shang? Simmer Huang serves Hui Lau Shan Prosperity Lou Shang that made from fresh fruits like mango, apple, strawberry, pear and pomelo, topped with abalone slices and complemented with special made plum sauce – tastes delightfully sweet and absolutely refreshing, hands down the best Lou Shang we've ever had.
Chinese New Year Platter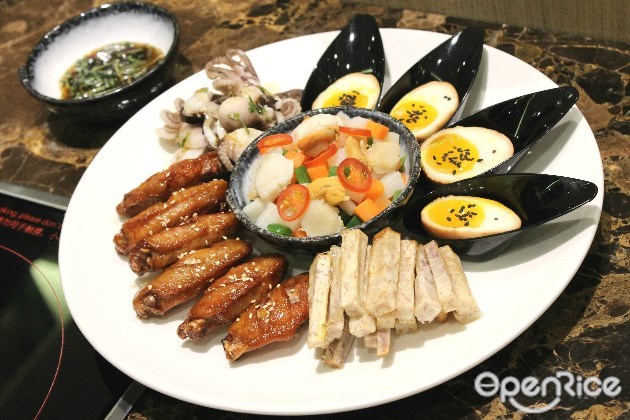 An abundant platter made up of golden yam, signature octopus, eggs, honey chicken wing and scallop Chinese yam salad. The eggs are infused with wolfberry wine, which gives the eggs a very distinctive flavor!
Appetizer Selections

Different CNY sets come with different choices of appetizers. For 'Prosperity Feast' you get to choose 2 from 3 choices given, while for 'Abundance Feast' there will be total of 6 choices and you get to choose 4.
Fried Oyster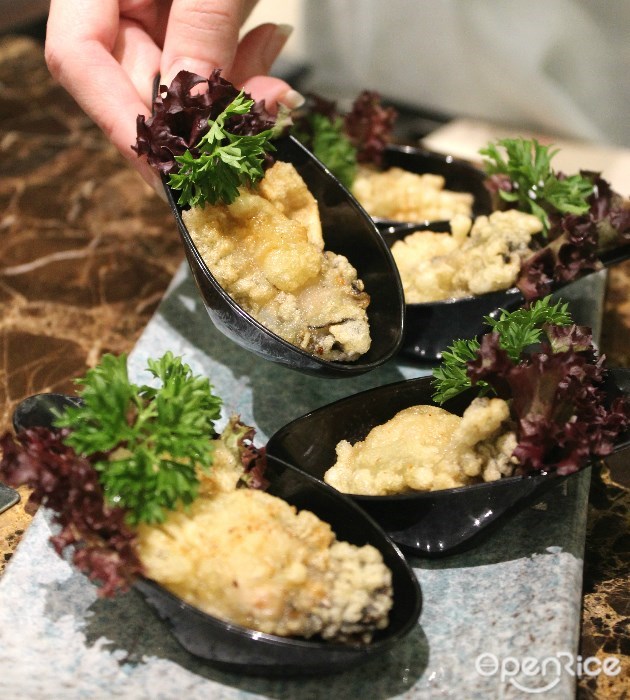 Golden battered oyster deep fried to perfection – crispy on the outside, moist and juicy on the inside, as well as the oceanic essence that burst in your mouth – recommended for seafood lovers.


Fried Oyster Mushroom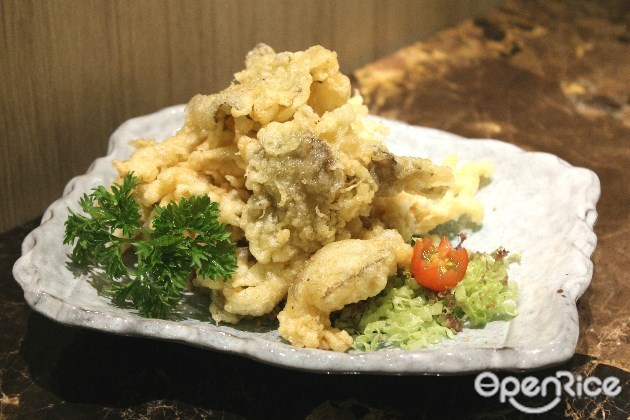 Crispy, sweet and juicy fried oyster mushroom sprinkled with just right amount of salt and pepper, an all-time sure win!
XO Veges Pork Roll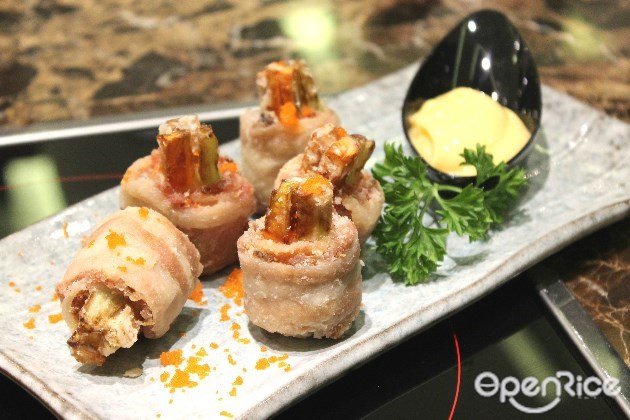 Carrot, celery and oyster mushroom rolled in XO sauce infused bacon and fried to crispy finish, served with delicious dipping sauce – a totally lip-smacking snack that's good to start off your feast with!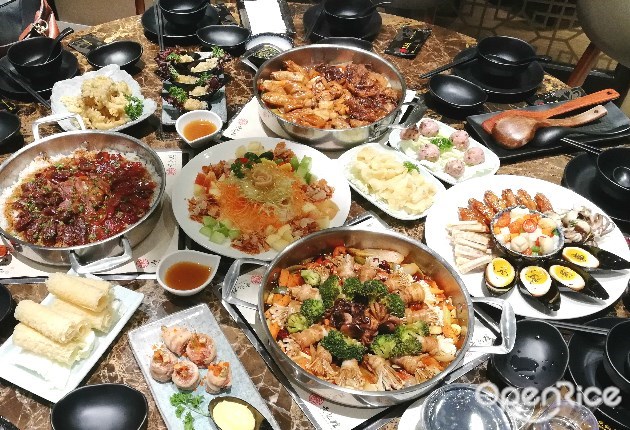 Pre-book your preferred CNY reunion feast set a day prior to your dining date, and receive up to RM100 limited cash voucher!
★ 一本十利宴 Prosperity Feast (RM488 nett, 4-6 pax)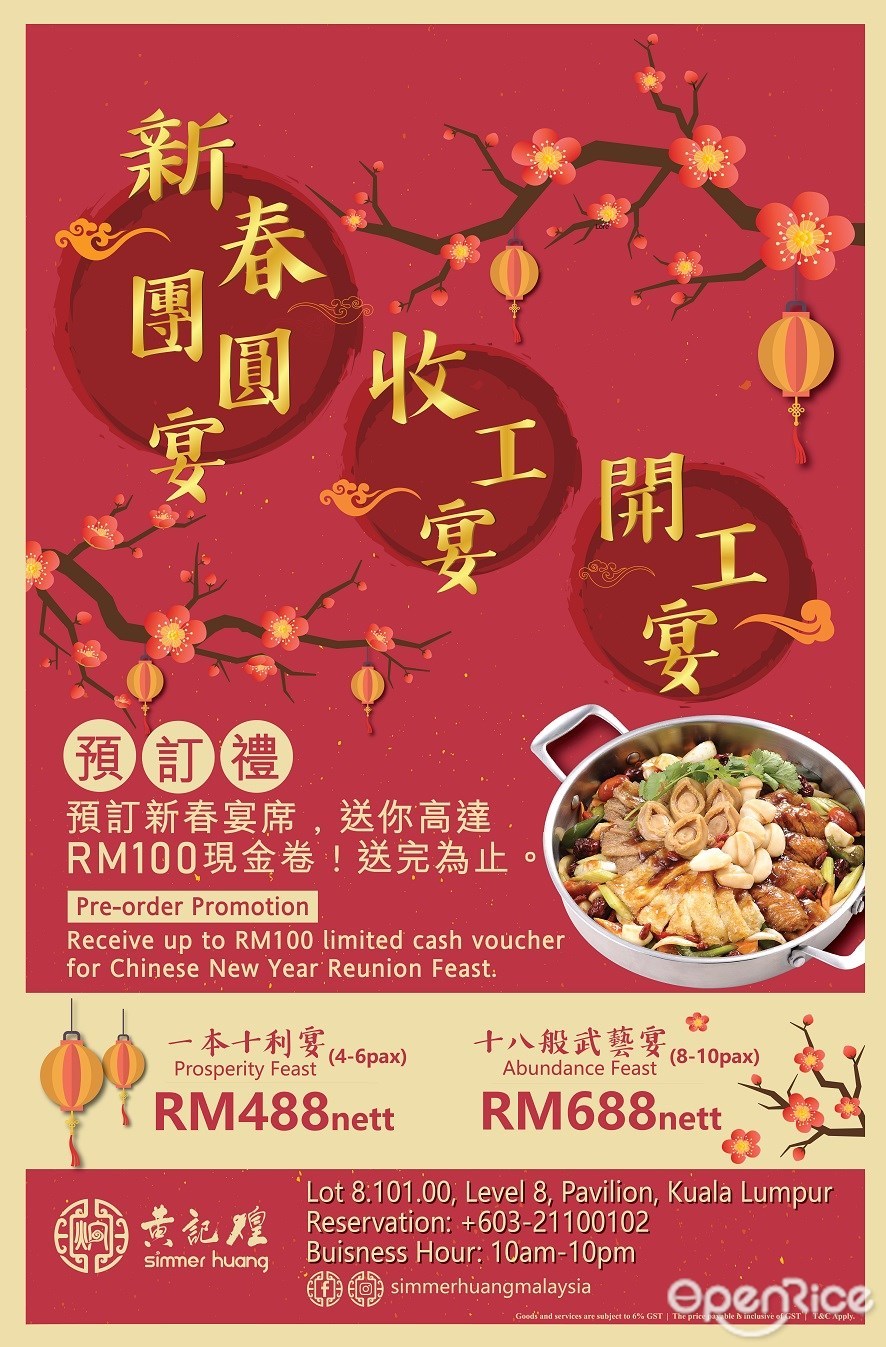 ★ 十八般武艺宴Abundance Feast (RM688 nett, 8-10 pax)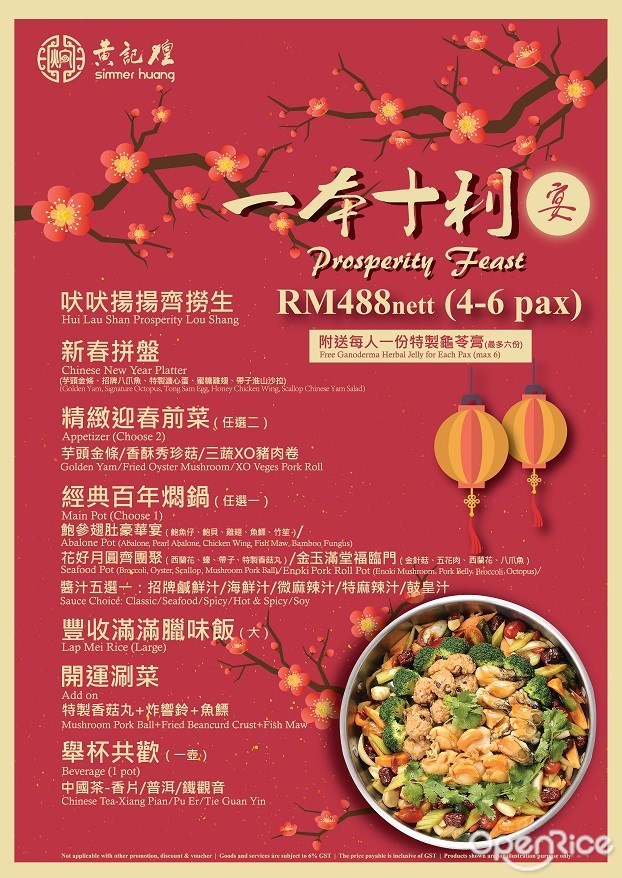 P.S. Enjoy 25% off on red wine or white wine for CNY feast. Each customer will get a FREE Hui Lau Shan Herbal Jelly too.