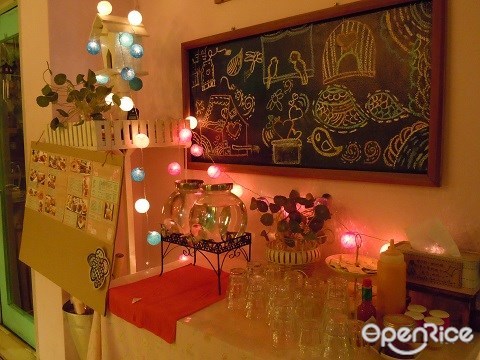 A yearly celebration together with the one you love, it is celebrated throughout the world. Besides giving flowers and presents to show how much you appreciate them, this time around why not go for something that you both can indulge on? Here are some café's that you might want to try them out on this very special month and bring them out to hunt for good food! A happy tummy gives you more smiles rather than just roses and sparkling diamond rings! Try them out today!
(The restaurants are listed in no particular order. Some of the establishments below are not halal)
1. VCR Cafe @ Jalan Galloway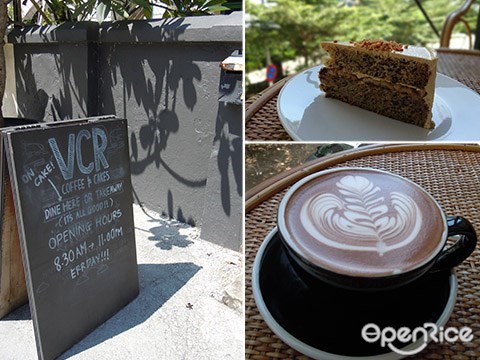 A café that is located beside Swiss Garden Residence, you'll be amazed when you pay them a visit. Serene and tranquil ambience, such a lovely place for the lovebirds to hangout and enjoy the best brew from VCR Café. Sipping on a cup of Chocolate, have some long comfy talks and don't forget to pair them up with a slice cake and a toast with ice-cream! One of the best-selling cakes, 'The King', which is a combination of Peanut Butter Cream frosting, chocolate and banana! Then, scroll up for some walks to the rooftop to get some breezy chilling wind and some selfies too!
2. Coffee Amo @ TTDI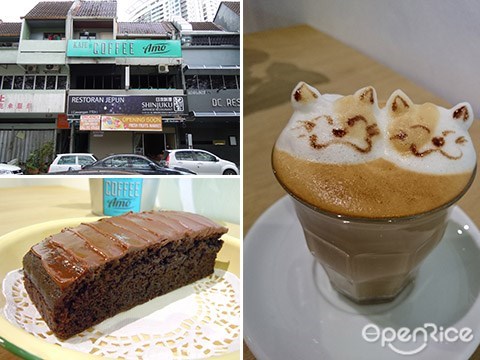 If she likes some cute coffee art and been hinting you to bring her to one, here's a great choice for you! Coffee art might be something quite known for now, but it's still legit and the 'IN' thing for most couples to go for! Known for serving delectable cakes, nothing beats a slice of Nutella Moist Chocolate Cake to win her heart! Since there are two outlets (Located at Petaling Street and TTDI), there are slight differences between the menu – of their signature coffees and fruity latte from both outlets. Overall, this place is awesome and sure to get some compliments from her too! Click
here
to look for more outlets.
3. Nooks by Baker Dave @ Sri Hartamas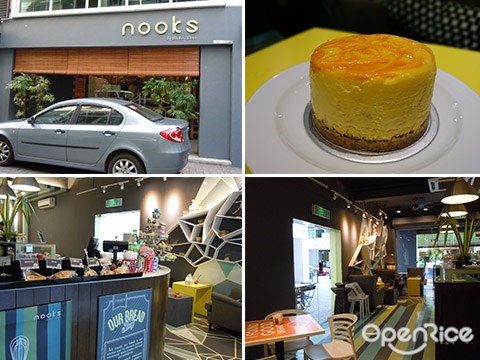 Another place that's worth your time to explore and give them a try! Head over for some sophisticated cakes and pastries baked from scratch daily at Nooks by Baker Dave. Having a different concept from other café's, they have everything there from bakery to café and even classes for kids and adults to get some hands on in cakes decorations. Fancy for a slice of fruity cheesecake? Then try their Mango Cheesecake out. Made from mango puree that is imported from Belgium, it tastes fragrant and smooth! Wish for a place that's comfortable, serene and tranquil? This is the place to be!
4. Nana's Green Tea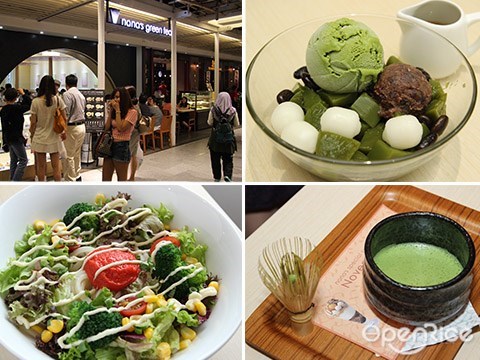 Known for having the best green tea dessert and Japanese cuisine here, this place is good especially the other half of yours love to indulge on dessert! Desserts like Matcha Anmitsu – with matcha ice cream, red bean paste and mocha, served together with 'Kanten' which is Japanese healthy jelly made of seaweed! Then, drizzle up with the fragrant caramelized brown sugar for that extra oomph! The portion is perfect for sharing too. Good food and ambience; perhaps just be a little bit patience with the queue? Click
here
to look for more outlets.
5. Dreamz Bakery @ Kota Damansara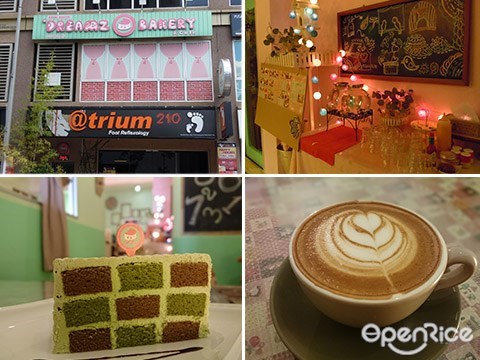 Attractive decoration, cozy and wonderland feel upon entering this bakery café, this place suits to go for a date on valentines too! A popular place for cakes and coffee at The Strand, Kota Damansara; they serves the famous mille crepe, cakes, cookies, meals and coffees! A place that is decorated whole-heartedly, all the details that you can see from their interior makes you feel like you've entered a fairyland. Their signature Matcha Chocolate – fluffy and covered with a layer of cream, looks too adorable to munch on it! No plans yet for valentines? Put this cafe into your list too!
6. Standing Theory @ SS2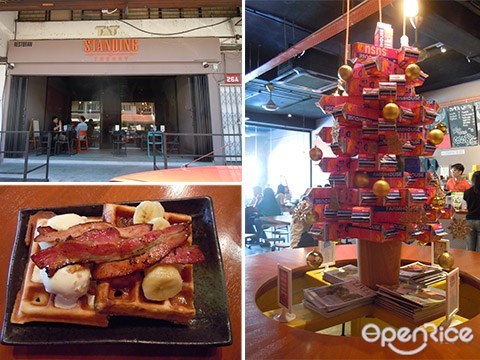 A hidden gem in SS2's housing area; this place might not be strange to the neighborhood here. A simple, rustic and casual ambience café serves superb coffee and quality food – another reason to be here with the special one! If you plan to come here for some light munch but simply satisfying, remember to go for their BBC Waffles! Light and airy waffle served with banana, gula Melaka syrup, Fat Baby Ice cream and smoked bacon! Sweet and savoury taste that combines up to tickle your taste buds. A perfect combination of toppings just like every couple indulging on good food at the Standing Theory!
7. Oh Scooter Cafe @ Subang USJ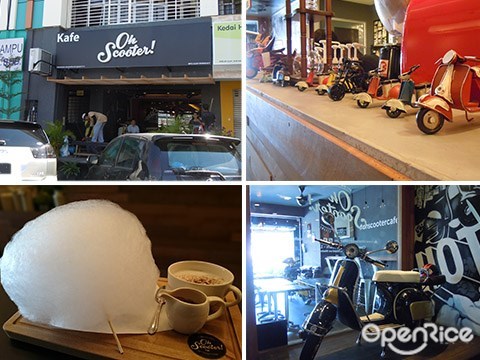 Uses scooter as a theme for this café, many of you might have seen this café being quite hype on social media's previously due to its overwhelming of Cotton candy coffee videos. Desserts and coffee makes a good pair up – need we say more? A good reason to spend your time for some pre or valentines days there! So many types of cakes to choose from the counter and not forgetting their own specialty macaroon – a scooter shaped design that comes in various tastes. Then again, get some fun when you order their Signature coffee – cotton candy coffee. Comprises of cotton candy, espresso and milk, dunk the cotton candy into the milk and pour the espresso to dissolve the cotton candy! Hints: Girls will sure to love this Signature coffee!
8. Tous les Jours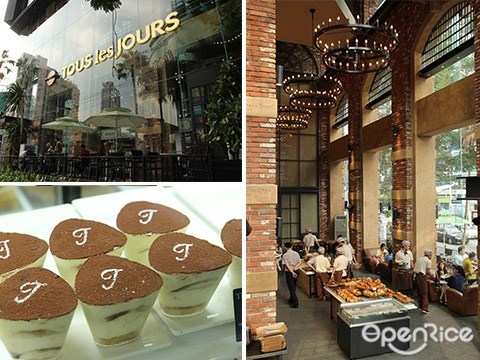 A French-Asian inspired bakery from Korea, they have many branches around Asia and now they are here in Malaysia. Lovely ambience, high ceilings, bricks on the walls as it interior with clear glass windows that allow the sunlight to shine through, enough to brighten ones day! A nice bakery with so many delectable breads and cakes to choose from! Comfy seats and nice environment makes it worth your visit for some nice food and enjoyable moment with your love one this valentine! Click
here
to look for more outlets.
9. A Pie Thing @ Damansara Uptown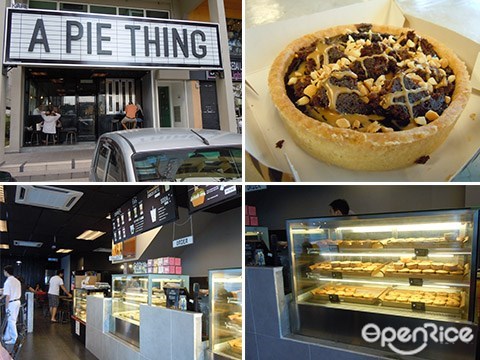 Having both savory and sweet pies selling at this cafe, this is indeed another place you could explore together with your partner. Served hot with toppings for the savory pies, choose from mashed potatoes toppings or peas and gravy; they have a few flavor to choose from too ranging from Pulled lamb, Cheesy chicken, Chicken mushroom, Chunky steak, Chili cheese and more. Besides, if you would love to have some sweet ones instead, go for Peanut Butter brownie! Rich in peanut butter taste, crunchy crust and bite into every piece of brownie in the pie – awesome.
10. Fougasse Boulangerie & Patisserie @ Pandan Indah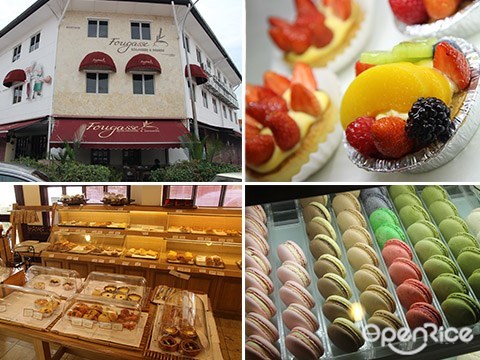 Belongs to the famous bakery – Levain Boulangerie & Patisserie, a good place for breakfast, tea time or some cakes and coffee time! Nothing beats the smell of freshly baked pastries and cakes from Fougasse! Being the talk of the town as it is located at Pandan Indah, join in the crowd here to indulge on good food and wonderful environment and ambience too! Uses their stove-oven to produce freshly baked breads, temptingly good and what else could you ask for? It's rather a wise choice for you to enjoy your valentines there because who says you need to have it lavishly? Celebrate with good food and a happy tummy will sure to bring you precious memories too!
11. Swich @ Publika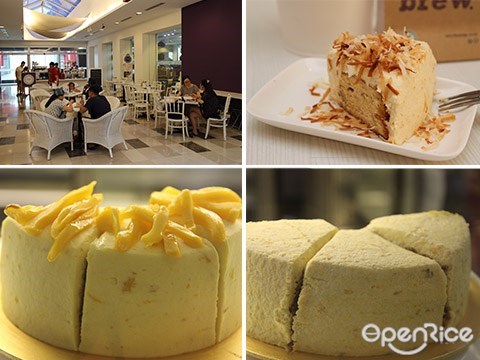 Located at Publika, this café perhaps would have one of the best cakes inventions as they have some indeed special cakes like Cempedak cake, Mangoesteen cake, Horlicks malt cake, Chocolate cakes and more! Coated with cempedak cream frosting, chunks of fresh cempedak and with toasted coconut flakes, this would be totally new to you! As this café really does hit the spot for you who would love to have a nice walk in the mall to celebrate your valentines, then you should head up to try them all up today!
Find out more hottest cakes restaurant
Hunt for the best green tea restaurant
Other Related Topics