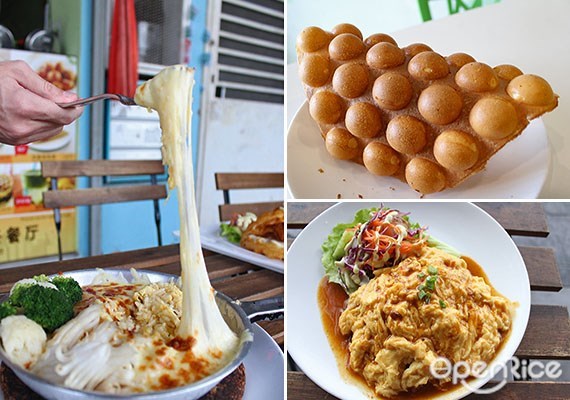 Enjoying food the way it should be will surely make your life happier! Life is just too short to enjoy crappy food that tastes the same old plain Jane that makes you bored with it! To enjoy life to the fullest, it all begins with a happy tummy for sure!


Mahkota Cheras, a location where mouthwatering food locates at, nonetheless this HK Style restaurant – Happyology! Established over the past 3 years and gaining likes from the neighborhood, Happyology serves unforgettable ingredient-focused food as the chef would love their patrons to enjoy happiness through taste!
Lead by a chef that has more than 15 years of experience in the culinary industry, combining Western and Eastern food, enjoy gastronomic house-made dishes that will delight your mood!


HK Style Bubbles Waffle available here too?!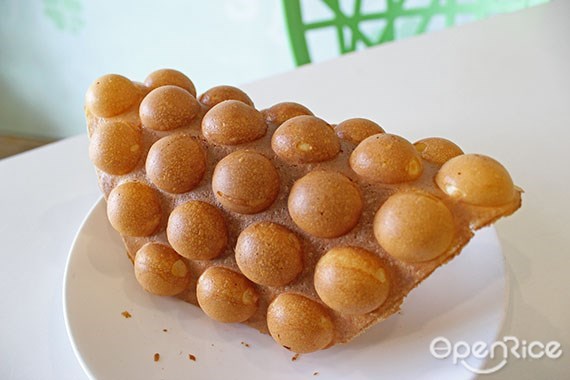 To get the right texture of bubbles waffle (better known as Gai Dan Zai), we have been searching high and low for it until we tasted the one from Happyology. Satisfied, theirs was excellent. Crispy on the outer layer and fluffed up inside, soft and eggy, this is how it should be! Chef explained that they use HK recipe with a twist by adding a touch of the western style to make it fluffier! Many tables were seen enjoying this especially the kids!


Chef's Choice Devil Cheese Baked Rice Series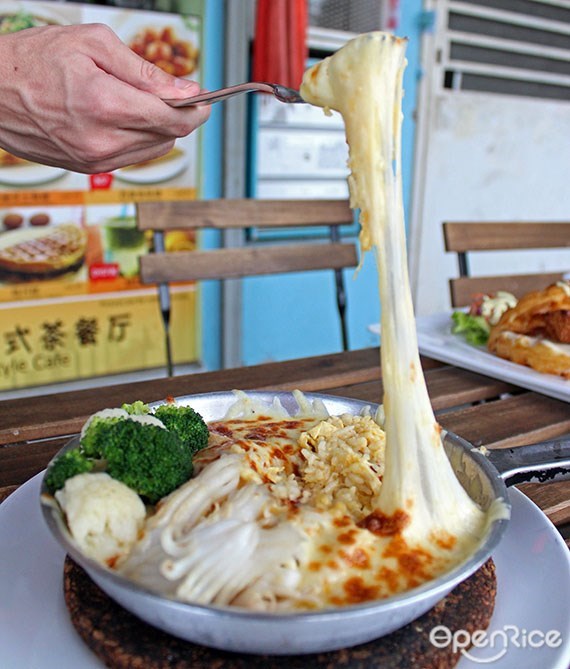 If you have a weak point for cheesy related food, this will sure to make your knees weak! Another famous HK dish that is a must try here as they are sinfully good, packed with thick melted Mozzarella cheese; dig in to reveal what's hidden beneath! Let's check them out:


Cheese Baked Rice with Portuguese Style Seafood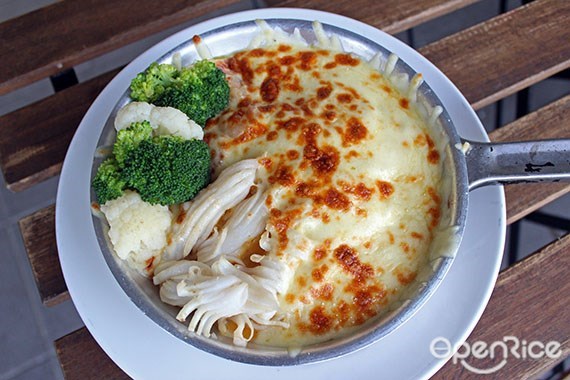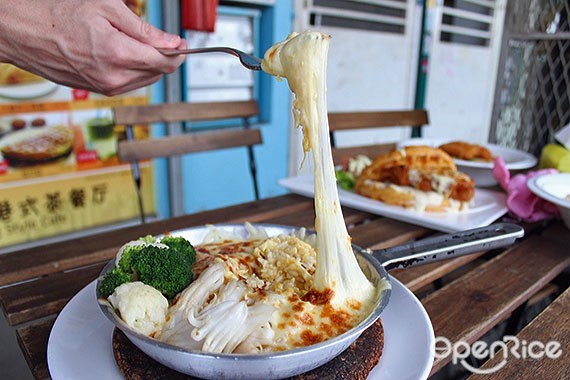 Sample of the best cheese baked rice with fresh seafood being used in it, totally boost our mood up. Have a bit of rice and the cheese together, you'll feel that the taste explodes in your mouth! All eyes on the cheese, pull it up as high as you could, this totally delights us so much! Fragrant fried rice with the Portuguese house-made sauce prepared by the chef, we manage to polish this dish off upon served!


Mushroom Sauce Cheese Baked Rice with Assorted Fungus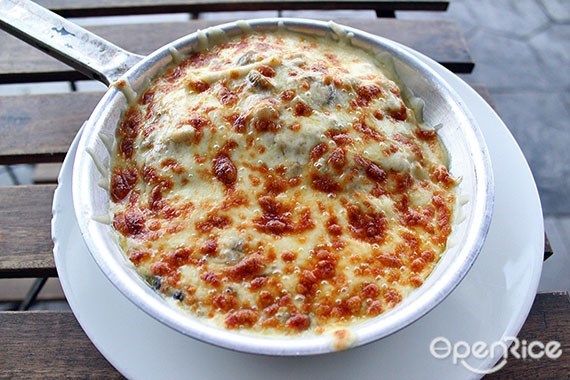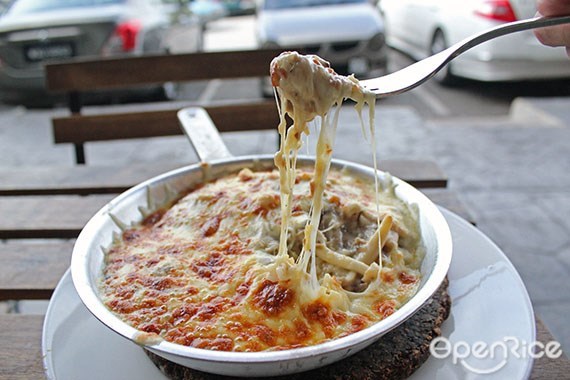 According to the chef, this dish suits vegans too. Uses approx. 6 types of shrooms in it, the mushroom sauce worth the compliment as it is too deliciously house-made from scratch! Fragrantly good as the rice is filled with the mushroom sauce and flavorful from all sorts of mushrooms used topped with mozzarella cheese; the consistency maintained perfectly and we had fun pulling the cheese as high as we could! Isn't this one of the happiness that you can find from Happyology?
Apart from these two, they do have Creamy cheese baked rice with fish cutlet and creamy cheese baked rice with chicken chop too.


Hearty Portioned Spaghetti Selections

Al-dente spaghetti done right, house-made sauces and fresh twist of ingredients, it actually draws smiles on our faces!


Pasta Carbonara with Bacon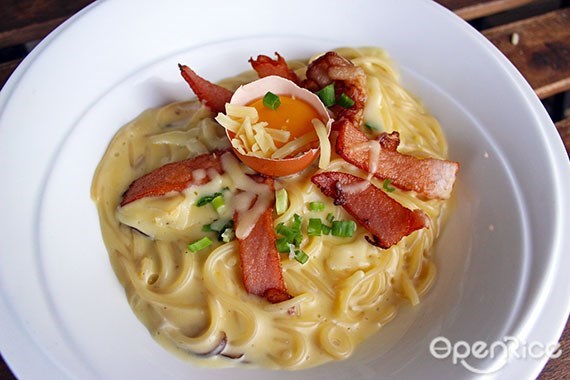 Creamy, dense and light, this carbonara isn't cloying but really satisfying! Comes with a raw yolk, pop it on while it is hot, this helps in making the sauce creamier and smoother too! Loaded with pork bacon, a temptation that is hard to resist!


Black Pepper Pasta with Fish Cutlet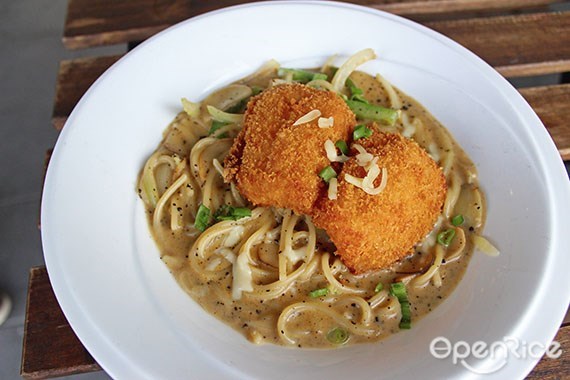 Fragrant black pepper taste from the sauce, the pasta was a perfect cradle for the sauce! Smooth and appetizing, comes with a piece of fried dory fish that enhances the dish to a new level. Beautifully presented, dig in and twirl your spaghetti the way you like it!


Curry Omurice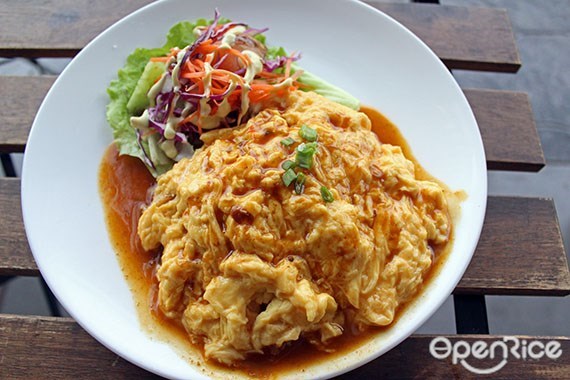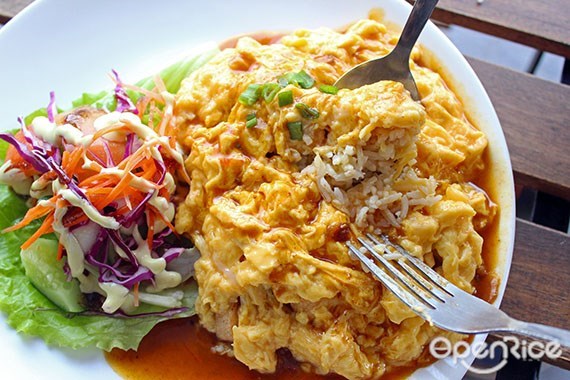 Omurice, made from eggs that are scrambled till perfect and wrapped with rice in it, a dish that looks easy but if you had seen the process in making the egg till perfection, you'll never see it the same again! Perfectly scrambled, warm and fluffy grains inside and drenched in Japanese curry sauce, this warms up the taste buds and balance up the taste that it should be!


Waffle Selection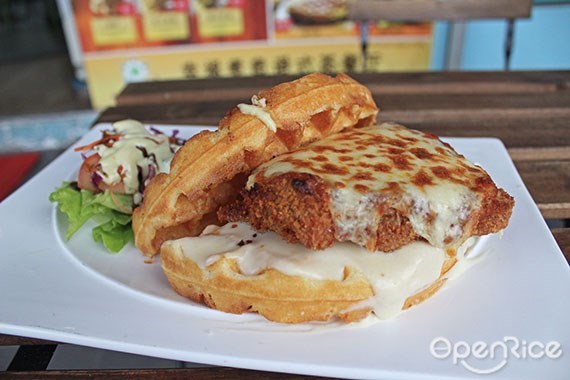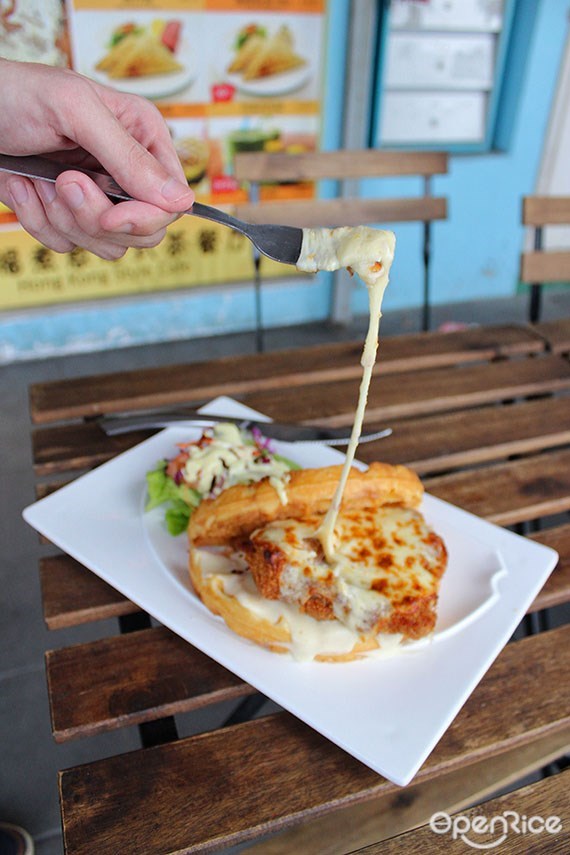 Waffles are still a hit everywhere, of course, Happyology have it too! Caught our attention would be this waffle sandwich with chicken parmesan – chef's creatively created this with succulent, juicy and tender fried chicken topped with parmesan cheese and sandwiched in between the fluffy crispy waffle! We repeat, there's cheese in it!


Smooth & Frothy – Ceylon Milk Tea in Hong Kong Style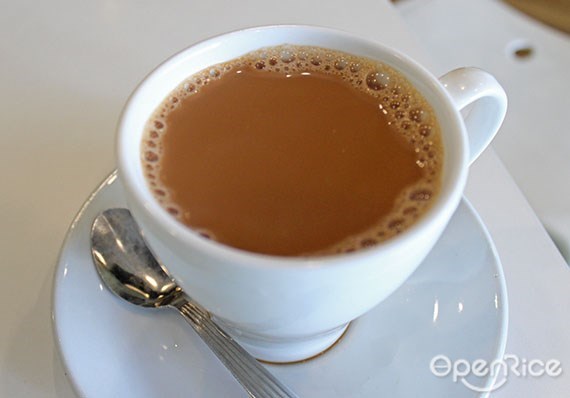 It is really a cup of good milk tea that you shouldn't miss when you dine at Happyology. Milk tea here are carefully created with chef's secret recipe by using combination of tea leaves and milk, that is why this cup of milk tea is smoother than the usual ones you can get elsewhere!


Fresh Mixed Fruits Sago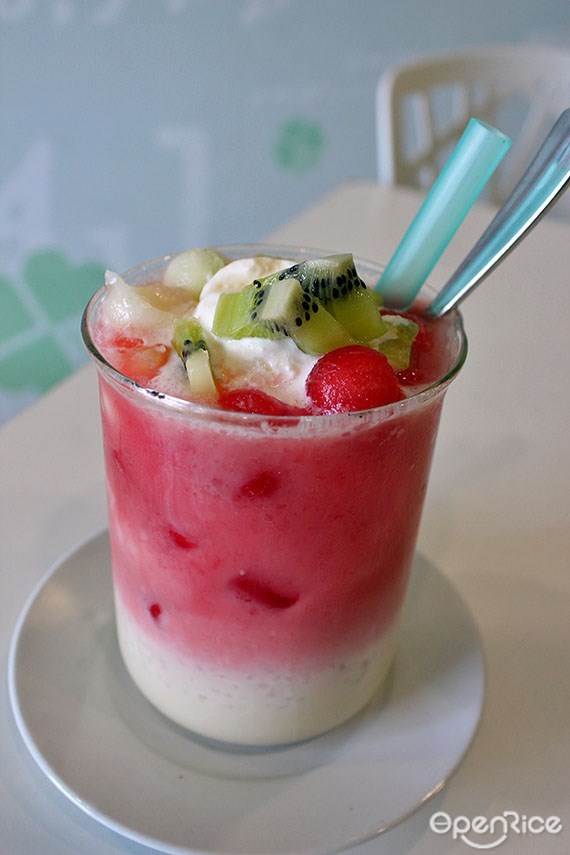 Aha! Extensive menu that serves all sorts of mouthwatering delights, nonetheless this dessert that you shouldn't skip too. Made from fresh fruits – kiwi, watermelon, honeydew and a scoop of ice cream and fresh coconut juice with sago, so refreshing and cooling, we wouldn't mind enjoying another one as it was quickly gulped down as soon as it is served!


Happyology is not just your ordinary HK Style Restaurant – Caters for Events & Parties too!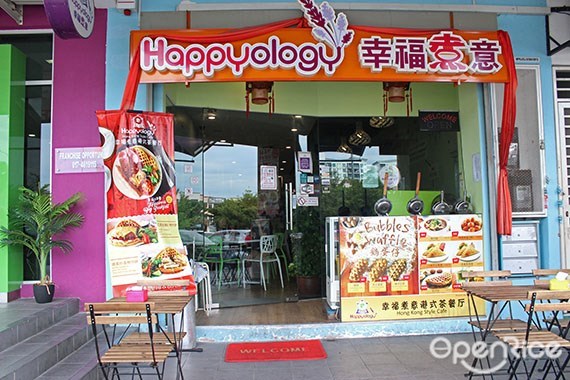 If ground floor is for casual dining, they do have upper floor that caters for event and parties especially kids birthday party! Many parents actually booked their space up as they serve happiness in every meal and carefully decorate the whole place so that it will be memorable for you and your kids too.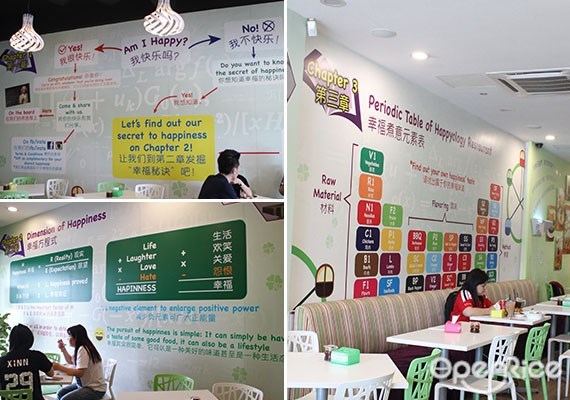 A brightly lit and nice environment, you can spot many families with their children dine here and usually they are packed during lunch and dinner time. Kids were seen smiling with laughter and Happyology would be the first of a kind to transmit happiness through their food. Carefully handpicked ingredients and palatable creation from the chef, noteworthy meals made affordable and delicious too.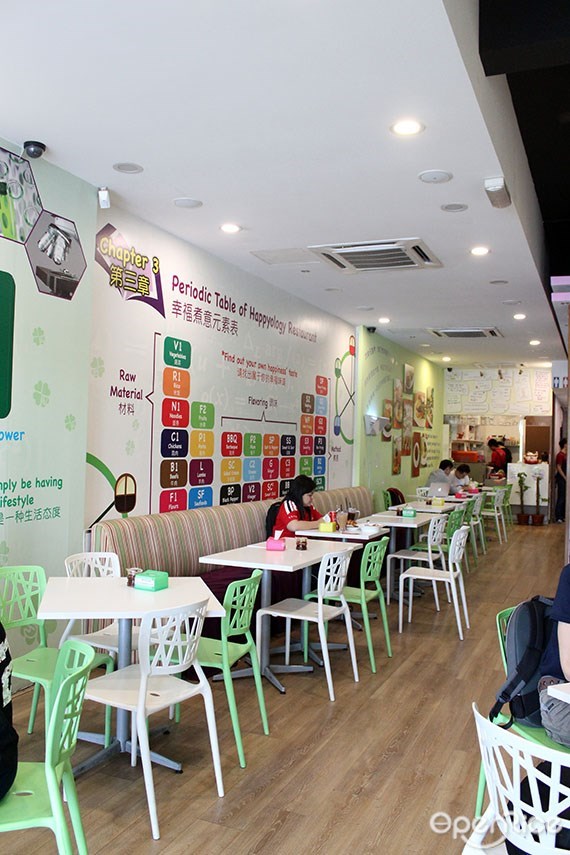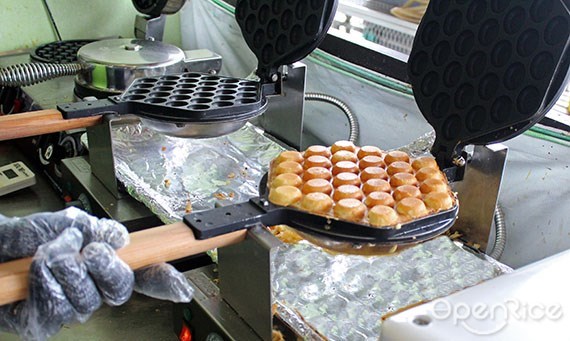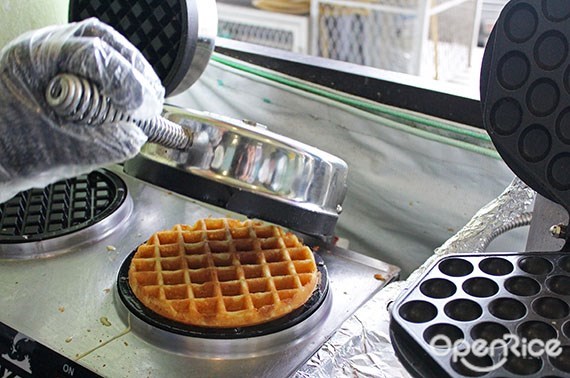 Waiters and waitresses were seen serving patrons with smiles and cheerful manner too. Isn't it simple to gain smile through vibrantly well-executed food made with love from their chef? Happiness begins from you and easily at Happyology!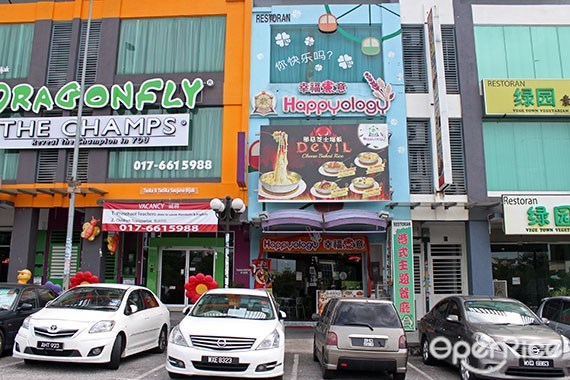 More information: Happyology