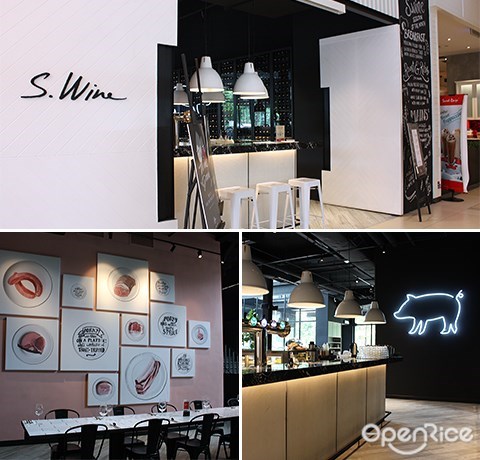 Forgotten to book a place to celebrate birthdays, anniversary or gatherings? If you're looking for a place that has the best scene and backgrounds and obviously food that fit for the gods, here comes
S.Wine !
A place that will sure to entice your taste buds and yet having a picturesque atmosphere, they are located at Tropicana City Mall here! Been craving for real good porky dishes? If you haven't been a 'meatosaurus' for weeks… or days, here are some really recommended dishes to satisfy and stimulate your appetite for more! Let's explore
S.wine's
Menu now!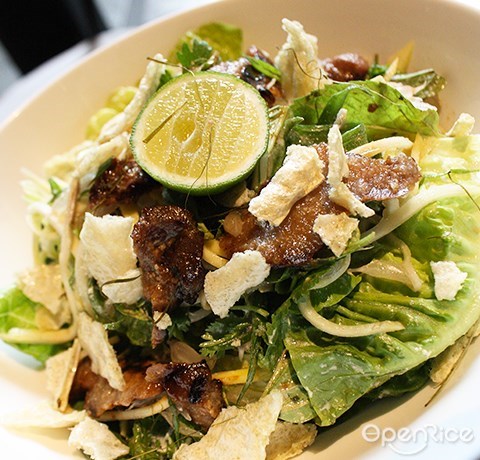 Thai Pork Neck & Green Mango Salad
Succulent grilled marinated pork neck meat; as appetizing as you can see, take a bite on the pork meat that's real juicy and tender without even biting hard on it! Moist, it complements the whole salad especially green mango is used in here. Creamy coconut dressing that goes well with the greens. Yums!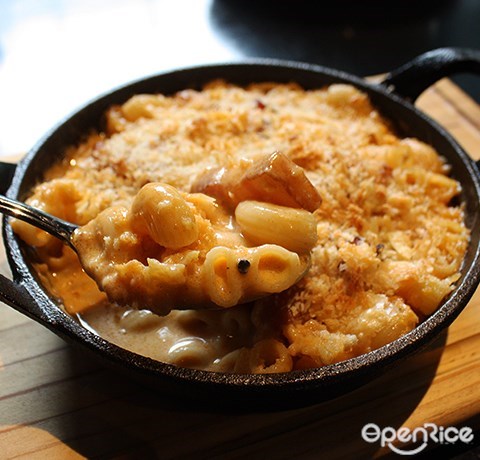 S.wine Mac & Cheese
Who could ever resist mac & cheese? Not us of course. Macaroni that is covered with that cheesy sauce and bits of bacon chunks! Yes, bacon chunks! Just the right creamy gravy, dig in to enjoy it while it is hot!
Complicated Noodles
Wow, iceberg of lettuce? Looking complicated? It's a lot easier eaten plus made fresh and tempting too after the first bite! Comes with steamed silken rice noodle sheets, place them on the lettuce and add the minced pork in dark soy and you should try that signature coriander pesto sauce. Wrap it all up and give it a try! Light yet feeling guilt-free, perfect!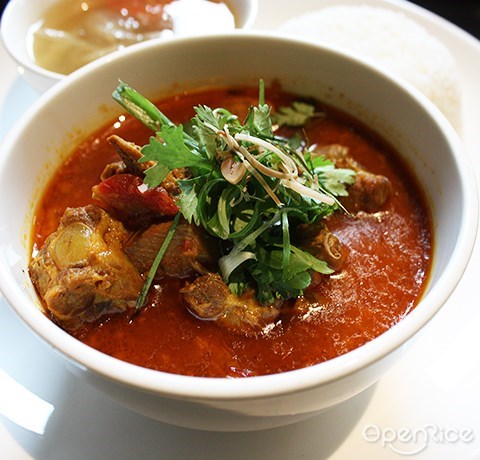 Nyonya Assam Pork Curry
Feeling something Asian-ish? Besides western and Thai style, we have this Nyonya dish that you will put your thumbs up to. Soft and meat fall off the soft bones, this slow-cooked assam pork curry are great to be eaten with rice.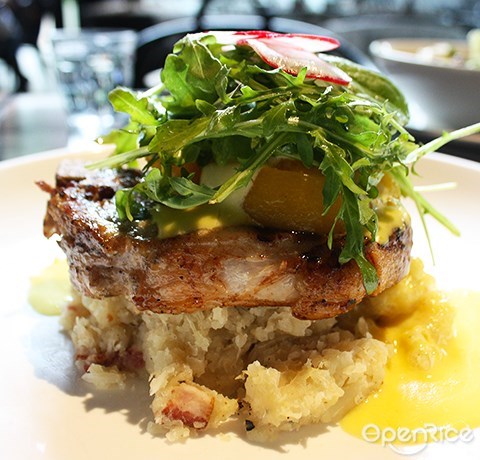 Peaches and Cream
Coming back to this main dish, don't you feel incomplete without going for their pork chop? We've heard you! With sauerkraut bacon mash, topped with orange, peach wedges and orange cream sauce, this heavenly piece of pork chop is great for sharing! Take in a forkful and you'll sure to enjoy the meat texture as they isn't rough or dry.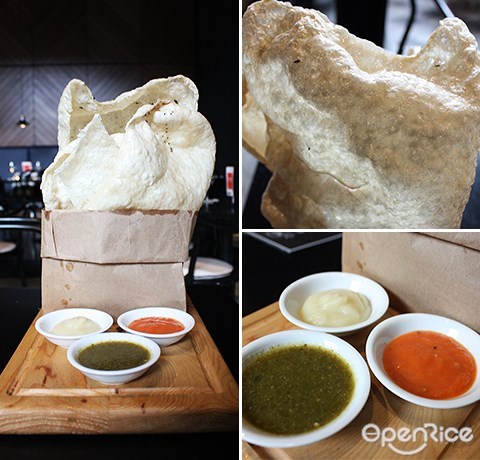 Mr. Crackles
Looking for some in between bites? Let us introduce you to this Mr. Crackles! It is actually a pork skin that is made crunchy like a piece of cracker and surprisingly they taste fantastic! We usually skip unhealthy bites but this is irresistibly great especially when you dip them in 3 of the sauces available from Asian coriander pesto, apple or salmorejo sauce. We personally love the Asian coriander pesto dipping sauce that has a tad spicy taste!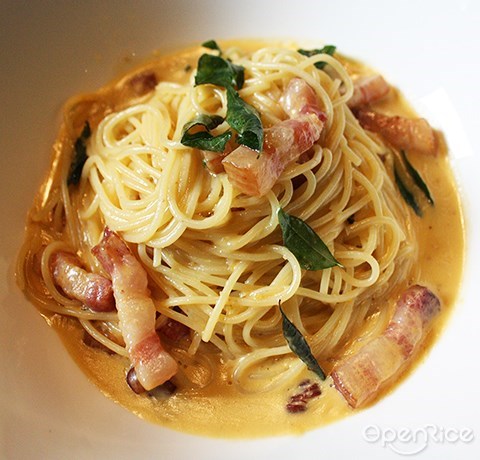 Bacon & Salted Egg Carbonara
Al-dente pasta, creamy texture of salted eggs goes perfectly in this plate without overpowering the carbonara taste! Salted eggs are all the rage, this will sure to be one of the best fusion pasta to try from S.wine!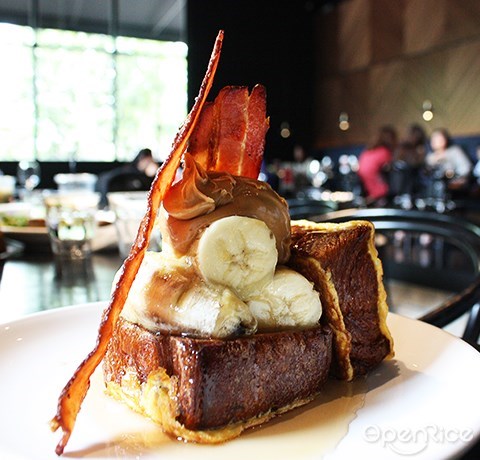 Bacon & French Toast with Grilled Bananas
Caramelized bananas with peanut butter and 2 slices of fluffy French toast with streaky bacon and some maple syrup? Totally one of a must try! Sweet, savory and peanut buttery taste, this French toast refreshes your taste buds for sure!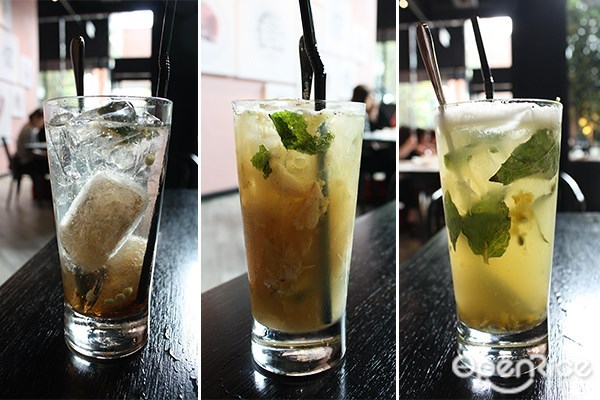 Drinks here too have a style of their own! Here are a few of the best seller that patrons will order to quench their thirst whenever they are here like Asam Boi with Sprite, Lychee Breeze and Passion Fruit Breeze!
Never missed a chance to try out their dessert simply because it sums up your whole meal! Well, just a good excuse for us to indulge on good desserts without simply feeling guilty!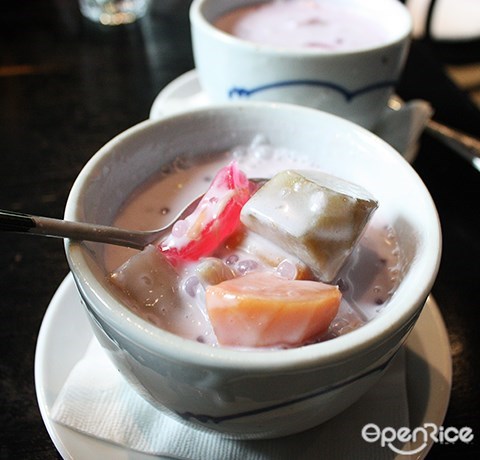 Bubur Cha Cha
A local signature dessert that gives you a warm and nostalgic taste, nothing beats the best of sweet potatoes, yam and sago in coconut milk!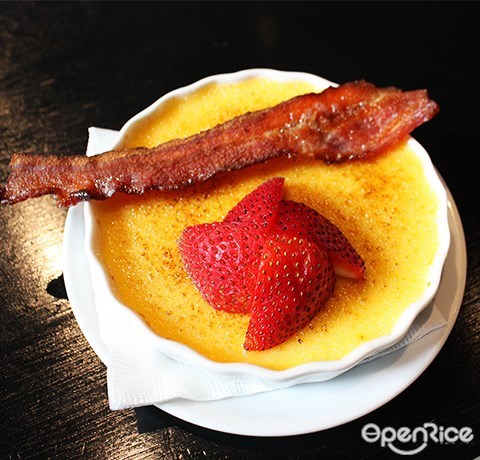 Crème Brulee with Crispy Bacon
Crème brulee obviously get nods from most of us and what makes this even special would be the bacon strip that comes with it! Sweet and savory, expect flavors to burst in your mouth! A well-balanced dessert, you've got to try it out!