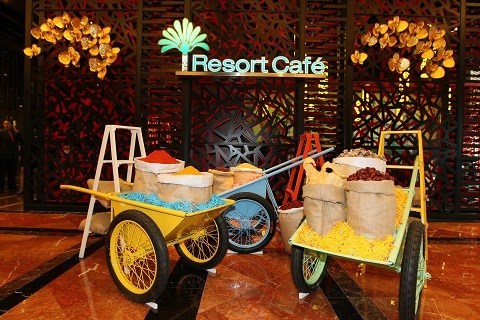 Sunway Resort Hotel & Spa
is proud to announce the opening of the Hotel's brand new all-day dining restaurant,
The Resort Café
, making its debut on Sunday, 19 April 2015. Located at the Lobby Level of the Hotel, The Resort Café is a treat for the senses. It celebrates the diverse cultural influences of the Malay, Chinese and Indian communities, serving a range of Malaysian, Singaporean, Indonesian, Thai, Vietnamese, Korean, Japanese, Chinese, Middle Eastern and Western dishes; providing diners with sensory sensations, bringing together the most authentic taste of popular dishes. Incorporating a bustling open-exhibition kitchen, diners are in for a unique dining experience with an exciting array of live cooking activities and chefs interactions featuring a la minute preparation with personalisation and customisation and an expansive display of dishes, a true theatre for the senses.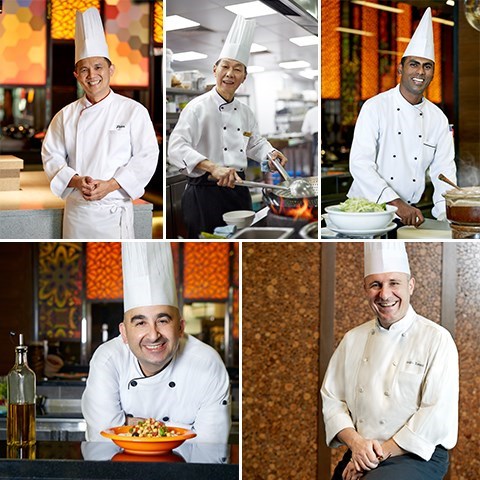 The Funtastic 5 Chefs of The Resort Café
The Resort Café's dining experience is presented by five (5) well-travelled Chefs known as the Funtastic 5 with diverse personalities and styles, bringing together the most authentic taste of popular dishes. Working together for the first time as a cohesive cluster of chefs, they have brought together fresh inspiration, new ideas, recipes and cooking techniques that are reworked, resulting in exciting range of dishes available in the a la carte menus, wide selections on the buffet menu rotations, express luncheon combinations, tiffin sets, hotpot sets and numerous others menu and dining options. The speciality chefs include: 1. Peter Lee Tong Siong (Siong Gor) Executive Chef, Sunway Resort Hotel & Spa 2. Raymond Yin Teng Poh (Uncle Ray) Executive Sous Chef, The Resort Café 3. Parthiban Nalliah (Anneh Thiban) Chef De Cuisine, The Resort Café 4. Ala'a Ali Ansawi (Ala'a Habibi) Middle Eastern Cuisine Chef, The Resort Café 5. Sergio Zanetti (Señor Sergio) Task Force Chef, The Resort Café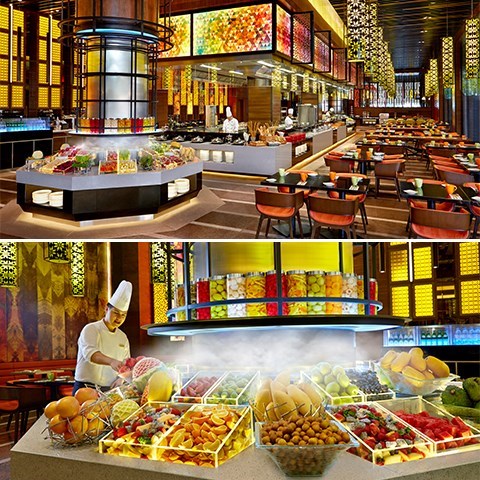 A kaleidoscope of bold colors and illumination of bright motif-inspired decor dominates the 17,588 square feet restaurant; accented further by its impressive 18 feet high double volume ceiling.
Delightful dining experiences with these eight (8) main themes / dishes dominate the culinary offerings at The Resort Café. Diners are able to indulge in these nostalgic dishes from the extensive a la carte menus and buffets: 1. Monumental Towers (Appetising Salad & Seasonal Fruits) 2. Malay Archipelago (dishes from Malaysia, Singapore & Indonesia) 3. Indo-Chiné (dishes from Thailand & Vietnam) 4. Oriental Far East (dishes from Japan, Korea & China) 5. Spices of India (dishes from Northern & Southern India) 6. Treasures of the Middle East (dishes from the Middle East) 7. Best from the West (Western comfort food, grills, carvings, rotisserie and churassco) and Desserts (old-school favourites / sweets, pastries & cakes).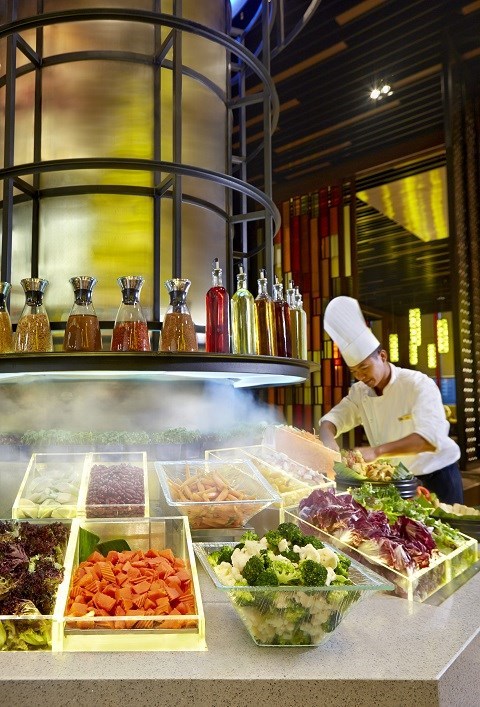 A first of its kind in a restaurant in Malaysia, the monumental octagonal-shaped Salad and Fruit tower are equipped with chilled water mists and refrigeration systems, blowing 10celcius cold mists at the greens and fruits, keeping them fresh, crisps and appetizing for a long time.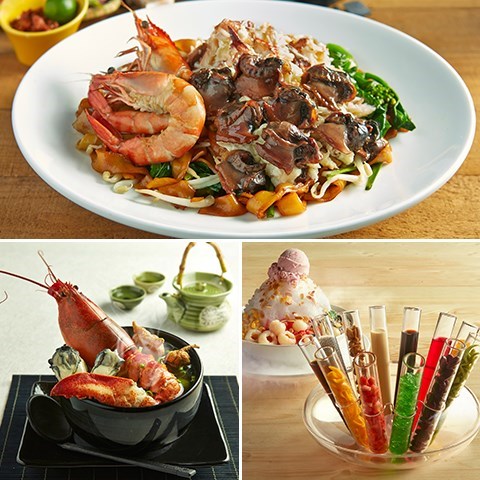 The Resort Café's very own "WOW-must-order"
Bringing wonderful flavours, The Resort Café's very own "WOW-must-order" are available in the a la carte menu. For a fantastic gastronomic adventure there, these are the 3 must-haves include: 1. Miso Soup with Maca Root, Fresh Oyster and Lobster By Siong Gor 2. Char Kway Teow with Jumbo Cockles, Prawns and Duck Egg Topped with Fresh Crabmeat By Uncle Ray 3. Cherry Blossoms on Mount Fuji (Ice Kacang Festival) By Anneh Parthiban The 362-seater restaurant will open its doors this 19 April 2015 (Sunday). The new menu will sure to ignite your appetite and revoke your senses with top-notch food executed by their specialty chefs. For enquiries or dining reservations, please call The Resort Café directly at +603 7495 2009 or visit www.sunwayhotels.com. The Resort Café is open daily from 6.00am to 11.00pm.