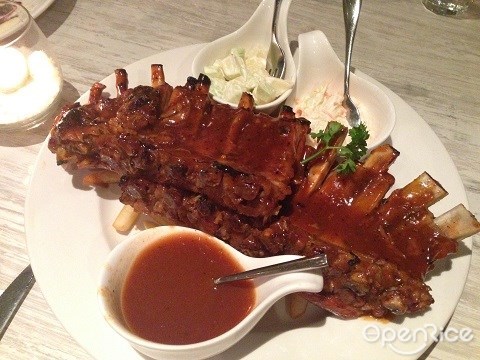 Oink Oink! Pork meat are juicy and flavourful and are widely used in Western, Oriental, and Thai cuisine. In this article, lets take a look at some of the best Western restaurants where pork is done right. Whether it's been grounded into juicy sausages, minced into thick flavourful patties, thinly sliced and smoked into bacon crisps, or chargrilled into a thick slab of steak, these pork dishes are equally satisfying.
(The restaurants below are arranged in no particular order.)
1. El Cerdo @ Changkat Bukit Bintang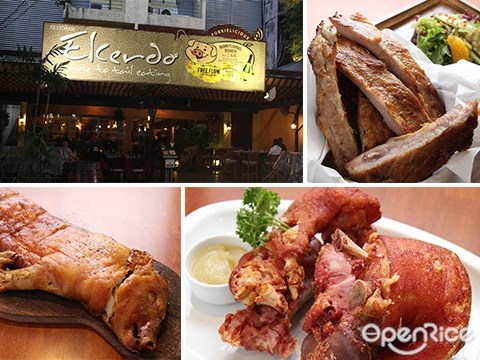 When it comes to Western pork dishes, El Cerdo is probably the top-of-mind recall owing to its long-standing reputation of up to 9 years in our beloved city centre. El Cerdo brings home-cooked pork flavours from the American and European continent onto a table, in Changkat Bukit Bintang. The Roasted Suckling Pig had a crispy skin and tender meat accompanied with juicy fats. The German Crispy Knuckle also had a crackling outer layer with soft and moist layers of meat and fat. Spare Ribs here are also good, succulent and tender and flavourful on its own.
2. Ante Kitchen & Bar @ Publika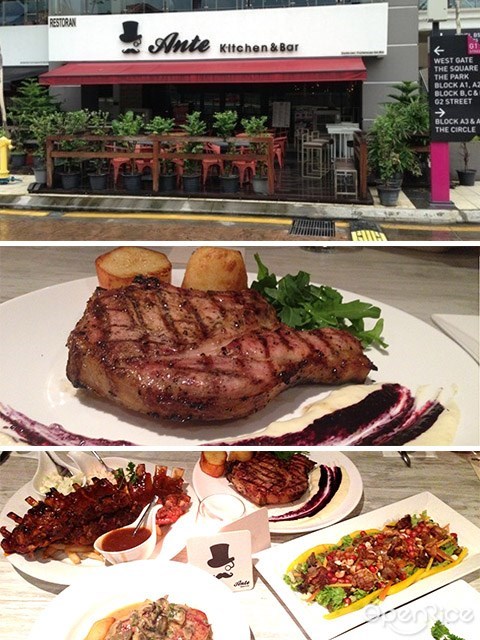 Pork is Ante's forte. Kick-off your meal with its oriental inspired Sweet Belly as a starter. For mains, The Char-Grilled Pork Steak, Pork's Collar, Pork Diane and The Hogger Pork Ribs are good choices. The Char-Grilled Pork Steak comes in a sizable portion and is grilled to perfection such that the moisture and tenderness of the meat is preserved yet a hint of smoky flavor can be traced. Meanwhile, the ribs are well marinated with barbeque sauce and easily falls off the bone. What blew our mind, however, is the Pork Diane – pork loin pan seared in wine on top of a bed of mashed peas drenched generously in creamy highly addictive sauce that is plate-licking-good. Those looking for a lighter meal may opt for the "Real Bacon" Carbonara.
3. Bavarian Beerhaus @ near KLCC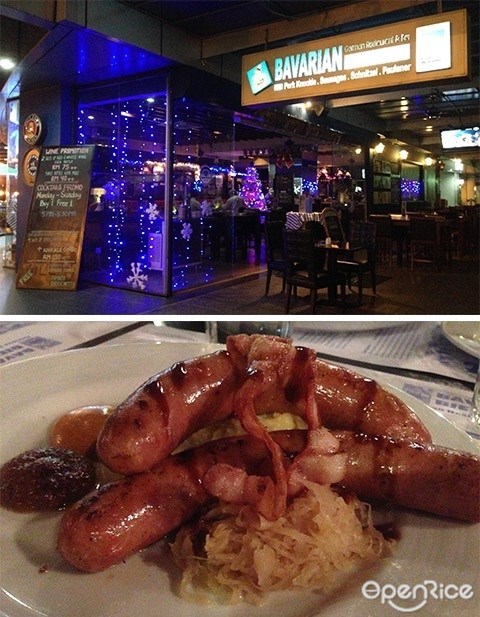 This is probably as German as it gets here in Malaysia. What you must try here – Pork Knuckle, Sausage, and Beer. The Pork Knuckle here has a beautifully crisp exterior and a tender, fatty, and juicy interior. Meanwhile, sausages are available in many flavours, all of which are juicy and extremely flavourful.
4. Burgertory @ Subang Jaya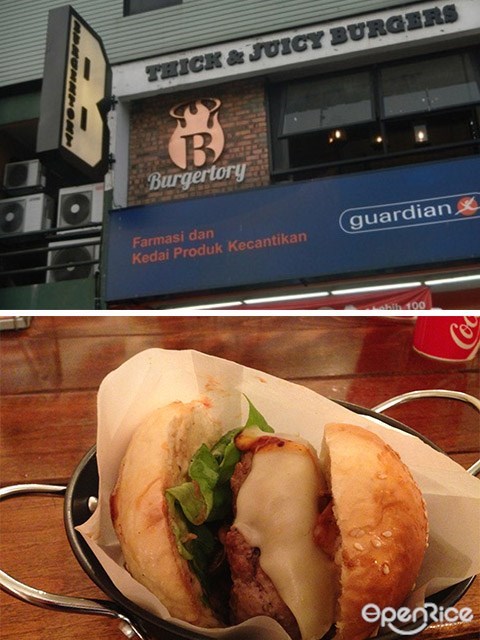 Speaking of pork burgers, Burgertory has notched the benchmark higher in Klang Valley. Burgertory's strength lies in its thick and juicy pork patties. Patrons can opt to have their burgers ala carte or by set, which comes with fries or apple waldorf salad for a healthier option. Burgertory is also very innovative with its burgers, with the likes of crunchy pork lard hidden amidst a thick slab of pork patty.
5. Betty's Midwest Kitchen @ Aman Suria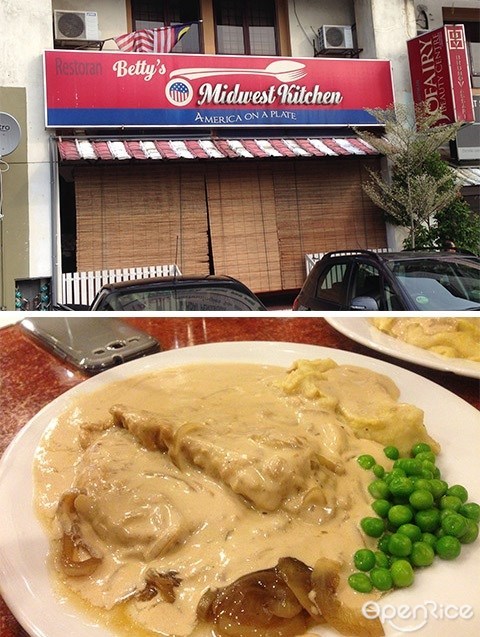 This family-run restaurant aims to bring "America on a plate" by dishing out homey, all-American dishes such as burgers, ribs, pork chops, meat loaf, fried chicken, and sausage. Almost every table will be ordering its infamous Dog Food – fries drenched with cheesy sauce, onions and topped with more cheese. Other than that, its Pork Chop with Country Gravy, Cheeseburger, Grilled Beer Braised Boston Butt, Sloppy Joe, and Classic Meatloaf are also good to recommend.
6. S.Wine @ Publika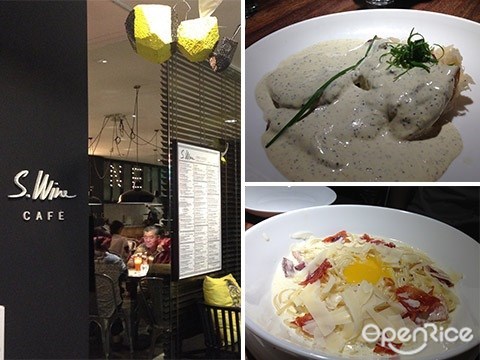 Albeit hidden at a quiet corner inside Ben's Independent Grocery, the atmosphere in S.wine is certainly nothing but quiet. For breakfast or a sweet treat, the French Toast with Grilled Bananas comes highly recommended. It comprises of thick slices of toast coated with egg, grilled and caramelized bananas, a dollop of smooth and creamy peanut butter, generous drizzles of maple syrup and the jewel of the crown – crispy, juicy, fragrant, and flavourful applewood smoked bacon.
7. Three Little Pigs and the Big Bad Wolf @ Bangsar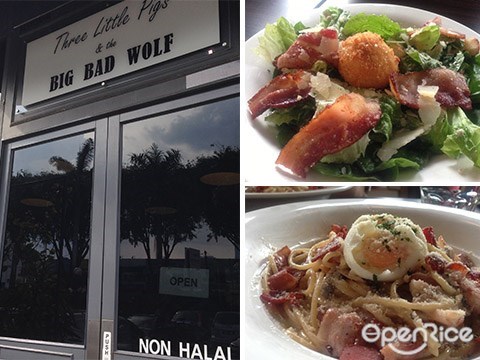 The Wolf's Favourite pasta is an absolute favourite here – creamy carbonara with generous bacon bits and topped with a perfectly poached egg. For those who are more health concerned, the Ceasar Salad is definitely worth the mention, it is topped with streaks of crispy, smoky bacon and a bread-crumb-coasted poached egg to give it an extra bite. Their burgers are also recommended, with the typical qualities to succeed such as a thick, juicy, and flavourful patties and of course – bacon.
8. The Hungry Hog @ Subang Jaya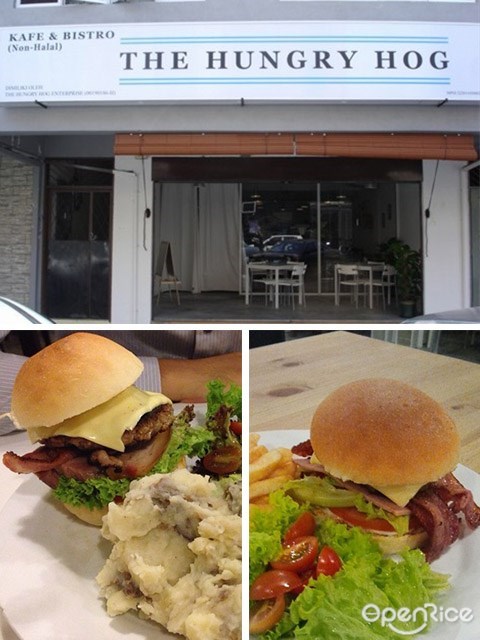 At The Hungry Hog, porky renditions are introduced from its appetizers, mains, and even desserts! Food here are affordable and has a pleasant homey feeling about it. The Three Little Pigs pork burger is perhaps the most popular dish here, followed by favourites such as Bangers and Mash, Pork Ribs, and Pork Chops. Asian inspirations are also sprinkled across the menu, such as the crispy fried pork skin and roasted pork which makes for the perfect starter.
9. The Pork Place @ Puchong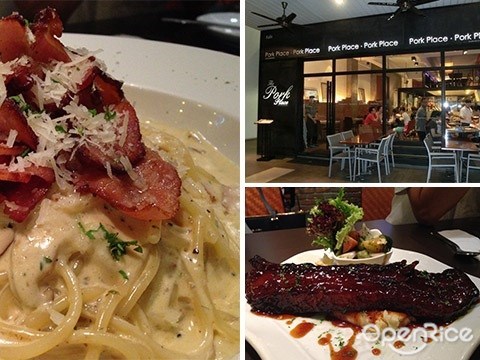 Ran by a family owning a pig farm, patrons can be reassured of the freshness and quality of the pork meat served here. A mix of Western and Asian porky affairs can be found here, but we found the Western picks more pleasurable. Best picks from this place will be its pork burgers with thick and flavorful patties, spaghetti carbonara served with crispy bacon streaks, braised pork leg, pork chops, and pigs in blanket. For those who can't get enough of Pork Places' porky offerings, freshly packed raw pork ingredients are sold here too, such as the pork burger patties and sausages.
Find the best pork chop in KL
Discover more Western Food
Other Related Topics