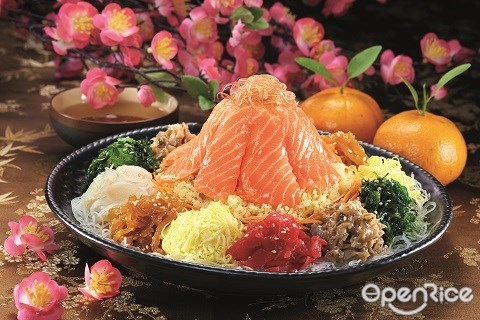 A prosperity toss or Yee Sang is usually consumed during Chinese New Year and is considered as a cultural activity in Malaysia and Singapore. This dish is eaten with treated raw fish during the olden days, but now many of the restaurants will replaced them with many other ingredients that mix well together with the Yee Sang. A plate of Yee sang toss consist of white radish, carrots, turnips, red pickled ginger, sun-dried oranges, key-lime leaves, Chinese parsley, chopped peanuts, sesame seeds together with a packet of crispy crackers and some spices to mix them all up. As for the fish ingredient, there are a few choices to choose from like salmon, abalone, and jellyfish; while some consist of a platter of fruits and vegetables mock 'Yee Sang'. Since it's an annual affair that you can only get them during the festive seasons, grab the opportunity to toss for a better year, career, health, wealth, family and relationships too! Wait no more; let us check these great places to get some yummy and delicious Yee Sang today!
(The restaurants are listed in no particular order. Some of the establishments below are not halal)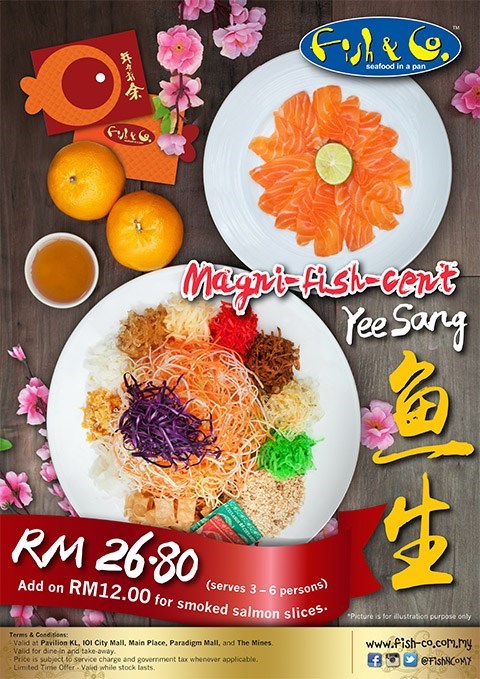 Photo credit to Fish & Co
Not just fish and chips they sell, they are now offering you with a limited time offer of Magni-fish-cent Yee Sang. Priced at RM26.80 (without salmon), this yee sang serves 3 – 6 person. You could top-up RM12.00 for Smoked Salmon Slices too! Available for dine in and also takeaways, there are no reason for you to miss this limited offer out!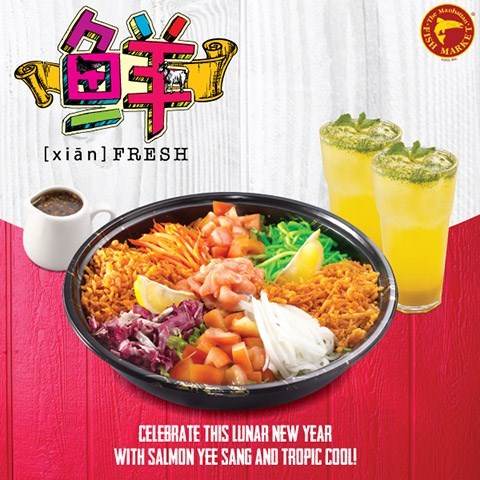 Photo credit to The Manhattan FISH MARKET; Certified HALAL restaurant by JAKIM
Thinking for a place for Reunion dinner? Since it is very auspicious to eat fish during Chinese New Year because it represents 'Nian Nian You Yu' that means abundant of good fortune; why not head to The Manhattan FISH MARKET? They too served Yee Sang this year! Choose from any 2 main course from their menu and you may add-on RM16.80 to enjoy drinks and Yee Sang dish too! Simply the best because it is light, appetizing and refreshing as a starter! Contains shredded vegetables (tomatoes, radicchio, carrot & flavored white radish), crumbs and raw smokey good salmon slices! Plus it comes with uniquely made Tangy Sesame dressing for you to drizzle them up together! Nothing's fishy! Just the freshest Yee Sang you'll get from The Manhattan FISH MARKET! Go grab them today!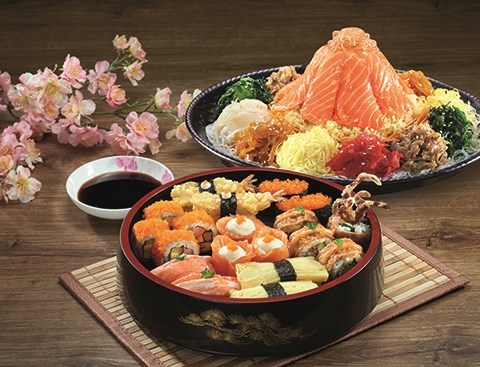 Photo credit to Sakae Sushi
This time around, Sakae Sushi once again launched their Fortune Salmon Yee sang that comes in two auspicious themes of 'Success' – RM29.80 (for 1-2 pax) and 'Money' – RM49.80 (for 6-8 pax). Available from 19 January 2015 – 5 March 2015, you can now enjoy their yee sang at all of their outlets. Their yee sang uses fresh air-flown salmon and masterfully prepared by their chefs by using thick slices of this salmon so that you can indulge joyously! What makes it special is that they use a special signature sauce that is appetizing and refreshing! There's too a CNY Treasures Set Combo (RM88.00) that comes with sushi and yee sang!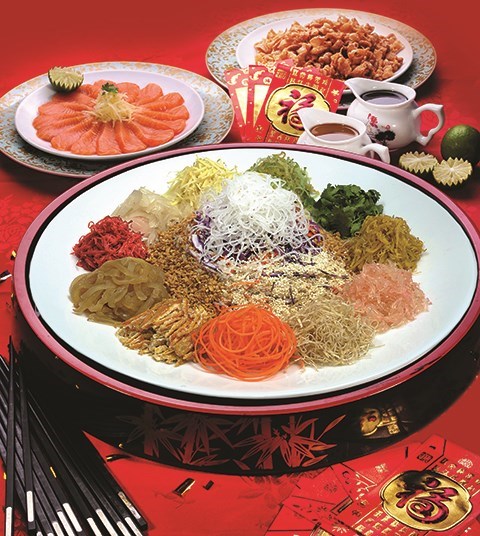 Photo credit to Dragon-i
Being a well-known Chinese dining place in shopping malls, they are always well-prepared to usher all the joyous occasions with you! This year, indulge on their house special of Raw Salmon fish with Jelly fish Yu Sheng – RM48 for 1/2 portion; RM68 for 1 portion. Besides, they offer you with another choice of Australian Abalone with Raw Salmon fish Yu Sheng – RM98 for 1/2 portion; RM138 for 1 portion. Hurry and get yours now from Dragon-i & Canton-i and toss for a better year!
Click here for Canton-i outlets listing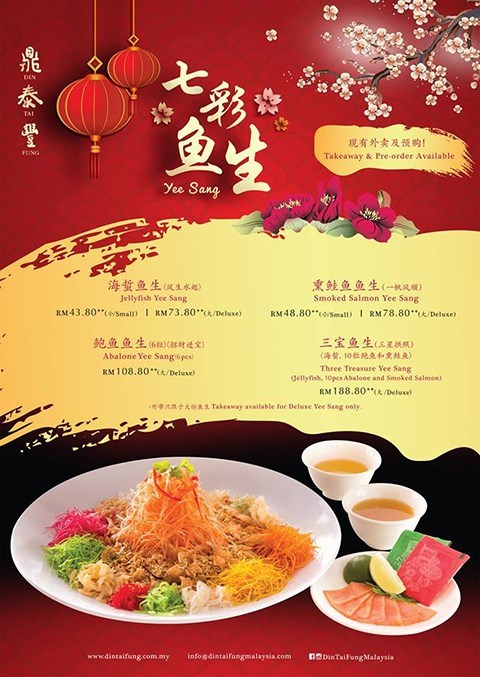 Photo credit to Din Tai Fung
This year Din Tai Fung does offer you Yee Sang to toss this Chinese New Year. 4 selections of Yee Sang available for you to choose from Jelly Fish Yee Sang, Abalone Yee Sang, Smoked Salmon Yee Sang and Three Treasure Yee Sang. From RM43.80++ onwards, comes in Small or Deluxe sizes (selected set only), you'll be able to enjoy them when you dine in and also it is available for takeaways and pre-orders too! While enjoying tossing them up for good fortune, do indulge on their Xiao Long Bao that is just as tasty as their Yee Sang too!
Photo credit to Tai Thong
An annual celebration of Chinese New Year, Tai Thong presents you with 3 of their Specialty Yee Sang of Double Happiness Yee Sang, Golden Fortune Yee Sang and Prosperity Yee Sang that is priced at RM68 for 1/2 portion and RM98 for 1 portion. For Double Happiness Yee Sang, chicken floss and crispy enoki mushroom is used as part of the ingredients. Golden Fortune Yee Sang – a healthy yee sang that uses assorted Fruits and Nuts. As for Prosperity Yee Sang, you can indulge on Salmon and Snow pear! They do offer some add-ons ingredients that you can customize according to your own liking; ranging from 3-Head Abalone, Fresh Scallop, Tiger Prawns, Crackers and more!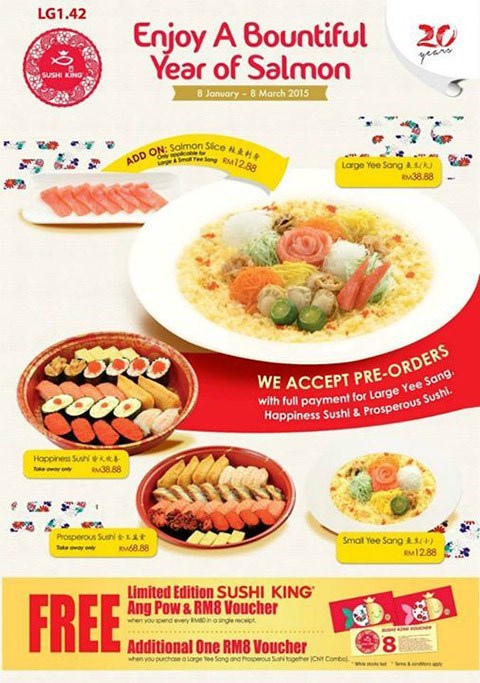 Photo credit to Sushi King
Another Japanese restaurant that ushers the Chinese New Year celebration together with you! Uses Salmon fish too, Sushi King offers you 2 different sizes of Small and Large Yee Sang that each priced at RM12.88 and RM38.88. If you're a Salmon craze, you can opt to add on Salmon Slice for RM12.88 (applicable only for every Yee Sang orders). To enjoy this Yee Sang without worries, you can even call pre-order them up (Full payment required). Get yours today too!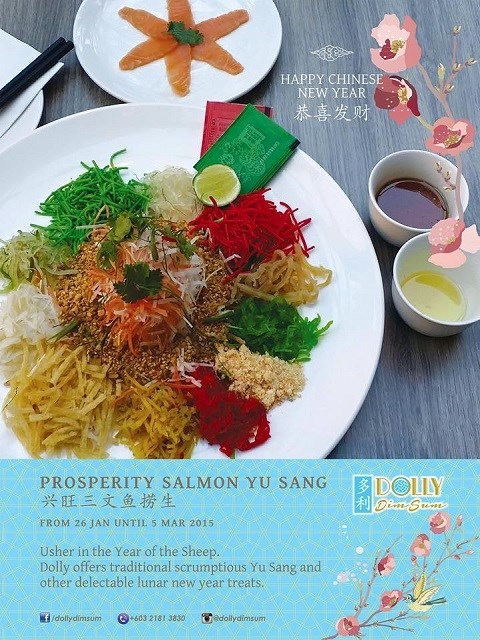 Photo credit to Dolly Dim Sum
This may sounds new to you, but easily located at Avenue K, they do serve Dim Sum and now during the festive season, they serve Yee Sang from 26 January until 5 March 2015! Offers you a traditional scrumptious Yu Shang, they uses Salmon fish too! Wait no more, head over for some dim sum and toss to prosperity today!
Find out more best fish restaurant
Discover more hottest sushi restaurant