What comes to your mind when you think of
KL Chinatown
or
Petaling Street
? A place where foreign laborers can be seen all over the place? Or a place where one can find lots of delectable traditional Chinese hawker foods? No matter what impression you have of KL Chinatown, what's for certain is that this place is always in the process of rapid change. More recent developments include a new MRT station that is under construction at Jalan Panggong, and a new wave of restaurants and cafés that are quietly mushrooming along the surrounding area of Petaling Street, stretching from Jalan Sultan, all the way to Jalan Tun H.S. Lee.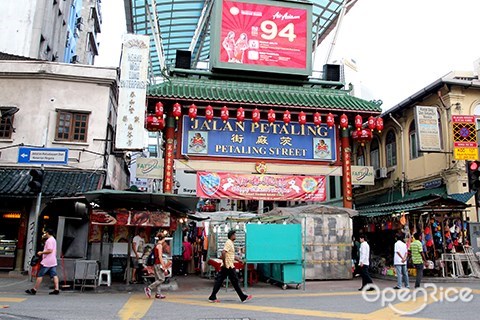 Let's take a look at some of the new and interesting eateries in KL Chinatown you might not know!
(The restaurants below are arranged in no particular order. Some of the establishments are not halal.)
1. The Front Door @ Jalan Sultan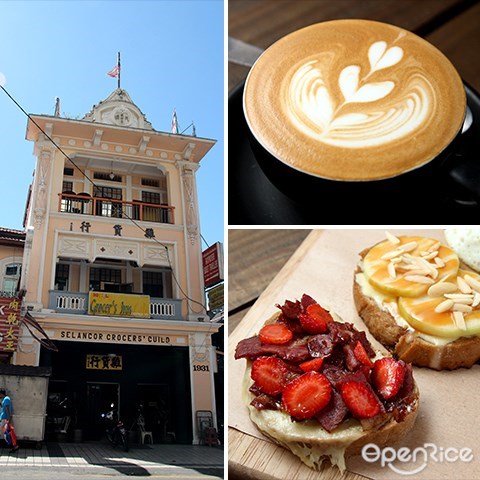 When passing by this old and classic Chinese building at Jalan Sultan, the least you would expect is to find a new and fancy café at the ground floor. Nestled in a historical building that was built in 1931,
The Front Door
is founded by the same owner of the Grocer's Inn upstairs. The whole café is painted in pitch black while maintaining some of the classic elements of the building. The signature snack here is what they call the open-faced sandwiches, which come with 10 different flavors. The sandwiches can be ordered in a set of 3 slices or 5 slices. One of the more popular flavors is the sandwich topped with pesto, grilled chicken, and caramelized orange.
2. Coffee Amo @ Jalan Sultan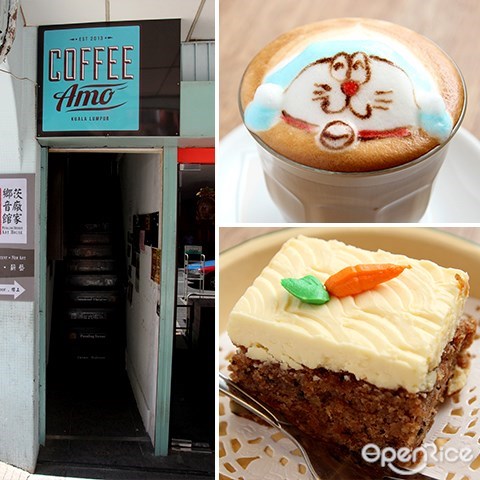 Currently celebrating their 1st anniversary,
Coffee Amo
located on the first floor is arguably the most successful new café in Chinatown. The main attraction here is the 3D coffee art, which is extremely popular among youngsters and has gone viral on social media. However, not all coffees come with a 3D coffee art. If you want to take a "selfie" with the 3D coffee art, you have to order one of their 6 flavored coffees, such as ocean 11, rose garden, sweet 16, etc. To cater to more coffee lovers, they have opened another new outlet in TTDI.
3. Einstein Café @ Jalan Sultan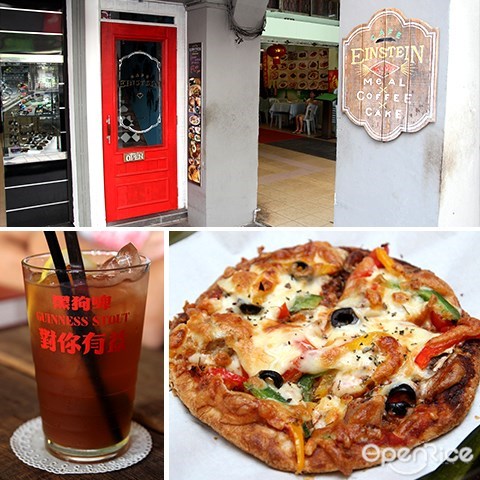 Quietly hidden on the first floor just a few shop lots away from Coffee Amo you will find a new and cozy café called
Einstein
. Mainly catering to student crowd from nearby independent high schools, the café offers a quiet and comfortable environment for students to study and whet their appetite with healthy foods. All the dishes on the menu are vegetarian, and dairy and egg products are used to prepare some of the dishes. One of the specialty dishes here is the 7-inch Four Season Pizza, which is topped with mocked meat, green pepper, black olive and mushroom.
4. Malaya Hainan @ Jalan Panggong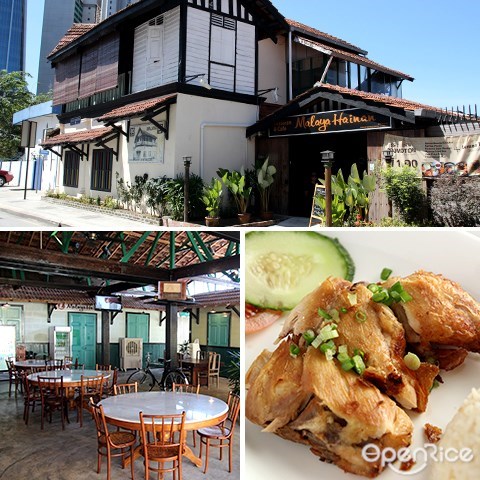 Housed in a two-storey historical building,
Malaya Hainan
is a new restaurant specializing in Hainanese Cuisine. Step into the restaurant and be transported to old Malaya in the 50s, as the interior is tastefully decorated in classic style with old school marble tables and wooden chairs. The structure of the old building, which used to be the post office of Chinatown, is well preserved with minor touch ups. Food wise, the dishes are mostly local favorites, such as Roasted Chicken, Curry Chicken, Nasi Lemak, Nyonya Fried Rice and Hainan Chicken Chop.
5. Ali, Muthu & Ah Hock @ Jalan Panggong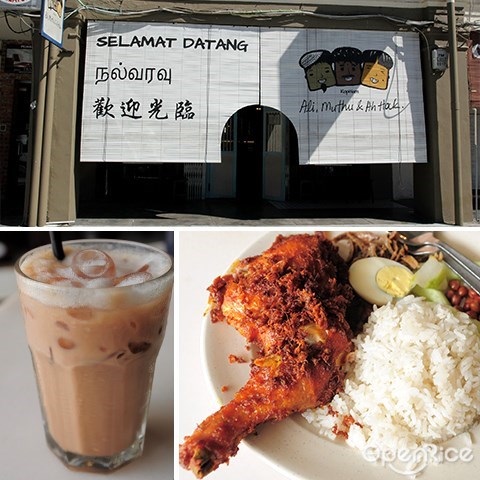 If you are a frequent visitor of Oasis Square in Ara Damansara, you should be quite familiar with
Ali, Muthu & Ah Hock
, which has successfully built its reputation for mouth-watering Nasi Lemak with Fried Chicken. Located next to the famous Old China Café, the second outlet of the restaurant in Chinatown adopts a similar concept of serving delicious local dishes in a classic and beautiful kopitiam setting. The signature Nasi Lemak Ayam is definitely a must-try. The chicken whole leg is marinated and deep-fried to perfection until the skin is crispy and the meat succulent.
6. Aku Café @ Jalan Panggong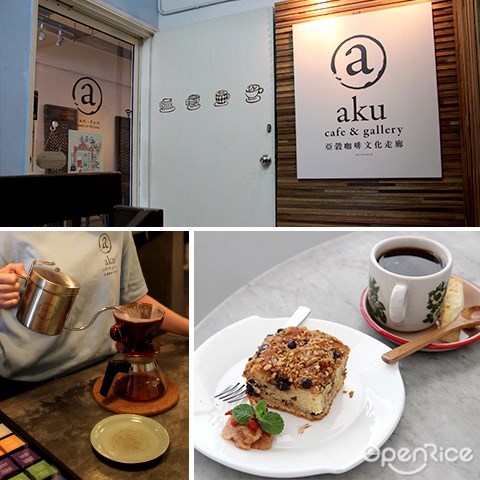 Although this café has operated for more than a year, very few coffee lovers or hoppers know about its existence, mainly due to its secluded location on the first floor above a vegetarian restaurant. Walking into
Aku Café
is like entering a secret garden filled with classic art works. Occasionally, the café will work with local and foreign artists to showcase their paintings in the café. Most coffee enthusiasts come here for their hot coffees, which are freshly ground and brewed using high quality coffee beans from different countries. What's more, the hot coffee can be prepared using hand brewed or siphon methods.
7. Lucy in the Sky @ Jalan Tun H.S. Lee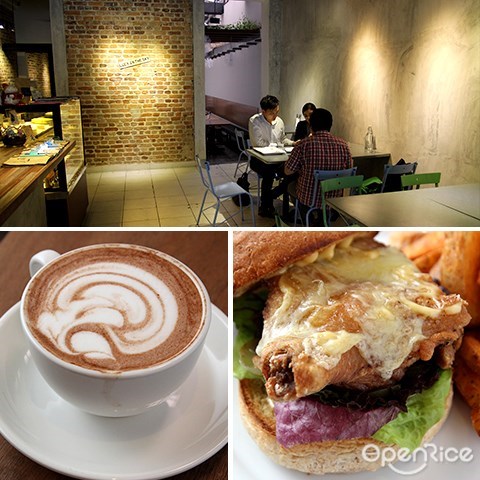 Derived from a famous song by the Beatles,
Lucy in the Sky
is a café that has been around for more than a year. The design of the café is quite special, because the main seating area is divided into two different parts by a brick wall. One side is serene and more dimly lit, while the other side is very bright with natural sunlight penetrating through the glass ceiling. A good selection of Western dishes is available here, including all-day breakfast, burger, pasta, salad, sandwich and soup.
8. Yum Cha @ Jalan Petaling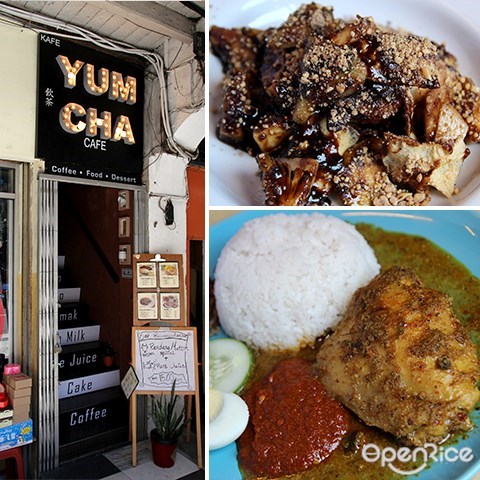 Meaning "catching up with friends" in Cantonese,
Yum Cha
is a new café located on the first floor at the main street of Jalan Petaling. The café's owner is also the owner of the gift shop on the ground floor. To maximize the rented space, he decided to convert the storeroom upstairs to a café offering affordable coffees and dishes for backpackers, as there are many backpacker inns on the street. The food and drink here is value for money. An espresso is only priced at RM5, while Nasi Lemak Curry Chicken is only priced at RM8. Click
here
if you are also interested in the best hawker foods in Petaling Street!
Find out more best nasi lemak restaurant
Discover more hottest western variety restaurant
Other Related Topics