Egg waffle ice cream might be one of the most insane yet the best dessert creation ever. Everyone is addicted to this heaven made combination of hot and cold, crusty and creamy, because it's simply irresistible! Here are 7 places where you can get delectable egg waffle ice cream in Klang Valley: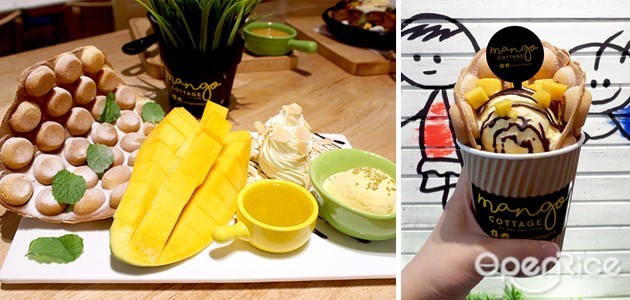 Mango Cottage that located in Sri Petaling is the first dessert and café concept store run by Hui Lau Shan, the famous mango dessert chain from Hong Kong. Yes you saw 'Hong Kong' so it's no surprise at all to find egg waffle here, as it is one of the most common street snacks in Hong Kong. Mango Cottage's egg waffle is served together with fresh mango and vanilla ice cream, complemented with homemade mango sauce – it's available in cup too, which is convenient for on-the-go consumption, very thoughtful indeed.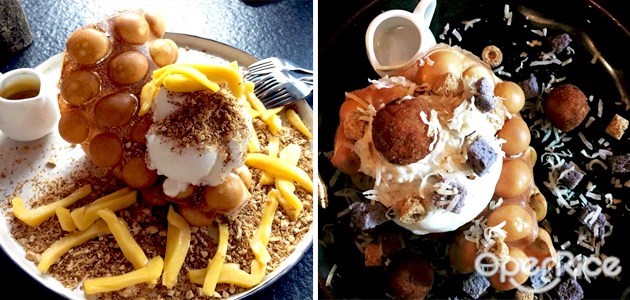 Puchong folks definitely love Ground Eatery for their genius dessert creations – sweet and savory combination with some local twist, it's nearly impossible to resist all the sinful goodness here. Jack The Baba HK Eggettes is the biggest star attraction – crispy egg waffle topped with creamy coconut ice cream, toasted peanuts, jackfruits and salted Gula Melaka caramel sauce, simply satisfying! Try out the Flossy Berries HK Eggettes too, the combination of chicken floss and roasted white chocolate lavender ice cream is so ready to impress your demanding taste buds. (Photo credit: eileen1108 & wee_stephen)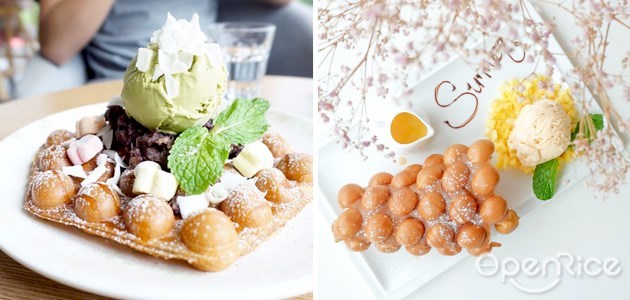 Always include Summer at 17°C in your café hopping list if you're an Instagram addict, because the bright and clean interior of this café definitely fits in with the current #ootd or #flatlay trend. The egg waffle desserts here are constantly receiving praises from patrons for their dynamic and lip-smacking flavors. Aloha Summer Eggette is a refreshing combination of passion fruit and mango, diligently perfected with sweet maple syrup, wouldn't this be a good way to start your relaxing weekend? (Photo credit: Summer at 17°C Cafe)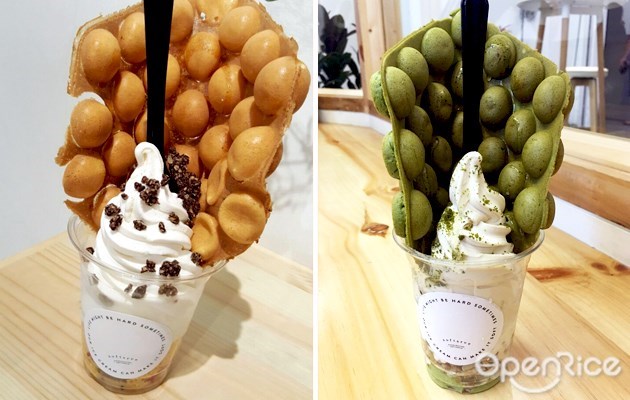 Softsrve is no doubt one of the best ice cream joints in Klang Valley that lives up to the hype. You can find awesome soft serve pairings here – churros, waffles, dreamy cotton candy, and last but not least, egg waffle! Smartly named as Big Breakfast, Softsrve's egg waffle soft serve is loaded with plentiful components like egg waffle, cereal milk soft serve, chocolate granola, caramelized cereal, espresso jelly and laced with maple syrup, certainly the sweetest 'breakfast' that we can ever ask for.
EGGU was the first to introduce egg waffle ice cream dessert in Klang Valley, and the hype was real! Their signature Eclipse is made from a double twist of vanilla and dark chocolate soft serve, paired with chocolate chip egg waffle – it is smooth, creamy, crispy, rich and delightfully sweet, fully packed with abundant textures and flavors, it'll be such a shame to miss this!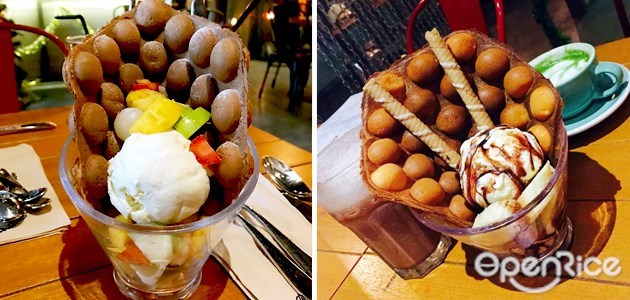 D'workshop Cafe & Bar was first widely recognized by public for their savory egg waffle pizza, but their egg waffle ice cream is equally worth trying too! The egg waffle here is perfectly done to crispy and fluffy finish, paired with a huge scoop of smooth vanilla ice cream, we're really sorry that you might need to call off your diet plan for a moment.

(Photo credit:

shiro_orihs & joeyfook)