*Some dishes mentioned here are non-halal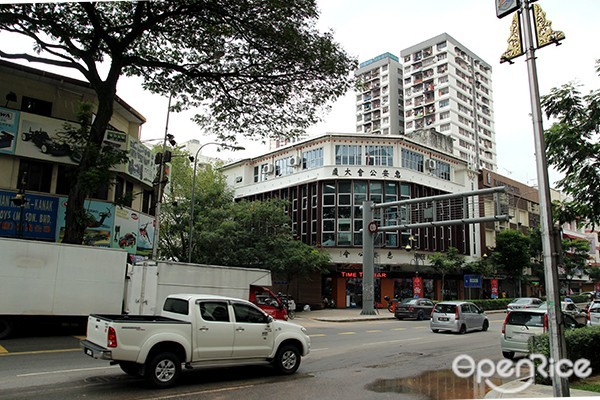 Chow Kit
is a bustling district full of life and vitality. The traffic here is always congested, as many buses have to drive through
Jalan TAR
(formerly known as Batu Road) to reach the city centre. Chow Kit was at its peak in the 1980s, when people from different parts of the city flock to the place to shop at the famous Hankyu Jaya and Batu Road supermarkets. Now, most of the Chinese residents have moved, and the population is replaced by a large number of Malay and Indonesian.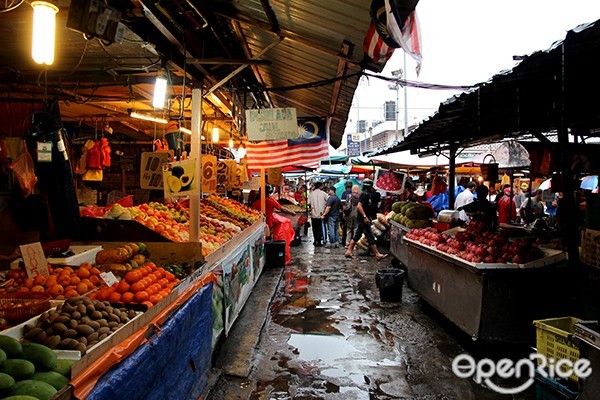 Just a few steps away from Chow Kit Monorail station is the popular wet market called
Bazaar Baru Chow Kit
. It is one of the largest wet markets in the heart of the city. All kinds of fresh products are available here, including fruits, fish, meats and vegetables. Due to the complex ethnic composition of the district, you can tantalize your taste-buds with a wide variety of delicacies, including Chinese, Malay, Indonesian and Arabic dishes.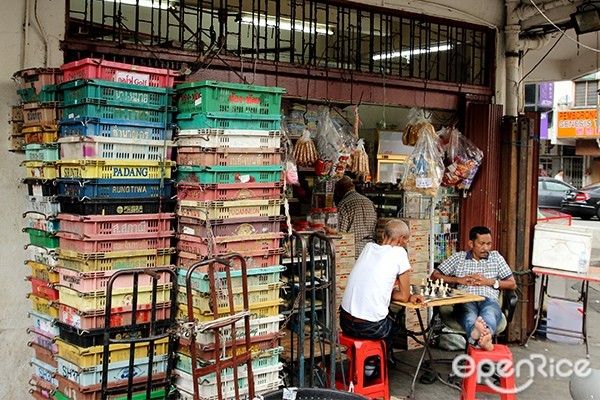 Here is a list of delicacies that you must try if you happen to drop by Chow Kit
(please click the restaurant name for address and other info)
:
1. Pan Mee
Where to eat ah? Kin Kin, Super Kitchen, Tian Yake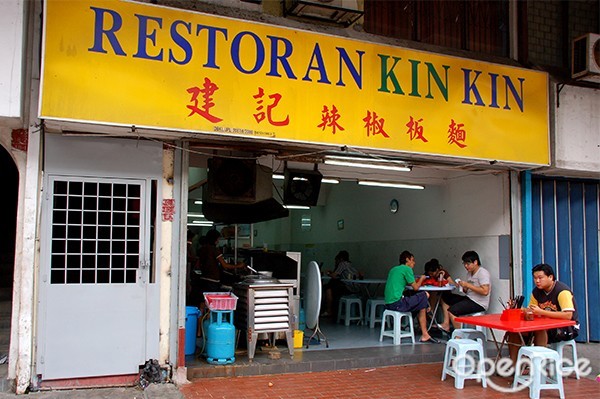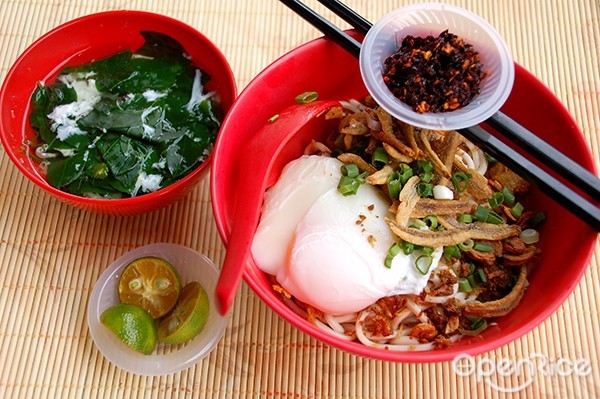 If there is only one food that we can choose to represent Chow Kit, it is definitely
Pan Mee
, because Chow Kit alone has three famous Pan Mee eateries! The first one is
Restoran Kin Kin
, whose owner had invented the now popular Chili Pan Mee some twenty years ago. Their famous Chili Pan Mee comes with a bowl of dry noodles topped with minced pork, half-boiled egg, ikan bilis, fried shallot and spicy chili flakes accompanied by a bowl of vegetable soup.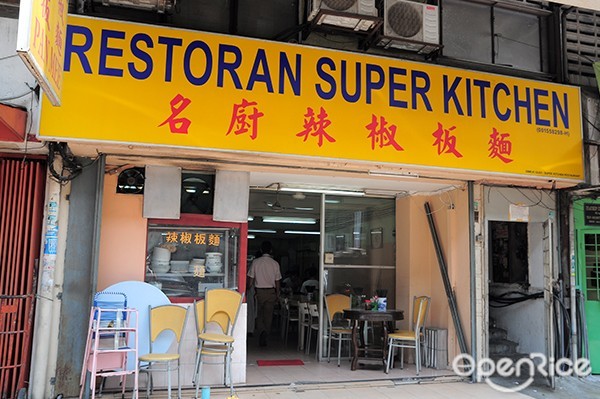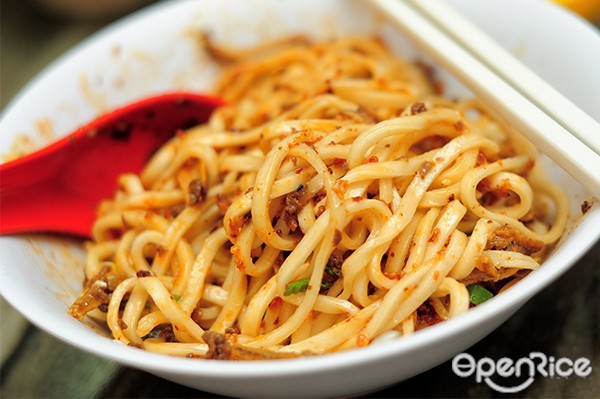 Restoran Super Kitchen
is another Pan Mee restaurant located right opposite Kin Kin. They are also famous for Chili Pan Mee. Before you eat, remember to stir the noodles with aromatic chili flakes, ikan bilis, minced meat and half-boiled egg to enjoy the dish to the fullest. Apart from Pan Mee, you can also satisfy your tummy with delicious Dumpling Soup, Deep-Fried Pork Meat, and Five-Spice Pork Meat.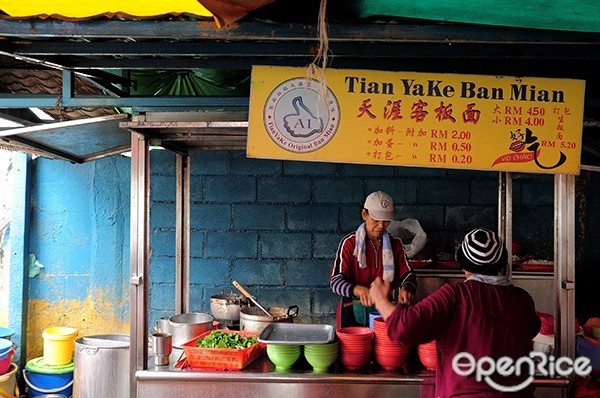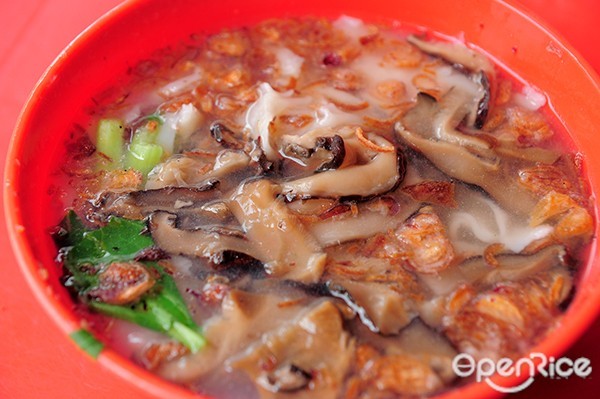 Ok, we've had enough of Chili Pan Mee. Let's try another version of Pan Mee at the equally famous Pan Mee stall called
Tian Yake
. This humble stall located at a corner of Lorong Haji Taib 5 offers only one type of Pan Mee, which is
Soup Pan Mee with Mushroom and Meat
. Tian Yake distinguishes itself from other competitors with its homemade noodles that are freshly handmade and cut daily on the spot to ensure the texture of the noodles is smooth and fluffy when cooked.
2. Traditional Chinese Biscuits
Where to eat ah?
Kedai Sin Hua Bee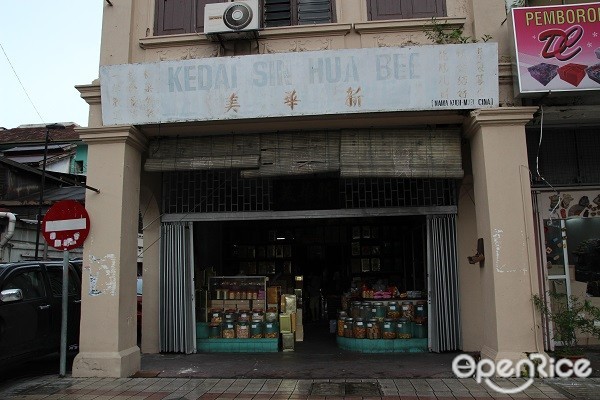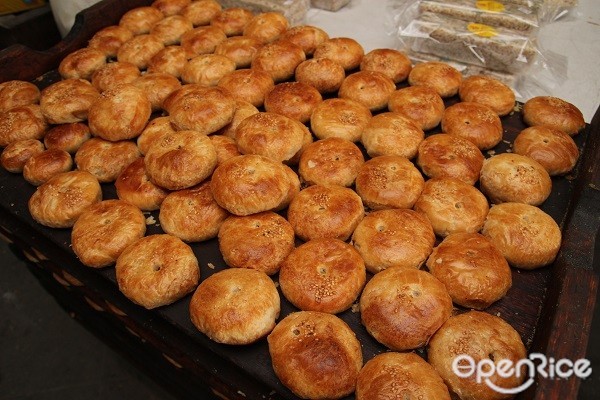 Not far from Chow Kit Monorail station you can find a 60-year-old traditional shop that is famous for homemade Chinese biscuits. Many patrons keep revisiting this old shop for their handmade
Bean Paste Biscuit
and
Wedding Biscuit
. During the festive season of Chinese New Year, they will offer traditional Hakka style
Rice Crackers
that are crispy and fragrant. Apart from homemade pastries, a wide variety of old-fashioned cookies can also be found here. They will surely bring back your childhood memories!
3. Fish Head Noodles
Where to eat ah?
Tao Xiang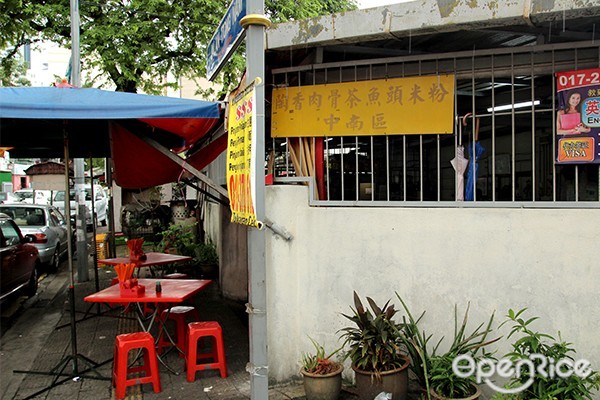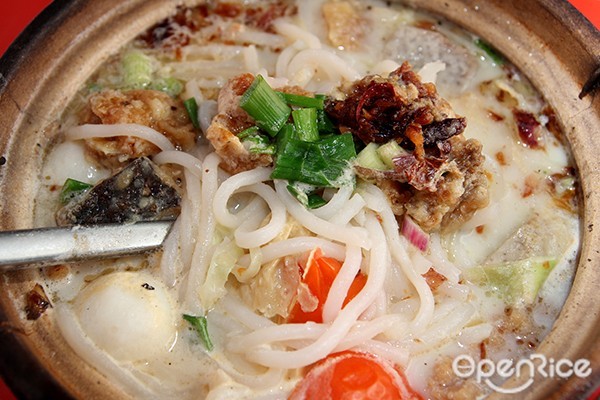 In Chow Kit, mention
Fish Head Noodles
to anyone, and they will point you to the famous
Tao Xiang
. When you are walking along Jalan Tiong Nam, look carefully, as the restaurant looks more like an ordinary house than a restaurant. During lunch hours, the place is always packed with office crowd who can't wait to satisfy their cravings for their famous
Claypot Fish Head Noodles
served with lots of ingredients, including deep-fried fish, fish ball, fried beancurd skin, fried shallot, tomato and yam.
4. Braised Pork
Where to eat ah?
Ah Heng Food Corner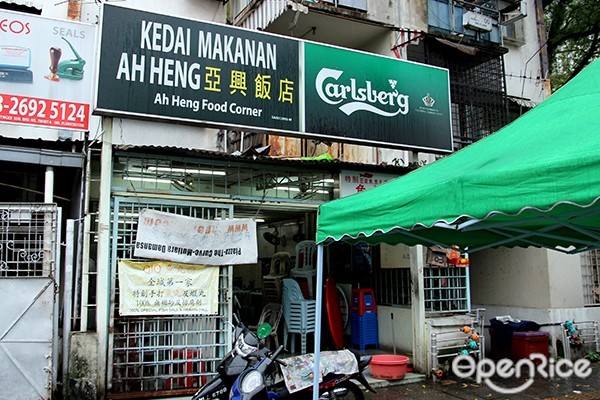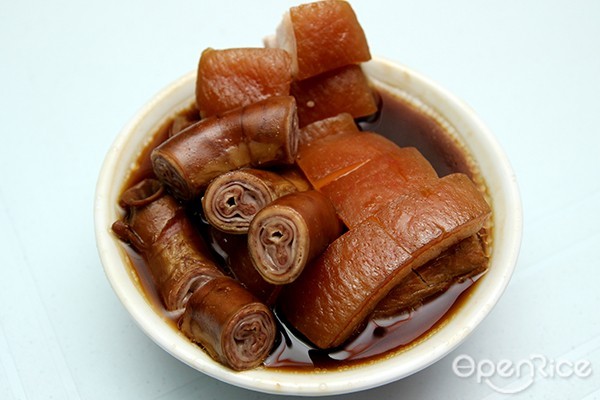 Opened daily at 6pm,
Ah Heng
is a famous restaurant at Jalan Tiong Nam specializing in all kinds of braised pork dishes, such as Braised Pork Intestine, Braised Pork Trotter, Braised Pork Ribs with Bitter Gourd and Braised Pork Belly with Preserved Vegetables. All pork dishes are prepared in Johor style with thick and aromatic soup. You can choose do dine outdoor to experience the hustle and bustle of the small alley at night or dine indoor in a comfy setting.
5. Steamed Fish Head
Where to eat ah?
Ong Lai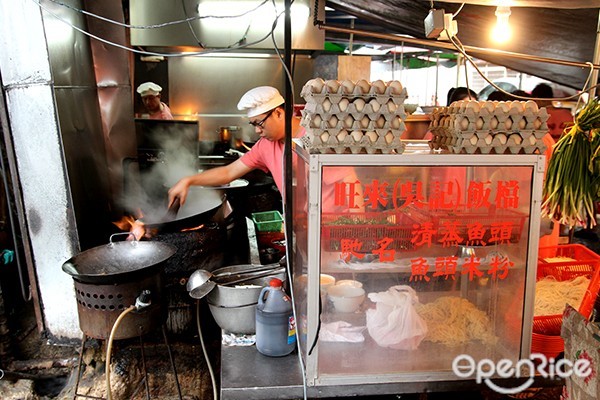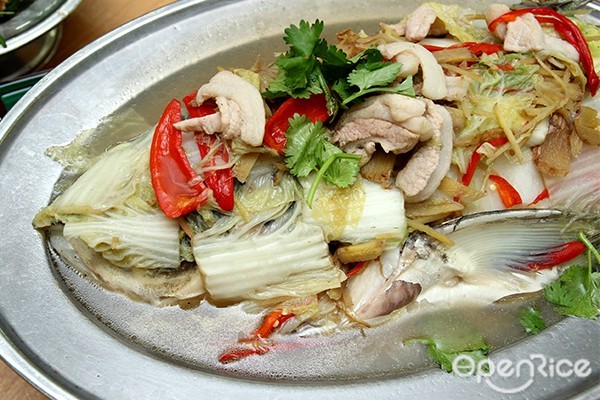 Tucked away at Jalan Raja Laut,
Ong Lai
is a
dai chao
restaurant that is only open at night. It has been around for more than four decades and is now run by the third generation. In fact, the place is so well known that it is frequently visited by celebrities from Hong Kong and Taiwan. Ong Lai's signature dish is their
Famous Steamed Fish Head
. The fresh fish head is covered with cabbages, chili, and pork slices and steamed with a big stove until the meat is soft and tender with a hint of sweetness.
6. Roasted Meat
Where to eat ah?
Shun Shun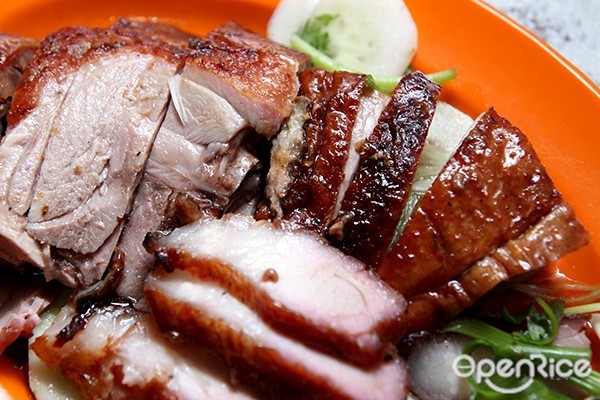 Hidden in a back alley not far from the 7-11 convenience store,
Shun Shun
is a popular roasted meat stall that has been around for more than 3 decades. The stall offers a good selection of roasted meats, including
roasted duck, roasted pork, char siew and roasted chicken
. Their signature duck is roasted with charcoal fire until the skin is crispy and the meat tender and juicy. Also popular is their Salted Vegetable with Tofu Soup. They have to prepare two big cauldrons daily to satisfy the demand!
7. Bakso
Where to eat ah?
Restoran TAR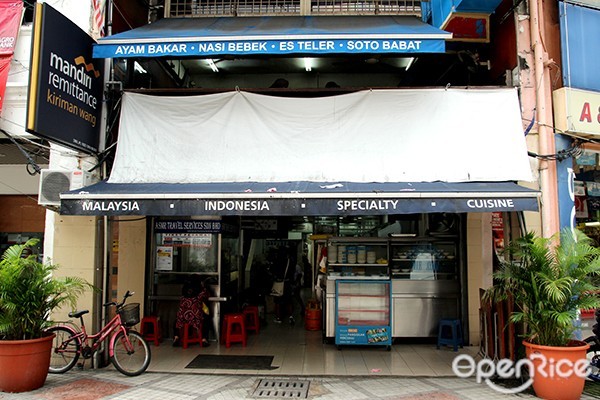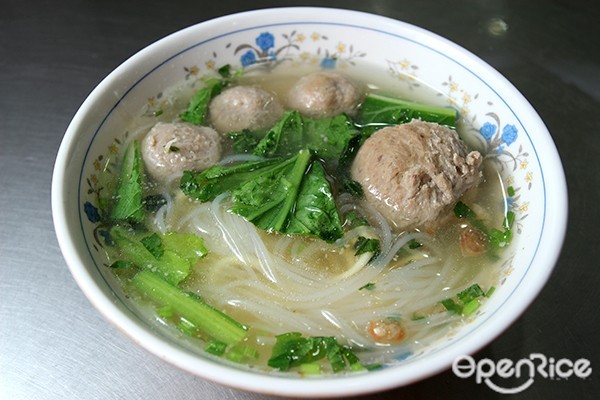 With the increasing population of Indonesian in Chow Kit, more and more Indonesian restaurants and hawker stalls can be found in this area.
Restoran TAR
is a restaurant that offer popular Indonesian dishes, such as
Ayam Penyet, Bakso, and Es Teler
. If you are curious about what an Indonesian noodle dish tastes like, try their Bakso, which is a bowl of delicious soup noodles served with a large beef ball and three small beef balls. Also highly recommended is their best-selling Es Teler dessert with nangka, coconut flesh, and avocado. If you are looking for delicious and affordable dishes in the city, give Chow Kit a try and you'll be rewarded with a full stomach!
Find out more best hokkien mee restaurant
Discover more hottest petaling street restaurant
Other Related Topics