Boiled for hours using herbs, spices, and the main ingredients and then served hot in a clay pot, Bak Kut Teh will always be the crowd pleaser for sure. Savory and filled with herbs, some are darker in color and some lighter, fat and lean meat and everything you need in the hot clay pot itself!

1. Heng Kee BKT @PJ
Available in most of the parts from a pig, you surely gonna head over here to try them out. Serves in bowls instead, you'll notice many tables ordered a lot like the fat and lean meat, pork stomach, pork liver, pork intestines, tofu 'pok', fried fritters, single bone ribs and many too ordered the Chinese mushroom too.
Having both soup and dry option, Kee Hiong BKT was still one of the neighboring area favorite. Serves yam rice as well, they are fluffy and flavorful. Dry BKT here were perfectly braised that comes with ladyfingers, dried shrimps, and pork meat. Slight spicy as dried chilies were used in it, the soup version has its own 'oomph' as it tastes thick and herbal too.

3. T.T.K Restaurant @ Pandan Jaya
Operating for more than 50 years, many were here for the Double Boiled Bak Kut Teh with extra herbs that are really thicker and more herbs taste. Tender meat like ribs, pig stomach, mushrooms can be seen in it. Besides, they are famous for braised pork trotters, hot pepper soup, and the yam rice too.

4. Restaurant Fatty BKT @ Old Klang Road

Located near to Scott Garden here, many would flock this place due to the Bak Kut Teh and the steamed 'Song' fish head. Looking at that clay pot of BKT, it has pork meat balls which usually you don't spot them elsewhere. Furthermore, you can choose to enjoy the pig's tail in your BKT upon request! Chewy and nice meaty texture, come here at night!
5. Ban Lee Bak Kut Teh @ Jalan Ipoh
Darker broth color and stronger in taste, Ban Lee BKT here will make it worth the try. Crowded during lunch, dinner and supper time, it is served with pork ribs, lean and fat meat, lettuce, enoki mushrooms, bean curd skin and button mushrooms. Served quite fast upon order, enjoy them with the hot steamy white rice!

6. Nam Seng Bak Kut Teh @ Old Klang Road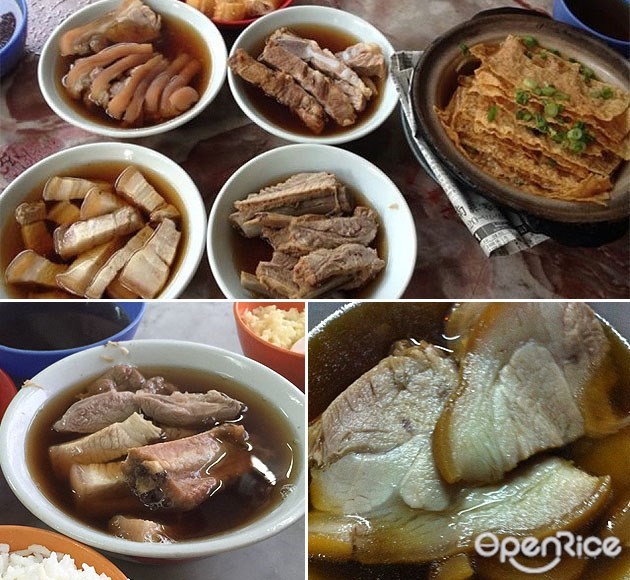 Nam Seng BKT is better known for the dry version because they are slightly different. Thicker in the dark sweet sauce used, you can add in your favorite ingredients like the pig's intestine, stomach and more to pick from. Soup version was recommended as well, isn't salty but filled with herbal taste, light and not overly oily; meat cuts were great too. Ribs here were recommended and must try the clay pot liver and kidney cooked in Chinese wine.