It's been a while since your last hunt for some delectable desserts around town? If you're bored with the ones you always had, here are some of the newer places you should be visiting for some creatively done and presented desserts that will sure to get your attention for it! Let's check these places out.
Photo credit: ForetBlanc Instagram
A French style dessert shop that brings the unique dessert of Freezy Bowl that comes in a few designs, and here can be seen a unique design of unicorn – wings were made from meringue, marshmallow horn, strawberry macaron, strawberry cheesecake, mascarpone vanilla ice cream and strawberry chocolate bon bon all in one cup! Not only that, ice creams, macarons were all cute and creatively designed! You'll love them for sure
Serves fresh homemade cookies related desserts, a fan of cookies – behold! You'll be entering a wonderland that is made of cookies and ice creams! Specially made cookie bowl that could fit in your favorite scoop of ice cream, it's basically a dessert haven here. Plus ice cream sandwich is no longer a dream when all you need is to get yourself to Cookie Nation!

3. Creamery Boutique Ice Creams KL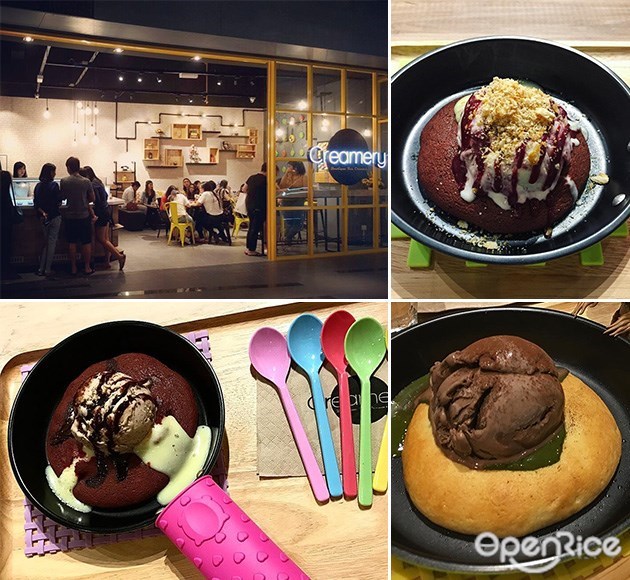 Photo credit: vincent_chow79, babybegroot, jingjing_bell, kellylamyp
Yet another creative dessert boutique that brings you their specially invented 'Lava' cookies, you know it's totally love at first bite! Serves thick and creamy handmade ice creams along with the cookies, they are worth the try. Freshly baked lava cookies are so in demand because not just it melts your taste buds, but your crush too!



What's new? Enjoy the darkest ice cream as they are serving all about Dark Chocolate. It is more like a chocolate gallery where they bring the best of chocolate to you! If you're a chocolate enthusiast, then pick your favorite like the recommended ones like single origin 75% Tanzania dark chocolate that's fruity and with bittersweet notes, 80% dark chocolate ice creams and there are even chocolatey beverages that will sure to excite your taste buds. Moreover, don't forget to enjoy the signature frozen S'mores that is torched-to-order and has 80% dark chocolate ice cream center with graham crackers all wrapped in a frozen marshmallow. Now, how dark do you want yours to be?
The dessert that's made from a perfectionist, come to Shugatori for it. Waffles, pancakes, and cakes were part of the reasons why patrons coming back for more. Located at Damansara Uptown, come for the dual waffle (Ying & Yang Waffle) that's available in two different flavor, fluffy signature chocolate pancakes, and the Ying & Yang toast – signature charcoal and classic toast topped with burned meringue and ice cream, making it a must visit place for desserts.



More articles:
7 Things to Eat When You're at Taman Segar, Cheras!
6 Chinese Tong Sui Places to Try at Klang Valley!
Seremban's Hidden Treasure – The Best Fishball Noodles in Town!
8 Totally Worth Visiting Restaurants & Cafes in Tropicana, Petaling Jaya!
9 Best Cafes for Brunch & 'Yumcha' Sessions in Kepong