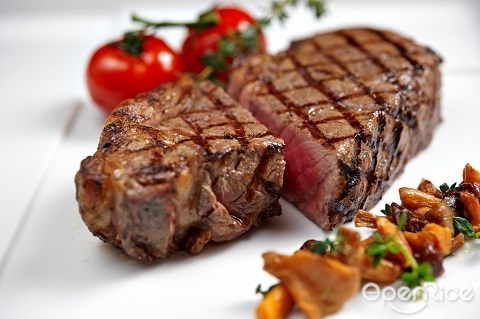 Before there was pasta and crème brulee, there was the Steak. Back in the days of British rule of Malaya, the Steak was synonymous with Western cuisine, and it was a symbol of luxury and exclusivity. From the premium Black Angus to the prestigious Wagyu, there are so many ways to enjoy a piece of steak. And there is no better place to celebrate the coming Christmas than these Top 12 Steakhouses in Klang Valley.
(The restaurants below are arranged in no particular order. Some of the establishments are not halal.)
1. Beast @ Intermark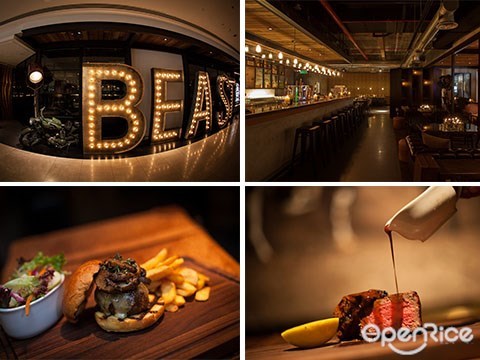 Meat lovers should head down to Beast where you will get to savour Black Angus, Wagyu, and U.S. Prime steaks. Every diner will be served a complimentary Beer Bread baked fresh at Beast and at limited quantities. First time visitors are recommended to try the U.S. Prime Steak in a striploin cut. The Striploin is so flavourful and succulent, thanks to the Josper oven that is used in the kitchen. Steaks come in either natural juice or bone marrow juice. Condiments include Dijon mustard, wholegrain mustard, and English mustard.
2. Beato @ Publika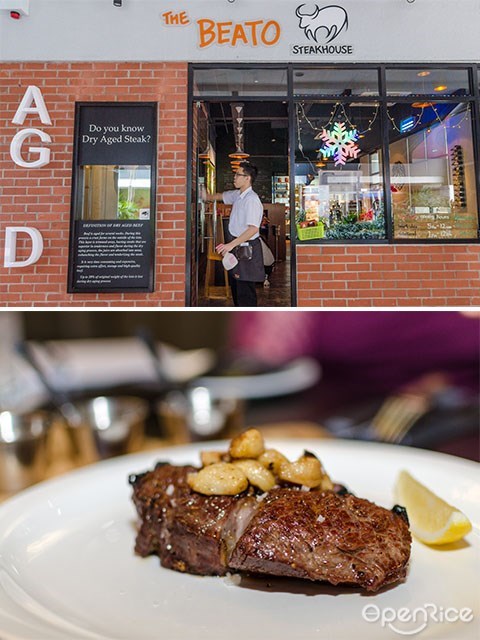 Beato means blessed in Spanish and you will certainly be blessed with the best of dry aged beef, which is done at the restaurant itself. Beato's Rib Eye steak is dry aged for several weeks and during the process, moisture is evaporated from the beef. This give the meat a strong beefy taste. Even if you order a medium rare steak, the meat still retains its pinkish hue sans the bloody mess. The steak is topped with roasted garlic and customers are given a side of whole grain mustard, Dijon mustard, and horseradish sauce, so that customers are able to enjoy their steak however they see fit.
3. Coliseum @ KL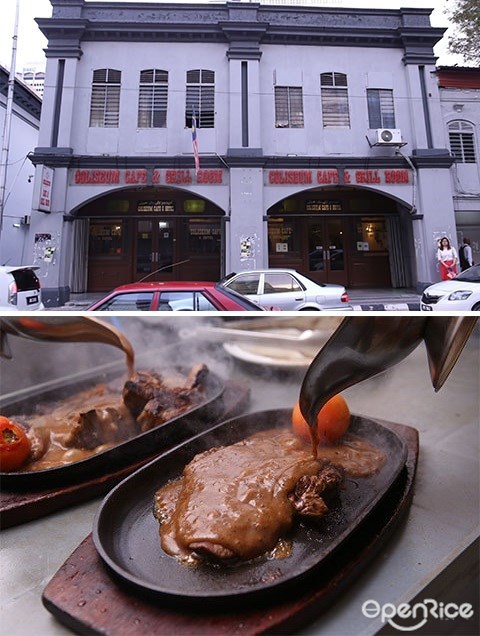 Travel back in time at the Coliseum Café & Hotel that was established on October 20, 1921. Everything in the café from the flooring to the lights has remain the same from 93 years ago. The famous steak at Coliseum is the Sizzling Steak, and it is such a delight to watch as the servers roll out the trolley and prepare the Sizzling Steak right in front of your eyes. Guests may select from a variety of sauces, such as brown sauce, mushroom sauce, and black pepper sauce. These sauces have been infused with Hainanese style of cooking and Indian spices. All steaks come together with a side of salad.
4. Grill 582 @ Dua Sentral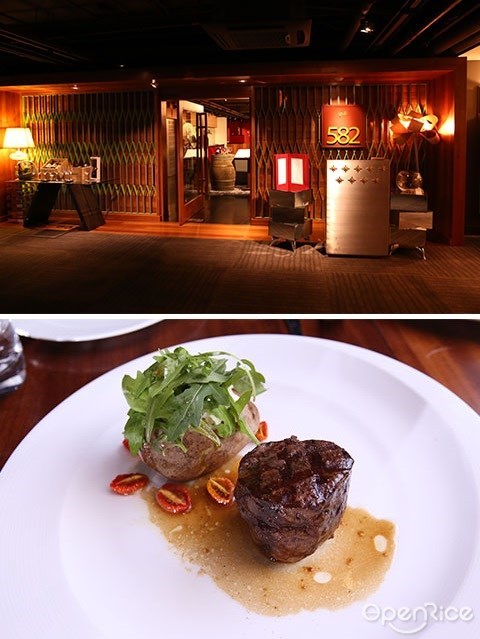 Grill 582 was established in 2011 under the care of award winning Chef Arini. Amongst the meat selection on their menu, the star of the restaurant is the Mulwarra grass fed tenderloin steak. The tenderloin is served with a side of baked potato topped with sour cream and rocket leaves. The tenderloin is so flavourful and juicy that there was no need for additional sauces. The staff at Grill 582 are also ever ready to recommend a wine to go with your steaks. The Beef Short Rib in Smokey BBQ sauce is also a must try as it won the Most Tickets Sold at the recent Malaysia International Gourmet Festival.
5. Jake's Charbroiled Steaks @ Starhill Gallery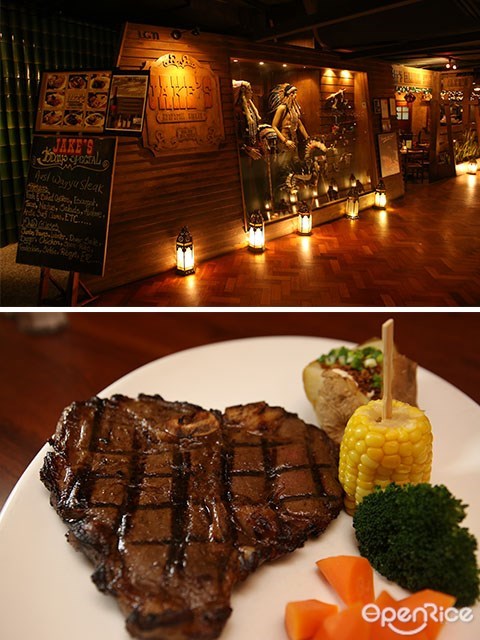 Jake's is a Malaysian owned family operated business and they have been serving generations of steak lovers since the 1980s. The Starhill Gallery outlet opened in 2005, and it is the epitome of the Wild Wild West with its Red Indian decorations and the staff donning cowboy hats. Many celebrities and VIPs have dined at Starhill Gallery, including Tiger Woods, whose favourite steak is the Angus Grain Fed T – Bone Steak, which is best eaten at medium or medium rare. The T-bone steak is served with a side of baked Idaho potato and vegetables. Jake's is also famous for their Tex-Mex dishes such as Crispy Potato Skin and Mexican Nachos. They truly live up their motto "Real Food for Real People".
6. Kaki Corner @ Cheras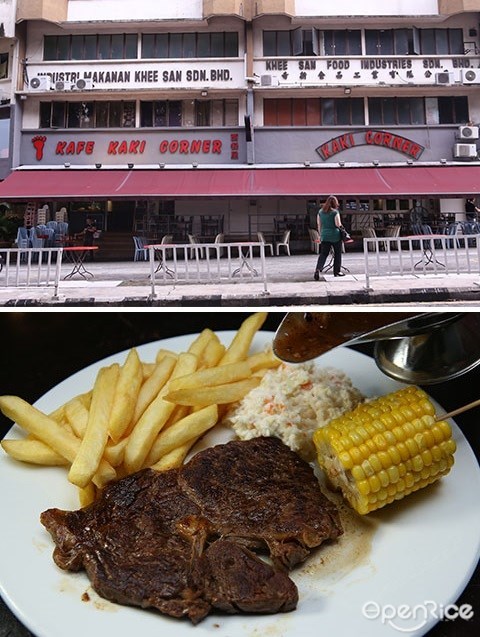 Kaki Corner is a neighbourhood café that started out as a mamak stall by the roadside. The founder of Kaki Corner wanted the community to be able to enjoy Western food at affordable prices. 15 years later, Kaki Corner has two shop lots and welcoming customers from 5 p.m. to 1 a.m. daily. The Rib Eye Steak is marinated overnight to tenderize it and then grilled. It is served with mushroom sauce or black pepper sauce. Visitors also ought to try their Lamp Chop, which is imported from New Zealand and the latest addition to the menu, Grilled Cheese Chicken.
7. Las Vacas @ Jalan Yap Kwan Seng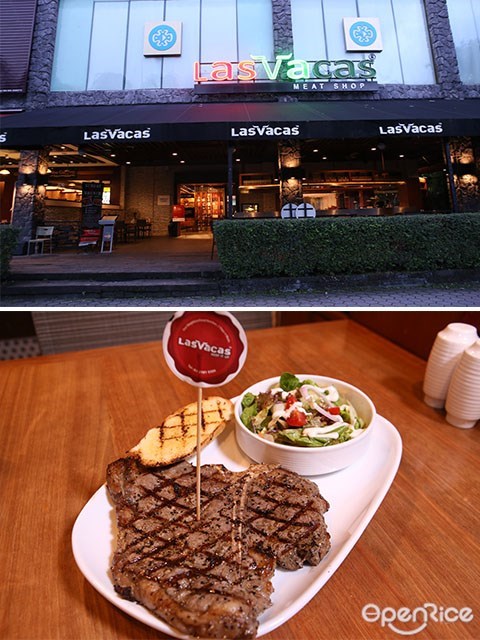 Las Vacas, which means cows in Spanish, began as a humble meat supplier and butchery at Kelana Jaya in May 2007. As customers began asking the owners how to cook prime beef, the partners decided to venture into the butchery and restaurant concept at Mont Kiara in 2010. Las Vacas imports 100% Australian chilled beef and the beef is allowed to age for 3 weeks before it is cut. Their signature steak is the T-Bone, which is lightly seasoned with salt and pepper and grilled. For side dishes, try the roasted baby potatoes and spinach ricotta. Another must try creation in Las Vacas is the Beef Burger that is made from 100% beef without trimmings.
8. Marble 8 @ KL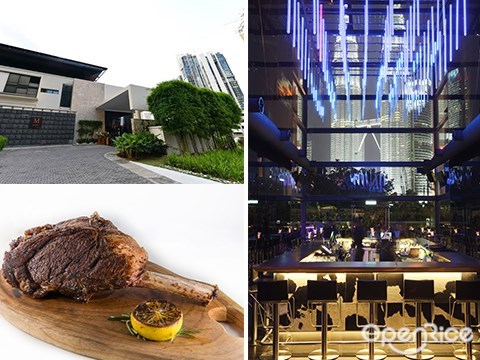 Since its opening in May 2014, Marble 8 has been the talk of the town about its steaks. Their sirloin and tenderloin all come with the bone still attached. This is because when the meat is grilled with the bone, the overall flavour of the meat is enhanced. The steak is plated with a slice of grilled lemon and a spoonful of sea salt on the side, so that customers can customize their steak to their own taste. Marble 8 also have boneless option such as their rib eye that is dry aged for 60 days giving it a distinct taste. Marble 8 also has a bar with a variety of cocktails and hundreds of wine labels that customer can choose from.
9. Maria's Steakhouse @ Bangsar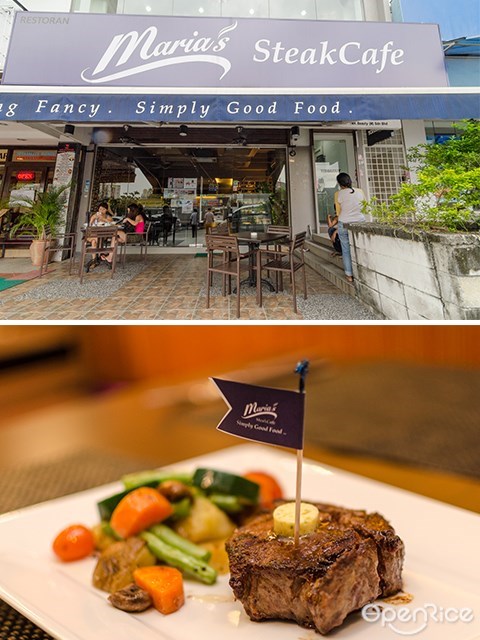 Maria's started in Ipoh 15 years ago and were one of the pioneers to import U.S. Prime Beef into the country. Fast forward to 2006, Maria's opened their first Klang Valley outlet at Damansara Perdana while the Bangsar outlet is only 6 months old. The Wagyu 5 is definitely a must try at Maria's. Using a special seasoning mix and grilled under specific heat, the Wagyu develops a crispy crust on the outside but retains its tenderness on the inside. Customer can also request for three types of sauces to go with the Wagyu such as red wine sauce, mushroom sauce, and black pepper sauce. Complete your meal with their famous Tiramisu dessert and be sure to make reservations because there are only 15 Tiramisus every day.
10. Prime @ Le Meridien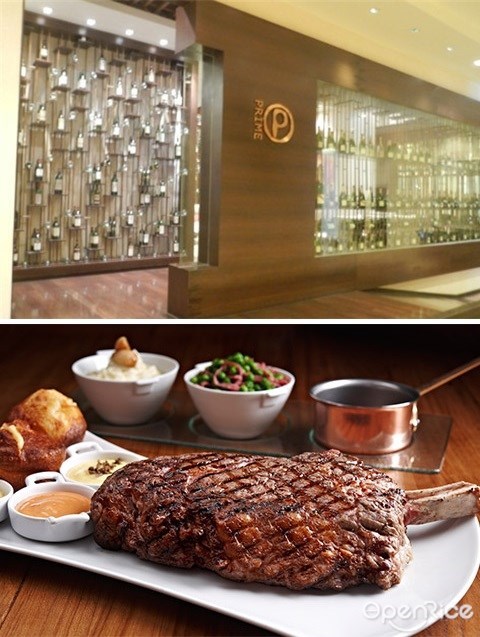 Located on the 5th floor or Le Meridien Hotel is one of the most exclusive steakhouses in Klang Valley, Prime. For those who love a little bite in their meat, the Black Angus Grain Fed Sirloin Steak is a must try. Another steak that is unique to Prime is the Blackmore beef, which is essentially a 100% Japanese Wagyu beef. The marbling on the Blackmore can melt at room temperature, which gives it a "melt in the mouth" sensation. All steak come with a side of béarnaise sauce, mushroom sauce, or white truffle sauce.
11. Suzi's Corner @ Ampang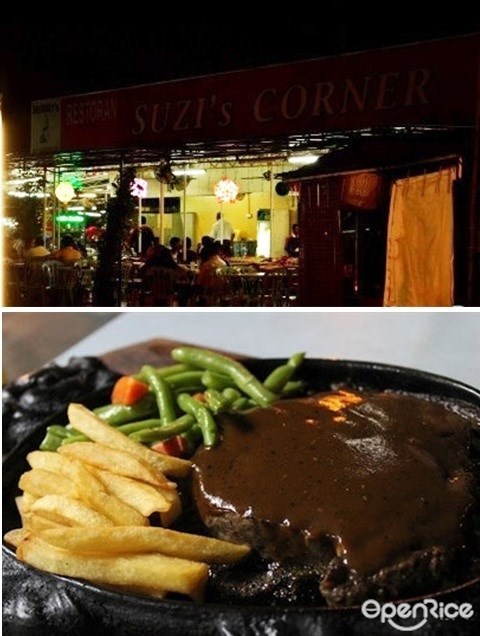 Craving for steak but you don't want to burn a hole in your pocket? Then head down to Suzi's Corner Steak Hut for some Sizzling Tenderloin. The steaks at Suzi's Corner are imported from Australia and the beef is as good as the entry level meat served at other steakhouses, which is not bad for a food stall. The sizzling steaks come with a choice of Black Pepper Sauce, Mushroom Sauce or Garlic Sauce and served with a side of vegetables and French fries. The steaks are cut slightly thinner for quicker cooking because the meat further cooks on the hot plate, if you wish it the medium you will need to ask for medium rare. Suzi's Corner also serve a variety of lamb chops and chicken chops for customers who do not eat beef.
12. The Steakhouse @ Changkat Bukit Bintang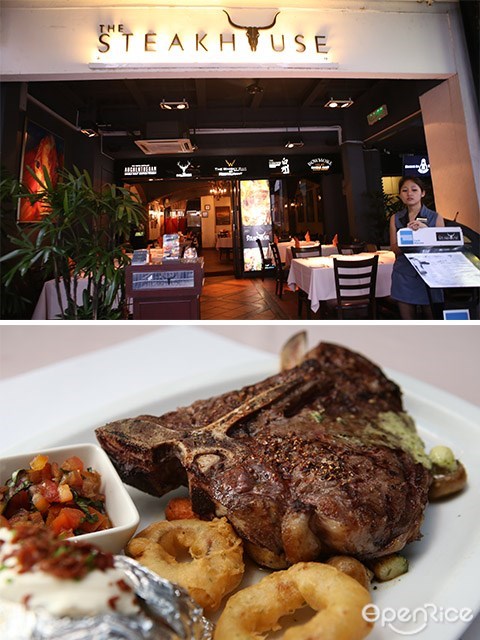 Nestled in the happening area of Changkat Bukit Bintang, The Steakhouse is a cozy and comfortable restaurant that serves Chargrilled Angus steaks. The must try steak is the 700 gram T–bone steak, which is great for sharing due to its large portion. Because the steak is lightly seasoned before it is grilled, the restaurant provides their customers with a selection of unique sauces, such as red wine sauce, bernaise sauce, and kikkoman mirin, to complement the steak. Next to the Steakhouse is the Whiskey Bar where you can order a whiskey cocktail or two to complete your dining experience.
Discover the hottest chopped steaks
Search for the Western Foods in KL & PJ
Other Related Topics