Always looking out and about around Kepong but been eating at the same area? Kepong is indeed a food haven where you'll never have to worry about food all time. Besides the famous Bak Kut Teh and Steamboat


1. Sen Kee Duck Satay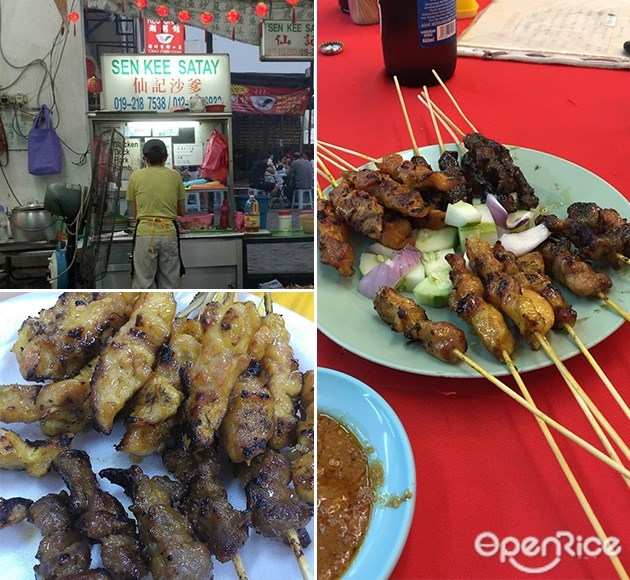 Photo credit: m.michelle.m Instagram

Operating for more than 40 years here, the duck satay is indeed a must try. Succulent and juicy meat that is perfectly grilled with charcoal fire; each skewer of duck satay are worth the compliment as they are nicely charred and marinated. Besides duck meat, enjoy lamb, pork and chicken meat too!
Craving for some tenderly good pork knuckles? It got to be at The Champ Kitchen. Slowly braised pork knuckles for 72 hours in a large pot, this is one of the hand-down recipes from their ancestors and you should really try the clay pot pork knuckle. Juicy and tender that falls off easily, totally worth the try. Not just all about pork knuckles, they do have the pork hind noodles, dang gui salted chicken, Japanese slow braised beef brisket, pork lard rice and so much porky goodness to get from The Champ Kitchen!

3. Keng Nam Hai Restaurant (Seafood Noodle)
Come to Keng Nam Hai restaurant and look for this seafood noodle stall where you'll notice most of the tables here ordered the seafood noodles. Available with Hennessy XO wine and comes with fresh prawns, clams, squid, and scallops; the soup tastes fresh with a hint of sweetness due to the amount of seafood used in it. Usually crowded and selling off fast, be sure to be here earlier!
Looking for a Chinese Nasi Lemak restaurant? Then head straight to Brilliant Nasi Lemak here! Famous for the Nasi Lemak platter where it consists of a huge chicken drumstick, sambal squid, and prawns, totally worth the try! Sambal was good as it has that added spiciness in it. Not only Nasi Lemak, they do have noodles like curry noodles, Wanton noodles and more. Psst, do you know that they serve the pork rendang here? Totally gotta try them out!



Wanted to try the iconic street style noodles instead? Select your noodles, broth and the ingredient you wish to have in your bowl of noodle! Simply irresistible and filling, they do have snacks like Curry fish balls, and Gai Dan Zai, don't forget to try their HK Milk Tea too!
A Chinese restaurant that serves fresh seafood and cooks up delicious food that suits the neighborhood's appetite, many would head over here to order the signature stewed pork, steamed lala in superior soup, butter milk prawns, braised pork belly with beehoon and a lot more to choose from the menu. Located next to the Kepong Baru Market, be sure to get there early as they can be packed up at times!

7. Nasi Lemak Jalan Antoi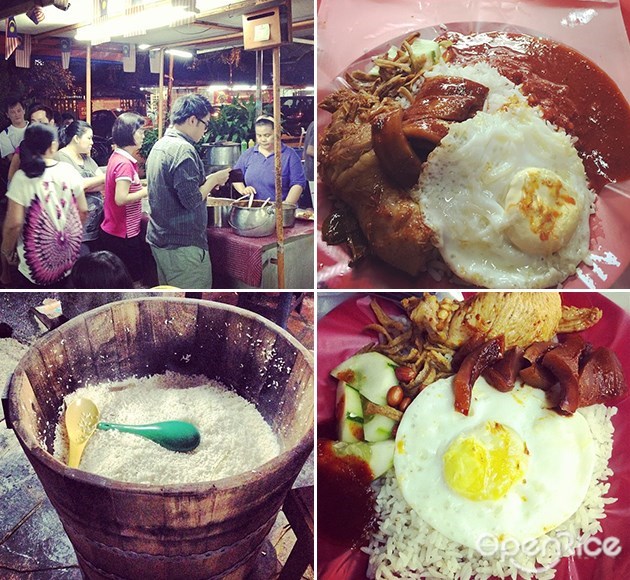 Photo credit: Nasi Lemak Jalan Antoi (Instagram)
Located at Kepong Baru – Jalan Antoi, operated by a Malay family and had more than 10 years of history, starts operating before 7.00pm, long queue and usually sold out around 9.00pm! The Nasi Lemak here is nicely cooked, aren't overly soggy or too moist which is just nice. Crispy anchovies, nicely cooked Sambal Sotong, succulent and juicy Rendang Chicken and Beef too! If you love to enjoy more sambal, do ask the boss to add in more for you!
The Jungle City is the place to be. Interior decorated to look like a jungle and indeed it feels like one. Extensive food choice of western, Chinese, pizzas and snacks; indulge on food here as the environment is good and the lightings will turn dimmer for a more romantic ambiance. Just located at Taman Bukit Maluri industrial side here, come here!
Craving for some Penang delicacies? Then head to Chew Jetty for it! Recommended for the white curry mee that comes with a lot of ingredients, duck egg char kuey teow, Penang style Jawa mee, Penang loh bak, chee cheong fun and more; each dish here indeed cooked with extra attention and maintains the taste of Penang! We wouldn't mine to be back for more too.
Known for the dessert, ask any residents here they'll surely lead you to K.T.Z! Whenever you visit this dessert stall be sure to enjoy the Mango Loh, mango Sai Mao Loh, Red bean dessert with glutinous rice balls, mixed fruits sago, and so much more that you got to be there to enjoy it. Open till late until 1.00am, be sure to get there!